TD Ameritrade Review 2023


Available in United States
Traders who want access to a huge range of stocks from a reputable broker with low fees should consider TD Ameritrade. On the downside, we miss access to the familiar MetaTrader 4 software.
- DayTrading Review Team
TD Ameritrade is a leading discount brokerage offering a vast range of instruments including forex, stocks, futures, options and crypto. The company has nearly 40 years of experience and authorization from the SEC, FINRA and CFTC. Trading takes place via its well-known thinkorswim platform, which offers sophisticated tools and features including stock screeners and calculators.
✓
Beginner Friendly
$0
eSignal, AutoChartist
Forex, Crypto, Stocks, Futures, E-minis, Options
-
USD
Wire Transfer, ACH Transfer, Cheque, Automated Customer Account Transfer Service, TransferWise
Forex Trading
Trade 70+ forex pairs including majors, minors or exotics via the desktop, mobile or webtrader app with no commission and 1:2 leverage. The choice of currencies is wider than most forex brokers.
Stock Trading
TD Ameritrade offers trading for virtually any domestic stocks, international stocks via ADR or IPOs. We rate the intelligent order routing and powerful tools including a sophisticated stock screener.
Crypto Trading
Gain exposure to cryptocurrency markets through OTC crypto trusts, mutual funds and ETFs and Bitcoin futures. This offers portfolio diversification opportunities and trading vehicles beyond standard crypto CFDs.
Awards
Best Broker for Beginners 2022 - Investopedia Best Online Broker Awards
Best Online Broker for Stock Trading Platform and Research 2022 - NerdWallet's Best-Of Awards
#1 Platform & Tools, #1 Active Trading, #1 Options Trading, #1 Customer Service, and #1 Phone Support 2022 - StockBrokers.com Online Broker Review
✓ Pros
Advanced order types, including OCO and brackets
Automated trading capabilities, including robo-advisors
Several trading platforms including proprietary award-winning software
TD Ameritrade provides rich in-depth research and educational resources
Extended 24/7 trading hours allow for international access to the markets
The broker facilitates automatic syncing between desktop and mobile trading platforms
There is access to over 350 technical studies, 20 drawing tools and 8 Fibonacci tools
Active chat rooms to share ideas and communicate with thousands of experienced traders
The Economic Data tool allows access to a range of data about the health of global economies
Management Services and Essential Portfolios. Reviews of which show high levels of customer satisfaction
Portfolio margin gives some users increased leverage by basing margin requirements on total portfolio risk
✗ Cons
CFD trading not available
No MT4 or MT5 integration
Fractional shares are not offered
No direct cryptocurrency trading
Broker-assisted trade commissions are around $25
Stringent margin maintenance requirements and high fees
New traders may be overwhelmed by the vast amount of information and tools available
TD Ameritrade is a leading US multi-asset online broker. Its comprehensive offering facilitates trading in stocks, forex, futures, options, ETFs, and other securities. The broker is also an innovative hub, providing comprehensive education, intuitive platforms, access to licensed associates and in-depth market data. This 2023 review will examine all aspects of its service, including account fees, trading platforms, mobile apps, and much more. Find our whether our experts recommend trading with TD Ameritrade.
Company Details
Established in 1975, TD Ameritrade has been pioneering technology to create new ways for Wall Street opportunities to be accessible to individual retail traders. The brokerage is best known for its proprietary trading platform; thinkorswim. The powerful terminal offers sophisticated research tools, various order types, stock screener features, and financial calculators with backtesting capabilities, meaning day traders can test their approach based on historical data before entering the live market.
The broker was a publicly traded organization before its acquisition by The Charles Schwab Corporation which closed in October 2020 and is due to complete in 2023.
Today, TD Ameritrade is a globally recognized and award-winning broker. The company provides investing and trading services for 11 million clients across the world, with a total of more than $1 trillion in assets. The broker processes an impressive 500,000 trades per day via its range of platforms and innovative trading tools. TD Ameritrade also hosts 6000 independent investment advisor accounts for custodial services. It is a flexible trading hub for investors of all experience levels.
Brokerage services are provided by TD Ameritrade, Inc, a member of SIPC/FINRA, a subsidiary of The Charles Schwab Corporation.
A Brief History
From its headquarters in Omaha, Nebraska, TD Ameritrade has been serving customers since 1975. The brokerage has 40 years of experience in industry firsts and major milestones.
1975 – The Securities and Exchange Commission removed the practice of fixed brokerage commissions. Some small firms, including First Omaha Securities Inc (now TD Ameritrade), saw a unique opportunity to offer discounted commissions
1988 – The broker was the first company to offer touch-tone phone trading
1994 – They were also one of the first to pioneer online day trading
1998 – TD Ameritrade introduced online options for order entry and electronic trade confirmations through email
2000s – They were the first to guarantee trade execution speeds of 10 seconds and introduce paperless account creation
2006 – TD Ameritrade purchased TD Waterhouse USA, creating TD Ameritrade, one of the largest discount brokerages in the United States
2009 – The company acquired thinkorswim Group Inc, a company recognized for its innovative technology and sophisticated trading platform
2010 – The brokerage embraced technology advancements by creating trading applications for iPhone, iPad and Android devices
2020 – Charles Schwab announced it had acquired TD Ameritrade for $26 billion, a merger that's expected to be complete in 2023
So, over the years the company has continuously made news headlines by providing innovative solutions to trader's issues. As a result, they now offer truly global trading in a huge range of instruments, including Bitcoin, money market mutual funds, bonds, and other fixed-income securities.
But what do user reviews say when you delve beneath the headlines?
Trading Platforms
Once you sign in to your brokerage account you will have access to several robust TD Ameritrade platforms.
Whether you are comfortable trading via a web browser, desktop device or mobile app, there is something suited to all investors. Our experts are confident that all platforms are suitable from beginner level thanks to their sleek and intuitive design.
A useful platform comparison table is available on the broker's website, however, we outline some of the key features of each terminal below.
Classic Web Platform
This web-based platform is ideal for new day traders looking to ease their way in. Everything is in one place so you can manage your portfolio efficiently. You can use the terminal directly via all major web browsers including Google Chrome and Safari.
When we used TD Ameritrade WebTrader, we were impressed with the clean design and intuitive navigation. For those new to using the terminal, you can utilize the integrated 'Ask Ted' chatbot, which will be able to answer navigation questions. Users can stay up to speed with the latest news and open positions without having to leave the home screen.
Features include:
Integrated education center
View the Stocks Overview for details on earnings, volume, social sentiment, and more, all in one place
SnapTicketTM tool is available in all interfaces meaning you can open positions with the click of a button
Multiple Watch List displays so you can monitor current and potential investments without interruption
Integrated economic calendar to stay on top of upcoming events and publications that may impact your investment portfolio
Access free independent research to authenticate ideas and develop investment strategies. Names include Market Edge and CFRA
Manage investments with the Portfolio Planner – choose between a standard model or build and customize one yourself to ensure optimal results with your strategy
Next-Gen Web Platform
Building on the smart features of the Classic platform, the Next Gen WebTrader is a mobile-optimized web platform that makes it easy to check your funds, research potential investments, and confidently place trades on your phone, tablet or desktop.
Functions are relatively similar to the Classic Web Platform but our experts found the terminal is fully compatible with smaller screens, with zoom and scroll functions.
Thinkorswim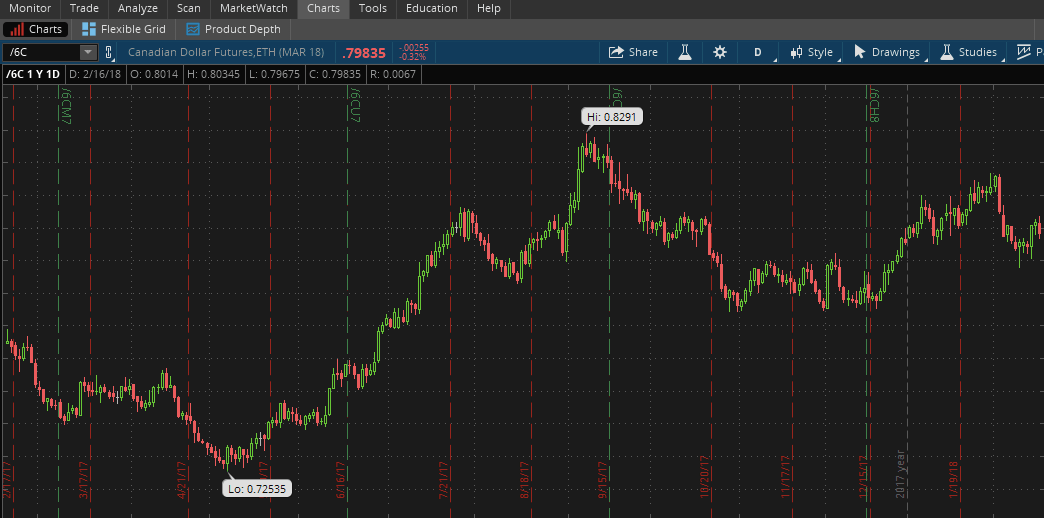 Originally a standalone broker until TD Ameritrade took it over in 2009, thinkorswim is considered the crown jewel in the platform offering. The terminal is available to download to desktop devices, trade on a mobile app and most recently introduced as a WebTrader.
When we used the thinkorswim platform, we thought it requires some getting used to but it is feature-rich and flexible. Investors benefit from all of the features found on the Classic WebTrader, plus advanced trade capabilities. You can analyze your trading decisions with advanced charting capabilities, access third-party fundamental data and statistics, and use the real-time market news of the TD Ameritrade network. In fact, it is so sophisticated, that only TradeStation offers such a comprehensive platform.
The thinkorswim web terminal provides efficient insights for effective action. One of the main benefits is that investors can log in from anywhere with an interface that prioritizes speed and convenience. It hosts all the popular innovative features of the desktop platform on one screen, so you can make informed decisions quickly. The streamlined web version offers side-by-side risk profiles and charting tools so you can achieve a graphical representation of price analysis data.
The original desktop software provides access to elite trading tools with the power to test strategies, develop new ideas and implement complex trades. The terminal provides insightful features, designed to help you study, strategize, select and strike with speed, precision and intelligence unmatched by any other platform.
Users also gain access to dozens of charts streaming real-time data and over 300 technical studies for each chart. This is actually the highest number in the industry and each study can be fully customized. Explore ThinkScript which is thinkorswim's proprietary coding language and you can also create your own indicators.
Other functions include:
Backtesting
Company profiling
MarketMakerMove ™
Customizable screeners and alerts
Sophisticated earning analysis tools
Economic data straight from the Fed
Real-time stock scanning and sharing charts
Ability to replay historical markets tick by tick
Access to both economic and corporate calendars
Build your own order execution and strategic testing algorithms
Share ideas and insights with other passionate traders via in-platform chat rooms
Proprietary Sizzle Index™ to compares the movements vs average volume and volatility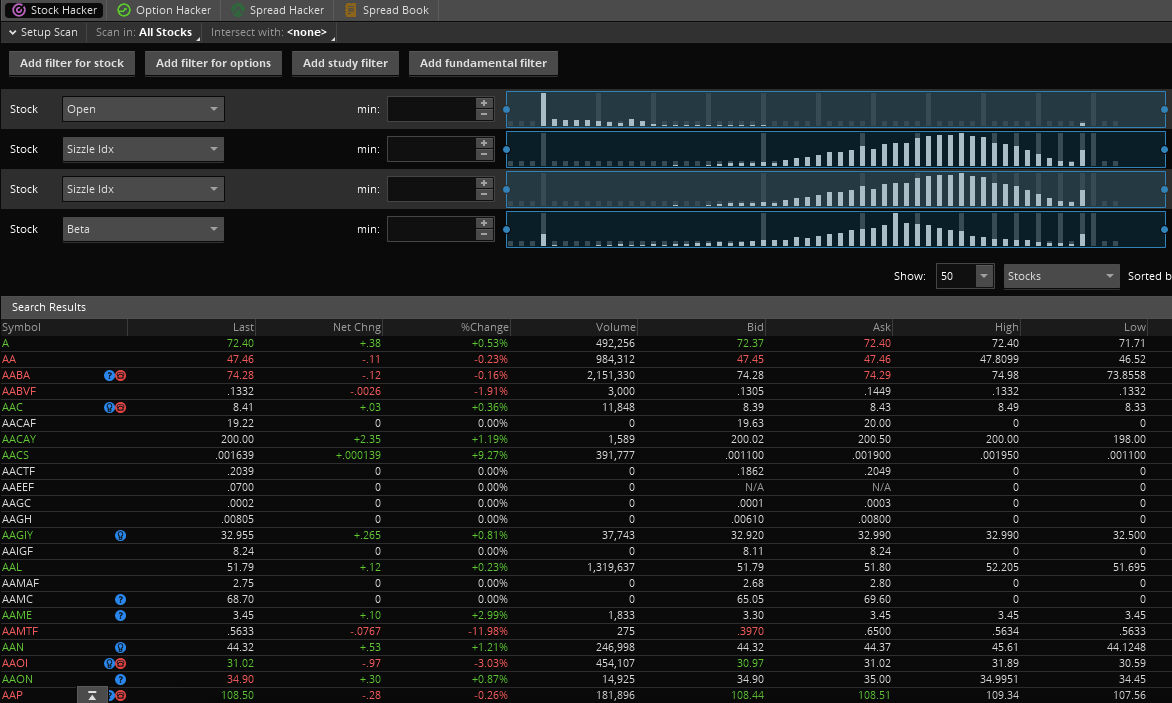 Experienced traders will struggle to find such an advanced, reliable and easy-to-use platform. Customization can go as far as the user's imagination will take them. Therefore, in terms of trading tools and platforms, TD Ameritrade user reviews report the highest levels of satisfaction.
How To Make A Forex Trade
Register for a TD Ameritrade live account
Once verified, make an initial deposit
Select a trading platform; WebTrader, desktop or mobile app
Login with your registered credentials
Select the 'trade' tab
Type in the symbol or search for an asset using the navigation bar
Select the price labeled 'Ask X'
An order form will be presented at the bottom of the page
Enter your trade parameters including trade size, execution mode, plus trailing stop and stop limits
Confirm and send
The order should show up on your 'Monitor' page
The average time it takes for market orders to be executed is 0.04 seconds
Products & Markets
TD Ameritrade provides a vast number of products expected of a full-service brokerage:
Purchase new stocks via IPOs
Pursue a range of options trading strategies
Trade 75+ major and minor currency pairs including USD/GBP and EUR/JPY
Invest in cryptocurrency via OTC Trusts, ETFs, mutual funds and Bitcoin futures
A full catalog of ETFs from some of the most trusted and credible names in the industry
Dividend reinvestment on most exchange-listed and NASDAQ stocks, ETFs, mutual funds, and ADRs
Over 13,000 mutual funds from leading fund families and a broad range of no-transaction-fee (NTF) funds
40,000 fixed-income offerings from over 100 dealers, 3,000+ bond mutual funds, and over 400 bond ETFs
Fixed annuities with a stated payout rate and variable annuities with a payout rate based on market performance
Place online trades for virtually any domestic stocks, international stocks via ADRs, or initial public offerings (IPOs)
Trade 70 futures products including micro futures such as Micro WTI Crude Oil futures, Micro Bitcoin futures and E-mini Index futures
TD Ameritrade Spreads & Commissions
Trading fees vary depending on the asset. Our experts are pleased to see full transparency when it comes to commission charges, with a full breakdown of pricing available on the broker's website. TD Ameritrade  recently introduced commission-free trading opportunities on U.S. exchange-listed stocks and ETFs making it highly competitive vs E*Trade, Interactive Brokers and Scottrade.
Our review found TD Ameritrade options trading is offered at a $0.65 fee per contract and futures contracts at $2.25 per contract (plus exchange & regulatory fees). Forex trading is commission-free, though, the cost of the trade is reflected in a floating bid/ask spread.
It is good to see that you won't have to pay any market data feed fees or an annual inactivity fee, unlike Interactive Brokers. Also keep an eye out for other charges. For example, a domestic wire withdrawal will cost $25. Account transfers will cost $75, and a forced margin sellout is charged at $25 plus broker commission.
Commissions and spreads on some instruments are still relatively high vs some competitors though, in the most, our experts are confident the broker's fees align with industry standards. The question that will be answered below though, is are the powerful trading tools and extensive research resources enough to make these high brokerage fees good value for money?
Minimum Initial Deposit
One of the immediate benefits of a TD Ameritrade brokerage account is that there is no minimum initial deposit requirement. This is good for beginners and those with limited initial capital. In fact, this is excellent when compared to pricing and joining requirements at other competitors, where account minimums can range anywhere from $500 to $10,000.
With that said, a $2,000 deposit is required for margin trading and other privileges.
Leverage Review
Forex spreads are fairly industry standard and you can also benefit from forex-leveraged trading. This is essentially a loan, allowing you to increase your position and potentially boost profits. However, trading on margin can also amplify losses. Margin trading with TD Ameritrade gives retail clients up to twice the purchasing power of a traditional cash account.
It is worth noting that when we used TD Ameritrade, margin costs were among the more expensive in the industry. The base margin rate is 11.25%. High account balance holders can negotiate lower margin rates based on account size, however, the cheapest rates are available for ranges over $250,000. You will also have to hold a $2,000 minimum account balance for a margin account.
Mobile Apps
When you open a new account, you will also have access to two mobile apps; TD Ameritrade Mobile App and thinkorswim® mobile. The former is designed for beginners and casual investors. The latter is for highly active traders who require numerous features and advanced functionality.
Both apps are available for free download to iOS and Android (APK) devices. On the whole, our experts can confirm that the iPhone, iPad and Android apps are stable, with fast execution speeds. Customer reviews are also positive with the thinkorswim® mobile app rated 4.7/5 on the Apple App store.
TD Ameritrade Mobile
Receive alert notifications even when you're not using the app
Access watch lists synced with your other TD Ameritrade platforms
Access market news, view third-party analyst reports and third-party research
Trade stocks, ETFs, and options with easy and intuitive order entry and editing
Securely deposit money and transfer money between your external and TD Ameritrade accounts
Explore integrated charts with indicators, set up price alerts, access watch lists, and get real-time quotes
Full account information management with easy access to order history, latest margin balance and positions
Round-the-clock market news, analyst reports and daily updates to help recognize potential investment opportunities
In-app chat support which will directly link you to a customer service advisor if you are having any problems and the app is not working
thinkorswim® mobile
The Mobile Trader application allows for advanced charting. In addition, you get a long list of order options. When using the proprietary mobile app, investors can be assured of a sleek interface with an easy-to-navigate design. Customer reviews also show that even making complex options trades is straightforward.
Analyze potential profitability and risk of your positions and stress test your entire portfolio
Create customizable, multi-touch charts with hundreds of technical indicators and drawings
Access in-platform chat rooms. You can also watch pro investors talk through their own strategies
Scan multi-touch charts with hundreds of studies. Model the future when you overlay company and economic events
Up-to-the-minute market insights and strategy education. Follow the global market with live video streaming from CNBC
Access in-chat support with trading specialists in real-time. You can even share your screen and access live text to pinpoint issues without having to leave the app
Payment Methods
Deposits
TD Ameritrade does not apply a deposit fee for any payment methods, although third-party charges may apply. While using TD Ameritrade, retail clients can make direct deposits and withdraw funds with relative ease. The broker offers five primary ways to fund a live profile:
Cheque – 1 to 3 day processing time, no limits
Bank Wire Transfer – 1 working day processing time, no limits
Physical Stock Certificates – 1 day typical processing time, no limits
Account Transfer From Another Firm – 1 week typical processing time, no limits
Electronic Bank Deposit (ACH) – 5 minute typical processing time, minimum deposit limit of $50
Simply select your chosen finance method via the deposit section of your profile interface. All transfers are processed Monday to Friday. Account verification must be completed.
It may also be worth heading to their website to check for any current rewards or offers for using specific funding methods.
Withdrawals
To request a wire from your TD Ameritrade account, scroll to the top of the page and click on log in at the top right-hand corner. Enter your credentials. From there select 'Account Center', then withdrawal on the left-hand panel and expand on your selected withdrawal method.
There is no maximum dollar limit for withdrawing your money with a wire transfer from your TD Ameritrade account. Bank wire transfer requests must be made before 4:30 p.m. ET for same day processing. ACH withdrawals can take between one to three working days. Cheque withdrawals can be made and the broker sends via first-class mail for free or via overnight mail, fees apply. Outgoing domestic or international wire transfers are subject to a $25 fee.
TD Ameritrade Demo Account
TD Ameritrade also offers a free demo account called PaperMoney. This profile is accessible via all trading terminals.
Paper trading accounts are a great way to practice strategies risk-free and learn terminal features and tools. Access up to $100,000 in virtual funds within a simulated environment.
To paper trade, you will need to complete the online registration form with a few basic details, including your name, email address, telephone number and location.
Once your confidence has grown, it's then straightforward to close your demo account and upgrade to a live trading account.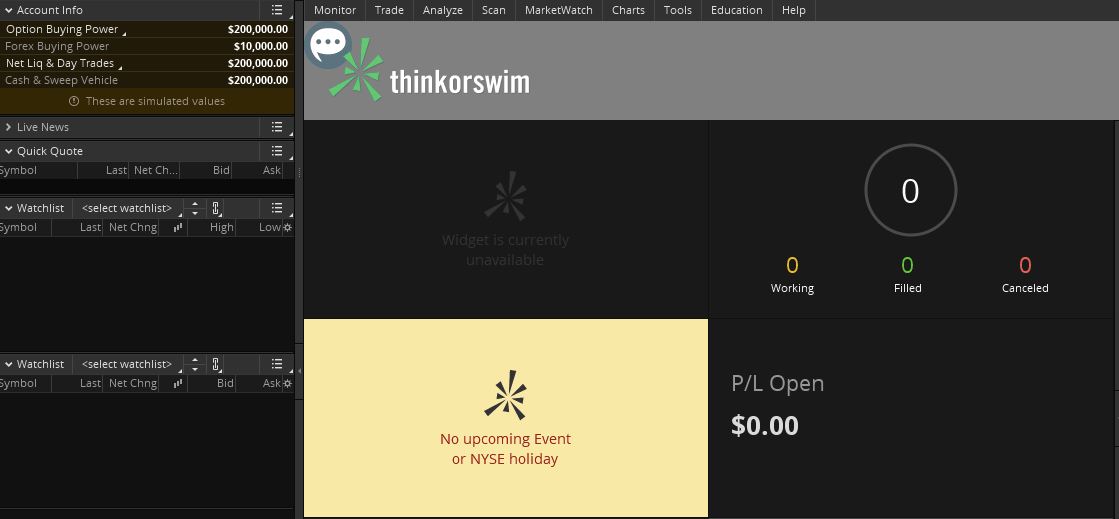 Deals & Promotions
At the time of writing, there were no live bonus deals. Nonetheless, there are often a number of special offers and promotion bonuses available to new traders. In fact, new account cash bonuses can range from $100 for deposits between $25,000 and $99,999 to $1000 promotions for high dollar accounts.
On top of the welcome deposit bonuses, TD Ameritrade occasionally releases promo offer codes, as well as giving users up to 500 free trades. It's also worth keeping an eye on their website for transfer bonuses.
Regulation & Licensing
In the day trading world, brokerage trust is vital. Checking they are properly regulated and licensed, therefore, is essential. Retail investors can be assured that as TD Ameritrade is one of the largest US-based stockbrokers, it holds regulatory licensing from several top-tier authorities such as the Financial Industry Regulatory Authority (FINRA), the Securities and Exchange Commission (SEC) and the Commodity Futures Trading Commission (CFTC).
In addition, retail investor accounts are protected under FDIC (deposit accounts held at TD Bank) and SIPC. On top of that, excess SIPC coverage is provided by London insurers. This compensation scheme protects customers with up to $500,000 protection (including $250,000 for claims for cash). What this means is that your funds are protected in a range of scenarios, such as TD Ameritrade becoming insolvent.
The brokerage is licensed in numerous locations, from the USA to Hong Kong. Head over to their official website to see regulatory details for your location.
Additional Features
As well as the comprehensive tools and software outlined in the trading platform section above, user reviews show satisfaction with the number of additional features found in the TD Ameritrade offering, including:
Social Signals – The Social Signals feature provides a real-time streaming feed of algorithmically filtered relevant tweets. You also get a summary chart of the most talked about brands. Many feel this is easier to use than StockTwits
Peer Comparison – The Peer Comparison tab allows you to locate clean customizable charts displaying a security's recent performance against its competitors. This is then followed up with a table of relevant metrics
Free research – You can find streaming news from Zacks, Dow Jones, briefing.com, plus several other sources. In addition, there is analysis from Market Edge, CFRA, Credit Suisse and Vickers
Interactive learning – TD Ameritrade offers a range of ways you can learn, from videos and articles to slideshows and quizzes. In addition, they will monitor your progress and award points and virtual trophies as you improve. In fact, video training reviews are quick to highlight how comprehensive and useful their educational resources are
Earnings calendar tools – This allows you to track earnings announcements of companies of interest. It can help you prepare for upcoming data releases and predict future price movements
Fully Paid Lending Income Program – Earn a passive income on stocks you already own. Retail traders can lend securities to TD Ameritrade each month to earn additional income. There is no added cost to participate and risk is mitigated because the loan is backed by 102% cash collateral and funds are held in third-party banks
Managed Portfolios – Invest in the long term with a managed account. Set unique financial goals, time horizons, and risk tolerance and let the experts do the work for you. Tax-loss harvesting is also available as a free service available to investors enrolled in Essential Portfolios and Selective Portfolios
Retirement Resources – Solutions, resources, tools, and guidance to develop and manage a retirement strategy. Invest for retirement with a wide range of choices including traditional or Roth IRAs
DRIPs – TD Ameritrade provides a dividend reinvestment program to investors who own dividend-paying assets. The DRIP does not use fractional shares, so excess cash that cannot purchase a full share would be returned to the cash balance of your account
Account Types
TD Ameritrade offers several account types suitable for various financial goals and investment strategies. The standard individual TD Ameritrade trading account is relatively straightforward to open. Once you have filled in the necessary forms and TD Ameritrade have finished their checking, you can start trading. As mentioned above, no minimum deposit is required to open an account. However, the minimum electronic funding is $50.
If you wish to use margin you will require a minimum balance of $2,000. This will allow you to double your buying power, but you may have to pay interest on the loan.
Popular Alternatives To TD Ameritrade
Trading Hours
TD Ameritrade trading and office hours are industry standard. The company was one of the first to announce it would offer 24-hour trading. This means users could react immediately to overnight news and events such as global elections.
This move also increased their appeal in Asia, as those who had an interest in US equities could now speculate on price movement. In the off-hours between Sunday 20:00 EST and Friday 20:00 EST, customers can trade 12 ETFs. So, for those interested in premarket hours and a range of instruments, from index funds to Bitcoin (BTC) futures and options, there will always be a trading opportunity at TD Ameritrade.
Customer Service
While using the TD Ameritrade platform, retail investors will be pleased to see the broker now offers 24/7 support via email, text and Facebook Messenger. When we used the phone support, our wait time was less than two minutes. Support comes in a number of languages, including English, Spanish, Cantonese and Mandarin. Simply head over to their website for the 24-hour number where you are based.
Emails are usually returned within 12 hours. Agents are well trained with an in-depth knowledge of both trading platforms and accounts. They should be able to help you with any TD Ameritrade.com login problems, or when the website goes down.
Unfortunately, the 'Ask Ted' live chat support is only for clients using the thinkorswim platform. So, there is room for improvement in this area. But if you do have access to live chat, they can help you with everything from forgotten usernames and premarket trading to referral bonuses and options approval.
Overall then, our experts were content with TD Ameritrade's customer support and helpdesk. But if you want direct contact, you could head down to their numerous offices or attend one of their events. You can also head to their 'Contact Us' section for the nearest mailing address in your location.
Security & Safety
TD Ameritrade takes customer safety and security seriously. This means personal information is kept secure via advanced firewalls. Anomaly detection and intrusion technology are also used to detect any unusual behaviour from your account. TD Ameritrade websites are secure and use 128-bit encryption to transmit all data between your computer and their websites.
There is also TD Ameritrade's Asset Protection Guarantee which will reimburse your account if you lose any funds as a result of unauthorized activity. Their website states they will "reimburse you for the cash or shares of securities you lost."
A major improvement that has been made by the broker recently is the addition of login protection protocol. TD Ameritrade now allows day traders the choice of using two-factor authentication (or multi-factor authentication) to verify that you are the owner of your account.
TD Ameritrade Verdict
TD Ameritrade is an industry leader in terms of its trading platforms and access to high-quality research and educational resources. Throw in a $0 minimum deposit requirement, detailed user guides and access to after-hours trading, and they should be a serious contender on your broker shortlist. However, highly active traders may want to think twice as a result of some high fees and margin rates. The lack of customized hotkeys and direct access routing may also give reason to pause.
Overall then, if you're a moderately active trader who wants a powerful platform and access to extensive research, then TD Ameritrade could well be the right choice.
FAQs
Is TD Ameritrade Suitable For Beginners?
Our TD Ameritrade review confirms that the broker is suitable for beginners. It offers various instruments, a choice of trading platforms and access to comprehensive educational resources and research materials. We would recommend making use of the demo account before committing personal funds to a live profile.
What Is The Minimum Deposit Requirement For A New TD Ameritrade Trading Account?
There is no minimum deposit requirement to open a new TD Ameritrade account, ideal for beginners. Nonetheless, a $2,000 deposit is required for margin trading and other privileges.
What Trading Platforms Does TD Ameritrade Offer?
TD Ameritrade offers retail clients the option of trading on the proprietary thinkorswim terminal (desktop, WebTrader and mobile app) or the Classic and Next Gen web terminals. All platforms provide access to advanced trading functionality, customizable interfaces and full account management.
Is TD Ameritrade Regulated?
Yes, TD Ameritrade is overseen by several top-tier regulatory authorities such as the Financial Industry Regulatory Authority (FINRA), the Securities and Exchange Commission (SEC) and the Commodity Futures Trading Commission (CFTC). Additionally, day traders can be assured of the broker's asset protection guarantee if you lose cash or securities from your account due to unauthorized activity.
Can I Fund My TDAmeritrade Trading Account With A PayPal Deposit?
No, TD Ameritrade does not accept deposits made via PayPal. Nonetheless, you can fund your live account using bank wire transfers, electronic bank deposits (ACH), checks and more.
Accepted Countries
TD Ameritrade only accepts traders from United States.
Payment Methods
TD Ameritrade Details
Minimum Trade
$0
Regulated By
SEC, FINRA, CFTC
Account Types
Islamic Account

No

Mobile Apps
iOS & Android
Margin Trading

Yes

Volatility Index

Yes

Spot Trading

No

Perpetual Swaps

No

ELWs

No

REITs

No

AI / Machine Learning

No

Robo Advisor

Yes

P2P Trading

No

Negative Balance Protection

No

VPS Hosting

No

Tournaments

No

Demo Competitions

No

Managed Accounts

Yes

Market Maker

No

Auto Trading
Yes – Auto trading available via bots
Social Trading

No

Trade Signals

Yes

Inactivity Fee
$0
Guaranteed Stop Loss

No

Stock Exchanges

Dow Jones
Japan Exchange Group
Nasdaq
New York Stock Exchange
S&P 500
Taiwan Stock Exchange
Toronto Stock Exchange

Commodities

Cocoa
Coffee
Copper
Corn
Cotton
Gasoline
Gold
Livestock
Natural Gas
Oil
Palladium
Platinum
Silver
Soybeans
Sugar
Wheat
Forex Trading Details
| | |
| --- | --- |
| GBPUSD Spread | Variable |
| EURUSD Spread | Variable |
| EURGBP Spread | Variable |
| Assets | 75+ |
Cryptocurrency Trading Details
| | |
| --- | --- |
| Crypto Spread | Commission fees apply |
| Crypto Lending | No |
| Crypto Staking | No |
| Crypto Mining | No |
| Crypto Auto Market Maker | No |
| Crypto Coins | |
Compare TD Ameritrade
Compare TD Ameritrade with similar brokers that accept traders from your location. Among available brokers these are the most similar to TD Ameritrade:
IG Group – IG is an award-winning broker that has an excellent reputation globally. The brand-US offers spread betting, CFD and forex trading across a comprehensive suite of markets. IG is also multi-regulated, provides a great trading app and has 50 years experience.
Go to IG Group
Just2Trade – Just2Trade is a reliable multi-regulated broker registered with FINRA, NFA and CySEC. The company has 155,000 clients from 130 countries and stands out for its huge suite of instruments and additional features, including a social network, robo advisors and a funded trader programme.
Go to Just2Trade
Forex.com – Forex.com boasts a global reputation with multiple awards and 20+ years experience. Regulated in the US, EU, UK and Canada they provide a huge range of markets, not just forex, and offer competitive fees on a cutting-edge platform. The brand also provides a suite of additional tools, from performance analytics and SMART Signals to advanced charts and strategy builders.
Go to Forex.com
TD Ameritrade Comparison Table
Compare TD Ameritrade With Similar Brokers
TD Ameritrade
IG Group
Just2Trade
Forex.com
Rating
4
4.4
3.5
4.5
Markets
Forex, Stocks, Commodities, Crypto
CFDs, Forex, Stocks, Indices, Commodities, ETFs, Futures, Options, Crypto, Spread Betting
Stocks, ADRs, ETFs, Futures, Options, Commodities, Bonds
Forex, Spot Metals
Demo Account
Yes
Yes
Yes
Yes
Minimum Deposit
$0
$0
$100
$100
Minimum Trade
$0
0.01 Lots
0.01 Lots
0.01 Lots
Regulators
SEC, FINRA, CFTC
FCA, ASIC, NFA, CFTC, DFSA, BaFin, MAS, FSCA
CySEC, NFA, FINRA, Bank of Russia
NFA, CFTC
Bonus
–
–
Up to $2,000 for professional accounts
Active Trader Program With A 15% Reduction In Costs
Education
Yes
Yes
No
Yes
Platforms
eSignal, AutoChartist
MT4, AutoChartist, TradingCentral
MT4, MT5, TradingCentral
MT4, MT5, TradingView, eSignal, AutoChartist, TradingCentral
Leverage
–
1:30 (Retail), 1:250 (Pro)
1:20
1:50
Payment Methods
5
6
20
8
Visit
Visit
Visit
Visit
Visit
Review
TD Ameritrade
Review
IG Group
Review
Just2Trade
Review
Forex.com
Review
Compare Trading Instruments
Compare the markets and instruments offered by TD Ameritrade and its competitors. Please note, some markets may only be available via CFDs or other derivatives.
Compare TD Ameritrade Trading Instruments

| | TD Ameritrade | IG Group | Just2Trade | Forex.com |
| --- | --- | --- | --- | --- |
| CFD | No | Yes | Yes | No |
| Forex | Yes | Yes | Yes | Yes |
| Stocks | Yes | Yes | Yes | Yes |
| Commodities | Yes | Yes | Yes | Yes |
| Oil | Yes | Yes | Yes | Yes |
| Gold | Yes | Yes | Yes | Yes |
| Copper | Yes | Yes | No | No |
| Silver | Yes | Yes | Yes | Yes |
| Corn | Yes | No | No | No |
| Crypto | Yes | Yes | Yes | No |
| Futures | Yes | Yes | Yes | No |
| Options | Yes | Yes | Yes | Yes |
| ETFs | Yes | Yes | Yes | No |
| Bonds | Yes | Yes | Yes | No |
| Warrants | Yes | Yes | No | No |
| Spreadbetting | No | Yes | No | No |
| Volatility Index | Yes | Yes | No | No |
TD Ameritrade vs Other Brokers
Compare TD Ameritrade with any other broker by selecting the other broker below.
The most popular TD Ameritrade comparisons:
Visit
TD Ameritrade is a leading discount brokerage offering a vast range of instruments including forex, stocks, futures, options and crypto. The company has nearly 40 years of experience and authorization from the SEC, FINRA and CFTC. Trading takes place via its well-known thinkorswim platform, which offers sophisticated tools and features including stock screeners and calculators.