Orion Multi-Trader
Orion Trading Systems have developed a powerful, open-architecture trading platform. Clients can access multiple accounts and data sources to trade on a range of assets, including options, futures, stocks, forex and cryptos. The integrated desktop terminal also offers extensive customization capabilities.
This review of Orion explains how the platform works, breaking down key features and capabilities. We also list the brokers that support Orion's Multi-Trader platform.
Orion Trading Systems Headlines
Based in Michigan, United States, Orion Trading Systems is a multi-asset platform aimed at advanced retail traders. The company was launched in 2015 by Paresh Malde to facilitate trading across multiple accounts and brokers.
The intuitive terminal is easy to set up and provides an impressive list of powerful trading capabilities, charting features, plus automated investing solutions. There is also a host of user guides on the Orion Trading Systems website to help new traders get set up with their workspace.
Orion Multi-Trader
The Orion Multi-Trader platform is home to an array of alerts, quotes, reports and analytical tools. Clients can connect to several trading accounts simultaneously.
Investors can also create a workspace with up to 50 charts. Each chart can be customized separately with different colors, layouts and time frames to suit various strategies. Live workspaces can be run simultaneously either tabbed or floated across multiple screens.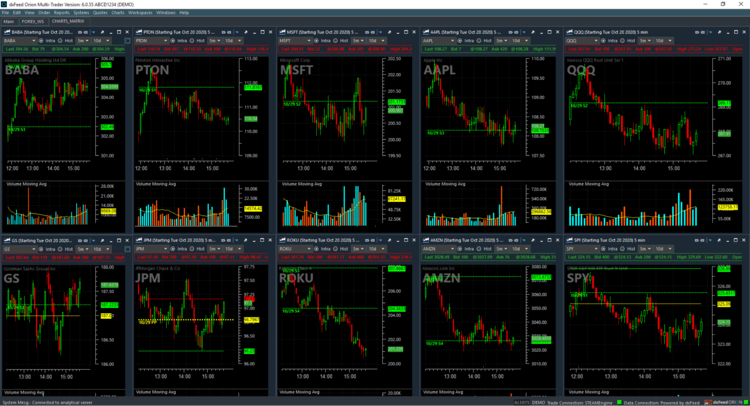 One-click trading is available for straightforward order execution. If you wish to purchase an asset, simply click on the chart, select 'buy' and input the desired quantity. This will create a sold-green line on the chart, as can be seen in the AAPL price chart below.
A sell-order creates a solid red line. If you wish to change the price of either order, simply drag and drop the bar to the new price.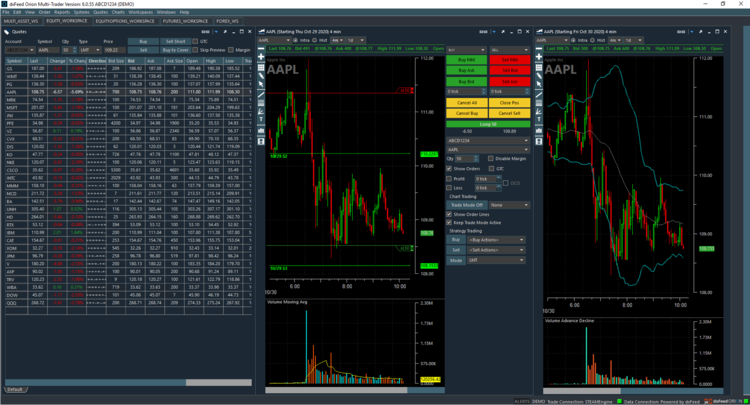 Clients can also trade from the order panel, DOM ladder, an option chain or via an options spread ticket. The platform is home to native or local trailing stops and conditional orders. Alert-triggered orders are also available.
In addition, experienced traders benefit from streaming options chains with real-time Greeks, plus portfolio analytics.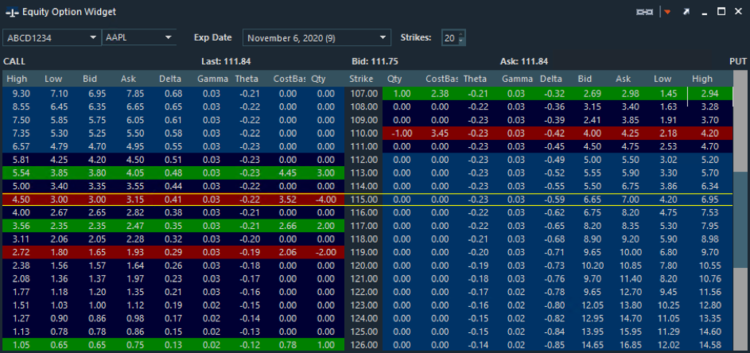 Importantly, users benefit from real-time alerts and notifications. A string of quotes, reports and advanced analytics are available while component linking facilitates trading via several accounts and brokers simultaneously. This also brings with it multi-asset P&L reporting making it easier to keep on top of returns across accounts.
Note, MT offers streaming quotes across futures, equities, options, forex and cryptos.
Automation
One of the main features of the Orion Trading Systems platform is automated investing. Bots analyze markets on the trader's behalf to find assets that suit their strategy. Once an opportunity is identified, the trade is then automatically executed. Importantly, automation means that you can make more frequent investments.
Clients can execute from the ladder, chart or order panel. Investors can also monitor running strategies from the integrated System Tracker feature.
You do not need to have prior knowledge or experience with programming and writing scripts to get started with the automated trading tool. User guides and tips for getting started are available on the official website and platform interface.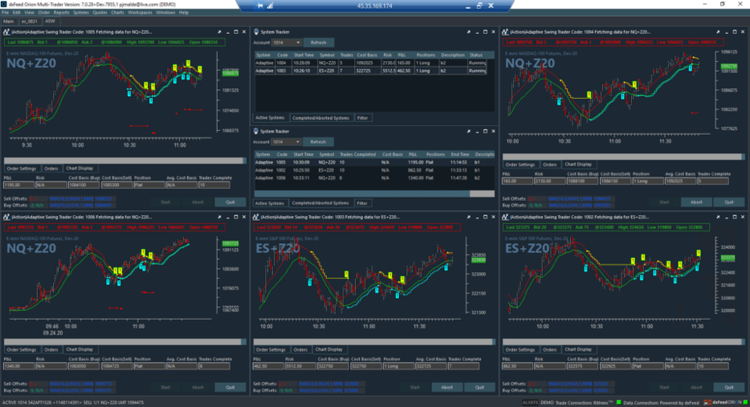 Demo Account
Traders who want to test out different strategies can use the demo account feature. This paper trading account uses simulated funds so that you can learn the platform and create a workspace that meets your needs.
Importantly, potential clients do not need to purchase a subscription or invest real capital. A straightforward registration form simply needs to be filled in to get up and running with the demo account.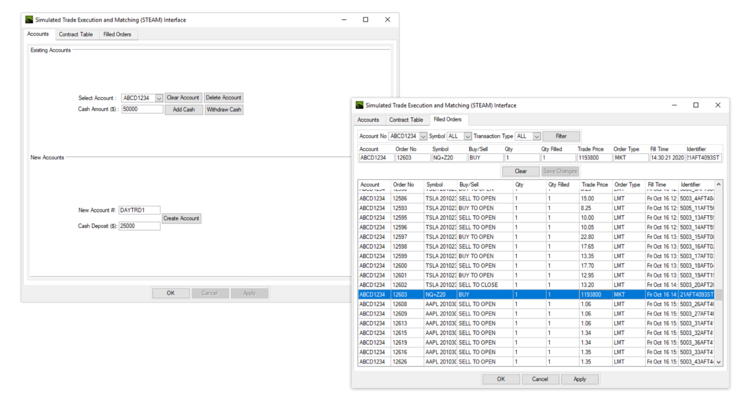 Note, the paper trading account supports stocks, stock options, futures, futures options, forex and cryptos.
Education
There is a Learning Centre available on the Orion Trading Systems website. Customers can learn how to set up charts, set up the Multi-Trader and interpret workspaces. Detailed tutorials and guidance on the platform's various features and tools are available.
The company also provides a 30-minute 1-on-1 help session with an advisor who can help set up the platform. The service is free of charge and bookings are available everyday midweek between 10:30 AM ET (GMT – 5) and 3:00 PM ET.
Trading Accounts
Orion Trading Systems offer several account options:
Standard – This is the most basic account type. Customers get access to workspace customization, real-time quotes, alerts, detailed reports, multiple charting options and ladders with depth of market data.
Advanced – The Advanced account includes everything in the Standard account as well as high-level analysis for options, basic trading strategy support and the Cloud+ service. The Cloud+ service facilitates trading using a web browser and mobile phone, rather than requiring a Windows app.
Professional – This solution caters to professional traders and comes with specialized analysis for options, high-level trading and strategy monitoring systems. Customers also have access to a virtual machine, in addition to all the Standard and Advanced account features.
Fees & Pricing
The fees for each account type are as follows:
Standard: $50 per month
Advanced: $125 per month
Professional: $300 per month
Note, Orion Trading Systems offer a free two-week trial. This is different from the demo account because the solution uses real capital. Some brokers also offer promotional deals, for example, Tradier Brokerage offers new users commission-free trading with the Standard account for $40 a month.
Customer Support
Traders can contact the Orion Trading Systems customer support team through several channels:
Phone number: (888) 299-9235
Email: support@oriontradingsystems.com
Contact form: available on the official website
Social media: LinkedIn, Twitter and Facebook
The social media accounts, in particular, are a good way to keep up to date with the latest platform updates and announcements.
Security & Reliability
Orion Trading Systems provide a secure options platform. Both co-CEOs have over a decade of experience working in financial services and trading software in particular.
It is also important to check and follow the security protocols at your supporting broker. Two-factor authentication at the login stage, for example, provides additional security. Note, you may also need to meet KYC checks.
Getting Started
You can get started with the Orion Trading Systems investing platform in a few straightforward steps:
Sign up with a compatible broker
Install Orion MT on your Windows computer (you can find the installer on the Orion website). Ensure that you meet the minimum system requirements: 1 GHz processor, 4GB RAM, 100 MB hard drive space and 1280×1024 screen resolution. Also make sure you are running Windows 10 or better.
Register for an account and log in using your email and password
Select whether you want to trade with real capital or simulated funds
Set up your workspace. There are guides with advice and help under the 'Support' tab
Benefits Of Orion
Monitor multiple assets and investments at the same time
No programming knowledge is required for automated trading
Connect to several online brokers simultaneously
Advanced charting and analysis tools
Alert-triggered orders
Highly customizable
Free demo account
One-click trading
Drawbacks Of Orion
Orion Trading System Verdict
Orion Trading System offers the powerful Multi-Trader platform with comprehensive options tools, component linking, plus multiple quotes and reports. The solution can be used to access various accounts and data points simultaneously to execute advanced trading strategies. Users can also create tailored, personalized workspaces using the provider's selection of self-help guides and tutorials. And with supporting brokers in major jurisdictions, experienced investors from the USA and France to Kuwait and Qatar can sign-up and start trading.
FAQ
What Brokers Can I Use Orion Trading Systems With?
Orion Trading Systems has links with multiple brokers that span various assets. For example, you can trade stocks and shares with Tradier Brokerage. If you want to trade futures and options, you can use RJO Futures and Straits Financial, amongst others. For the full breakdown of linked brokers, see the Orion Trading Systems website.
How Much Does Orion Trading Systems Cost?
The subscription cost for using the Orion Trading Systems platform depends on the account type. The Standard account costs $50 per month, the Advanced account costs $125 per month and the Professional account costs $300 per month.
How Can I Contact Orion Trading Systems?
Orion Trading Systems has a 'Contact Us' page on their website. There is live chat, telephone support, email, plus a contact form. You can also book a free demo session with a member of the team who can show you how to get the most out of the platform and answer any questions.
Can I Test The Orion Platform Before Purchasing A Subscription?
Investors have two options when it comes to testing the Multi-Trader platform. Firstly, you can sign up for a two-week trial. Alternatively, you can register for a demo account with simulated funds.
Is The Orion Multi-Trader Platform Available Worldwide?
Orion Trading Systems is available internationally through a selection of supporting brokers. This means traders from all over can speculate on stocks and shares, futures, options, digital assets and forex. If your broker does not yet offer Orion Trading Systems, you can contact the support team for direct licensing options.