IQCent Review 2023


Available in United States
---
IQCent will appeal to traders looking for a powerful binary options and CFD trading platform with low fees, a range of accounts, and copy trading support.
- Daytrading Review Team
IQCent is an offshore binary options and CFD broker based in the Marshall Islands with 10+ payment methods and a low $50 starting deposit. With 100+ assets, around the clock trading and high payouts the brand is popular with aspiring short-term traders.
$250
IQCent Platform
Binary Options, CFDs, Forex, Indices, Commodities, Crypto
20% to 200% Deposit Bonus
USD, EUR, GBP, AUD, RUB
Credit Card, Debit Card, Wire Transfer, Bitcoin Payments, Ethereum Payments
and
2 more
Binary Options Trading
IQCent offers binary options on forex, stocks, cryptocurrencies and commodities with high payouts up to 98%. The broker uses a proprietary platform with advanced analysis tools and traders can choose contract timeframes ranging from 5 seconds to months, appealing to both short and long term traders.
Forex Trading
IQCent traders can access CFDs or binary options on 40+ forex pairs, including majors, minors and exotics. CFD spreads start from 0.7 pips and binary options payouts are decent up to 95%. Trading takes place through the broker's proprietary platform with advanced analysis tools.
CFD Trading
IQCent CFDs are available on forex, indices, commodities and cryptos with leverage variable by asset to a maximum of 1:500, which is higher than many alternatives. 24/7 customer support is also available to assist new users.
Crypto Trading
IQCent offers 17 crypto assets through its own platform, including Bitcoin, Ethereum and Litecoin. Leverage on crypto CFDs is limited to 1:10 while binary options payouts vary by token but are competitive.
Copy Trading
Copy trading is offered within the proprietary WebTrader platform. Clients can follow and replicate the trades of established investors using real-time performance statistics.
Awards
Best Binary Broker 2023 - DayTrading.com
✓ Pros
Both short-term CFDs and binary options are tradeable through the broker's single terminal
Technical and fundamental analysis is regularly published within the platform dashboard
$0.01 minimum stake for newer day traders with a smaller initial budget
Keen traders can take part in trading contests with cash prizes
The broker offers 98% payouts on binary options, which is more than many alternatives
IQCent is one of the few binary options and CFD brokers that also offers a copy trading feature
The broker's 24/7 customer support is fast and reliable, responding within 1 minute
✗ Cons
The broker is not overseen by any highly respected regulator, though this is common among binary options firms
It's a shame that no third-party platforms or additional analysis trading tools are offered
Stock CFDs are not available
IQCent offers 100+ assets spanning forex, CFDs, cryptos, and binary options. The online broker aims to support novices and experienced traders alike through its proprietary trading platform with a range of technical and fundamental analysis tools. This 2023 review of IQCent unpacks the firm's investing apps, supported trading strategies, demo accounts, and promo codes. Find out whether you should open a trading account with IQCent.
Company Details
IQCent is a multi-asset trading brokerage with headquarters in the Marshall Islands. Launched in 2017, the retail trading brand is run by Wave Makers Ltd, which also operates BinaryCent, another popular options broker.
IQCent offers 24/7 trading with a $250 minimum deposit and a $0.01 minimum trade size, making it popular with beginners. The broker also boasts payouts of 98% on its binary options products while 10+ payment methods can be used to fund live accounts.
The trading brand accepts clients from many countries around the world, including Canada, India, Japan, South Africa and the UK. The broker is not available to investors based in the USA.
Markets & Products
Clients can speculate on the broker's 100+ financial instruments using straightforward binary options contracts and leveraged CFDs:
Forex: 40 major, minor and exotic currency pairs
Stocks: Four German stocks: Lufthansa, Deutsche, Daimler and BMW
Cryptocurrency: 17 cryptos including Bitcoin, Ethereum and Litecoin
Commodities: Four commodities: gold, silver, copper and brent crude oil
Indices: Seven indices including the US30, S&P500 and FTSE100 (only available as CFDs)
A selection of new OTC assets are also available spanning major and minor forex pairs with payouts up to 95%, a 5 second minimum contract length, and a $0.1 minimum investment.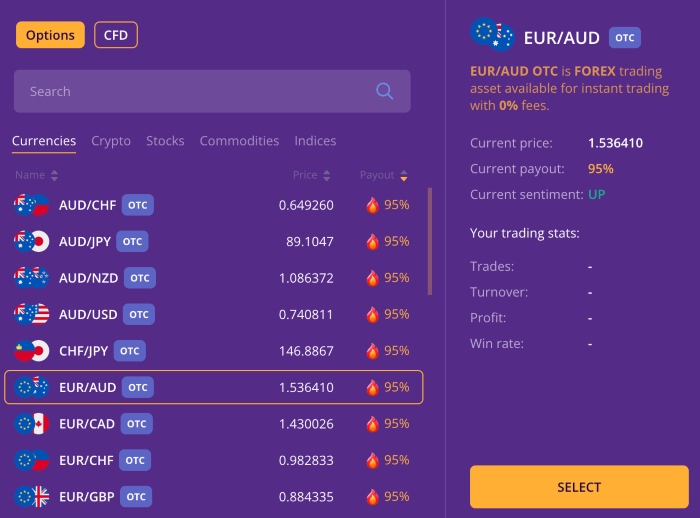 Trading Platforms
IQCent provides its own trading platform. There is no option to use third-party platforms.
However, following a redesign of the trading platform in 2023, clients can access a suite of new features. This includes the ability to open multiple tabs and charts at the same time, a fresh technical analysis design, and new scaling options.
The broker has also improved the user experience by adding new buttons to enter the investment amount ($5, $10 or all-in), plus for CFDs, the Take Profit, Stop Loss and IF functions are available on spot.
Executing A Trade
To make a trade on the IQCent platform, you must first choose whether you are opening a CFD position or utilizing an options contract.
CFDs
Input the trade size and select whether you want to buy or sell. The maximum leverage offered is 1:500 and the platform will tell you the required stake to open the trade. You can trade in either dollars or cents, and the minimum trade size is $0.01.
You also have the option to include stop-loss and take-profit orders, which can be used to automatically close a position when certain price conditions are met, thus reducing risk exposure.
Additionally, IQCent allows clients to choose whether the contract opens at the current market price or on the condition of a security reaching a certain value. For instance, brent crude oil is currently trading at $93. You can set an 'IF' contract such that if brent declines to $92, an order will automatically be placed.
Note that for CFD contracts there is a maintenance margin of 5%, meaning the maximum loss you can make on your positions before IQCent closes your contract is 95%. Ensure the net balance in your account can always cover the minimum required margin if you do not want positions to be automatically closed.
Options
When you open a binary options contract, you must first select the expiry. Unless you use a rollover, this is a fixed expiration time. For this, you can choose between a turbo (5 seconds to 30 minutes), intraday (specify to a given hour), or long-term (specific date).
The only type of binary option you can open is high/low with the strike price set at the current market value. There is a bar on the side of the chart showing the percentage profit for either a high or low binary option, indicating your expected payout should you open the contract.
Finally, input your stake and select up or down to begin the trade.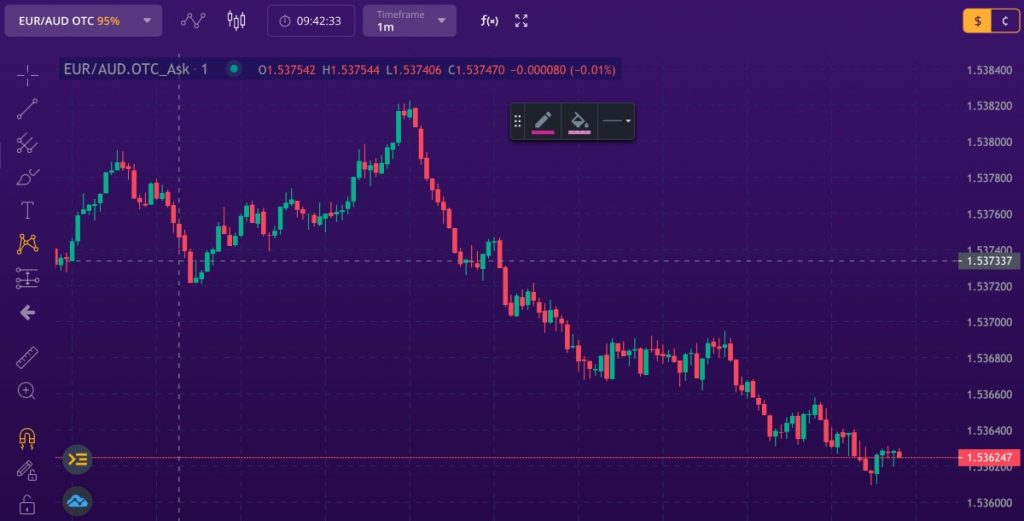 Copy Trading
IQCent also offers a copy trading service such that clients can follow and replicate the trades of selected investors. The copy trading tool can be accessed via the main platform where you can see a leaderboard of the top 10 most successful traders and their profit percentage over time.
To begin copying, simply click the pages icon on your chosen provider and enter the amount you wish to stake.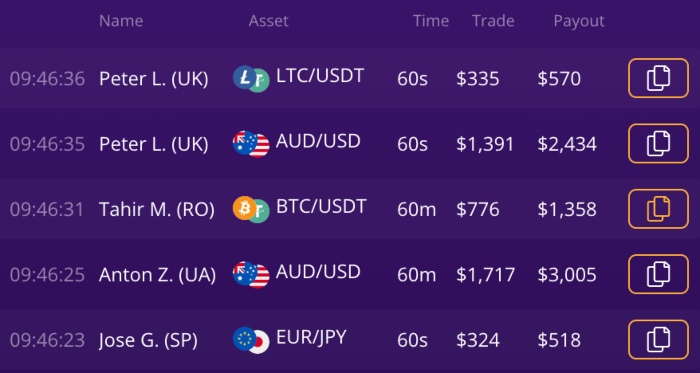 Extra Features
To improve the trading experience, IQCent also provides additional technical analysis and market insights. Here, you can read what experts from IQCent think about markets over the upcoming days and weeks. This includes resistance and support levels for certain securities.
Moreover, you can read about new trade ideas if you are thinking of adopting a new strategy. As well as analysis, there are tabs for recent news and an economic calendar populated with upcoming events such as countries releasing information on the inflation rate MoM and YoY.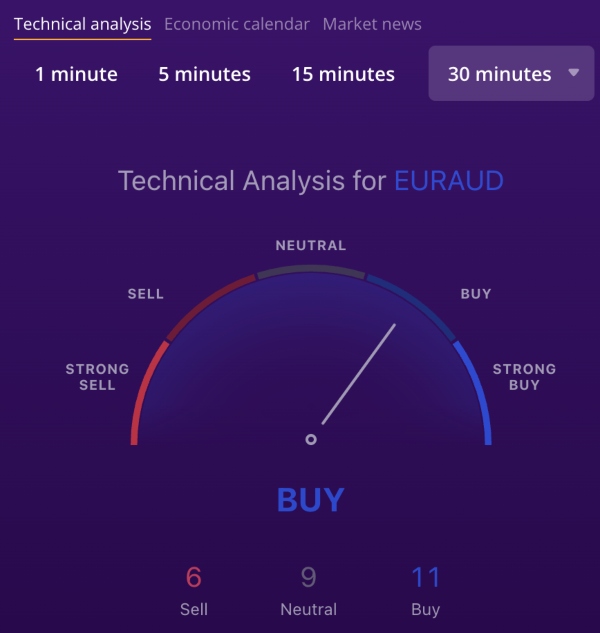 Another benefit of using IQCent is the option to use various orders such as double up, rollover and sell out. Double up acts as a contract duplication service whereby you copy an open contract to enter a new trade with the same security, expiration and direction. However, the entry will be the current market value, not the value when you opened the initial contract. For example, if the initial entry price was $3 but the security is now trading at $3.50, the double-up contract entry will be $3.50.
The rollover feature allows you to extend the expiration time of an options contract. The first time you use rollover is a 100% increase in expiration time. For instance, if the contract is an hour, a rollover will extend expiration by another hour. All subsequent uses of rollover increase expiration by 30%. For example, an 18-minute increase for an hour-long contract.
To use rollover, your contract must meet certain criteria. Firstly, the contract must be out-of-the-money at the time of the request. Secondly, you must place the request before three-quarters of the contract time is complete (i.e. more than 15 minutes before expiry if the contract is one hour).
To use rollover you also have to stake an additional 30% deposit. For example, if you staked $100 to open the contract initially, you must invest another $30 to extend the expiry time.
It's worth noting that rollover is a paid feature whereby $1 = 1 rollover. Also, we liked that free rollovers may be available depending on your account and deposit.
Sell out is used to close a position before expiry. Note that this order is only available if your contract is currently in-the-money.
Account Types
There are three different live accounts:
Bronze
20% deposit bonus
1-hour withdrawals
Access to a demo account
24/7 video chat support
Copy trading
Silver
50% deposit bonus
1-hour withdrawals
Three 'risk-free' trades
24/7 video chat support
Access to a demo account
Masterclass training session
Copy trading
Gold
100% deposit bonus
1-hour withdrawals
Three 'risk-free' trades
24/7 video chat support
Access to a demo account
Masterclass training session
Copy trading
Personal account manager
Demo Account
There is also a free demo account available to all IQCent users when they sign up and login.
The paper trading profile is a good way to practice using the proprietary platform before you start trading with real capital. It's also a good place to start for beginners new to binary options trading and leveraged CFDs.
Account Verification
When you sign up to IQCent, you need to complete a 'Know Your Customer' process. KYC is used to verify accounts by having clients submit government-issued identification and proof of address. Only once you have completed the KYC process will you be allowed to make a withdrawal.
How To Verify Your IQCent Account
Go to the 'Personal Data' section in Settings
Input the identification document type
Upload images of both the front and back of your chosen ID
Sign the user agreement
IQCent Fees
IQCent does not charge commissions on binary options, meaning the payout available on the platform is the total turnover if the contract ends in-the-money. Payouts can reach 98%.
For CFDs, IQCent makes its money through spreads which start at 0.7 pips. Additionally, the broker charges a 0.07% swap fee on overnight positions. The only trades which incur a commission are cryptocurrency CFDs. For non-leveraged trades, the fee is between 1% and 2.5%. There is a fee of up to 5% when trading on margin.
There is also a $10 monthly inactivity fee.
Account Funding
There are a number of accepted deposit and withdrawal methods, including Visa and Mastercard debit and credit cards as well as cryptos such as Bitcoin, Ethereum and Tether. Regardless of the method, deposits are processed instantly and there is a minimum payment requirement of $50.
The expected withdrawal time is one hour, however, this may be longer if you submit the request outside of regular business hours. The minimum withdrawal amount is $20.
When we used BinaryCent, our experts were also pleased to see the brand has redesigned the website and funding area to make it easier to request and process deposits.
For transfers made using debit and credit cards, IQCent charges a 5% fee. If you use cryptocurrencies instead then deposits and withdrawals are free.
Note, withdrawals have to be made using the original deposit method. Additionally, withdrawal rules state that you must verify your account before you can request a payment.
How To Withdraw Money From IQCent
Sign in to your account at https://www.iqcent.com/login
Go to 'Funds' and click 'Withdrawals'
Select the method you used for your deposit and type your destination account details. For crypto transactions, this would be the wallet address
Input the amount you would like to withdraw
Confirm the request
If you experience withdrawal problems, contact the customer service help phone number found on the 'Contact Us' page. You should also check your account verification status as you may still be waiting for confirmation.
Regulation & Security
IQCent is registered with the International Financial Market Relations Regulation Center (IFMRRC). However, it's worth highlighting that this it not a top-tier regulator, so your funds are not protected by any government schemes.
The broker does, however, use 3D secure protocol and 256-bit SSL processing to encrypt user data.
IQCent Support
All accounts are entitled to 24/7 customer support. If you are experiencing issues such as the platform is down and keep crashing, keeps logging you out or features are not working, seek help. Additionally, if you want to delete your account, contact the customer service team.
The IQCent team can be reached through the following methods:
Contact form via the website
Email support@iqcent.com
Social media accounts on Instagram and Twitter
Phone numbers based in the USA, Russia, Singapore, Australia, Thailand and China
There are several live streams running at any one time so you can speak to an expert while trading. They can offer helpful tutorials or guides on potential trading strategies
Apps & Accessibility
The primary IQCent trading platform can be accessed via a desktop web browser – there is no download option for PC.
Clients can also make trades using the mobile app. The application can be downloaded on iPhones and other iOS devices through the Apple App Store and on Android devices via the Google Play Store. You may also be able to find an unofficial alternative APK app through a third-party website online.
Bonuses & Promotions
IQCent runs various promotions and bonus schemes.
When you first register an account, you are eligible to receive a deposit bonus that scales with the account. Bronze accounts are eligible for a 20% bonus, Silver accounts can claim a 50% bonus, and Gold accounts can get a 100% bonus. The maximum bonus available is $1000.
IQCent also runs a weekly trading contest where clients compete to generate the greatest returns. The top 20 most successful traders are given cash prizes with the winner receiving $10,000, second place receiving $5,000 and third receiving $3,000.
Customers may also receive bonuses and prizes through the firm's giveaways.
IQCent Verdict
IQCent is an attractive broker due to its multiple markets, range of promo codes, copy trading services, and well-made trading platform. The technical and fundamental analysis reports are also a great aid for beginners looking to develop or try out new trading strategies. On the downside, traders are restricted to high/low binary options contracts in addition to CFDs. Also, the broker is not regulated by a trusted financial body.
FAQs
Who Owns IQCent?
IQCent is owned and operated by Wave Makers Limited, based in the Marshall Islands. The company has previous experience managing trading bands as it also runs BinaryCent.
Is IQCent A Legit Or Scam Broker?
IQCent is a legitimate broker. However, it is not regulated, so there are limited protective measures in place. Utilize demo account profiles before investing money.
How Does IQCent Make Money?
IQCent makes money through spreads and commissions on CFDs plus losing binary options bets. IQCent acts as the counterparty to all trades made on the platform.
Is IQCent Regulated?
No, IQCent is not a regulated trading broker. If you want to use a licensed brokerage, consider alternatives such as Pocket Option.
Does IQCent Have Rollover?
Yes, IQCent does offer rollover on options contracts. The first time that you use rollover will double the expiration time of the contract. Every subsequent use of rollover increases the contract length by 30%.
Note, rollover is a paid feature where $1 = 1 rollover.
How Does IQcent Work?
IQCent is a CFD and binary options broker offering trading in forex, commodities, crypto, indices and stocks. You can deposit funds through Visa and Mastercard or cryptocurrencies such as Bitcoin. There is also a free demo account available.
Is IQCent Free?
It is free to open an account with IQCent – there is no monthly or yearly subscription fee. The only fees come from deposits via debit or credit card, overnight contracts, crypto CFDs and inactivity.
Accepted Countries
IQCent accepts traders from Australia, Thailand, Canada, United States, United Kingdom, South Africa, Singapore, Hong Kong, India, France, Germany, Norway, Sweden, Italy, Denmark, United Arab Emirates, Saudi Arabia, Kuwait, Luxembourg, Qatar and most other countries.
Payment Methods
IQCent Details
| | |
| --- | --- |
| Minimum Trade | $0.01 |
| Regulated By | IFMRRC |
| Islamic Account | No |
| Mobile Apps | iOS & Android |
| Margin Trading | Yes |
| Volatility Index | No |
| Spot Trading | No |
| Perpetual Swaps | No |
| ELWs | No |
| REITs | No |
| AI / Machine Learning | No |
| Robo Advisor | No |
| P2P Trading | No |
| Negative Balance Protection | No |
| VPS Hosting | No |
| Tournaments | Yes |
| Demo Competitions | No |
| Managed Accounts | No |
| Market Maker | No |
| Auto Trading | No |
| Social Trading | Yes |
| Trade Signals | TradingView |
| Inactivity Fee | $10 |
| Guaranteed Stop Loss | Yes |
| Commodities | |
CFD Trading Details
| | |
| --- | --- |
| FTSE Spread | 0.7 |
| GBPUSD Spread | 0.7 |
| Oil Spread | 0.7 |
| Stocks Spread | N/A |
| Leverage | 1:500 |
Forex Trading Details
| | |
| --- | --- |
| GBPUSD Spread | 0.7 |
| EURUSD Spread | 0.7 |
| EURGBP Spread | 0.7 |
| Assets | 40 |
Cryptocurrency Trading Details
| | |
| --- | --- |
| Crypto Spread | Variable |
| Crypto Lending | No |
| Crypto Staking | No |
| Crypto Mining | No |
| Crypto Auto Market Maker | No |
| Crypto Coins | |
Binary Options Trading Details
| | |
| --- | --- |
| Payout Percent | 98% |
| Expiry Times | 5 seconds – 30 days |
| Ladder Options | No |
| Boundary Options | No |
Top 3 Alternatives to IQCent
Compare IQCent with the top 3 similar brokers that accept traders from your location.
World Forex – World Forex is an offshore broker registered in St Vincent and the Grenadines, offering commission-free trading with a $1 minimum deposit and 1:1000 leverage. Digital contracts are also available, offering beginners a straightforward way to speculate on popular financial markets.
Go to World Forex
Videforex – Videforex offers access to stock, index, crypto, forex and commodities markets via binary options and CFDs. The proprietary platform, mobile app and integrated copy trading are user-friendly and will suit new and casual traders, and the market analysis tools and trading contests provide good ways to improve your trading skills.
Go to Videforex
RaceOption – RaceOption is a binary options broker operating from the Marshall Islands. With over 1,500 clients, the broker aims to offer fast funding, low fees and a secure trading environment. Traders can access over 100 binary options and CFDs, plus copy trading and weekly prizes.
Go to RaceOption
IQCent Comparison Table
Compare IQCent With Similar Brokers
IQCent
World Forex
Videforex
RaceOption
Rating
3.7
4
3.6
3.5
Markets
Binary Options, CFDs, Forex, Indices, Commodities, Crypto
Forex, CFD Stocks, Metals, Energies, Cryptos, Digital Contracts
Binary Options, CFDs, Forex, Indices, Commodities, Crypto
Binary Options, CFDs
Demo Account
Yes
Yes
Yes
Yes
Minimum Deposit
$250
$1
$250
$250
Minimum Trade
$0.01
0.01 Lots
$0.01
$0.01
Regulators
IFMRRC
SVGFSA
–
–
Bonus
20% to 200% Deposit Bonus
100% Deposit Bonus
20% to 200% Deposit Bonus
20% – 200% Deposit Bonus
Education
No
No
No
No
Platforms
IQCent Platform
MT4, MT5
TradingView
TradingView
Leverage
1:500
1:1000
1:500
1:500
Payment Methods
7
10
8
9
Visit
Visit
Visit
Visit
Visit
Review
–
World Forex
Review
Videforex
Review
RaceOption
Review
Compare Trading Instruments
Compare the markets and instruments offered by IQCent and its competitors. Please note, some markets may only be available via CFDs or other derivatives.
Compare IQCent Trading Instruments

| | IQCent | World Forex | Videforex | RaceOption |
| --- | --- | --- | --- | --- |
| Binary Options | Yes | Yes | Yes | Yes |
| Expiry Times | 5 seconds – 30 days | 1 minute – 7 days | 5 seconds – 1 month | 5 seconds – 30 days |
| Ladder Options | No | No | No | Yes |
| Boundary Options | No | No | No | No |
| CFD | Yes | Yes | Yes | Yes |
| Forex | Yes | Yes | Yes | Yes |
| Stocks | No | Yes | Yes | Yes |
| Commodities | Yes | Yes | Yes | Yes |
| Oil | Yes | Yes | Yes | Yes |
| Gold | Yes | Yes | Yes | Yes |
| Copper | Yes | No | Yes | No |
| Silver | Yes | Yes | No | Yes |
| Corn | No | No | No | No |
| Crypto | Yes | Yes | Yes | Yes |
| Futures | No | No | Yes | Yes |
| Options | No | No | No | No |
| ETFs | No | No | No | No |
| Bonds | No | No | No | No |
| Warrants | No | No | No | No |
| Spreadbetting | No | No | No | No |
| Volatility Index | No | No | No | No |
IQCent vs Other Brokers
Compare IQCent with any other broker by selecting the other broker below.
The most popular IQCent comparisons:
Customer Reviews
4 / 5
This average customer rating is based on 1 IQCent customer reviews submitted by our visitors.
If you have traded with IQCent we would really like to know about your experience - please submit your own review. Thank you.
Visit
IQCent is an offshore binary options and CFD broker based in the Marshall Islands with 10+ payment methods and a low $50 starting deposit. With 100+ assets, around the clock trading and high payouts the brand is popular with aspiring short-term traders.