Trading Apps
Day trading apps are on the rise and almost every online broker is pouring money into mobile app development. No longer are they just about viewing portfolios and making basic trades. Today's top apps aim to bring you the full 360 experience, from advanced order types and detailed charting, to complex options and a multitude of sophisticated trading tools. There are also practice or simulator apps for beginners to try trading out.
This page will outline what to look for in a mobile trading app, plus offer a list of the best trading apps. You'll also get a break down of the different apps available, from Android to iOS, plus advice on practice apps, as well as recommendations for beginners.
What To Look For in an App
Good apps will enhance your trading experience, helping you to make accurate and informed trade decisions. Below are a few essentials you should look for from your app:
Features – You need an app that provides you with all the essential information. So check you get market updates, charts, trends, news updates, plus the usual stock price tickers.
Ease of use – Every second counts when you're an intraday trader, so make sure the app is easy to navigate. You need to be able to identify and apply key information swiftly.
Concise – The best apps provide you with enough information to lead you towards the correct trade, but without bombarding you with so much information you're pressured into making impulsive decisions.
Reliability – You don't want the app crashing when you're about to enter or exit a position. Check reviews first to make sure it's efficient, reliable and kept up to date.
Cost – Most brokers offer free apps. So, if the broker is going to charge you for app use, check you're getting worthwhile additional features. Having said that, a free app shouldn't be the deciding factor when choosing a broker. For more information on choosing brokers, visit our comparison table and reviews.
Security – Trading apps have millions of users and process billions of pounds. This makes them an attractive proposition to hackers. The security firm, IOActive, tested twenty-one of the most popular apps and found four were vulnerable to hackers. You don't want to lose your hard earned capital, so check reviews for security information first.
Good apps for day trading will have all these boxes ticked. If the app you're considering falls short in any of these areas, think twice.


App Reviews
So now you know what to look for. But, with so many options, which apps should you choose? To make that decision a little easier, we've collated some of the best apps available today.
IQ Option
The IQ option mobile app offers a sleek user face and an intelligent mobile platform. You can trade all the most popular forex pairs, plus the three top cryptocurrencies, bitcoin, ethereum, and litecoin. But what really sets their app apart?
You benefit from lightening fast execution speeds. This is an absolute essential if you want to maximise profits, as every second counts in the life of an intraday trader.
You also get invaluable customer support, 24/7. A technical problem could cost you valuable time and considerable profit. That's why you get support in 19 languages, so you always have someone to turn to, whatever the problem.
IQ Option Trading App: Screenshot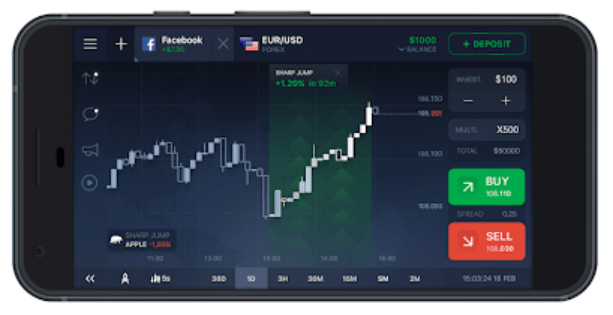 FxPro
If depth and advanced tools are high up on your criteria list then FxPro may tick your boxes. On top of the multi-asset capabilities and competitive pricing, you get a smart and easy to use mobile platform.
One of the biggest standout features is the advanced charting functions and technical indicators. Instead of being tricky to use on a small, mobile device, adapting and tailoring your chart to your needs can be done with ease.
You can also utilise a split-screen function. This allows you to view a chart and all your trading information on one screen. The cherry on the top is the single tap order execution to ensure rapid trading. This all makes it a top contender for the best mobile app for trading.
FxPro App: Screenshots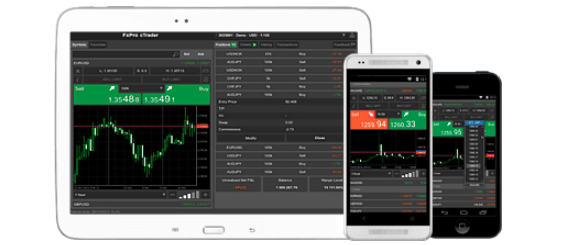 BinaryCent
It's easy to see why BincaryCent is considered one of the best trading apps. It offers three distinct advantages.
Firstly, 24/7 trading is available, providing you ample opportunity to master your craft. Secondly, it's affordable when you haven't got much capital to start out with. the minimum deposit is just $10, with minimum trades of only 10 cents. Finally, you also get 24/7 customer support, via chat, calls, and messages, giving you a reliable support blanket throughout the day. This all makes it one of the best free apps around.
Plus500
After significant investment, Plus500 now offers one of the best apps for intraday trading. If you're looking to trade leveraged CFDs, you've got the option of stocks, forex, indices, commodities, cryptocurrencies, ETFs, and options. But, aside from choice, how did Plus500 bag 104,432 new traders in 2016?
The fact you can open a free unlimited demo account in less than 5 minutes definitely didn't hurt. Perhaps it's the fact they charge zero commissions as well as granting access to all the leading stock exchanges, including NYSE, Euronext, LSE and more.
The app also comes with a negative balance protection, ensuring you can't lose more than your account balance. On top of that, you get access to a multitude of real-time charts, and you can fund your account with credit and debit cards, as well as PayPal.
AVA
AVA is another increasingly popular trading phone app. You can trade forex, indices, and stocks, plus a host of commodities. The app is available for both iOS and Android users. AVA has streamlined their app so installation and setup take no time at all.
Once your app is setup you can register for either a live or demo account. If you opt for forex pairs you can benefit from up to 200:1 leverage on major pairs. Perhaps though, the standout feature is the access to learning resources. You can benefit from hands-on forex and CFD training from experienced traders willing to impart their tricks of the trade.
As with all of the apps that have made this list, you'll get a fast and reliable mobile platform to enhance your trading experience. A platform that comes with live customer support directly from the app, negating any concerns about technical problems.
Apps For Beginners
If you're new to the game, you're about to embark on a steep learning curve. You may already have a basic understanding of how the markets work, but knowing how to play the market effectively isn't so straightforward.
Below some of the top day trading apps for beginners have been collated.
eToro – You need just $50 to start trading stocks, commodities, indices and currencies, making it ideal for the novice trader. You also get a distinct community feel, with access to live discussions and experienced traders, enabling you to develop with real-time support. Throw in easy to set up performance charts and a straightforward portfolio breakdown and you've got the perfect platform for beginners.
ETX – Another ideal platform for beginners, ETX grants you access to hundreds of live prices, open and close prices, plus the ability to place and amend stop losses. Portfolio management has been made straightforward and with just a few taps you can navigate across the entire app. This ease of use and graphing package provides a novice with all the essentials needed to make a bold entrance into the day trading arena.
Binary.com – They've hosted over $2 billion worth of trades and they're making their app increasingly appealing to beginners. The app is sleek, with a basic layout that makes getting to grips with it a walk in the park. It also offers a transparent fee structure, ensuring you won't get stung by unknown costs when you're starting out.
Etoro App iPad Screenshot: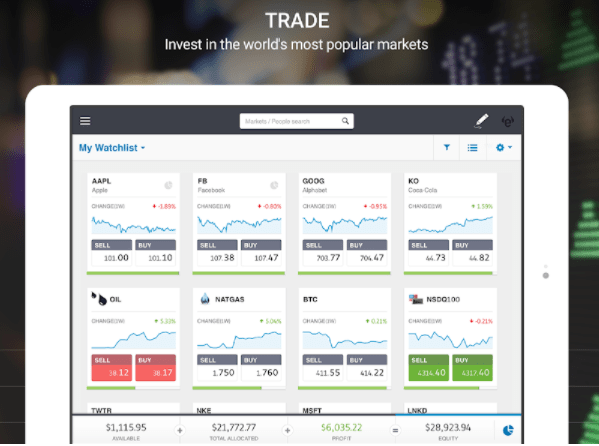 Day Trading Demo Apps
Before you step into the ring, getting some experience with a trading simulator app is always a smart move. Your account will be funded with simulated money, so any mistakes you make won't cut into your capital. They're the perfect place to get familiar with the markets and iron out any creases in your strategy.
A couple of popular practice apps are as follows:
HighLow – Their free demo account provides you with $10,000 of simulated money. The design of the app is kept simple, making it the perfect place to test different instruments and keep a track of performance. On top of that, you can also benefit from a cash back bonus of up to $50 on new accounts when you decide to upgrade to live trading.
Markets.com – Their free demo account with $10,000 of virtual money makes getting familiar with CFDs and the markets stress-free. Your demo account will allow you to straightforwardly analyse, plan, and execute your positions. It also throws in a range of risk management features, including stop loss, take profit, entry limit, and entry stop. These will all help you hone your craft before you put real capital on the line.
News Apps
Warren Buffet once advised reading five newspapers a day. That's why the below news apps are well worth a download. They'll ensure essential information is sent straight to your device, enabling you to make fast and informed trading decisions.
CNBC – Not only will you get breaking business and financial news, you'll also benefit from real-time stock market quotes, plus a range of easy to view charts.
Bloomberg – You get more than just breaking news and information on stock exchanges. You can personalise the app to create a watchlist of companies and stocks you want information on.
Yahoo! Finance – With a stand out design, the sleek interface makes navigation a breeze. The sophisticated visuals also make it one of the best apps for iPad users.  It also offers the ability to sync portfolios and quotes across multiple devices, all whilst tracking stocks, commodities, currency and more.
Alternatively, if you want to hear your news instead of read it, you can get your hands on radio apps, such as Power Trading Radio and Day Trading Radio.
iOS vs Android
Whilst Apple and Android may at be war, fortunately, the trader doesn't have to suffer too much. The day trading apps you can get for iPads and iPhones can usually be found in the Android app store too. All the big, popular app providers have realised granting access to both sets of users is the most prudent way to keep the peace.
Having said that, some apps will differ slightly between interfaces. TradeHero for example, considered one of the best apps for iPhone, falls slightly short off the mark for Android users. The functionality isn't quite the same since the most recent updates in October of 2016. However, the company has re-assured customers missing features will be added in the next versions.
The TD Ameritrade mobile app is another of the popular choices where you'll find differences. Reviews show it's one of the top iPhone apps for day trading, yet they've so far failed to impress as much with their Android version. Reviews from both stores show the iOS version is rated far higher.
So before you buy an app, it is worth checking reviews to make sure your choice of device isn't going to prevent you benefiting from all the features.
Final Word
Apps for day trading have come a long way in recent years. You can now get the full trading experience from the credit card-sized device in your pocket. However, it is worth doing your homework before you head over to the app store. Check reviews to ensure you get the features your trading style requires. Every second counts, so also check you'll get a fast and reliable interface. In addition, bear in mind the best app for Android may not be as comprehensive or work so smoothly on your iOS device, and vice versa.