E-Trade Review 2023


Available in United States
E-trade provides great service to anyone who wants to grow their wealth both through long-term investments and shorter-term trading, thanks to a diverse and flexible range of products.
- Daytrading Review Team
E-trade is a one-stop shop that provides both investment and trading opportunities to clients through four proprietary platforms and apps. The firm has decades of experience and is authorized by the SEC. Investors can benefit from ready-made portfolios or open a do-it-yourself account to choose from stocks, funds, ETFs, futures and bonds; traders can access margin trading on stocks, options and futures.
$500
MT4
Stocks, Futures, E-minis, Options
Commission Free Trades
PayPal, Credit Card, Wire Transfer, Apple Pay, Western Union
and
2 more
Stock Trading
Invest in thousands of equities, with US stocks available for no commission, or gain exposure to sectors or regions through a diverse range of ETFs, funds and pre-built portfolios. Trade stocks with margin using one of E-trade's proprietary platforms, or speculate via futures and options.
✓ Pros
Trade US stocks, ETFs and mutual funds with no commissions
Build an investment portfolio and trade stocks and derivatives through one broker
Good selection of extra features including data feed with input from leading third-party providers
Regulated by top US organizations including the SEC
Competitive fees and a transparent pricing structure
Very diverse range of assets to invest and trade
✗ Cons
High commissions on some products
High threshold to qualify for the pro platform
No fractional shares
No demo account
No forex trading
Etrade is one of the most well established online trading brokers. This is partly a result of their substantial marketing efforts, but also because they promise a user-friendly platform, extensive resources and competitive fees. This review of Etrade will detail all aspects of the offering, including their history, accounts, commissions and product list.

A Brief History
Before you sign up to start day trading, it helps to understand how Etrade has evolved. The company came to life in 1982 when William A. Porter and Bernard A. Newcomb founded TradePlus in California with just $15,000. Then in 1991, Porter and Newcomb formed a new enterprise, Etrade Securities. They started offering trading services through America Online and Compuserve. By 1994 revenues nearly hit $11 million, an impressive leap from the $850,000 of 1992.
Just two years later the company boasted 73,000 customers and was processing 8,000 trades each day. Not to mention quarterly revenue was an impressive $15 million. In June 1996 the company then went public via an initial public offering (IPO).
In the early 2000s, it looked like Etrade would merge with TD Ameritrade. However, disagreements on pricing and governance rights prevented this deal coming to fruition. Instead, Etrade acquired two former discount brokers, Harrisdirect plus Brown & Company.
Popular Alternatives To E*Trade
As a result of numerous business deals, E-Trade now has headquarters in New York, as well as other office locations all over the globe. Their growth has also meant they can offer trading in:
Stocks
OTC penny stocks
ETFs
Futures
Options
Bonds
Mutual Funds
Some people are unsure whether Etrade is a market maker. The answer is that G1 Execution Services LLC was the market-making-unit of the ETrade Financial Corporation. However, the enterprise was sold to Susquehanna International in 2013.
Minimum Initial Deposit
One of the requirements if you want to start day trading with Etrade is that you pay a direct $500 minimum account deposit. While there are alternatives that offer lower minimums, $500 is fairly industry standard.
Spreads & Commissions
User trading reviews have been mostly positive in terms of brokerage fees. Once you open an account you can expect similar prices to that of their main competitors, TD Ameritrade, Fidelity and Charles Schwab.
This does mean if you're looking for massively discounted commissions, you may want to look elsewhere. Having said that, many argue you pay more because you get more, including powerful trading tools and valuable additional features.
Standard stock trades are $6.95, plus an additional $.75 per contract. There are also volume discounts. This means active traders can get rates as low as $4.95 + $0.50 if they make over 30 trades each quarter.
On top of that, Etrade offers commission-free ETFs. Although they do not quite offer the 296 no-fee ETFs found at TD Ameritrade, they do still promise 225, putting them third in industry rankings.
Leverage
Reviews and ratings show Etraders are content with leverage options. Once you open a margin account you can borrow up to 50% of your eligible equity to purchase products. Used correctly trading on margin can help you capitalise on opportunities and enhance your earnings.
It can also allow you to speculate on numerous markets, from foreign stocks and gold to cryptocurrencies, such as ethereum, ripple and bitcoin futures. However, you will need to check futures margin requirements for your account type.
You must also bear in mind margin calls and high rates could see you actually lose more than your original account balance. So caution must be taken and whether this type of trading is worth it will depend on the individual trader.
Other Trading Fees
There is no inactivity fee for intraday traders. However, you will have to pay a $75 transfer fee. In fact, day trading broker reviews were impressed that Etrade's pricing structure was relatively transparent, ensuring users won't get tripped up by hidden fees.
There is also good news in terms of promotions and bonus offers. An account bonus could see you benefit from 60 days of commission-free trades when you deposit $10,000. Furthermore, the broker does sometimes run a refer a friend scheme. The requirements vary, so head over to their website to see how it works.
Trading Platforms
Once you open an Etrade account and login you will have a choice of three trading platforms. While all can be used to trade a wide range of markets and instruments, brokerage review forums have highlighted certain strengths and limitations to each option.
Etrade Web
Web platform customer reviews are fairly positive. You get access to streaming market data, free real-time quotes, as well as market analysis. The user interface is fairly sleek and straightforward to navigate. For example, from the dashboard, you can track accounts, create watchlists and execute trades.

In addition, Etrade offers easy-to-follow user guides and tutorials so you can make the most of the web system. Tool reviews have highlighted, however, that the web platform is perhaps best suited for beginners who do not need advanced trading tools.
OptionsHouse
Etrade bought the established OptionsHouse trading platform in 2016. Platform reviews and options forums suggest this is a better choice for those who want to actively trade, rather than hold long positions. You can get a wealth of real-time data, tickers and tens of charting tools. In fact, you get:
File notes with each trade
Numerous options levels
100 technical studies
Stop on quotes
An option chain screen with 30 different customisable columns
Risk/reward that is broken down into detail and even uses smiley faces to represent benefits and drawbacks

You also get access to news feeds and can find a vast array of educational resources which will help you figure out how to get set up. It's also worth highlighting Etrade's OptionsHouse isn't solely for options trading. It can also be used for equities and futures trading. So buying bitcoin, litecoin and trading the Nasdaq or S&P 500 index fund are also all possible.
Overall then, the platform promises speed, innovation and a multitude of trading tools. But as reviews for beginners have demonstrated, perhaps its greatest strength is its ease of use for new users.
Pro Platform
Once you have finished the Pro download, as reviews are quick to point out, you are welcomed into a world of advanced trading. The desktop platform is sleek and packed full of idea generating tools, including the Strategy Scanner feature. There are high levels of customisability and backtesting capabilities too.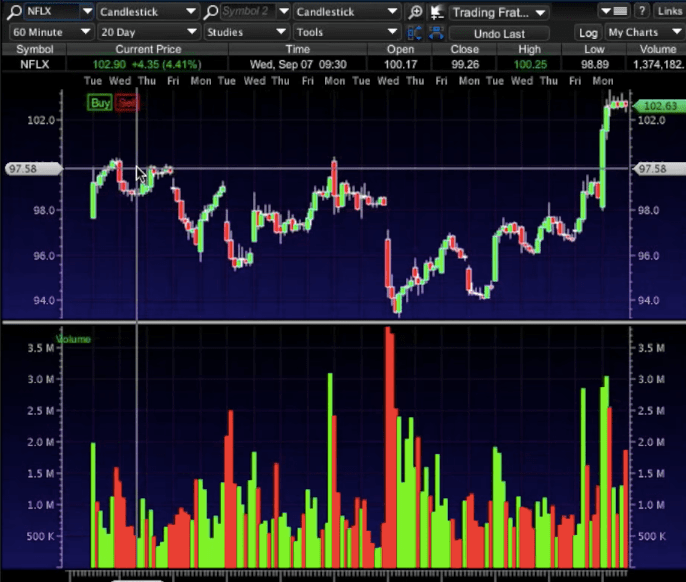 If you want to just track stocks you can use the MarketCaster function. This opens with an additional window and is Etrade's real-time streaming quotes tool.

Highlights of the Pro platform include:
Level 2 quotes
Real-time sales
31 drawing tools
Over 20 trading tools
A range of price types
118 technical indicators
Real-time strategy scanner
Live streaming Bloomberg TV
Advanced charting from Chart IQ
Numerous options trading tools, including Options Screener, Options Analyser and Strategy Optimiser
There is a distinct downside with the Pro platform though. You must make a minimum of 30 traders a quarter and hold a portfolio balance of $250,000. If not, access will set you back $99 each month. At this point, it's worth highlighting both TD Ameritrade and Charles Schwab facilitate access to both of their flagship platforms without such criteria.
On top of that, you can't view alerts on charts. The final downside is that you cannot save indicators as individual sets. Instead, you must save the whole chart view as a custom profile.
Etrade Mobile Apps
Etrade's mobile app reviews are extremely positive. In fact, many argue their offering is among the best in the industry. There are two free mobile apps. Once you have activated your account and downloaded the app you have free rein to manage your account and enter and exit trades. To help you do that, you get:
Real-time quotes
Interactive charts
Quick transfers
CNBC on Demand
International markets, including cryptocurrency
In addition, placing trailing stops, limit orders and accessing after-hours trading is all painless.
Advanced App
The OptionsHouse app boasts a sleek design and straightforward use. Once you have your account login details, you get customised stock screening and third-party research ratings from within the app. The ChartIQ engine is also used within the mobile apps. One useful feature this brings is that any note you add to a chart on Etrade Pro will appear on the same chart on your mobile device. This includes drawings, trendlines and channels.
In addition, you can take any ten of Etrade's 118 studies onto your mobile device. However, to utilise this feature you must already have access to Etrade Pro.
Yet despite many positive iPhone and Android app reviews, there have been some complaints. For example, the app supports just ten indicators, which is considerably below the industry average of 36.
Overall then, even for dummies, the mobile apps are quick and easy to get to grips with. In fact, global financial trading reviews often rank Etrade's apps as the best in the industry.
Methods of Payment
Once you have opened your brokerage account, you will need to transfer money from and to your bank account.
Fortunately, there are a number of ways you can go about deposits and withdrawals, including:
PayPal
Western Union
Wire transfer – This is the quickest method and funds are usually in your account the same business day. However, you may incur an international wire transfer fee, the value of which will depend on your location. You can find wiring instructions on Etrade's official website.
Debit & credit card – Visa and the majority of other cards are accepted.
Mail a check – You can make a deposit at your local E*trade branch. Transfers usually take five business days.
You should be able to see how much is available for withdrawal directly from within your account. Note withdrawal times will vary depending on payment method.
Financial investment and trading reviews are content with the current payment methods on offer, as they are fairly industry standard.
The main benefit is that Etrade does truly provide international trading as the above methods are available regardless of location, whether you're from India or the US.
Etrade Accounts
Etrade offers a number of options in terms of accounts, from joint brokerage accounts to managed accounts. The standard day trading brokerage account is relatively straightforward to set up. Simply head over to their homepage and follow the on-screen instructions. You will need a minimum of $500 to open their brokerage account, which can be deposited by bank transfer, mail or a deposit into one of your local Etrade offices.
If you opt for an alternative account type, you may need to upload documents and meet other criteria. On top of that, there may be additional fees if you opt for personalised investment accounts from Etrade's Capital Management, which include:
Core Portfolio
Blend Portfolios
Dedicated Portfolios
Demo Account
Unfortunately, Etrade does not offer a free demo account. This is a shame as the directions taken by most brokers since 2018 have all been moving towards allowing users to enroll in virtual trading. They provide the perfect opportunity for novice traders to build confidence and learn how to react to market events, before risking real capital. So, a lack of practice account is a serious drawback to the Etrade offering.
Additional Features
Research
Etrade reviews are quick to point out there are a number of valuable additional resources available. In particular, conducting research is straightforward. For example, once you have pulled up a quote for Amazon (AMZN), you get:
A summary of key statistics
A mini chart of the day's price action
Price analysis from Trefis Research
Buy and sell buttons
Alerts setup
Headlines
On top of that, Etrade provides third-party research from:
Thomson Reuters
SmartConsensus
Morningstar
MarketEdge
It's worth noting this is less than competitors, such as Fidelity and TD Ameritrade who provide at least six.
Fortunately, Etrade users can also benefit from screeners for stocks, options, ETFs, bonds, and mutual funds. The stocks screener facilitates filtering by third-party ratings from its research partners. The main issue, however, is that many of the screeners are visually dated and therefore result in a less enjoyable user experience.
Etrade Education
Fortunately, the education section is extensive. Traders can find articles, training videos, webinars, user guides, audio assistance and more. There is everything from the basics of comparing exchange rates and hotkeys to sophisticated options for uninvested cash.
Automated Trading
You can also explore automated trading with E*Trade. You can connect industry-leading applications directly into Etrade. The open XML-based Application Programming Interface enables users to customise solutions. Alternatively, you can choose from a number of providers, including:
IonDESK
TradeLens
Roboinvest
Investors Hub
CoolTrade Automated Trader
Used correctly robo advisors could help you bolster profits. You can simply execute far more trades than you ever could manually. However, as API reviews highlight, they do come with risks and require consistent monitoring.
Regulation & License
Many people simply want to know whether Etrade is a good company that can be trusted. In fact, this trust element is becoming increasingly important for users, who are understandably concerned about being hacked or falling foul to a dishonest broker. That is why it is important to check your brokerage is properly regulated.
Fortunately, Etrade adheres to regulations from a number of bodies, including the SEC and FINRA. As a result, customers can relax knowing their capital will be safeguarded in a range of scenarios. But more importantly, Etrade will have to adhere to a range of rules and regulations designed to protect users.
As a result, non-US citizens can also Etrade with confidence, whether it's the London stock exchange or commodities such as gold and platinum that peak your interest.
Etrade Benefits
If you're thinking about investing with Etrade, user reviews point out a number of distinct benefits, including:
Beginner friendly – Etrade is fantastic for new traders. Registering and filling in the forms is quick and easy. You can then utilise a simple web-based platform and benefit from a range of educational resources.
Volume discounts – On top of low options fees and free trades, Etrade also offers volume discounts for active traders.
Low minimum requirements – Entry requirements are low and users don't have to maintain a significant minimum balance.
Extensive resources – Futures and options reviews were particularly impressed with the wealth of information, data and helpful user guides available.
Industry-leading mobile apps – Both mobile apps ensure a smooth transition from the desktop-based trading platforms.
Security – Part of the financial login process is a 2-factor authentication system which should significantly reduce the risk of hacking.
Diverse assets – You can speculate on stock prices, options, bonds, mutual funds and ETFs.
24/7 customer service – Reliable support is essential, especially for new traders. Fortunately, Etrade promises live chat, telephone and email support to answer any questions.
Accessibility – You can tell Etrade founders and owners really want to encourage global trading, as users from Germany to Australia are all welcome.
All of these factors have helped Etrade bolster their market capitalisation and highlight their benefits when compared to competitors, such as vs Interactive Brokers, Robinhood, Fidelity and Scottrade.
Etrade Drawbacks
Despite the numerous benefits, customer and company reviews have also identified a number of downsides to bear in mind, including:
No forex trading – Those wanting FX reviews will be disappointed, as Etrade does not offer currency trading.
High commissions – Despite scoring well in some price areas, the $6.95 standard commission is above the industry average.
No demo account – Etrade does not currently offer a free practice account for prospective traders. This means users cannot explore paper trading to get familiar with markets or test drive trading platforms.
Pro platform limitations – To use the Pro platform you need $250,000 in assets. Etrade vs Schwab, Ameritrade and Scottrade reviews are quick to highlight no such requirements are imposed for access to their flagship platforms.
So, is Etrade a good deal? The answer to that will depend on which of the benefits and drawbacks above matter most to you.
Trading Hours
Etrade is neither good or bad in terms of trading hours. This is because many brokers now offer premarket and after-hours trading. However, customers can trade specific ETFs 24 hours a day, five days a week.
For a detailed breakdown:
You can trade Sunday 20:00 to Friday 20:00 ET, excluding market holidays.
You can trade by phone from 04:00 to 07:00 ET, excluding market holidays.
Trading will be available on SPY, QQQ, USO, GLD, FXI, EEM, DIATLT, IWM, SLV, SH and UNG.
So, whether you hold a standard, business or international account, there are plenty of opportunities to speculate on markets.
Contact & Customer Support
For almost all queries there is an Etrade customer service agent that can help you. In fact, they promise 24/7 phone and online chat help. Visit their homepage to find the contact phone number in your region. They should then be able to offer technical assistance if your account is not working or simply help you to logout.
You can also find mailing addresses for your local offices or you can pop into a local branch.
In addition, you can access a customer service representative directly from your account. From there you can send secure messages and update any account information. You can even upload documents.
Having said that, Etrade does try and encourage users to find their own answers by heading over to their FAQ page. There you can find answers on how to close an account, Pro platform costs and information on extended hours trading.
Note customer service agents cannot give out tax advice.
Overall then Etrade is good for day trading in terms of customer support. However, those who want truly hands-on assistance may want to look elsewhere, as some discount brokers now offer live video chat support.
Safety & Security
Once you have signed up for your global trading account, Etrade takes customer security seriously. As a result, they use an external account verification system. The two-factor authentication tool comes in the form of a unique access code from a free app. You simply enter this when you type in your password each time.
In addition, sophisticated encryption technology is used to safeguard personal information and all transaction activity. Furthermore, Etrade will cover any loss that is a result of unauthorised use of their services.
Etrade Verdict
The Etrade financial corporation has built a strong reputation over the years. They have become a go-to for reliability, extensive research and mobile apps. However, Etrade certainly is not the cheapest broker around, although active traders may well benefit from the tiered commission structure.
Overall then, share trading, futures, options, mutual fund and automatic investing reviews all rank Etrade highly. Their comprehensive offering ensures they can meet the needs of both novice and veteran traders. Furthermore, their acquisition of OptionsHouse in 2016 demonstrates their commitment to innovation.
Accepted Countries
E-Trade only accepts traders from United States.
Payment Methods
E-Trade Details
| | |
| --- | --- |
| Minimum Trade | $10 |
| Regulated By | SEC |
| Islamic Account | No |
| Mobile Apps | iOS, Android and Windows |
| Margin Trading | No |
| Volatility Index | No |
| Spot Trading | No |
| Perpetual Swaps | No |
| ELWs | No |
| REITs | No |
| AI / Machine Learning | Yes |
| Robo Advisor | No |
| P2P Trading | No |
| Negative Balance Protection | No |
| VPS Hosting | No |
| Tournaments | No |
| Demo Competitions | No |
| Managed Accounts | No |
| Market Maker | No |
| Social Trading | No |
| Guaranteed Stop Loss | No |
| Stock Exchanges | Chicago Mercantile Exchange |
| Commodities | |
Top 3 Alternatives to E-Trade
Compare E-Trade with the top 3 similar brokers that accept traders from your location.
Interactive Brokers – Interactive Brokers is a leading global brokerage that provides access to a comprehensive offering of stocks as well as forex, futures, metals, bonds and cryptos. The firm has over 40 years experience in the online trading industry and is heavily regulated by SEC, FCA, IIROC, and SFC. Traders use the proprietary Trader Workstation and can access powerful tools and data feeds as well as comprehensive educational resources.
Go to Interactive Brokers
IG Group – IG is an award-winning broker that has an excellent reputation globally. The brand-US offers spread betting, CFD and forex trading across a comprehensive suite of markets. IG is also multi-regulated, provides a great trading app and has 50 years experience.
Go to IG Group
Just2Trade – Just2Trade is a reliable multi-regulated broker registered with FINRA, NFA and CySEC. The company has 155,000 clients from 130 countries and stands out for its huge suite of instruments and additional features, including a social network, robo advisors and a funded trader programme.
Go to Just2Trade
E-Trade Comparison Table
Compare E-Trade With Similar Brokers
E-Trade
Interactive Brokers
IG Group
Just2Trade
Rating
3.3
4.3
4.4
3.5
Markets
Stocks, Commodities
Forex, Stocks, Commodities, Crypto
CFDs, Forex, Stocks, Indices, Commodities, ETFs, Futures, Options, Crypto, Spread Betting
Stocks, ADRs, ETFs, Futures, Options, Commodities, Bonds
Demo Account
Yes
Yes
Yes
Yes
Minimum Deposit
$500
$0
$0
$100
Minimum Trade
$10
$100
0.01 Lots
0.01 Lots
Regulators
SEC
SEC, FCA, IIROC, SFC
FCA, ASIC, NFA, CFTC, DFSA, BaFin, MAS, FSCA
CySEC, NFA, FINRA, Bank of Russia
Bonus
Commission Free Trades
–
–
Up to $2,000 for professional accounts
Education
No
No
Yes
No
Platforms
MT4
AlgoTrader, OmniTrader, eSignal, TradingCentral
MT4, AutoChartist, TradingCentral
MT4, MT5, TradingCentral
Leverage
–
1:50
1:30 (Retail), 1:250 (Pro)
1:20
Payment Methods
7
11
6
20
Visit
Visit
Visit
Visit
Visit
Review
–
Interactive Brokers
Review
IG Group
Review
Just2Trade
Review
Compare Trading Instruments
Compare the markets and instruments offered by E-Trade and its competitors. Please note, some markets may only be available via CFDs or other derivatives.
Compare E-Trade Trading Instruments

| | E-Trade | Interactive Brokers | IG Group | Just2Trade |
| --- | --- | --- | --- | --- |
| CFD | No | Yes | Yes | Yes |
| Forex | No | Yes | Yes | Yes |
| Stocks | Yes | Yes | Yes | Yes |
| Commodities | Yes | Yes | Yes | Yes |
| Oil | No | No | Yes | Yes |
| Gold | No | Yes | Yes | Yes |
| Copper | No | No | Yes | No |
| Silver | No | No | Yes | Yes |
| Corn | No | No | No | No |
| Crypto | No | Yes | Yes | Yes |
| Futures | Yes | Yes | Yes | Yes |
| Options | Yes | Yes | Yes | Yes |
| ETFs | No | No | Yes | Yes |
| Bonds | Yes | Yes | Yes | Yes |
| Warrants | No | Yes | Yes | No |
| Spreadbetting | No | No | Yes | No |
| Volatility Index | No | No | Yes | No |
E-Trade vs Other Brokers
Compare E-Trade with any other broker by selecting the other broker below.
Customer Reviews
There are no customer reviews of E-Trade yet, will you be the first to help fellow traders decide if they should trade with E-Trade or not?
Visit
E-trade is a one-stop shop that provides both investment and trading opportunities to clients through four proprietary platforms and apps. The firm has decades of experience and is authorized by the SEC. Investors can benefit from ready-made portfolios or open a do-it-yourself account to choose from stocks, funds, ETFs, futures and bonds; traders can access margin trading on stocks, options and futures.