NinjaTrader Review 2021
Traders in United States welcome
NinjaTrader Facts & Figures

NinjaTrader offer Traders Futures and Forex trading. Use Auto-trade algorithmic strategies and configure your own trading platform, and trade at the lowest costs.
Instruments
CFD, Forex, Futures, E-minis, Options
Demo Account
Yes
Min. Deposit
$50
Min. Trade
Varies by asset
Regulated By
NFA, CFTC
MetaTrader 4
Yes
MetaTrader 5
No
cTrader
No
STP Account
No
ECN Account
No
DMA Account
No
Mobile Apps
Margin Trading
No
Auto Trading
Yes. NinjaTrader is a dedicated platform for Automation.
Social Trading
No
Copy Trading
No
Trade Signals
Yes
Islamic Account
No
CFD
FTSE Spread
GBPUSD Spread
Oil Spread
Stocks Spread
Leverage
Forex
GBPUSD Spread
1.6 pips
EURUSD Spread
1.3 pips
EURGBP Spread
1.6 pips
Assets
50+
Risk Warning – Your capital is at risk
NinjaTrader's award-winning online trading platform aims to directly support day traders interested in the futures, forex, CFDs and stock markets. This page will guide you through the NinjaTrader 8 platform, covering features, indicators, charts, demo accounts, plus compatibility with top brokers including NinjaTrader Brokerage.
Brief History
Since getting started in 2004, the privately held company headquartered in Denver, Colorado and Chicago, Illinois, has attracted over 60,000 users and 450+ developers. They offer a sophisticated trading platform with multiple charts and a range of features plus market data services. Thousands of apps of 3rd party apps, as well as add-ons, allow for ample customisation, fast order execution, and advanced market analysis.
In addition, NinjaTrader provides brokerage services to support both forex and futures traders with discount pricing.
Key Details
So we know NinjaTrader can be used in a number of markets, but what are the key details to be aware of before you download the latest version?
Firstly, there are no fees for using NinjaTrader's standard features. This ensures free access to the following:
Trade simulation
Market analytics
Advanced charting
Backtesting & optimisation
Automated strategy development
NinjaTrader is an open source system, much like the MetaTrader 4 (MT4) platform. The difference is that whilst MT4 attracts mainly forex day traders, NinjaTrader is also popular amongst futures day traders.
You can run NinjaTrader on Mac OS, Windows, and Linux if you port it over.
NinjaTrader 8
The platform is regularly updated, the latest version in NinjaTrader 8. This delivered over 500 enhancements, including charting changes (more configurability), improvements to the alerting, an enhanced platform, plus data and performance upgrades. The developers will not stop there though, and more user-led improvements are planned.



Why NinjaTrader?
A quick look at trading blogs and forums and you will see plenty of people want to know how NinjaTrader measures up vs MT4, MT5, TradeStation, and MultiCharts. So, with so many options available, what separates NinjaTrader 8 from the rest?
Customisability – Their straightforward platform has been designed for traders who want to customise their platform and technical indicators. You will find floating windows and indicators that are simply not available on other platforms.
Set up – They have carefully engineered their platform to allow for a quick and hassle-free setup. In less than ten minutes you can have downloaded NinjaTrader 7 or 8 and be up and running.
Scripts – Experienced day traders often like having access to plenty of scripts. NinjaTrader 7 was fantastic for this and NinjaTrader 8 has programmers porting over scripts to their new updated version.
Free simulation – This free trial uses either random data or live data updated once per day. Once you have honed an effective strategy you can then upgrade to live trading with real capital.
Stop-loss capabilities – NinjaTrader has an intelligent system that allows you to build your strategy so both stop-losses and target orders are sent out as soon as you enter a trade. This means if you lose your internet connection, or you are disconnected from your broker, your stop-losses and target orders could prevent a costly disaster.
Drawbacks
Despite the number of NinjaTrader benefits, there are certain drawbacks and risks to be aware of. These include:
Market Analyser Speed – Some reviews highlight concerns over the speed of the Market Analyser when running scans if you are using over 100 symbols.
Apps – Those hoping for a native NinjaTrader mobile app for their Android or Apple devices will be left disappointed. Access to CQG Mobile is available for those using NinjaTrader Brokerage. In addition, there have been discussions about a native mobile app so iOS and Android users may soon be in luck.
Difficult to learn – This was particularly true for the NinjaTrader 7 version. However, to a certain extent this has been remedied with their latest offering, NinjaTrader 8. You can also now find a range of online video tutorials, guides, and websites that will assist you along with free daily webinars hosted by their support team.
Narrow focus – Today's day traders are increasingly interested in bitcoin and cryptocurrency markets. NinjaTrader does provides charting and analysis capabilities with Coinbase data integrated directly to the platform but order execution is not currently available. For live trading, NinjaTrader is currently best at serving those trading trade futures, forex, stocks and CFDs.
NinjaTrader Tools & Features
One of the first questions many prospective day traders will have is regarding the trading tools and features on offer. Fortunately, platform and brokerage reviews report high levels of satisfaction with both.
Charting
In terms of charting capabilities, NinjaTrader scores highly. Their comprehensive tools will compliment your trading ideas with user-friendly and highly customisable systems.
They provide:
Clear and powerful market visualisation
Multi-time frame plus multi-instrument analysis
In excess of 100 pre-built customised indicators, as well as hundreds of optional third-party indicator add-ons.
You can expect access to the following:
Gap indicators

News indicators

Trend indicators

Swing indicators

Volume oscillators

Reversal indicators

Volatility indicators

Value area indicators

Divergence indicators

Elliott wave indicators

Average daily range indicators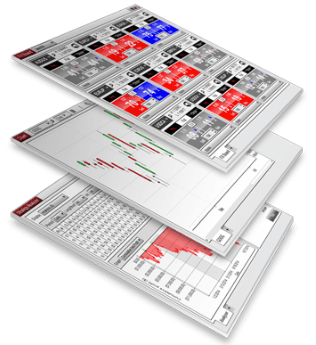 Trade Management
NinjaTrader's SuperDOM order entry and trade management system allows for enhanced customisability. You will benefit from the following:
Straightforward trade visualisation
Single click order entry, modification, plus cancellation
It can also be used with the Advanced Trade Management (ATM) module
Advanced Trade Management
The NinjaTrader ATM module is a strong selling point. Their sophisticated technology enables you to pre-define personal trade management strategies. These include:
Numerous profit targets and stop-loss orders
One-cancels-other (OCO) orders
Auto-breakeven stops
Trailing losses
This could help you yield greater profits as it automatically submits entry/exit orders within milliseconds. Not to mention, it may reduce the time and stress of manually managing multiple exit orders in volatile markets.
Automation
Day trading volume is increasingly being represented by machine learning algorithms. This is because if you have developed a consistently effective strategy, then automating it may increase your takings.
Once you have programmed in your criteria, an algorithm/bot will enter and exit trades as soon as your criteria have been met. This could allow you to make far more trades than you ever could manually.
NinjaTrader allows you to automate your trading strategy if it was developed using NinjaScript or if it were in an outside application.
You have the ability to:
Develop and buy automated strategies
Analyse and execute automated strategies
Process trading signals from outside applications
Either create or purchase third-party custom chart indicators
Market Replay
NinjaTrader offers an extremely useful market replay function. It downloads historical data so you can rewind to a specific day and practice trading in that market as if it were live. This is brilliant for developing a strategy, or getting to grips with Fibonacci levels, for example.
Other Analytical Tools
The NinjaTrader offering also extends to trade performance tools, plus market and strategy analysers. All of which could help enhance your day trading performance.
In addition, minimum system and hardware requirements for NinjaTrader are industry standard, so most people should be able to download full versions of 7 and 8. Programming and coding manuals can then be found in their video library.
Overall, in terms of trading tools and features, you get a range of customisable charts and trade simulation programmes. You also have extensive data feeds, indicator lists, intelligent programming capabilities, plus a reliable support forum.
The key to making the most of their services is spending some time exploring their video library and educational services once you've logged in.


NinjaTrader Education
Getting to grips with a new platform can prove challenging. Fortunately, NinjaTrader provides an array of education and support to enhance your use of their trading software. They provide daily webinars, training videos, help guides, plus there is an active user community you can turn to.
The above methods should be able to help you with:
Price quotes

Stock scanners

Different plugins

Data subscriptions

Order types and quantity

Strategy templates & tutorials

Brokerage withdrawals and funding

Output windows and stop limit orders
However, if you still have unanswered questions, you can contact NinjaTrader via email or their support forum. They have a help desk team that's 20-strong, formed of NinjaTrader specialists to ensure you get the most out of their platform.
How To…
Many of the educational materials available revolve around frequently asked questions from traders. The majority are "How to's", for example:
How to place a stop loss
How to delete strategies
How to trade futures
How to use Ninjatrader 9
…and many more.
These queries are often answered directly via webinar, or video tutorials. The videos last around 2 or 3 minutes and cover very specific topic such as charts, or getting connected to the platform. The Youtube channel also hosts videos, but these are particularly short.
Webinars last much longer and traders need to sign up, but these get into much more detail and offer more depth.
Demo Account
The NinjaTrader demo account is a fantastic opportunity for beginners to get familiar with both markets and the trading platform. Plus, downloading their demo account software is straightforward.
Simply head over to their website and click on Trade Futures or Trade FX. Then scroll down and enter your information for a demo account. All you will need is an email address and to fill in your location. You will then be emailed your login details and the steps to download their platform if you haven't already done so.
Overall, trade simulator reviews speak highly of this service and it isn't hard to see why. Aspiring scalpers can hone their craft on Heiken-Ashi charts, whilst having access to playback functions, market and volume profiles, and more.
Then once you have built up your confidence, you can open a live trading account, funded with real capital.
Cost
Once you sign up and log in with a demo account, you will also be sent information from the NinjaTrader brokerage. This will detail exchange fees and other costs associated with their broker's services.
The key costs are as follows:
The minimum deposit for a futures trading account is $1,000.
The minimum deposit for a forex trading account is $50.
Day trading margins for popular futures such as the S&P 500 emini are $500.
Both Mini Dax and FTSE 100 futures have margins of $1000.
You will find commissions start at around $0.53 per contract. However, this will depend on whether you buy the NinjaTrader platform, or whether you lease it, or use the free version.
A lifetime license for NinjaTrader will cost you $1099. Alternatively, you can pay four monthly payments of $329. It will cost $720 per year, $425 for six months, and $225 quarterly if you choose to lease.
A lifetime license for NinjaTrader will cost you $999. Alternatively, you can pay four monthly payments of $299. It will cost $600 per year, $330 for six months, and $180 quarterly if you choose to lease.
Also, it's worth noting if you opt for using the free version of NinjaTrader, commissions may be slightly higher.
NinjaTrader 7 vs NinjaTrader 8
The NinjaTrader 8 release was highly anticipated. The 8 system requirements remain similar to that for the 7, so if you have one you should be able to migrate to the other without too much hassle. You can use the 8 on Mac or Windows.
The 8's major enhancements out of the 500 changes include:
Increased speed

Historical bid-ask data

Substantial charting improvements

Sub-second market data time stamps

The ability to add custom columns and indicators to SuperDOM
8 reviews show customers are content with many of the changes, however, if you don't want to download the latest version, the full 7 version should do the job just fine. In fact, many traders point out much of your knowledge and experience on NinjaTrader 7 will be directly applicable in the 8 download.
NinjaTrader 8 tutorials, strategy builders, and backtesting guidance can all be found by heading to their trading forum or library of training videos.
Also, it is worth noting that, unfortunately, there are zero NT 8 mobile capabilities.
Brokerage Compatibility
NinjaTrader exists as a broker independent trading platform. However, there are a number of supported brokers from the UK and elsewhere. In effect, NinjaTrader holds a multi-broker license. This gives you, the trader, the choice on where you execute your trades.
However, there is some risk of communication delays between some platforms. So, if you want a smooth transition from platform to broker, you may want to select one of the brokers currently available through the NinjaTrader Brokerage. They also support the majority of leading independent market data service providers, such as Kinetick.
Overall you have a generous choice of forex brokerages and futures brokers where you can use your NinjaTrader software. In fact, you can choose from a number of internationally supported broker technologies, including:
CQG
MB Trading
Clear Corretora
Interactive Brokers
NinjaTrader Rithmic
NinjaTrader Continuum
NinjaTrader further supports a number of additional market data vendors, including:
eSignal
TradeStation
Yahoo Finance
Metastock Import
IQFeed from Telvent DTN
Text file based historical data import
See their brokerage website for a full instrument list, including equities, forex, and futures.
NinjaTrader Customer Service
In the day trading game, every second costs money. So, you don't want to be sat around for hours waiting for NinjaTrader to fix a technical glitch or account problem. Fortunately, they offer 24/5 technical support, plus 24/7 emergency trade support in a number of languages, so no matter your time zone, someone will be around.
You can expect to receive help with the following:
Setting up alerts

Getting your account balance

Ensuring you understand prices

How to place stop losses and get currency prices

Initial margin requirements and daily loss limits

Directions to their strategy builder and examples

Finding tick charts and automated trading strategies

Information on holiday hours and important calendar dates

Understanding license and leverage conditions, including intraday margin requirements and inactivity fees
Whilst you can get technical and brokerage support in the hours you need them, NinjaTrader does lack a live chat service function, which could increase remedial speed. Overall though, emails are answered promptly and their support is fairly industry standard.
For the emergency trade phone number where you are located, see their website.
Issues with connecting, or the system not starting can often be traced initially on the Support forum, which is a great resource. Any downtime (scheduled or otherwise) will be reported there first.
Final Word
If you are looking for powerful software and market data, NinjaTrader could well be worth exploring. Having said that, the program may take several weeks to get familiar with, particularly for beginners. Although they lack a native iPhone or iPad app, or Android equivalent, if using NinjaTrader brokerage you can access your account on the go using CQG Desktop.
Overall though, you get an active trading community, a range of educational resources and a high level of customisability. All of which may enhance your trading performance and bolster those all-important intraday profits If choosing NinjaTrader Brokerage, low margins and commissions can come in handy as well to keep costs low.
Accepted Countries
NinjaTrader only accepts traders from United States, Netherlands, New Zealand, Norway, Nigeria, Poland, Portugal, Russian Federation, Saudi Arabia, Singapore, Spain, Sweden, Tokelau, Australia, Austria, Bulgaria, Belgium, Brazil, United Kingdom, Cyprus, Czech Republic, Denmark, Finland, Egypt, France, Switzerland, Germany, Hong Kong, India, Japan, Argentina, Chile, Mexico, Bolivia, Colombia.
Alternatives to NinjaTrader
If you are looking for alternatives to NinjaTrader we have compiled a list of the top 5 brokers that are similar to NinjaTrader below. This list of brokers like NinjaTrader is in order of similarity and only includes companies that accept traders from your location.
FAQ
How much does NinjaTrader cost? Is it free to use?
NinjaTrader is free. There are no platform fees and the system is free across all brokerage accounts. Core Essentials for charting, strategy and trade simulation.
Trader + and Order Flow + and paid services that traders can upgrade to, but the core essentials are free for the lifetime of the account.
How to use NinjaTrader
NinjaTrader offer a huge range of help guides, video tutorials and webinars, both for beginners, and also for advanced traders looking to get the most out of the system. There is also well informed customer support team, and lively user support forum.
Any gaps in knowledge can be rectified using any or all of the above educational tools.
Can you use NinjaTrader on a Mac?
At present, NinjaTrader is a windows based platform which relies on the .NET framework. That framework does not work on Macs. There are methods using Parallels or VMWare to get Ninjatrader working on Macs, but the these are not officially supported.
NinjaTrader are monitoring demand for a Mac version of the platform, and one may be developed, but as yet, there are no plans to do so.
Does NinjaTrader work with MT4
No. NinjaTrader has no integration with MetaTrader 4 (MT4).
Is NinjaTrader a safe, 'legit' service?
Yes. NinjaTrader are NFA Registered (#0339976) and boast more than 60,000 clients. Customer satisfaction can be judged from the feedback and comment on the User Support Forum.
Is there a NinjaTrader App?
No. The platform runs on the Windows operating system, utilising the .NET framework. Adapting this setup for mobile devices running iOS or android is not currently on the Ninjatrader development path.
Which brokers support NinjaTrader?
The most popular brokers supporting NinjaTrader currently include:
NinjaTrader offer Traders Futures and Forex trading. Use Auto-trade algorithmic strategies and configure your own trading platform, and trade at the lowest costs.
NinjaTrader vs Other Brokers
Compare NinjaTrader with any other broker by selecting the other broker below.
Articles about NinjaTrader