ActTrader
ActTrader is a flexible and feature-rich platform that allows traders to speculate on popular financial markets. This tutorial will go over key tools, download instructions, pros and cons, help desk options, and more. We also list the best online brokers that offer the ActTrader platform in 2022.
History
ActTrader was developed by ActForex in 2000, a US-based company created when the retail forex industry was still in its early stages. The firm quickly released its innovative platform for early adapters of forex trading.
ActForex and the products they have created played a significant part in changing the way the forex industry works, allowing for private companies to offer trading services at a time when the market was dominated by large banks and financial institutions.
When ActTrader was first released, retail traders made up less than 20% of all FX trades. Since then, the platform's user base has grown significantly, and it is now offered by many online brokers across the globe, including Fxview, AAAFX, GCI and Hirose.
The company also offers mobile applications for both iPhones and Androids as well as automatic trading and binary options solutions that complement the main platform.
Key Features
ActTrader is a trading platform that facilitates straightforward customization. Investors can trade forex, CFDs, ETFs, equities, forwards, and options directly from the trading terminal.
Key features include:
Single-click trading
Trade directly from charts
Automated trading robots that can be built and backtested
Tools and technical indicators that can be overlayed onto charts
Price alerts for when an asset's price reaches a certain level
Interface
ActTrader is user-friendly and well structured, and, most importantly, it can be altered to fit the specific needs of the trader. This is due to the floating layout design – a range of detachable windows and tabs that make the platform highly customizable.
The representation of graphs is marked by buttons that are easy to recognize, and the visuals are organized and straightforward to navigate; even for beginner traders. Users can resize and move menus, charts, and graphs per their personal preference; a priority for ActTrader. This makes focusing on trades and analysis easier for the end user.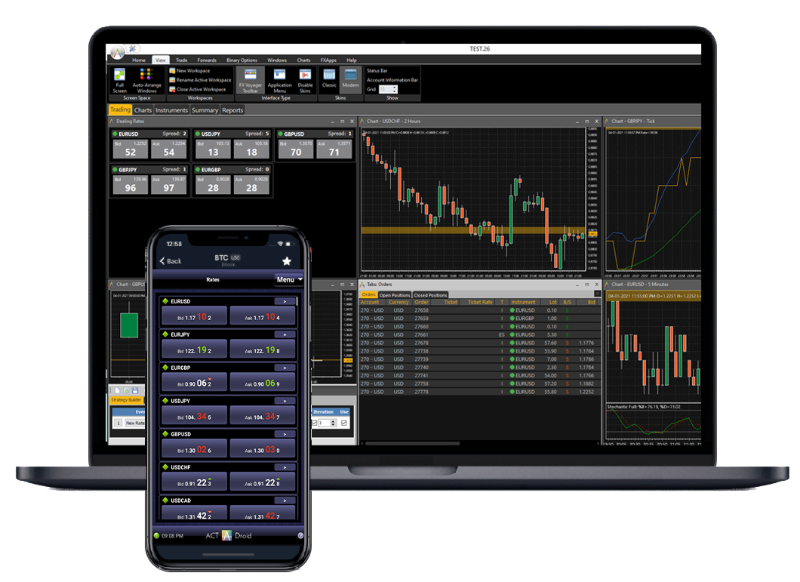 Navigation is made easy using the FXVoyaget toolbar that is integrated into the system. This allows traders to browse through the features and gives access to all windows and tools from one place. Under each tab, there is a set of commands available that makes a range of actions possible.
Trading activity can be tracked easily on the platform, with open positions displayed clearly on the summary window alongside account overviews. Net profit and loss are clearly visible, and open positions are easy to keep track of as they are displayed per instrument.
From the account information window, all relevant information about an account can be viewed and multiple accounts can also be displayed in one window to monitor them together.
Graphs & Charts
The charts that are offered on ActTrader are detailed and allow traders to make decisions efficiently and accurately. The platform offers more than 30 technical indicators on bar, candlestick, and line charts, as well as giving users the opportunity to create custom indicators. At the top of the chart, traders can find a useful toolbar with options such as print, save, zoom, and a draw feature.
Users can create objects within charts easily, and objects can be linked to other graphs. From the interactive charts, trading can be carried out directly with easy access to price alerts, positions, and orders.
The platform also supports one-click trading, with all information about open orders and profit and loss margins in view at all times.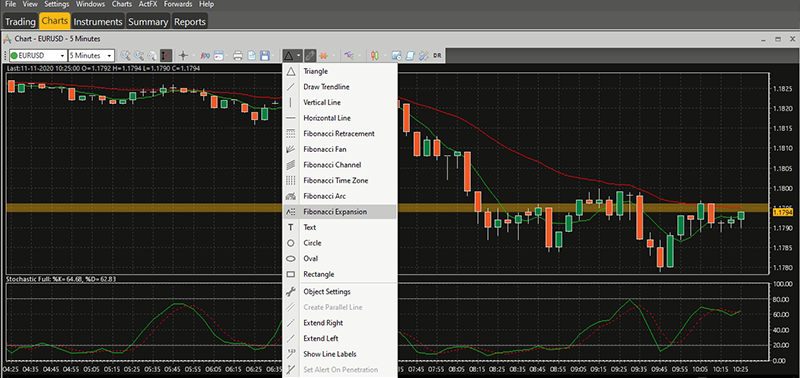 There are several ready-made analysis options available to traders including Bollinger Bands, Ichimoku Kinko Hyo, Gann Swing, the Chandelier Stop, and the Linear Regression.
Charts can be saved and used again, including all of their settings and indicators. The ability for users to trade directly through charts is one of the most helpful features of the desktop platform.
ActFX
ActFX is a scripting language that is integrated into the trading terminal allowing users to evaluate charts, implement back-testing strategies, and open and close positions automatically, even without prior programming knowledge.
Traders can use the indicator editor to create, review and edit indicator scripts, and the strategy editor to create, run and test their strategies before using them on live markets. There is also a 'clone' function where traders can change the strategy script and save it separately without amending the original script.
There are several add-ons to make running strategies easier. Users can add shortcuts to their primary functions to make creating strategies quicker, convert strategies written in the MQL4 programming language to ActFX, and import scripts with strategies and indicators from the marketplace that are ready to use, developed in-house by ActTrader.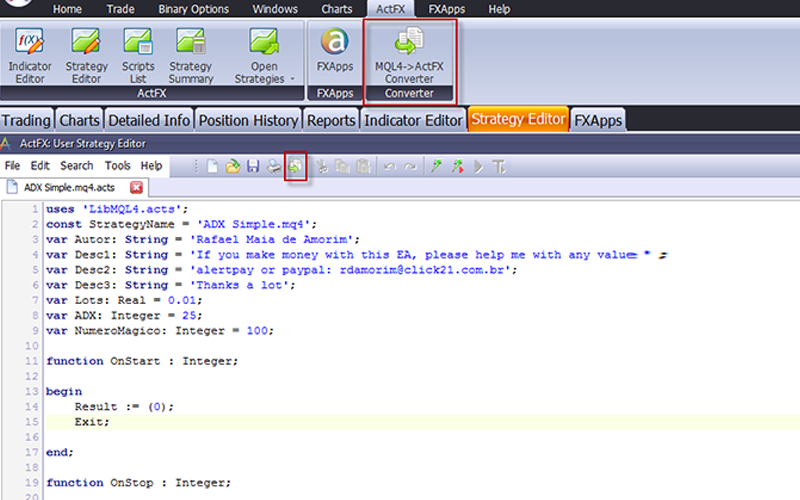 TimeFrames
ActTrader allows users to choose between 11 different timeframes on charts, ranging from 1 minute to 1 month.
Timeframes can also be accessed in the associated products and applications for mobile devices. This means the trading platform will suit short-term, intraday traders, plus swing traders and longer-term investors.
Risk Management Tools
ActTrader provides several risk management tools, including allowing traders to opt for beginner and advanced risk profiles. Risk exposure tabs demonstrate potential loss and profit for each position, and the ability to instantly hedge a position with just one click.
There are also built-in trailing stop loss options and the opportunity to configure margin settings or view specific exposures for an instrument. This can be viewed for every asset and in every account.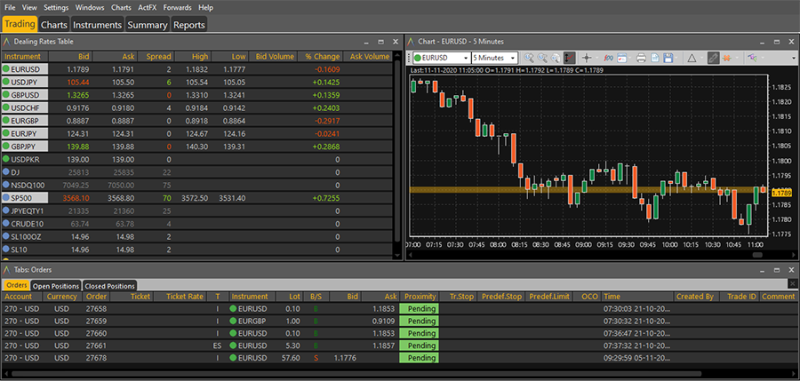 Additional Features
Other helpful features offered by ActTrader include:
Price Alerts – informing users when the price of a specific instrument has reached a predetermined level. This can be set up by right-clicking on an instrument in the 'dealing rates' section, or using the FXVoyager toolbar.
One-Click Trading – ActTrader enables one-click trading, allowing users to open new positions for a set amount of lots with just one click. Traders have the option to enable and disable this function.
Multiple Languages – the platform is available in multiple languages so that it can be used by traders around the world. Accounts can be opened and traded in Russian, English, and Japanese.
App – the mobile application is compatible with both iOS and Android, allowing trading via smartphones.
Products
Alongside the desktop version of ActTrader, there are also multiple associated products that traders can make use of:
ActWebTrader
ActWebTrader is one of the newer products created by ActForex and it allows traders to use a web browser to conduct trades. The product has become popular with traders as it allows the use of nearly all of the features available on the desktop version of ActTrader, but it does not need to be downloaded.
The only downside of using WebTrader is that users cannot customize it in the same way that they can with the desktop version.
ActPhone, ActPad & ActDroid
These trading platforms are designed to be used on mobile phones and tablets. They provide real-time quotes, interactive charts, order management, and financial news.
The apps allow investors using ActTrader to receive notifications and use the applications in background mode too.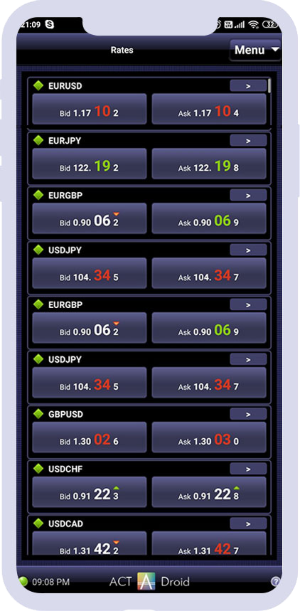 ActBinary
ActBinary can be used in conjunction with the ActTrader desktop application, or as a platform on its own for trading binary options. When used alongside ActTrader, users can trade binary options within the ActTrader system on the same account.
ActBinary can also be opened via the web as well as on tablets and mobile phones.
FXApps
FXApps provide an opportunity for traders to access trading strategies that can be applied to ActTrader. Users can compare strategies and trading systems and download both free and paid options that enable them to trade more effectively on the ActTrader terminal. Investors can access the selection directly from ActTrader by selecting 'strategies' from the home screen.
ActVAT
ActVAT enables investors to automate their trading without having any prior programming knowledge. Users can create automated trading robots to open and close positions according to preset conditions, with strategies taken from charts and trend lines available on the platform.
Users simply need to open a chart and draw a trend line, and from there a strategy is created that opens a position when the price gets to the line. Stop orders can be created that will automatically close the position.
Pros Of ActTrader
Beginner-friendly trading terminal
Automated trading and backtesting
Specialized binary options trading platform
A wealth of charting options for different time frames
ActTrader is highly customizable both to the broker that provides it and to the individual trader
Investors can choose from a large number of trading assets, including currency pairs, commodities, indices, stocks, bonds, and ETFs
Cons Of ActTrader
It has fewer technical indicators than competitor platforms
Harder to find high-quality and regulated brokers that offer ActTrader
The interface differs from widely used platforms, and therefore might seem alien if traders are used to MT4 or MT5
ActTrader Vs MetaTrader 4
MetaTrader 4 (MT4) is the most popular trading platform in the world and is widely considered to be the best available option for retail traders. However, there are several ways in which ActTrader is as good and, in some cases, better than MetaTrader 4.
Interface
The ActTrader interface is highly user-friendly, although traders may be more familiar with the MT4 dashboard which might give the impression that it is easier to use.
The biggest advantage that traders get with ActTrader is the high levels of customization in comparison to MT4, meaning that it can meet the needs of traders at any level of expertise.
While MetaTrader 4 is more familiar to users, its interface is also more outdated, and beginners may not find it as easy to use.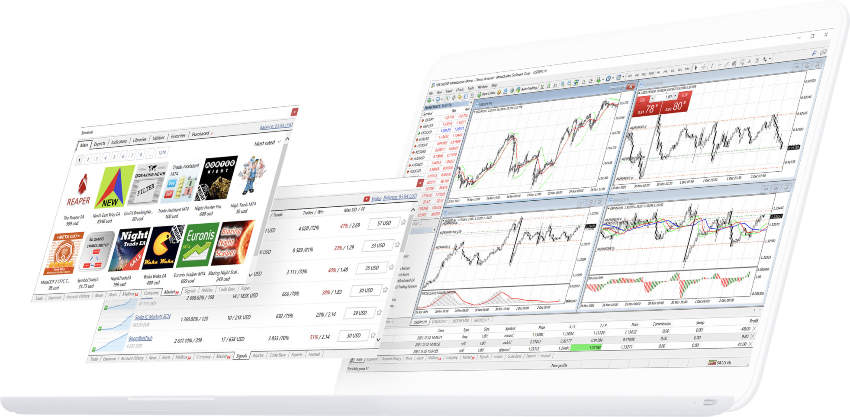 Automated Trading
ActTrader allows traders to create robots directly from charts, so users can easily create their requirements and enable automated trading using a proprietary language called ActFX. MetaTrader 4, on the other hand, uses the MQL4 language to operate Expert Advisors.
Due to the fact that MT4 is one of the most popular platforms, they are able to rely on their community to provide the Expert Advisors feature, where other traders can download tried and tested strategies from other investors.
ActTrader also has a database of Expert Advisors, and users can create new solutions on the platform without prior programming knowledge. Using ActVAT (visual algorithmic trading), clients can create automated trading systems directly from charts according to their own parameters.
While MT4 still remains the favorite for automated trading, ActTrader's chart feature arguably makes the process more convenient.
Technical Analysis
This is a category in which MT4 has an edge over ActTrader. While ActTrader has a good range of technical indicators with over 30, MT4 has more than 50 on offer, making it a better option in terms of manual trading.
Flexibility
One of the ways in which ActTrader dominates over other trading platforms is through the flexibility that it offers. They do this in two ways:
Highly customizable interface
A range of products that allow the platform to be used on desktop, browser, and mobile devices
MT4 does not offer users the same degree of customization, so doesn't provide the same flexible experience that suits traders of all levels.
Binary Options Trading
Through the use of ActBinary, traders are able to trade binary options on ActTrader, giving them more opportunities to diversify their portfolios. MT4 does not support trading binary options, which is a drawback for some investors.
ActTrader Vs MetaTrader 5
MetaTrader 5 (MT5) is the newer version of software created by MetaQuotes, and while they are fundamentally similar trading platforms, MT5 has some unique and upgraded features that differ from MT4.
Interface
MT5 features a slight interface upgrade compared to MT4, but still follows the same, more classic trading design. It differs from ActTrader in similar ways, and again it will depend on the preference of individual traders in terms of which is better. We would still suggest that for beginners, ActTrader is easier to use.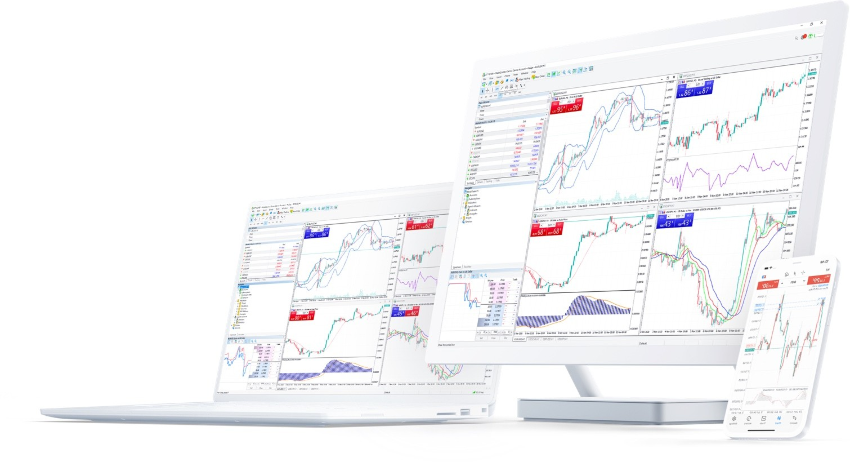 Automated Trading
MT5 uses the MQL5 scripting language for automated trading, but this was not reviewed as highly as MT4's capabilities. ActTrader offers a different automated trading service through their ActVAT platform, and considering the dissatisfaction with the MT5 service, we would recommend ActTrader for automated trading.
Technical Analysis
MT5 has a better range of technical indicators than MT4, meaning that it has even more of an edge over ActTrader which still sits in the range of 30. Therefore MT5 is a better option if you are going to use a range of indicators for advanced technical analysis.
Flexibility
MT5 comes with an upgraded marketplace of customizable tools for trading. However, ActTrader still has a wider range of products that can be used in conjunction with the desktop platform.
Binary Options Trading
Binary options can be traded on MT5 with the right kind of extension, but ActTrader has better integration support seeing as they have manufactured their own binary options product.
Support
Support on ActTrader is available via their website. They have a range of different support options and resources in their 'knowledge base' where investors can find a wealth of useful information.
ActTrader's support knowledge base consists of three sections:
Video Guides: here users can find videos to inform them about the various ActTrader products that are available, including tutorials that teach traders how to use each one.
Glossary: this is an informative A-Z list of all of the important terms new investors should be aware of when trading using the platform.
Act Help Centre: users can address any issues they are experiencing on the platform, browsing solutions by category or using the search bar to find an article related to a specific problem.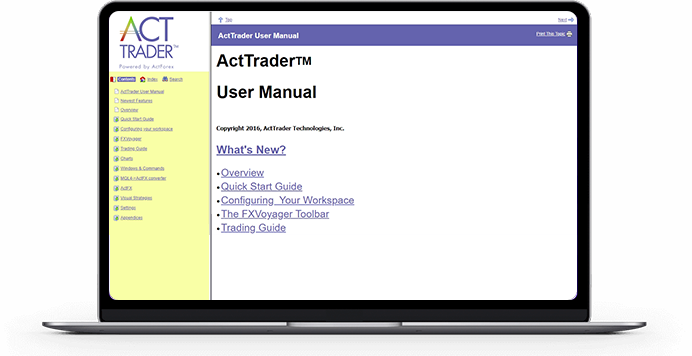 Final Word On ActTrader
While ActTrader is not the most widely used forex trading platform, there are a lot of things that set ActTrader apart. ActForex continues to update the platform and its functions to remain a competitor to MetaTrader and cTrader. In recent years they have also expanded their range of products, so traders have more flexibility.
Use our list of brokers that offer the ActTrader platform to start trading today.
FAQ
What Is The ActTrader Platform?
ActTrader is a fully-featured trading platform that brokers can adopt and allows clients to trade CFDs, ETFs, forex, equities, forwards and options.
Is ActTrader Better Than MT4?
ActTrader is becoming more of a competitor to MT4 as it continues to introduce new features. Although it still doesn't have the same range of technical analysis tools and MT4 remains the favorite among investors, ActTrader has a lot to offer traders of all levels.
How Do I Access ActTrader?
Start by finding a broker that offers the ActTrader trading platform. You will then be able to download the desktop software directly from the broker's website. You can also use ActTrader on web browsers and via their Android or iOS apps.
Is ActTrader Legitimate?
ActTrader is a legitimate and reputable trading platform. The software alongside other applications created by ActForex is among the best in the industry and is used by some of the most well-regarded forex brokers.
Is ActTrader A Broker?
No – ActTrader is a platform that brokers offer to their customers. ActTrader essentially creates the interface that allows trading to take place, including technical and fundamental analysis features.