Expert Advisors (EAs)
Expert Advisors (EAs) are programable trading robots available on MetaTrader 4 and MetaTrader 5. This tutorial will explain how Expert Advisors work and how to set them up on MT4 and MT5. We also cover the pros and cons of trading forex, stocks and more with EAs.
How Expert Advisors Work
Expert Advisors are trading algorithms, also known as bots, that can be deployed on the MT4 and MT5 platforms. EAs are built in the IDE (Integrated Development Environment) and can be used to trade forex, indices and commodities, amongst others. They are essentially designed to execute positions and strategies based on pre-determined criteria.
The built-in MetaEditor facilitates the development and testing of automated trading strategies on both MetaTrader platforms. And importantly, 950+ bots are available for free from Code Base while 1,700+ paid-for Expert Advisors can be purchased from the MetaTrader Market. Alternatively, EA developers can sell individual robots via the Freelance service. Paid for bots range from $10 up to several thousand US Dollars.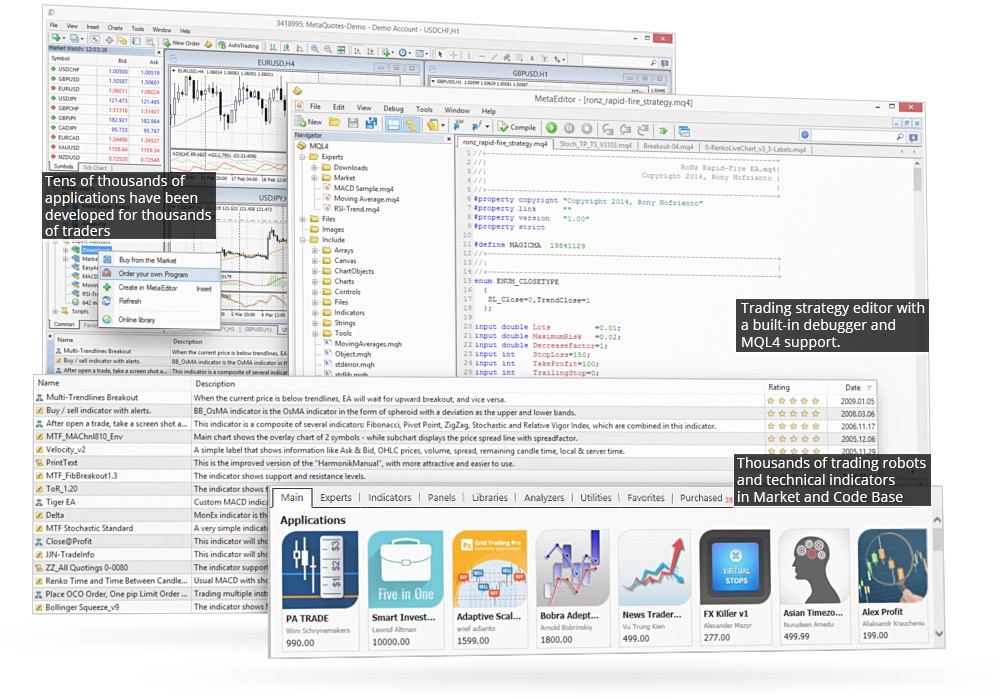 Parameters
Fundamentally, Expert Advisors follow a long list of yes/no rules that they consider when either alerting you to a potential trading opportunity or automatically executing positions themselves.
For those interested in the fully automated route, EAs can be left to open and close positions around the clock, seven days a week. Of course, regular monitoring and refinement are advised as profits aren't guaranteed.
Pros
Versatile
One of the key selling points of Expert Advisors is that they can be used to develop a range of complex trading strategies, based on an unlimited set of criteria. They can be applied to scalping strategies, intraday trading systems, and swing trading setups. Importantly, they can also be tested against historical market data to gauge results.
Emotion
Another significant advantage is that Expert Advisors take the emotion out of trading. Algorithms are not affected by recent trades that have gone sour. Instead, they make decisions based entirely on logic and pre-agreed parameters.
Time
EAs can save time. Instead of manually monitoring the forex or stock market and entering and closing positions all day, an Expert Advisor can do it for you. This frees up more time to explore new markets and develop fresh strategies.
Price
Finally, EAs can be cost-effective. Users can download free bots from Code Base or pay for more advanced algorithms from the MetaTrader Market. You can also pay for bespoke bots to be built using the MetaQuotes Freelance service.
Of course, as with most things, good EAs are likely to come with a hefty price tag and even those do not guarantee consistent returns.
Cons
24/7 Trading
To run a forex EA around the clock, you will need to set up a Virtual Private Server (VPS), which often comes at a cost.  And even then, it's best to keep regular checks on progress to avoid risking substantial losses.
Profits
Unfortunately, there are scams and misrepresented EAs on MT4 and MT5. Often promising high returns with limited evidence to support claims and no track record of profits, these are to be avoided.
Beginners should carefully review bots before downloading a free solution or paying for an EA. The Code Base and Market both publish important metrics about the Expert Advisors available, including a rating, setup guidance, risk parameters, and suitable markets.
News
Expert Advisors are entirely data-driven so they don't always respond to news events as you would expect. They aren't able to predict all market reactions and trends so they cannot be left entirely to their own devices.
Getting Started
How To Enable Expert Advisors In MT4
Open up the MetaTrader 4 terminal and select the 'Options' menu under 'Tools'. A window will then appear with the Expert Advisor section. You can then click to 'Allow automated trading'. The platform should then enable the use of EAs.
Using Expert Advisors On MT4
To add Expert Advisors to your forex MT4 account, open MT4 and locate 'File'. Next, click 'Open data folder' and choose 'MQL4'. You should then be able to choose between 'Expert Advisors' and 'Indicators', depending on the type of input you want. You can then copy over the desired file or bot. Once complete, restart the MT4 terminal and the EA should be available in the 'Navigator' window.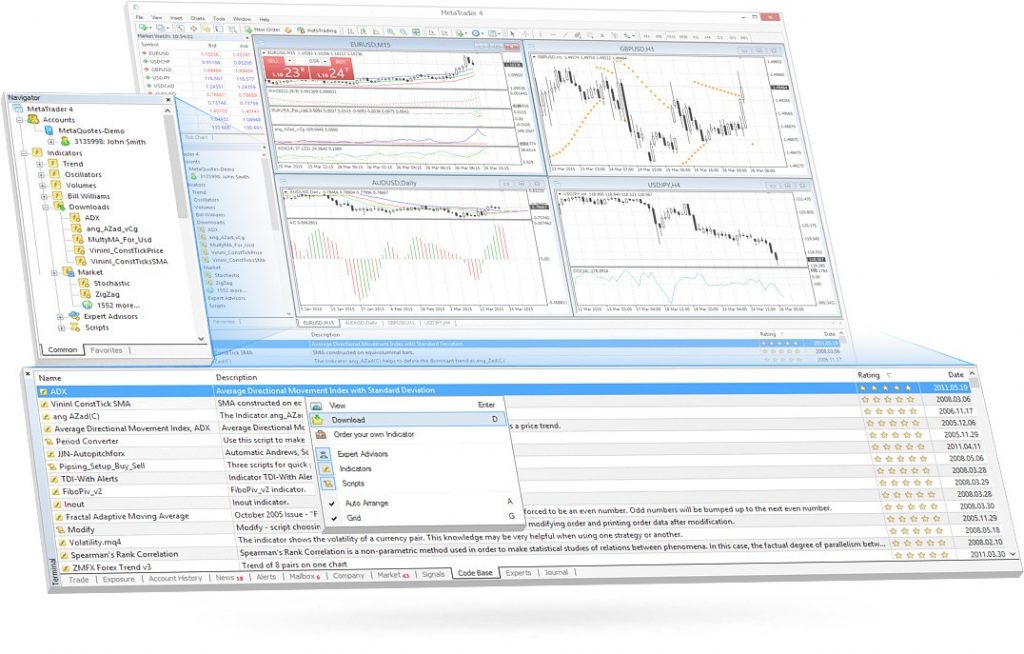 If the Expert Advisor is available in Code Base, then the process of adding it is far simpler. Just find the desired EA or indicator and hit the 'Free download' or 'Buy Expert Advisor' buttons. Once downloaded, you can activate the EA by dragging it onto your chart and setting your variables.
How To Enable Expert Advisors In MT5
Open the MetaTrader 5 terminal and select the 'Platform option'. Next, navigate to the 'Expert Advisors' tab in the pop-up menu and make sure the 'Automated trading' box is ticked. Once ticked, EAs can be used on your desktop or mobile MT5 application.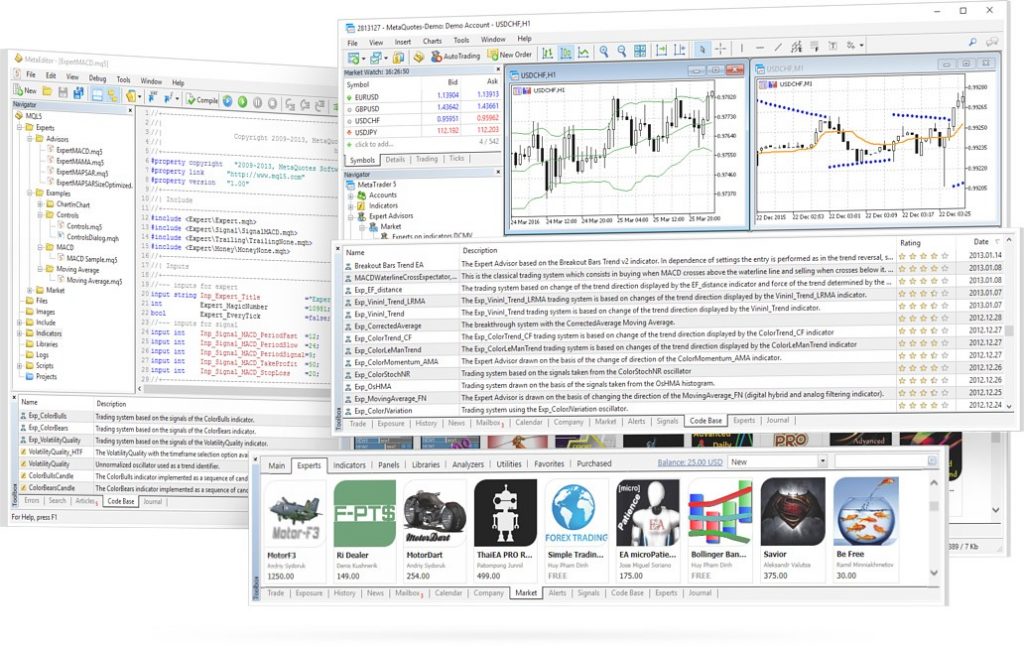 Using Expert Advisors On MT5
Similar to MT4, open the terminal and select 'File'. Next, click on the 'Open data folder' and choose 'MQL5'. You can then select either 'Expert Advisors' or 'Indicators'. From there, you can copy over the file. Now you simply need to refresh the application and the new EA should be available in the window. Once visible, you can drag and drop the bot onto your chart to adjust any parameters.
Testing EAs
The good news is that most Expert Advisors on Code Base and the MetaTrader Market have user reviews. Many of the premium bots and indicators for sale also come with a free demo solution so that you can backtest algorithms against historical market data. Robots are usually scaled back in terms of features with the simulator, but they still give you a good indication of future performance.
Helpfully, Code Base and the Market both list the best performing Expert Advisors in 2022 and split out bots by different markets and strategies, such as forex or gold and day trading or longer-term investing.
Creating Your Own Expert Advisors
Established traders may want to build their own bot for personal use or sell their algorithm. For this, users will need to develop bots in the respective platform programming language. For MetaTrader 4, this is MQL4 while for MetaTrader 5, this is MQL5.
EAs are developed in the intuitive IDE (Integrated Development Environment) alongside MetaEditor. These are important tools that help you build, test and refine MT4 and MT5 robots to operate on forex, stock or commodity markets. Fortunately, there is a host of useful tutorials and guides online, as well as MQL4 and MQL5 forums. Other useful tips and recommendations on building your own trading bot can be found at IG and Pepperstone.
Once you have built your Expert Advisor, you can put it to work on your account, offer it as a free download on Code Base, or sell it on the MetaTrader Market.
Bottom Line
Expert Advisors are algorithms that automatically monitor the markets and execute trades based on pre-defined criteria. EAs can be used for trading popular financial markets, including forex, on both MetaTrader 4 and MetaTrader 5. A collection and database of useful tutorials and bot builder programmes are available online, especially on the MetaTrader website.
To download an EA today, head to Code Base or the MetaTrader Market.
FAQ
Are Expert Advisors Safe?
There is no guarantee of consistent profits when trading with EAs. Whilst some of the best bots do generate decent returns, these can be pricey and often out of reach for beginners. Always check reviews of free bots before hitting download and be wary of installing Expert Advisors from third-party websites, as they could contain malicious code or be operating a scam.
Do Forex Expert Advisors Really Work?
Some FX Expert Advisors produce regular returns trading major, minor and exotic currency pairs. Of course, they will only operate effectively if trade parameters have been set up correctly. Check user reviews before downloading any free forex EAs and also backtest bots against historical data before risking funds.
Are Expert Advisors Profitable?
Some EAs have cracked creating impressive returns while others produce consistent losses. How successful a bot is ultimately depends on how well it has been developed and refined. The best performing EAs can be found on the MetaTrader Market but may come with a hefty price tag, sometimes costing thousands of dollars.
What Platforms Can You Use Expert Advisors On?
Expert Advisors are primarily available on the MetaTrader 4 (MT4) and MetaTrader 5 (MT5) platforms. With that said, automated trading systems and services can also be found on other popular terminals, including cTrader.
Are Expert Advisors Allowed In Trading Competitions?
This is entirely dependent on the company running the competition. EAs are allowed in the FTMO trading competition, for example, however some companies restrict their use. As a result, it's best to check terms and conditions before signing up. Importantly, it is worth noting that retail Expert Advisors are legal in most major trading jurisdictions.