FTMO Review 2023 Review 2023
Prop trading is an exciting way for experienced investors to speculate on the financial markets with serious capital and reduced risk. FTMO is one of the leading firms in the forex prop trading space with over 6000 new members joining in 2020. This review covers account types, leverage, FTMO Challenge rules and more.
What Is FTMO?
FTMO was founded in 2017 by owner Otakar Suffner with the aim of providing funded accounts to talented traders. The company is based in the Czech Republic, with headquarters in Prague. Since its launch, the firm has grown quickly and has won several awards, including the Deloitte Rising Star award in 2019 and 2020.
The company has a good reputation with highly developed apps to aid trading strategies and top-rated customer support.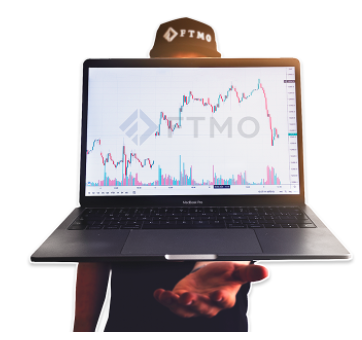 FTMO offers a variety of trading instruments including forex, commodities, indices, cryptos, stocks and bonds as well as multiple platforms such as MetaTrader 4, MetaTrader 5 and cTrader. Users can begin trading with up to $200,000 and once the verification process has been completed, they can keep up to 80% of profits. FTMO's biggest single payout was over $40,000.
How It Works
FTMO evaluates the skill and qualification of prospective traders through a two-step evaluation process: the first step is the FTMO Challenge, and the second step is the Verification.
Once this process has been successfully completed, users are offered a professional account. Traders can then remotely manage up to 400,000 USD with leverage up to 1:100 and can continue growing the account according to the scaling plan.
Users technically trade on a demo account at all stages of the process – even as a professional trader. The FTMO account is connected to the firm's live trading account with real capital.

Here's our guide to getting started with FTMO:
1. Choose Your Account
Account types are broken down by risk level (normal vs aggressive) and capital level. Once you have decided which plan is best suited to you, choose a currency (USD, EUR, GBP, CZK), sign up and open an account.
2. Choose Your Platform
FTMO is available on MT4, MT5 and cTrader. MT4 and MT5 are available to download to desktop devices. cTrader is available to download as a mobile app from the Google Play Store and the Apple App Store. You can also use the prop firm's webtrader, available on desktop with no download needed.
3. Start The FTMO Challenge
Before you can start generating profits, you will need to complete the evaluation process. Step 1 is the FTMO Challenge. You will have to pay a fee, which will depend on your chosen risk and capital level. This is a one-off fee which will be reimbursed once you make your first profit.
There is also the option of a free trial challenge if you want to try before you buy. This 14-day trial gives you a taste of the Challenge and allows you to refine your skills.
4. Follow Trading Objectives
Each account type has its own rules which you will need to follow to continue to the next stage. These objectives include a maximum trading period (30 days), a minimum period (10 days), a maximum daily loss, and a profit target (10% or 20% depending on your chosen risk level).
If you reach the profit target before the maximum trading period, you can progress to the next stage. If you miss the profit target but don't break any other rules, like violating the maximum daily loss, you will get a second chance to complete the challenge for free.
5. Verification
The second step of the process is known as Verification. This is where you must prove yourself again, but this time it's free. A couple of days after you complete the FTMO Challenge, you will be sent your Verification log in details. Verification follows the same rules as the Challenge, but with a 60-day maximum trading period and half the profit target.
Again, if you fail the FTMO Verification by missing the profit target but don't break any other rules, you can repeat the challenge for free.
6. Become A Funded Professional Trader
Once you have successfully completed all the requirements in the evaluation process, you will be able to invest professionally with the FTMO proprietary trading firm. You will need to carry out standard KYC checks to get paid.
As a professional trader you must follow the same loss rules, but there is no maximum trading period, no profit target, and no minimum trading days. Professional users keep 70% of profits made on their account.
Note, your positions are copied onto the proprietary trading firm's live investing account with real capital.
7. Scaling Plan
If you're trading profitably, you can use FTMO's growth plan to get a 25% capital increase every four months. To be eligible for an increase, you will need at least 10% in profits over the last four months (that means an average of 2.5% profit a month) with two out of the four months ending positive.
The scaling plan has no cap – in a year and a half of successful trading, you could be managing up to 600k.
Fees
There is a single fee for signing up which is calculated according to your capital level and risk scheme. This fee is refunded with your first payout and there are no monthly or other recurrent charges. FTMO accepts a variety of payment methods including bank wire transfer, debit/credit card and Skrill. The proprietary trading firm places no limits on user's locations or nationality, so whether you're in Kenya, India or the USA, you can join FTMO.
Accounts
Account types are broken down into 10k, 25k, 50k, 100k and 200k challenges. Each challenge has a risk level (Normal or Aggressive) except for the 200k challenge which only has the normal risk level. When deciding which level to go for, consider your trading strategies and experience. On the Aggressive account you are allowed bigger losses but have higher profit targets. FTMO prices range from €155 for the 10k Challenge to €1080 for the 200k Challenge.
The challenges are denominated in USD but you can attempt them in different currencies – the 100k challenge could provide you with 100k USD, 80k EUR or 70k GBP, depending on your chosen currency.
You can have multiple accounts, but FTMO has a maximum initial capital allocation of $400k (or $200k for Aggressive accounts). This means you could have two 200k accounts or four 100k accounts. Scaling does not count towards the initial capital allocation sum. Note that you will need to pay for and pass the Challenge for each new account. You can merge FTMO accounts if they have the same risk and currency setup by contacting customer support.
All accounts offer leverage up to 1:100 and access to over 100 FX pairs including USD/EUR, USD/GBP; cryptos such a Bitcoin (BTC) and Ripple (XRP); stocks; bonds; indices like US30 and commodities such as gold (XAU/USD).
All accounts come with unique trading tools and apps such as the Account Metrix, Mentor Application and the Equity Simulator. These tools can help you monitor and improve your performance, and are only available to FTMO traders.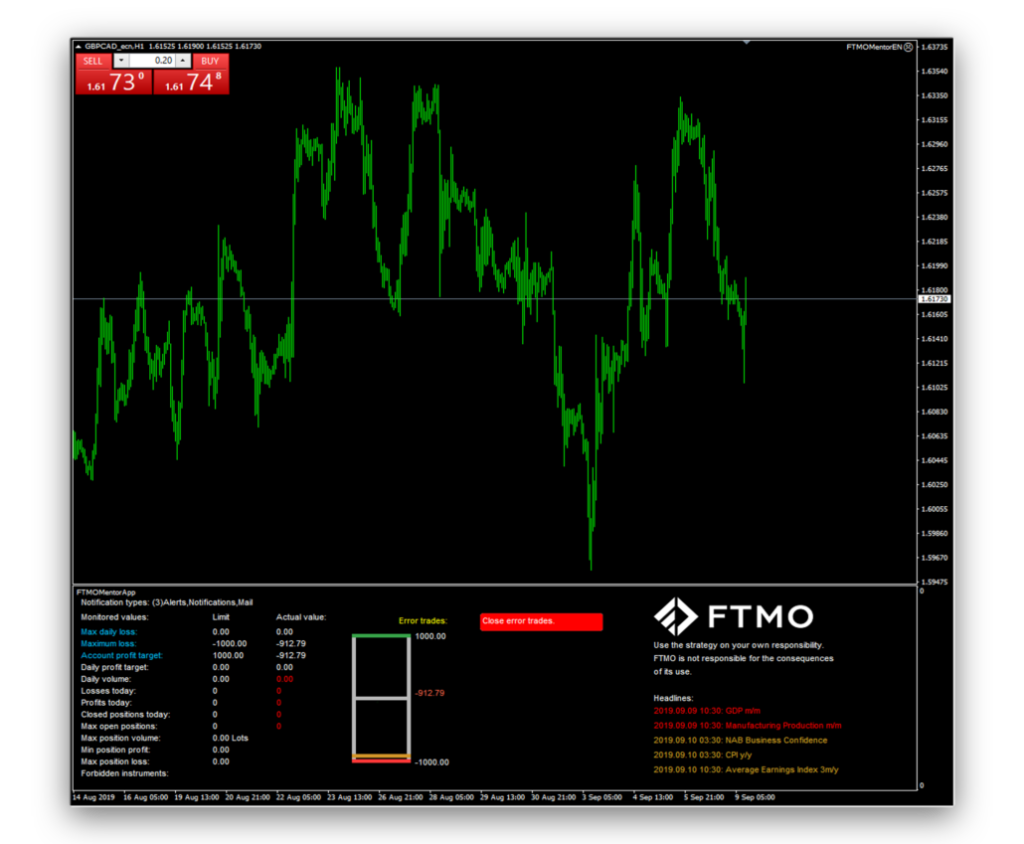 Mentor App
Other account conditions to keep in mind include:
There is no limit on lot sizes
You can use all common trading tools, like stop losses and candlestick charts
You can trade on FTMO using any strategy, including scalping, hedging or EAs
Users cannot hold trades over the weekend, or over long market breaks – this is called the two-hour rule. You can hold your positions overnight if the rollover is less than two hours. Make sure you are aware of the trading hours and the holiday sessions of your chosen market. For example, most cryptocurrencies like Bitcoin have extended trading hours
Be careful with trading the news. FTMO has certain restricted events, such as the release of specific macroeconomic reports. Traders cannot open or close positions two minutes before or after these events. Check the firm's economic calendar to know when these are happening, and use a time zone converter if needed.
Withdrawals
Returns are paid via a monthly profit split. Users must invoice FTMO and the money will be sent to your account via regular bank wire transfer or Skrill. FTMO charges zero commissions for withdrawals. You will receive a withdrawal certificate as proof of payment.
You can invoice the prop trading firm as a company or as an individual. Ensure you manage your earnings in line with your country's tax regulations. For example, if you're trading from UK, you will pay tax on earnings above £12,500. Consult a local tax advisor to ensure compliance with the relevant regulations.
Pros
Benefits of opening an FTMO account include:
Free trial challenge
You keep 70% of profits
Comprehensive customer support
You invest with FTMO funds, not your own
Tutorials, Q&As, webinars and discounts on partners' educational websites
Profitable traders can increase their capital by 25% every four months with the scaling plan
Cons
Downsides of the prop trading firm's offering include:
You can only earn when you get to the professional account, unlike competitors such as The5%ers
Less initial capital volume available versus competitors such as Fidelcrest
Thorough, two-step evaluation process
No holding over the weekend
Security
FTMO is not a broker so it's unregulated. The company has a thorough two-step evaluation process which has a relatively low pass rate. This ensures that only capable traders make it to professional status. New traders can use the free demo account to refine their skills before paying the FTMO joining fee and beginning the Challenge.
Customer Support
If something goes wrong, such as a payment gets cancelled, FTMO's customer support team has a good reputation and is available in 13 languages. Business hours are 24/7 for email and live chat and 8 am – 5 pm (CEST) for phone calls Monday – Friday:
Email: support@ftmo.com
Telephone number: +44 2033222983
In person appointments at their office in Prague
You can also visit the online FTMO shop which sells trading themed merchandise such as t-shirts, hats and posters. Another great way to learn more about the company is to look at FTMO Challenge reviews on YouTube.
Final Word On FTMO
Prop trading is an interesting option for investors in 2023 looking to increase their capital, but be sure to compare firms to find the one best suited to your needs. FTMO's unique analysis apps and highly regarded customer support make it one of our top picks for traders looking to take their talent to the next level.
FAQs
What Is An FTMO Trader?
An FTMO trader acts as a contractor and invests through the proprietary trading firm. After completing a two-step evaluation challenge, investors can trade with real capital to earn serious profits.
Is FTMO A Hedge Fund?
No, FTMO is not a hedge fund. It is a limited company and a proprietary trading firm. Head to the company website to register for an account.
Is FTMO A Pyramid Scheme?
No, FTMO is not a pyramid scheme – it is a proprietary trading firm. Prospective users must pass a two-step evaluation challenge before being allowed to trade with the firm's capital.
What Can You Trade On FTMO?
Users can trade CFDs and other derivatives on over 100 pairs, including forex (GBP/USD, EUR/USD, USD/JPY); commodities such as gold (XAU) and silver (XAG); indices such as US30 and UK100; crypto pairs such as BTC/USD, LTC/USD and XRP/USD, plus many more. Note, trading on the NASDAQ100 (NAS100) is not possible with FTMO.
Is Trading With FTMO Halal?
Certain aspects of trading, such as the use of margin, are typically considered Haram. However, Islamic traders with FTMO can configure Sharia-compliant swap-free accounts by speaking to the customer support team.
FTMO offers a two-step evaluation process to get started investing on the financial markets with the prop trading firm's capital.