ZuluTrade Review 2022


United States not accepted.
Go to the Brokers List for alternatives
Zulutrade provide multiple automation and copy trading options across forex, indices, stocks, cryptocurrency and commodities markets
Risk Warning – Your capital is at risk
ZuluTrade is the oldest and most recognizable social wealth management platform. Essentially, it allows investors to follow and mimic the trades of experienced traders in the forex and financial markets. However, the social element also enables traders and investors to leave feedback and share ideas. Today it boasts around two million users and executes a trade volume in excess of $800 billion. This ZuluTrade review will break down how it works, covering costs, live accounts, user reviews, regulations, and more.
A Brief History
ZuluTrade was founded in 2007 by Leon Yohai and Kosta Eleftheriou. Leon Yohai wanted to build software that allowed him to copy the trades of the best traders. By 2009, the company had over 4,500 'expert' traders (signal providers), and it was their portfolios who users could copy to make money.
By the time 2014 rolled around, ZuluTrade had re-designed their website, added a number of features, such as ZuluGuard, and had 120 employees, 40 of whom were in customer support.
2015 brought with it a success as the platform was awarded an EU Portfolio Management License from the European Union. The resulted in the company becoming both legitimate and respected in the trading world.
In December 2021, ZuluTrade was acquired by Finvasia; a global fintech company. Over the years, ZuluTrade has collaborated with many brokers and added several new features to its offering, including the ability to copy CryptoTraders as well as the launch of Combos and Crypto Payments.
As a result, the firm has grown to become a leading copy-trading platform with users in more than 150 countries and over 90,000 traders to choose from.
Minimum Initial Deposit
The minimum deposit varies from broker to broker. Certain brokers available with ZuluTrade require a minimum deposit of just $1, others may require $300, £210, €250, 25,000 JPY or 300 AUD.
Clients must keep a balance of at least $100 in their ZuluTrade account in order to stay connected to the platform.
Spreads & Commissions
Broker commission largely depends on the volume traded by the client. Some brokerage firms might also charge a commission or have increased spreads when a trade is placed.
The spread (the difference between the buy and sell price) will vary between brokers. The currency pair and time of the day can also influence the spread. For example, brokers often widen spreads during periods of high volatility.
Leverage
Most people are aware leverage can be used to increase potential earnings. However, before you download an account, you should also note trading on leverage can amplify losses and open you up to margin calls.
Normally, the higher the leverage, such as 1:1000, the lower the used margin, which usually means an increase in the free margin and margin level. However, this can lead to overtrading and with a high drawdown, your account may hit a stop out level.
So, to avoid risk, it's often recommended to use 1:100 leverage.
Nonetheless, it is important to keep in mind that the maximum leverage will be determined by the selected broker.
Other Trading Fees
Before you sign up and log in to ZuluTrade, you should also be aware of any additional costs. For example, you can be charged an overnight rollover/swap fee by your broker. The amount will depend on the currency pair you are trading. Although these costs can cut into profits over a considerable time period, intraday traders shouldn't usually encounter these fees.
Aside from that, there aren't any other additional costs. ZuluTrade has explained on their website that the traders you copy are paid directly by ZuluTrade, as part of the commission.
It's also worth noting that if you head over to their website, every now and then you may find deposits bonuses and promotions.
Trading Platform
How It Works
The ZuluTrade trading platform collaborates with brokers that provide trading for stocks, cryptos, forex, commodities, such as oil, and indices, such as the NASDAQ. The platform then allows you to clone the strategies of top traders.
For those wondering how it works, the user base is essentially split into two categories:
Traders – These are normally traders who are willing to share and be copied by investors. Their compensation fees are determined by the lot size being traded.
Investors – These users can copy the strategies of the traders.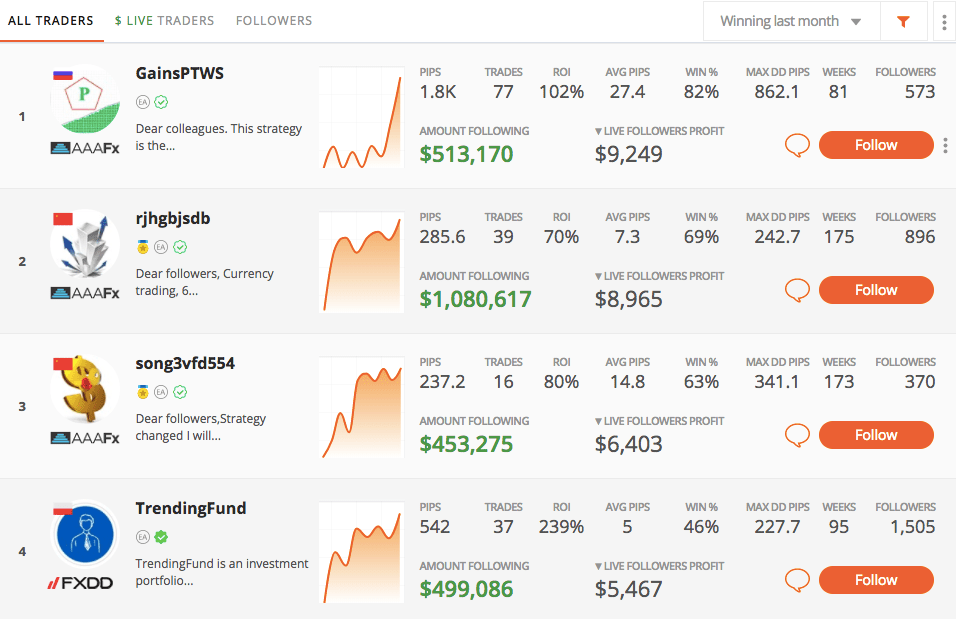 Features
Once you have your Classic login account details, you can then start using a number of useful features, including:
Lock Trade – This allows you to verify the execution of a trade after the signal has been received.
Automator – 2016 saw the introduction of 'The Automator'. This notifies you by email or automatically executes actions when events occur. This function acts on rules that you add. For example, if profit and loss from Trader X is more than $1,500, then lock current profit. This can all help you minimise risk and free up time.
Social network features – These include forums and comment sections. Here you can review traders, offer advice and ask questions.
ZuluScript – This enables you to create scripts that form the parameters for trading bots. These are also commonly known as expert advisors (EA). This gives you trade automation, allowing you to execute far more trades than you ever could manually.
Cryptocurrencies – Recently added to the portfolio, investors can now take a view on whether cryptos are the next big thing, or a bubble.
ZuluGuard – A unique feature that protects investors if erratic trades are opened by traders they are following. An excellent risk management addition.
Calendar – An easy to access summary of all key events for the financial markets around the globe.
In addition, if you're concerned about how to choose a trader on ZuluTrade, you can use the ZuluRank calculation. This proprietary algorithm ranks traders by a number of different factors, including:
Sharpe ratio
Low drawdowns, High profits
Age of signal provider
Amount of trade activity
Frequency that trader logs in
Length of time trade stays open
ZuluTrade To MetaTrader
It is possible to link an external live or demo MetaTrader 4 (MT4) platform to a trader account. So, for those asking does ZuluTrade work with MetaTrader accounts? The answer is yes.
ZuluTrade vs Competitors
What does ZuluTrade offer vs eToro, Mirror Trader, NinjaTrader and other systems? You can easily view rankings of investor performance. The simulator also shows the overall profit.
Perhaps it is the sheer number of traders you can copy that sets ZuluTrade apart. You have access to over 90,000 traders from 192 countries. You can then use ZuluTrade's advanced search engine to hone in on the best. For example, you can choose to see only those who have traded their own money, had a maximum drawdown of 20%, and have traded for at least a year.
Many users also like to copy more than one trader. So, you can utilise UserLists to manage your potential candidates. This will also allow you to monitor an individual for a while before copying. In addition, you can share lists amongst users.
After you have found a trader you wish to follow, you can assign a specific amount you want to trade per signal you copy. Alternatively, there is a 'Pro rata %' option. For example, 20% would mean if the trader opened 1 lot, 0.2 lots would be opened in your account. On top of that, you can set a 'Max Open Position' for a particular trader.
You can review your account performance at any time. Daily and weekly summary reports will be sent via email. You will also receive email notifications when the behaviour of one of your traders changes. In addition, you can review trade performance by trader and time frame. This should help you establish who has been generating gains and losses in your account.
Mobile Apps
ZuluTrade also provides Android and iPhone trading apps. Those with Windows mobiles and tablets can also download their trading apps. Once in the application, you can view your performance, review new traders to copy, plus close trades manually. In addition, select go 'real-time' and you can manage your risk settings.
Overall, the ZuluTrade applications and mobile site effectively compliment the desktop-based platform. Plus, functionality has continuously improved with each update.
Methods of Payment
Payment methods for traders are as follows:
PayPal
Bank wire transfer
ZuluTrade Mastercard
For investors, deposit and withdrawal methods will vary depending on the broker they select.
ZuluTrade Accounts
When opening a live account, new users will have access to the Classic account…
The Classic account is suitable for beginner as well as advanced users. You will benefit from manual or fully customised copy-trading, plus traders can enjoy standard volume-based commissions.
This account gives you access to charts, data, alerts, and forex signals. It also allows for straightforward account maintenance. Head over to 'my account' and you will get access to all the basic functions, from reviewing performance rankings to the 'delete account' button.
The Classic account contains numerous benefits including:
No fees/commission are being charged
Availability of copytrading and manual trading
Lock Trade function allows investors to fully monitor their positions
Individual trades can be closed at any given moment
Volume-based compensation scheme
After setting up your account you will then need to choose between supported brokers. Details of which can be found further below.
Demo Account



ZuluTrade offers a free fully functioning demo account. Simply head over to their website and select the demo option. You will then need to enter the following basic information:
Name
Email
Phone number
Location
Leverage
Base currency
Virtual account balance
Once you have your demo login details, you will be able to conduct in-depth analysis and follow trading gurus. You can also use their social features to find the best settings, brokers, plus tips and tricks.
Overall, the demo account is easy-to-use and replicates many of the features you will get, should you choose to upgrade to a live account.
How To Become A Trader
Many reviews highlight that educational sources focus on forex trading videos and broker comparisons while leaving out guidance on how to become a trader. Yet some of the best ZuluTrade success stories are from those who have in effect sold the rights to their trading strategies.
This is because you get 0.5 pips per lot traded by someone following you with a real money account. So, if you can accumulate over a hundred investors, that can add up to fairly significant commissions.
Tips
Obviously, you can't maintain a negative balance, but what else would a good trader guide recommend you do to get a sizeable amount following you?
Upload a professional, friendly default photo. The right photo icon will help build trust.
Be clear and concise when you explain your strategy. For example, suggesting how many lots a follower should invest and how you plan to offset any potential pitfalls.
Trade with a real money account. This is because people will trust your decision making more if they know you are risking real capital too.
Make sure you meet any criteria, whether it's necessary minimum equity or win ratio. Meeting the EU criteria above is particularly important if you want to appeal to the European market.
Due to inevitable broker slippage, you may want to avoid scalping strategies.
Also, trading during news announcements can lead to substantially different results between yours and your follower's accounts. This is because some brokers will widen spreads during news events.
If the website goes down, or people have questions about your strategy on a Mac, your score on the risk meter bar, or anything else, try to respond swiftly. Communication is key to building trust.
Additional Features
Forums and blogs are quick to highlight that there are a number of attractive additional features you get with ZuluTrade. These include:
Pip calculator
Profit calculator
Margin calculator
Currency calculators
Economic calendar
Access to news
On top of that, there are also training videos, tutorials, user guides, and PDFs that should be able to help you with any problems. Through their Followers Academy, they also offer advice on how to choose from their long list of supported brokers.
Safety & Security
ZuluGuard is often highlighted as a particularly well-liked feature in review forums. It is an effective account protection feature. It works by monitoring each trader's behaviour and removing a user when a draconian strategy is detected. This should help keep your income safe from erratic traders.
Also, note you can manually set the ZuluGuard protection by looking at the Advanced Mode in the Settings section of your account.
Regulation & License
The ZuluTrade trader program is regulated. As a copy trading solution for brokers in the EU, ZuluTrade has obtained a Triple-A Experts SA license from Greece's Hellenic Capital Market Commission (HCMC).
The platform is also regulated in Japan (2014 – No. 1058 Member Associations / General Japan Investment Advisers Association).
Unfortunately, this does not automatically mean you will now be able to receive huge millionaire payouts without any risks. It simply means according to ZuluTrade, that their platform fully complies with EU framework for auto trading service providers. As such, brokers do not require additional regulation themselves to offer the platform to their clients.
Benefits
ZuluTrade traders' reviews are particularly impressed with a number of features found on the platform. These include:
The totally free and fully functioning demo account. This is perfect for beginners looking to get familiar with the markets.
More than 90k traders to follow and copy. This could result in greater traders earnings.
There is a wide choice of brokers from a long list of different countries. See below for more details.
Some social trading networks only give you access to the last 50 or 100 traders. However, all historical trades are made available at ZuluTrade. This ensures total transparency.
Reviews from forex trading show users are impressed with the wide range of performance indicators and graphs provided to help evaluate traders.
Users of ZuluTrade can also comment directly on traders' profile pages. This helps to hold traders to account and creates a relatively effective review process.
On top of forex, users also have access to Cryptocurrencies.
You can benefit from reliable and easy-to-use mobile app.
December 2014 saw ZuluTrade make changes to increase investor protection to stay in line with EU legislation. EU residents can now only view the top 2000 traders who comply with stringent criteria, demonstrating consistent and reliable performance. The result of this is that all traders now aim to adhere to these rules.
Drawbacks
Despite many of the benefits highlighted in Zulutrade.com reviews, there are also certain downsides and risks to consider. These include:
For each successful trader, there is also a whole load of inconsistent traders.
Traders are not formally vetted. The ZuluGuard feature does mitigate this risk however, removing traders and/or withholding fees where appropriate.
Employing an effective money management system can be difficult for beginners. It is also particularly challenging for those not focussed on forex, such as gold, CFD, and cryptocurrency (bitcoin) traders.
A significant amount of monitoring is required to select an effective mix of traders.
To conclude, you shouldn't necessarily run to ZuluTrade alternatives because of the downsides listed above. These are problems with most similar sites. As long as you are aware of the risks and willing to put in the time, you may still make attractive gains.
Trading Hours
Trading should not be performed outside of ZuluTrade's market hours. The market opens at Sunday 21:00 UTC and closes Friday 21:00 UTC. During Eastern time daylight saving, the market will open on Sunday at 17:00 UTC and close Friday 17:00 UTC.
Note trading hours are close to competitors and similar sites.
Contact & Customer Support
If you have any technical issues or account requests, such as to change leverage, simply head over to the ZuluTrade homepage. From there you can find live chat is available 24 hours a day. This is the most popular method of contact for ZuluTrade users at present.
On top of that, there is email and phone support in more than 20 languages, plus a 24-hour hotline. You can also go about using the ZuluTrade website to submit feedback via an online form or by selecting 'contact us'. The website is available in all of the following languages: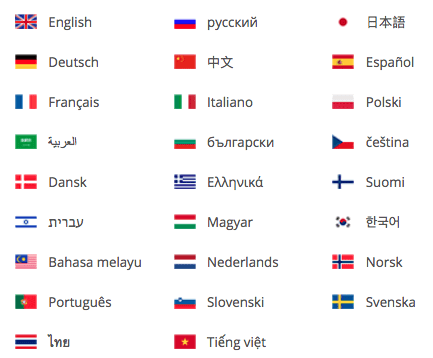 In fact, their long-term commitment to reliable customer support was recognised with a BrokerNotes triple AAA support rating.
ZuluTrade Verdict
Overall, the ZuluTrade.com offering is attractive to traders of all experience levels. The ever-growing number of users alone demonstrates that. Yet despite being user-friendly, the service does work best if you opt for the company's own brokerage, AAAFx.
In addition, staying profitable isn't always straightforward. You need to be aware revenue can disappear just as quickly as it appears in your account. So, having an effective strategy and money management system in place is essential.
Accepted Countries
ZuluTrade accepts traders from Australia, Thailand, Canada, South Africa, Singapore, Hong Kong, India, France, Germany, Norway, Sweden, Italy, Denmark, United Arab Emirates, Saudi Arabia, Kuwait, Luxembourg, Qatar and most other countries.
Traders can not use ZuluTrade from United States, United Kingdom, Belgium, Iran, Syria, Sudan.
Alternatives to ZuluTrade
If you are looking for alternatives to ZuluTrade we have compiled a list of the top 5 brokers that are similar to ZuluTrade below. This list of brokers like ZuluTrade is in order of similarity and only includes companies that accept traders from your location.
Zulutrade provide multiple automation and copy trading options across forex, indices, stocks, cryptocurrency and commodities markets
ZuluTrade vs Other Brokers
Compare ZuluTrade with any other broker by selecting the other broker below.
ZuluTrade vs