Brokers With Smart Watch Apps
As smart watches become increasingly popular, many brokers have introduced apps which enable their clients to monitor their portfolios and even execute trades. Read on for a guide to trading on your smart watch, including the key factors to consider when you buy, and instructions for getting started. We also list the best trading brokers with smart watch apps in 2023.
Top Brokers With Smart Watch Apps
Only a few brokers offer trading on smart watch apps. These are the 3 best brokers with smart watch app support:
#1 - IG Group
IG is an award-winning broker that has an excellent reputation globally. The brand-US offers spread betting, CFD and forex trading across a comprehensive suite of markets. IG is also multi-regulated, provides a great trading app and has 50 years experience.
"IG offers a superb all-round package. Beginners will appreciate the user-friendly web platform and secure trading environment while established investors will rate the 17,000+ markets and top-tier market research."

- DayTrading Review Team
Instruments: CFDs, Forex, Stocks, Indices, Commodities, ETFs, Futures, Options, Crypto, Spread Betting
Regulator: FCA, ASIC, NFA, CFTC, DFSA, BaFin, MAS, FSCA
Platforms: MT4, AutoChartist, TradingCentral
Min. Deposit: $0
Min. Trade: 0.01 Lots
Leverage: 1:30 (Retail), 1:250 (Pro)
CFD Trading
IG offers an impressive suite of 17,000+ CFD instruments. Negative balance protection ensures accounts cannot drop below zero while custom price alerts and the IG Academy enhance the trading experience.
Forex Trading
IG offers currency trading on its award-winning web platform and mobile app. Comprehensive charts and forex analysis tools are also available through ProRealTime.
Stocks Trading
IG offers 13,000+ shares, with more listed firms than most competitors. Fees are low with no commission on US stocks. Extended hours trading is also available alongside ultra-fast execution speeds of 0.014 seconds.
Crypto Trading
11 popular cryptos are available, plus two crypto crosses. A crypto index is also offered, following the value of the top 10 digital currencies by market cap. All cryptos are available via CFDs.
Pros
Over 17,000 assets are available spanning stocks, forex, commodities, baskets, futures, options and more
IG offers great educational materials including an extensive library of training and support on how to day trade successfully
Share dealing and ISAs are available for longer term investing
Cons
No copy trading platform
Inactivity charge
#2 - Empower
Empower, previously Personal Capital, is a US-based and SEC-regulated trading platform and advisory firm. Clients can access pensions, robo-advisors and do-it-yourself investing in stocks, mutual funds, fixed-income products and ETFs. Millions of clients trust Empower with their long-term investments, attracted by the suite of free financial planning tools and excellent reputation.
"Empower is best for hands-off investors looking for a US-regulated platform and robo-advisor with free financial planning services. However, investors need to be willing to make a large minimum investment and pay higher than average fees for premium services."

- DayTrading Review Team
Instruments: Stocks, ETFs, Mutual Funds, Fixed Income
Regulator: SEC, FINRA
Platforms: Own
Min. Deposit: $1 (Cash), $100,000 (Robo Advisor)
Min. Trade: Variable
Stocks Trading
Empower offers opportunities on a range of sectors spanning major US stock exchanges, from financial services to technology and manufacturing. We rate the commission-free pricing and thousands of mutual funds and ETFs available in the self-investing account or ready-made portfolios.
Pros
Intelligent budgeting and portfolio management tools
Beginner-friendly financial dashboard with customizable widgets
Empower's advisory services are regulated by the SEC
Cons
No forex, commodity or crypto trading
Only available in the US
Limited choice of payment methods with only wire transfer
#3 - Personal Capital
Empower (formerly Personal Capital) is a popular, SEC-regulated US financial advisory and investment platform that offers pensions, ready-made investment plans and do-it-yourself, commission-free investing through a large range of mutual funds, ETFs, individual equities and fixed-income securities. The broker has an impressive 3.4 million clients.
"Personal Capital (now Empower) is a great option for investors seeking a flexible way to build an investment portfolio or pension plan. It is a particularly good fit for US traders owing to the SEC oversight."

- DayTrading Review Team
Instruments: Stocks, ETFs, Mutual Funds, Fixed Income
Regulator: SEC
Platforms: Own
Min. Deposit: $1 (Cash), $100,000 (Robo Advisor)
Min. Trade: Variable
Stocks Trading
Commission-free trading on US stock equities and ETFs as well as access to thousands of mutual funds are available through Empower's DIY investment account. You will also gain exposure to stock markets through the firm's ready-made investment plans and pensions.
Pros
Well-known and popular investing platform
Strong regulatory oversight from SEC
A wealth of free financial analysis and planning tools
Cons
An annual advisory fee of 0.89%
No demo account
US residents only
How To Use Smart Watches For Trading
Monitoring Markets
It is easy to monitor stock markets, for example, with your smart watch. Trading apps offer a straightforward way to view one or two stock tickers at a time, alongside limited market information. For example, you can monitor the current price and the current trend line indicated either by red, showing bearish movement, or green, showing bullish movement.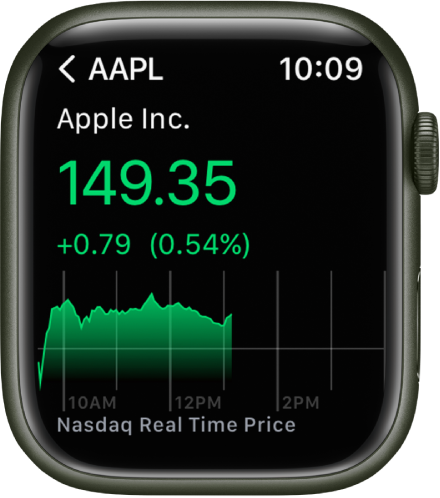 Brokerages such as IG, Interactive Brokers and Robinhood provide smart watch apps that enable customers to monitor orders and open positions.
Receiving Alerts
There are several apps for your smart watch which can provide trade alerts. Apps such as WatchAlert by Modulus allow users to monitor their portfolio by setting up automatic notifications when stocks meet certain conditions. Importantly, however, these apps are not necessarily connected to an exchange account, so you would need to open up your broker's platform on your phone, tablet or computer to execute a trade.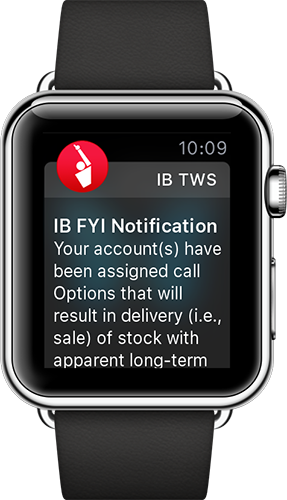 Making Trades
Certain brokers like IG facilitate trading on a smart watch. These smart watch apps offer the same functionality as mobile apps, meaning traders can easily view shortlisted markets and open or close positions with just a swipe.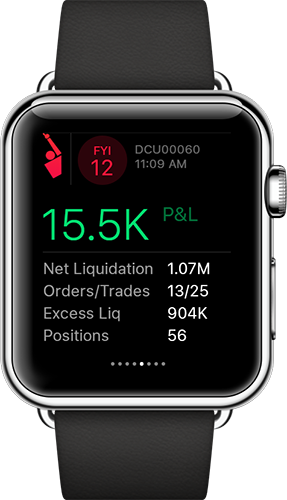 These apps still require your smart watch to be connected to your phone in order to process the trades. Therefore, the main benefit of using these smart watch trading apps is the decrease in time taken between receiving an alert and executing the subsequent trade.
Pros Of Brokers With Smart Watch Apps
Trades are even more accessible than your mobile phone
Facilitate quick responses to stock alerts
Many brands and sizes to choose from
Easy to monitor portfolios
Cons Of Brokers With Smart Watch Apps
Limited features compared to trading with phones, tablets or computers
Relatively expensive as most watches cost hundreds of dollars
Few brokers enable trade execution with a smart watch
Trading On A Smart Watch
History
Smart watches have been in production for several decades. Early smart watches such as the Epson RC-20 and the Timex Datalink had very limited functionality and could only display basic information like memos and appointments. The first smart watch that could receive stock updates was the Microsoft SPOT, created in 2004. However, it wasn't until the launch of Pebble in 2012 that smart watch technology began to rapidly develop.
In 2013 Samsung launched its first smart watch, the Galaxy Gear. Apple quickly followed suit, launching the Series 0 in 2015. Since then, smart watches have become increasingly popular, with over 127 million units sold in 2021 alone. Additionally, smart watch technology has been developed to serve multiple purposes. For example, some watches can accurately monitor your blood pressure and heart rate, provide GPS tracking, and even use near-field communication (NFC) for contactless payments. More recently, smart watches have been developed to enable you to trade while you're on the move.
Smart Watch Brands
Below are some of the best brands for trading on a smart watch. Note that this is not an exhaustive list, and there are other brands such as Motorola, Fitbit, Lenovo, G Shock, OnePlus, Xiaomi and Michael Kors, who also produce smart watches.
Apple
Apple is currently the most popular smart watch brand in the world. There are three Apple smart watch models in production: the Series 7, the SE and the Series 3, ranging in size from 38mm to just under 46mm. While you are limited to only downloading apps via the Apple App Store, the proprietary Apple Stocks app is well-designed and perfect for keeping track of market information.
Bear in mind that Apple smart watches are only compatible with other iOS devices such as iPhones, iPads, Mac computers and laptops.
Samsung
Samsung, the South Korea-based electronics company, has the second-largest market share for smart watches. They offer a range of watches in their Galaxy line, including the flagship Watch 4 model starting at $250. Apps for trading on a Samsung smart watch are downloadable via the Google Play Store or the Galaxy Store.
Samsung smart watches are only compatible with Android phones.
Fossil
Fossil is a well-known brand that creates reliable smart watches. The current flagship model, the Gen 6, is priced from $300 and available in both 42mm and 44mm display sizes. While it runs Google Wear OS, the smart watch is compatible with both Android and iOS devices. This makes the Fossil Gen 6 a viable alternative for those with either iPhones or Samsung mobile devices.
How To Compare Smart Watches
When comparing different smart watches you can use for trading, consider the following factors:
Connectivity
Your smart watch must have an internet connection and Bluetooth capabilities to be used for trading. Look out for smart watches that have 4G, 5G or LTE connections so that you can still access stock information without needing Wi-Fi access.
If you are day trading, real-time updates are important to capitalize on short-term swings. If your smart watch doesn't have an internet connection, notifications may be delayed and you could miss a good trading opportunity.
Operating System
As your smart watch needs to be connected to your phone or tablet, you must ensure that they are compatible with each other. The Garmin Venu 2 Plus, for example, is compatible with both iPhone and Android devices, whereas the Samsung Galaxy Watch 4 cannot be used with iOS or certain Huawei phones.
Moreover, many apps are restricted to particular operating systems. For instance, the IG Group smart watch trading app only works on Apple's "Wear OS" rather than the Android "Watch OS."
Cost
It is best to have a budget in mind when searching for a smart watch. Fortunately, it is possible to find a high-quality smart watch whatever you are willing to spend. Flagship models will typically cost several hundred dollars, for example, the Apple Watch Series 7 which costs $399. However, it is possible to find good watches for less. Older models like the Apple Watch Series 3 are available for $199. What's more, retailers will often run promotional schemes, so make sure that you research the latest discounts and deals before you commit to buying any watch.
Battery
Battery life is important for accessing the market throughout the day. The key objective of trading using a smart watch is to have constant access to the markets while on the go. If the battery only lasts for half a day, you could miss out on trading opportunities. Your watch battery should last at least an entire day, in order for you to be able to recharge the watch battery while you sleep.
Some of the best watches such as the Amazfit GTR 3 Pro and the Fitbit Versa 3 have batteries that last for several days.
Display Size
The optimal smart watch display size is down to personal preference. But the larger the display, the easier it is to see stock and market information. Of course, some traders might find a large watch to be clunky and uncomfortable.
Smart watches come in sizes ranging from under 40mm to over 50mm such as the Casio PRT-B50. It could be worth visiting a store in person to test out different watch sizes and find out what you prefer.
Customer Reviews
It can be hard to tell how good a smart watch is for trading just by reading the product description. Customer reviews will often give you a better idea of how suitable the watch is for reading stock market information, setting up alerts or even making trades. You can read customer reviews on the app store or on websites such as Reddit, Facebook and YouTube.
How To Setup Trading On Your Smart Watch
To set up your smart phone watch, you should first read the user manual. Trading on a smart watch requires a connection to a mobile, so you should also read the mobile user guide. There are many tutorial videos online which can assist you with connecting the smart watch to your phone. It is sometimes possible to use a QR code to connect the two devices, however this is only available to customers with an AT&T or Verizon SIM.
For Apple
Using the Apple Watch, press the crown button to view the home screen and tap the App Store icon
In the search bar, use the keyboard to type or say the app's name
Select the app that you wish to download, tap the "GET" button and double-press the crown button to begin the installation
Using your iPhone, open the Watch app on your phone and select "My Watch"
Select the app you want to install from the list of available apps
Press the "Install" button
For Android
On your Smart Watch, navigate to the Play Store
Tap "Search" and either say the name of the app or type it into the search bar
Tap the install button next to the app you wish to download
On your mobile device, open the Play Store app
Go to the Watch app or Watch faces category
Choose the app that you wish to download and press install
Final Word On Brokers With Smart Watch Apps
A smart watch can be a helpful additional resource for traders. While smart watches offer a great way to view concise, live stock information, their limited features mean that they cannot be used as the main device for trading. The best way to use a smart watch for day trading is to set up alerts so that you can quickly make a trade using your computer, mobile phone or tablet. And while there are not many brokers that currently support trade execution via smart watches, this will likely change in the future.
Check out our list of brokers with smart watch apps to start trading today.
FAQ
What Happens If The Apps For Trading On My Smart Watch Stop Working?
If you encounter issues with trading on your smart watch, you should contact the customer support team for both your watch provider and the broker itself. You may need to speak to both teams to identify the issue and find a solution. In most cases, it should be easy to find an answer to your question, as most brands and brokers will provide multilingual customer support. IG Group, for example, has offices across the globe in countries such as Japan and China.
Are There Geographical Restrictions To Trading On My Smart Watch?
Smart watches for trading can be bought and used in any country across the globe. Whether you are based in Nepal, Kuwait, Ireland or Canada, there are suitable watches you can purchase. Geographical restrictions are more likely to apply to specific brokers or apps. For example, IG Group does not accommodate traders based in Egypt, India, New Zealand (NZ), Malaysia and Qatar.
How Can I View Stocks For Trading On My Apple Smart Watch?
The Apple Watch has a pre-downloaded Stocks app. You can easily search for the stocks app by typing on the keyboard, using the "Scribble" function or saying the ticker's name into your watch.
Where Can I Buy A Smart Watch For Trading?
There are many retailers globally that sell smart watches you can use for trading. For example, you can purchase smart watches from mobile phone carriers such as Vodafone, T Mobile and Verizon. Additionally, you can purchase smart watches online from retailers such as Amazon, Argos, BestBuy, John Lewis, Target and Flipkart and Currys. If purchasing a brand new smart watch is too expensive, you can often find second-hand watches on eBay.
Which Smart Watch Is Better: Apple Watch or Fitbit?
Both brands produce high-quality smart watches, however, Apple's smart watch is the only one that supports trading. With a Fitbit smart watch you can only download apps available in the Fitbit Gallery, which means that you do not have access to stock and trading apps in the Google Play Store or Galaxy Store.