Brokers With VPS
Brokers with VPSs facilitate ultra-fast round-the-clock automated trading for their clients using virtual server hosting. A VPS allows a trader's strategies to be implemented from an online base, even without connection to the internet. This guide will explore what VPSs are, how they work and what to look out for in brokers with VPSs. We have also compiled a list of the best brokers offering dedicated VPS services below.
Top Brokers With VPSs
#1 - Forex.com
Forex.com boasts a global reputation with multiple awards and 20+ years experience. Regulated in the US, EU, UK and Canada they provide a huge range of day trading markets, not just forex, and offer competitive fees on a cutting-edge platform. The brand also provides a suite of additional tools, from performance analytics and SMART Signals to advanced charts and strategy builders.
"Forex.com is an excellent broker for active forex traders with over 80 currency pairs, tight spreads, low commissions and powerful charting platforms for day traders. "

- DayTrading Review Team
Instruments: Forex, Spot Metals
Regulator: NFA, CFTC
Platforms: MT4, MT5, TradingView, eSignal, AutoChartist, TradingCentral
Min. Deposit: $100
Min. Trade: 0.01 Lots
Leverage: 1:50
Pros
Top-rated forex and CFD broker
VPS hosting for automated trading strategies
Free demo account for prospective traders
Cons
No copy trading platform
$15 monthly inactivity fee
Investment offering varies between countries
#2 - IG Group
IG is an award-winning broker that has an excellent reputation globally. The brand-US offers spread betting, CFD and forex trading across a comprehensive suite of markets. IG is also multi-regulated, provides a great trading app and has 50 years experience.
"IG offers a superb all-round package. Beginners will appreciate the user-friendly web platform and secure trading environment while established investors will rate the 17,000+ markets and top-tier market research."

- DayTrading Review Team
Instruments: CFDs, Forex, Stocks, Indices, Commodities, ETFs, Futures, Options, Crypto, Spread Betting
Regulator: FCA, ASIC, NFA, CFTC, DFSA, BaFin, MAS, FSCA
Platforms: MT4, AutoChartist, TradingCentral
Min. Deposit: $0
Min. Trade: 0.01 Lots
Leverage: 1:30 (Retail), 1:250 (Pro)
Pros
Users have access to a comprehensive range of charts, market news, client sentiment data, and analysis tools
Opening an account takes less than 5 minutes
IG offers great educational materials including an extensive library of training and support on how to day trade successfully
Cons
No copy trading platform
Inactivity charge
#3 - AZAforex
AZAforex is a multi-asset broker founded in 2016. The brand offers a sophisticated proprietary platform, ECN trading and 40+ deposit methods. The brokerage has 120,000+ registered customers with copy trading and a VPS.
"AZAforex is best for active forex traders looking for ECN pricing with high leverage up to 1:1000 and a sophisticated trading platform."

- DayTrading Review Team
Instruments: CFD, Forex, Stocks, Crypto, Commodities
Platforms: Own
Min. Deposit: $1
Min. Trade: 0.00001 Lots
Leverage: 1:1000
Pros
Demo account available
Low minimum deposit of $1
16 fiat and 6 crypto account base currencies
Cons
Limited educational content and resources
No MetaTrader access
Withdrawal fees for some payment methods
#4 - Coinexx
Coinexx is an unregulated broker that provides leverage up to 1:500 on forex, commodities, indices and cryptocurrencies with deep liquidity, pure ECN spreads and negative balance protection. The broker uses crypto as base currencies and has low minimum deposit requirements of 0.001 BTC.
"Traders seeking highly leveraged CFDs with a broker that uses crypto as a base account currency will find a good match in Coinexx. The ECN model also offer tight spreads from 0 pips. On the downside, traders should note the weak regulatory oversight."

- DayTrading Review Team
Instruments: Forex, Commodities, Indices, Cryptocurrencies
Platforms: MT4, MT5
Min. Deposit: 0.001 BTC
Min. Trade: 0.01 Lots
Leverage: 1:500
Pros
Demo account available to prospective traders
MetaTrader 4 and MetaTrader 5 integration
100% deposit bonus for new clients
Cons
No fiat account funding options - crypto only
Limited educational materials for new traders
No regulatory oversight reduces safety
#5 - World Forex
World Forex is an offshore broker registered in St Vincent and the Grenadines, offering commission-free trading with a $1 minimum deposit and 1:1000 leverage. Digital contracts are also available, offering beginners a straightforward way to speculate on popular financial markets.
"World Forex provides both highly leveraged CFDs and digital contracts, making this a good broker for clients who want flexible and rewarding ways to trade. The copy trading service will also appeal to newer traders."

- DayTrading Review Team
Instruments: Forex, CFD Stocks, Metals, Energies, Cryptos, Digital Contracts
Regulator: SVGFSA
Platforms: MT4, MT5
Min. Deposit: $1
Min. Trade: 0.01 Lots
Leverage: 1:1000
Pros
A wide range of assets to trade, including via digital contracts
Several different account types with varied pricing structures
STP/ECN technology
Cons
Withdrawal fees apply
Weak regulation
No negative balance protection
How VPSs Work
VPS stands for a virtual private server. Along with shared and dedicated hosting, a trading VPS is one of three types of web hosting. Using a VPS gives you many of the same benefits as a dedicated server, including your own operating system, dedicated storage, powerful computer processing, scalable RAM and unlimited bandwidth. Other websites may be hosted on the same server as yours but you will be allocated your own virtual compartment. A VPS is essentially a cloud-based computer desktop located in a data centre somewhere in the world.
Whether or not you will need brokers with VPSs will depend on your trading strategy. If you are interested in buying and holding financial assets for long-term investing, a VPS will not be necessary. However, if your strategy consists of moving in and out of positions quickly and using automation, finding a broker with good VPS hosting capabilities will be useful.
Computer viruses, power cuts and connection failures can be disastrous for any trade. During periods of volatility, this can be especially damaging. When using a broker with trading VPS hosting abilities, your account will be permanently connected to the internet. This should remove delays, interruptions or outages, as well as reliance on a PC or mobile device to keep on top of trades. Therefore, traders using trading bots or automated trading software will find a VPS extremely useful.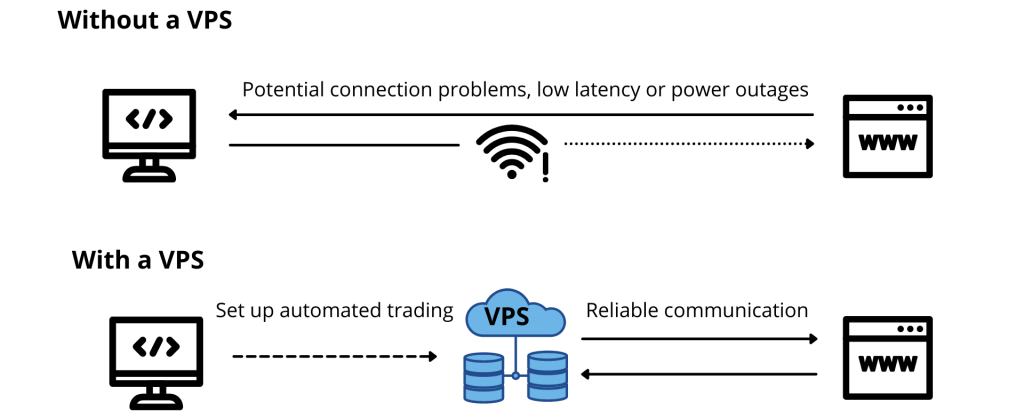 Pros Of Trading With VPSs
Runs 24/7 – VPS hosting ensures your trading account always stays online. This is especially important in highly volatile markets, such as forex, where slippage, power outages and internet disconnections can cause significant losses.
Ideal For EAs & Bots – Standard trading setups using MT4 and similar platforms rely on a local computer connected to the internet to function. To execute trades using EAs, your computer will need to be continuously connected to the internet. Using a VPS allows the trader to bypass potential connection issues and means that trading bots can still be running when the trader is not connected.
Faster Trade Execution – Latency is the time interval between any two points in trading infrastructure, i.e. between your platform and your broker's server. If you find a VPS server in the same location as your broker's servers, this will reduce latency and allow for faster trade execution and reduced slippage.
Less System Overload – You can host several accounts with one broker on a VPS server. Doing this on your local computer could put immense pressure on its CPU. However, using VPS servers will remove the chance of overloading your local system.
Automation Assistance – The best brokers with VPSs will have plenty of support to help you get started with your automated software. Automating trading is a complicated and daunting task for a beginner so this extra assistance can be very helpful.
Cons Of Trading With VPSs
Manual Trading Disadvantaged – If you are interested in more traditional forms of investing such as buying, selling and holding forex, stocks or indices manually, using a VPS will put you at a disadvantage. The time it takes for you to send a signal from your device to the VPS and then to the market will be slightly slower than placing a trade directly on your local computer.
Cost – Most equity trading VPS providers are third-party enterprises that charge users for their services. You will be able to find brokers partnered with free VPS providers but this may also come at a cost that is factored into account fees and spreads. However, this will always be cheaper than using a dedicated server. Keep in mind, the more CPU and RAM you need for your VPS, the more expensive it will be.
Set-Up Time – You will need to integrate the server into your broker's trading platform to get things working. This can sometimes be a time-consuming process, though the best brokers with VPSs will provide comprehensive material and support to get you started.
Guide To Brokers With VPSs
If you are deciding on which broker with a VPS to go for, here are some key things to look out for:
Performance – Virtualisation technology used by VPS providers splits their resources among several users. If one user has a particularly high workload, this may affect performance for other users. To ensure you find the VPS broker with the best performance, compare factors like available CPU, RAM and memory.
Plans – Check the broker has a variety of plans that cater to individual needs. Finding a broker with flexible options means you will get the cost and pricing structure best suited to you.
Location – Finding a VPS that is located close to, or even co-located within, your broker's server will reduce latency dramatically and allow for faster trade execution. There are many tools online that allow you to measure and compare VPS latency.
Applications & Operating Systems – The best brokers with VPSs will allow integration with a range of trading software and applications. These might include MetaTrader, cTrader or ProTrader. Furthermore, ensure the VPS service is available on your chosen operating system, be that Windows, Mac or Linux.
Security & DDoS Protection – VPS systems often offer some of the most robust levels of security out there. Ensure your server is being checked regularly and is protected with anti-virus software. A distributed denial-of-service (DDoS) attack is an attempt to disrupt the normal traffic of a targeted server, so check your VPS provider has DDoS mitigation procedures in place to protect you from them.
Customer Support – Getting started with VPS brokers can be a daunting task. To ensure you are never left in a difficult or financially detrimental position, find a broker that offers responsive 24-hour support.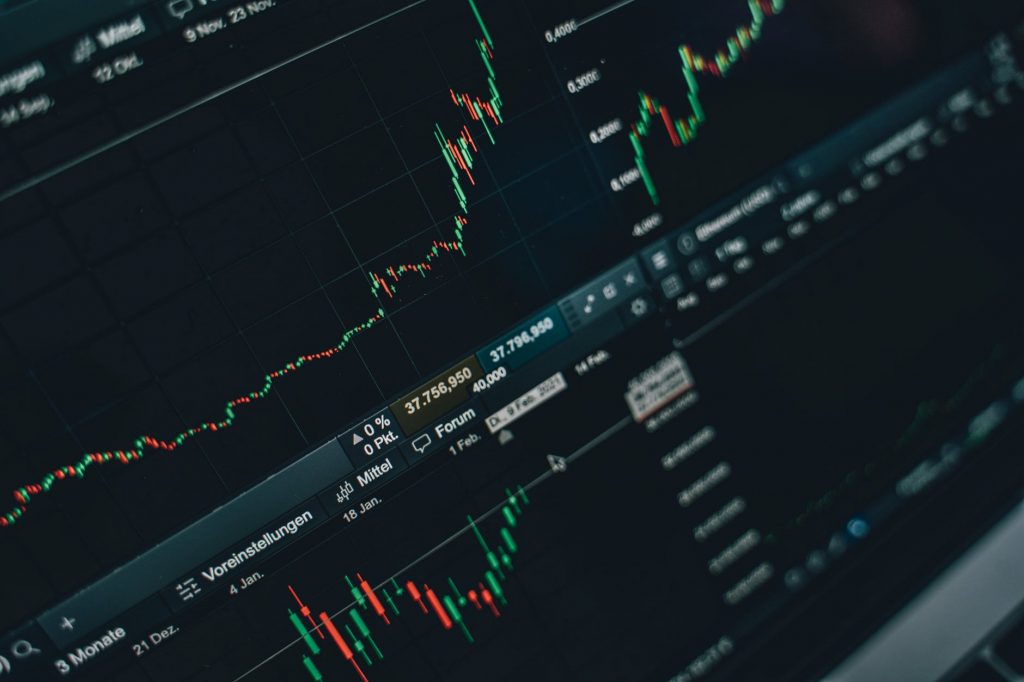 Once you have made your choice, here is a quick guide on how to get started using VPS brokers:
Generally, you will need to seek approval from your chosen broker to access the VPS service.
Once this request has been approved, you will receive a username and password that will allow you to connect to the server using a remote desktop application.
When the connection to the VPS has been secured, you will be directed to a desktop environment entirely like your own local computer.
You will then be able to log in to your trading platform and execute trades as normal.
Final Word On Brokers With VPS
The rise of automated and algorithmic strategies in the world of retail investment and trading has led to a great demand for brokers with VPSs. This means that there is a lot of competition out there and it may be difficult to find the right one. If you are set on finding a broker with a VPS, there are a few key things to look out for. Low latency is important for trade execution speed and, if you are interested in running multiple accounts, high CPU and RAM levels will be imperative.
FAQs
Why Should I Use Brokers With a VPS?
If your trading strategy involves automation, using a VPS broker will have many advantages. Sustained connection and faster execution speeds will remove the chance of outages and slippage, as well as allowing algorithms to operate when you are not at your computer or device. Some VPS services may even offer higher CPU and RAM speeds than your local computer.
What Are The Best Brokers With VPS Service?
Popular trading software, such as MetaTrader, does not need extreme computing power to function smoothly. A good VPS broker will offer at least 1 CPU, 1GB RAM and around 25GB HDD. Keep in mind, the higher these specifications are, the faster your execution speed will be but the higher your costs will likely be.
Are Brokers With VPSs Reliable?
Not every provider will be equal, though most reputable providers will be reliable. However, it is important to carry out thorough research to ensure you are getting the best service possible. Go for a broker with solid security procedures, such as firewalls and DDoS protection, and try to find some customer reviews for peace of mind.
Can I Have Multiple Accounts With A VPS Broker?
Yes, it is possible if you meet certain criteria like minimum account balances. Using brokers with VPS trading can allow you to run multiple accounts simultaneously. However, it is important to keep in mind your CPU and RAM availability as overloading the system will reduce execution speeds.
How Do I Get Access To My Broker's VPS?
If you want to access your broker's VPS, get in touch with your account manager. If you meet the eligibility criteria, you will be instructed on how to proceed.