Brokers With APIs
Brokers with APIs are gaining popularity thanks to the rise of automated trading, advancement of technology and increase in the size of the trading markets. The application programming interfaces are not trivial tools but they provide an opportunity for advanced software integration and strategy implementation. This 2022 guide to brokers with APIs will explore the main facets of API trading, including how they work and what to look for in API trading brokers.
How APIs work
An application programming interface (API) is a set of programming code that requests data and sends instructions between software platforms. APIs are becoming more and more widespread in a range of industries and the number of brokers with APIs is steadily growing.
APIs act as a communication bridge for information between a broker's servers and custom software applications employed by the user. APIs have several useful applications including sending orders from third-party software or receiving live or historical data. For example, an API can be used to connect a set of automated trading algorithms with your preferred broker's trading platform.
APIs are essential to any automated trading strategy. In the past, traders would have had to filter through trading opportunities on one platform and place trades on another. Now that brokers with APIs are becoming more common, this process has been simplified. Algorithmic trading via APIs allows users to exploit useful trading opportunities by placing instant, accurate trades, removing the need for manual supervision. Using programming languages such as Python, traders can develop their own applications or complex strategies and automatically execute trades using their broker's API.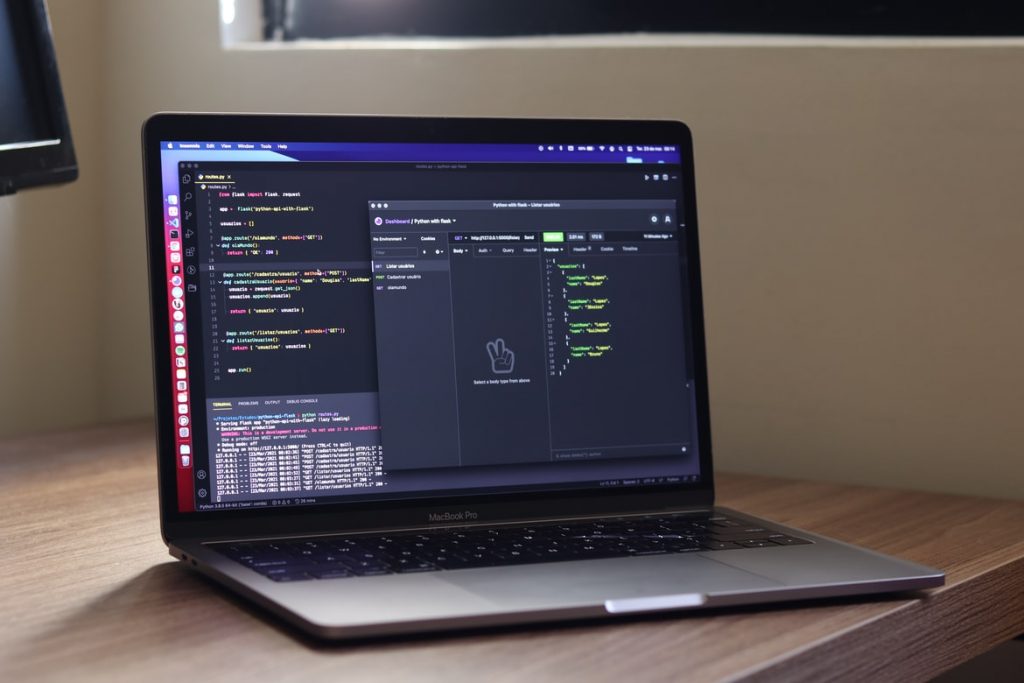 There are two main uses for APIs in trading:
Third-Party Applications – Traders using third-party applications, such as MetaTrader 4, may need access to the broker's API for pricing data and the ability to place trades.
Developer Applications – Using programming languages like Python, Java or C++, many traders are now beginning to develop their own automated trading applications. APIs allow them to access a broker's pricing data and place trades.
If you want to find more broker-specific information about a particular API, you should be able to find the API documentation on the firm's main site. This will give you information on how to authenticate the API, what data is available, how to place orders through the API and other technical details.
Some brokers with APIs will also provide a library of pre-written code to make interaction easier. This will usually be in the broker's native coding language. This library will usually contain a set of functions for placing a trade, allowing you to avoid writing your own and speeding up the development process.
Pros Of Trading Using Brokers With APIs
Here are some benefits of trading using brokers with APIs:
Automate Trading – APIs are essential for connecting your automation algorithms with your broker's servers. This goes for fully and semi-automated trading strategies. Algorithmic trading is very useful to implement strategies that would be very difficult and time-consuming to do manually, like high-frequency trading.
Historical Data – Automated trading systems require historical data. With an API, you can seamlessly obtain this information and store, analyse and use it to your liking. Traders often use historical data for backtesting strategies.
Custom Indicators – APIs allow traders to automate their own trading signals and indicators. There are many libraries within various coding languages in which custom indicator solutions can be found.
Create Custom Alerts – If you are looking for customised notifications sent to your email, you can use an API to retrieve stock prices, spreads or even the value of your portfolio and notify you when these fulfil certain conditions.
Create Your Own Trading Terminal – If your broker's trading terminal is not exactly what you are looking for, you can build your own custom terminal and use your broker's API to populate it with data and implement trading functionalities.
Cons Of Trading Using Brokers With APIs
Steep Learning Curve – If you are new to coding, APIs can seem quite daunting. It is recommended you practise first with an API for a demo account before placing real trades. There are many tutorials online and brokers with APIs will offer examples on their documentation to help you get started.
Limits & Quotas – Brokers will often limit the frequency with which you can use the API to avoid overloading their bandwidth. For example, they may limit how many trades you can do per minute or hour, how often you can fetch information or which historical data you can access. Ensure that your broker's limits are enough for your trading needs and implement limits in your code so you do not exceed the allowed quota.
Fees – Most brokers with API support offer them for free but, if you want to go over their established limits, you might need to pay a fee and some brokers might charge a commission on your profit only for using the API.
Security – To access your broker's API you will need a key, which acts as a password. However, there are different protocols for APIs and they all offer different characteristics, often with a trade-off between speed and security. Research the protocol used by your broker and the security measures they implement for a secure experience.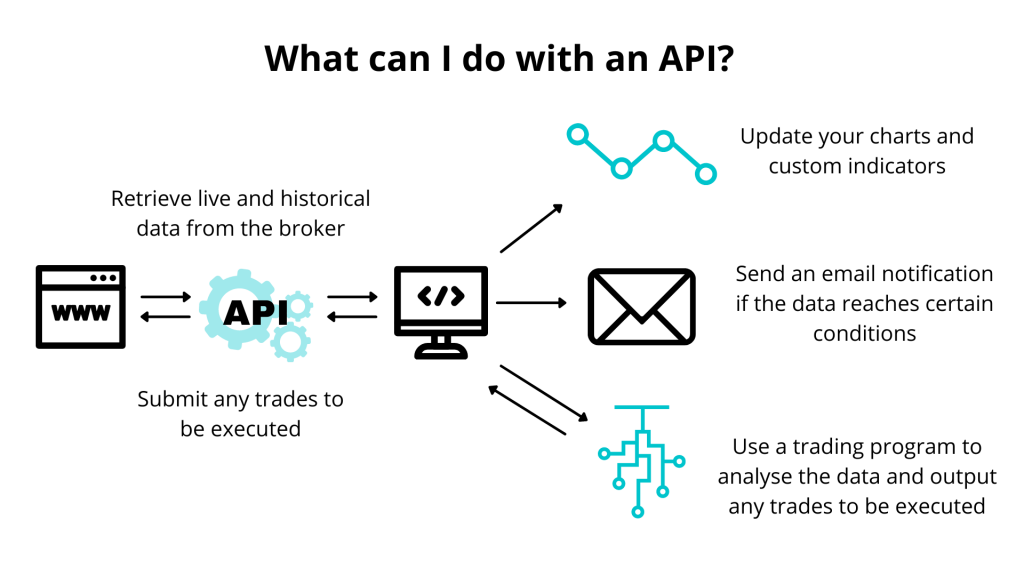 How To Get Started Using Brokers With APIs
Carefully Consider Your Strategy: decide which strategy you will be using and write a simple version in your programming language of choice. Make sure you understand the requirements of your strategy – for example, consider how much historical data you will need, which will be your trading frequency, any third-party applications you'd like to use and which assets are you looking to trade.
Choose One Of The Best Brokers With APIs For Your Needs: you will need to evaluate brokers according to their general features, as well as their API features. Some of the broker characteristics to consider are countries where they accept clients, market access, security, fees and customer service. Furthermore, some of the API features you need to think about are:

API Demo: Do they offer a demo account and can you access it via the API? This will allow you to test your code and strategies with low risk and ensure that a paid account will be a good fit for your needs.
Coding Language & Data Formatting: Ensure the API works with a language that you are comfortable with and that the format of the outputted data can be well understood by your program. JSON is a well-known data format that can be read by different coding languages.
Documentation: A well-explained API is a must, especially for beginners. Choose a broker that offers complete documentation with examples and code snippets to make the learning curve easier.
Support: The broker's customer support should also cover their API, so they can help with more technical questions or issues.
Quotas & Fees: If a broker has a limit on API trading, ensure your trading needs are well within this limit or that you are happy to pay the corresponding fees.
API Type: Do you prefer REST, WebSocket or SOAP APIs? They each have specific characteristics, though the differences may not be huge if you are just getting started.

Open An Account & Register For The API: Open an account with your selected broker, ideally a demo account, and register for API access. You will then get a key that you can use to log in.
Set Up The API & Test Your Strategy: Check that you can access the API with no trouble, try out the code examples provided and connect your strategy to the API. Also, link your API to any third-party software you would like to use. When you are comfortable, test your strategy. It is recommended you do so for a few weeks to fully de-bug any technical issues that come up and tweak your strategy if needed.
Use The Trading API With A Live Account: Once you are happy with your broker and their API and your strategy has been tested, you are ready to go live. Always ensure you monitor your strategy and the API and do not hesitate to contact the broker's help desk or trading community if you have any issues.
Final Word On Brokers With APIs
Brokers with APIs and their use are becoming increasingly ubiquitous. They allow users to create custom terminals and implement advanced trading strategies through automation. Having a good grasp of coding languages such a Python, Java and C++ will give you the edge when trading using brokers with APIs. There are numerous free online tutorials about coding and APIs and any good broker will provide comprehensive documentation to help get you started.
FAQs
What Are Brokers With APIs?
Brokers with APIs allow users to trade via an application programming interface, which lets you receive information from the broker's server, like historical data, and send back information, like trades you would like to place. You can also use APIs to place trades with the broker from third-party software, like MetaTrader 5.
What Advantages Do Brokers With APIs Have?
Using brokers with APIs can allow you to implement advanced trading strategies. For example, APIs can give you the ability to automate trading, populate your custom terminal with live data and create custom alerts and indicators.
What Should I Compare When Looking For Brokers With APIs?
When starting with APIs, make sure you can test your code on a free demo account. Find out which coding language and format are used by the broker and ensure you are comfortable with them. Make sure the broker has comprehensive API documentation, as well as reasonable fees and limitations.
Do Brokers With APIs Charge Fees?
Alongside regular brokerage fees, some brokers may place limitations on the information you can receive using their API. For example, you may only be able to update your live data once every 5 minutes. Brokers may also charge additional fees if you wish to increase the amount of information you can receive.
Should I Start Using My Broker's API?
Trading using brokers with APIs has many advantages for traders that specialise in algorithmic trading and want to develop more complex strategies. However, make sure you are aware that you will need to have at least basic to intermediate programming knowledge to start trading via an API.

n