Gemini Review 2022


Traders in United States welcome
Gemini is a leading crypto trading exchange with low fees and 100+ cryptocurrency and altcoins.
Risk Warning – Your capital is at risk
The Gemini exchange is one of the largest cryptocurrency brokers on the market. It is famous for its sleek app and ease of use for beginners. In this 2022 review, we discuss the pros and cons of the platform, including Gemini's trading fees, the list of coins and tokens that are available, and how you can sign up for a live account. Find out whether to start trading cryptos with Gemini today.
Company Details
With a daily trading volume of over $300m and 13+ million active users, the Gemini exchange is one of the industry's giants. The fintech firm was founded by brothers, Cameron and Tyler Winklevoss in 2014. It has a valuation of over $8 billion, giving the brand a net worth that warrants unicorn status. Gemini's office headquarters location is in New York, USA.
The firm is not currently listed on the stock exchange, but in 2021, the Winklevoss founders were quoted in Bloomberg news as considering an IPO in the future.
Gemini is also the company behind the popular Nifty Gateway trading platform, which offers a marketplace for the buying and selling of NFTs, such as digital art, music and game items.
Exchange & Platform
The Gemini exchange offers two distinct services. The first is their cryptocurrency exchange which allows you to buy and sell coins. This is the preferred option for investors who are likely to hold onto their cryptos. The Gemini exchange is available on both web and via a mobile app.
Our experts found the interface user-friendly, with a simple, slick design. Traders can set recurring buys and price alerts. At a glance, traders can view their 24-hour portfolio value and percentage change. The price list shows all cryptos, such as Bitcoin and Ethereum, but also includes charts for coins not available on the platform.
The second is the ActiveTrader desktop platform which is designed for crypto traders. It offers a high-performance, professional-level trading experience. There are multiple order types and advanced charting is available. Trades are executed in a matter of milliseconds, meaning slippage is kept to a minimum. Limit order books are centralized and follow a price-time priority order.
Tutorials are available through the sister website, Cryptopedia.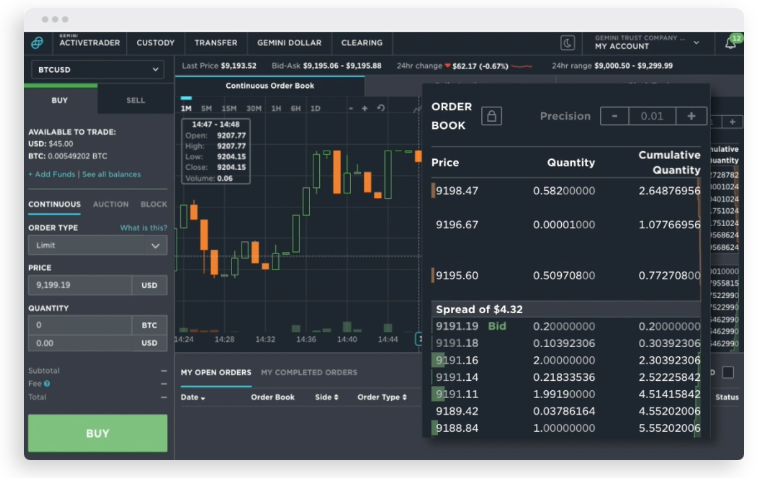 Order Types
Gemini supports seven order types within the ActiveTrader interface:
Limit
Market
Stop-Limit
Limit: Fill-or-Kill (FOK)
Limit: Maker-or-Cancel (MOC)
Limit: Indication of Interest (IOI)
Limit: Immediate-or-Cancel (IOC)
How To Place A Trade
Below we outline how to place a Market Buy and Market Sell order via the ActiveTrader platform:
Market Buy:
Choose the currency pair from the dropdown menu in the top left of the ActiveTrader platform interface
Click on the "Buy" tab
Select "Market" under "Order Type"
Under "Total" enter the size of your order. This is measured in fiat currency or crypto depending on the money you are using to fund the order
Review and confirm the order details. Then select the "Buy" icon
Market Sell:
Similar to Market Sell, select the currency pair from the dropdown menu on the top left of the ActiveTrader platform interface
Click on the "Sell" tab
Select "Market" under "Order Type"
Under "Quantity" enter the amount of cryptocurrency you wish to sell
Review and confirm the order details. Then select the "Sell" icon
Other Services
The Gemini exchange offers a number of other fintech products:
Gemini Staking – Participate in the blockchain ecosystem and receive rewards on your crypto. There is no minimum amount of crypto required and no transfer or redemption fees.
Gemini Wallet – A hot wallet or institutional-grade cold storage system for cryptos. Digital assets are insured against theft with capital in reserve as a New York trust company and licensed beneficiary.
Gemini Credit Card – Earn crypto rewards on every purchase made via the Gemini credit card. Eligibility requirements apply. Customers can earn rewards in 60+ cryptos currently available on the exchange.
Gemini Clearing – This service allows crypto transactions to be settled 'off exchange' or over the counter (OTC). The exchange acts as the confirming third-party maintaining timely settlement whilst mitigating risk.
Gemini Custody – Store and manage your digital assets using the user-friendly custody solution. An institutional-grade crypto storage system with $200 million in insurance coverage. Liquidity is instant on the Gemini exchange.
Gemini Earn – This service allows you to lend your crypto to institutional borrowers and earn interest on the amount. With Gemini Earn, you can receive up to 8.05% APY on your cryptocurrency. Unlike other lending services, funds are entirely liquid and can be returned at any time.
Coins & Tokens
The Gemini exchange's list of supported coins is extensive. It currently offers 100+ coins in various currency trading pairs.
The list includes, but is not limited to:
Zcash (ZEC)
Bitcoin (BTC)
Litecoin (LTC)
Uniswap (UNI)
Polkadot (DOT)
Ethereum (ETH)
Pax Gold (PAXG)
Dogecoin (DOGE)
Bitcoin Cash (BCH)
In early 2021, the Gemini exchange added some new listings outside crypto. It currently offers three DeFi tokens: Bancor (BNT), 1inch (1INCH) and Loopring (LRC). It also offers two NFT tokens, Enjin (ENJ) and The Sandbox (SAND), in addition to two infrastructure tokens Skale (SKL) and The Graph (GRT).
Note, availability may be restricted based on your country of residence and according to local regulatory requirements.
Trading Fees & Prices
When using the Gemini exchange, orders placed on the web and mobile app are subject to both transaction fees and convenience fees. Transaction fees vary depending on the order value, starting at $0.99 per transaction and up to 1.49% of the trade for orders over $250. The convenience fee is 0.5% above the market price of the pair at the time of the quote.
For Gemini exchange ActiveTrader clients, the fee structure operates on a maker-taker system. If your order adds liquidity to the marketplace (i.e cannot be filled immediately and sits on the order book), you will be charged a 'maker' fee. The 'taker' fee is leveraged if your order takes liquidity from the market (i.e is filled immediately) and is slightly higher than the market 'maker' fees. When we used the Gemini exchange, these costs decreased depending on 30-day trading volumes. Trading a value of less than $10,000, for example, would incur a 'maker' charge of 0.10% and a 'taker' charge of 0.30%.
Clients are responsible for taxes and local fees depending on country of residency. Contact a finance professional for advice.
Gemini Mobile App
The Gemini exchange and ActiveTrader are both optimized for mobile, making them fantastic for on-the-go trading. Users can stay up to date with the latest market trends, build a crypto portfolio and execute a trading strategy with intuitive tools.
When we used the Gemini mobile app, we were impressed with the homepage snapshot with customizable tiles including watchlists, top movers and educational content.
The app is available on both Android and Apple and can be downloaded from the relevant app store.
User reviews of the mobile application are excellent with a 4.7/5 rating on the Apple App Store.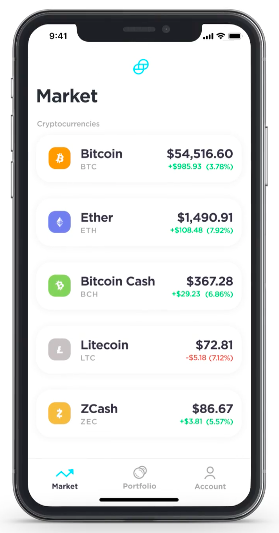 Deposits & Withdrawals
Funding your Gemini exchange account is easy. Clients can deposit to an account with either fiat currency or cryptocurrency. Note, before traders can login for the first time, they're subject to KYC checks. The identity verification time can take between 2-5 working days. You can fund your account after this stage is complete.
Accepted payment methods include bank wire transfers, credit/debit cards and PayPal. Supported fiat account currencies include USD, GBP, EUR, HKD and AUD. Processing times vary by payment method and account currency.
Deposits can also be made in cryptocurrency. Traders should instruct their external wallet provider to deposit funds in their Gemini exchange account using the unique deposit address. Bank wire transfers incur no fees, however, card transactions are subject to 3.49% of the total purchase amount. Withdrawals are free until over 10 transactions per month are requested. Beyond this, the fee is based on the value of the currency withdrawn.
Daily deposit limits of $1000 apply for debit card and PayPal deposits. A minimum withdrawal limit of $50/€95/£20 applies.
Live Account
The exchange operates a single account type for all users. Clients have access to all services and advanced features. Each Gemini account has the following sub-accounts:
One or more associated user accounts
A fiat currency account that reflects the fiat currency balance
A digital asset account that reflects the digital asset balance; each digital asset account is subdivided into a depository account and a custody account
How To Open An Account
While using Gemini, we were pleased with the simplicity and speed to open a new account. The online registration form can be found via the 'get started' logo at the top right of each webpage. Complete the details including identity verification.
For US residents a valid state ID card such as a passport or Permanent Resident Card (Green Card) is accepted. International clients must provide a passport or driving license.
Applications should be verified in no longer than a few working days.
Demo Account
The Gemini exchange does not currently offer a demo account option. Nonetheless, the wealth of educational resources, blog posts and FAQ support is a great place to get started.
Additionally, it is free to open a live account and you can get started with a small trade amount including a 0.00001 BTC trading minimum. Our experts are confident this should be appropriate for beginners.
Regulation
Gemini Trust Company LLC is regulated by the New York State Department of Financial Services (NYDFS). This means that the exchange is subject to anti-money laundering, consumer protection, and cybersecurity requirements, as well as banking compliance standards set by the NYDFS and New York Banking Law. With this, funds are held in segregated accounts and thus may be eligible for FDIC "pass-through" insurance.
Gemini Europe Ltd is authorized as an Electronic Money Institution. Again, funds are held in top-tier banks. The exchange is also subject to the security requirements of global regulators. This includes the Monetary Authority of Singapore (MAS) and the UK's Financial Conduct Authority (FCA).
Gemini Promo Codes
The Gemini exchange is currently offering a refer-a-friend scheme. If your friend uses your promo when signing up, then buys $100 or more in 30 days of joining, you will both be rewarded with a bonus of $10 in Bitcoin.
Advantages
Security – The Gemini exchange prides itself on its high security. In particular, 2FA is a requirement for all crypto investors.
Sleek mobile app – The high-end design and intuitive interface are spot on with the Gemini exchange. The app is enjoyable to use.
Educational materials – The Gemini exchange offers a wealth of education, guides and tutorials suitable for both beginners and novice investors.
Award-winning – The Gemini exchange has won some key awards in recent years, including the 2019 Markets Choice Awards: Best Cryptocurrency Exchange.
Disadvantages
No margin trading – Trading on margin is not supported by Gemini exchange.
A limited selection of top coins – Some of the top coins by market cap are not available to buy through Gemini vs Binance and Kraken which offer a longer list of supported digital currencies.
No practise profile – As with many cryptocurrency exchanges, Gemini falls short when it comes to offering a demo account. These are a great tool for new investors to get comfortable with services, software and bespoke platforms before committing personal funds.
Deposit fees – The 3.49% card deposit fee is a downside of Gemini exchange. Traders using this payment method are relying on high investment yields to make this back. While other payment methods are free, it's a frustratingly high charge on card usage. However vs Coinbase (which charges 3.99%), it's fairly competitive.
Education
When we used the Gemini exchange, we were pleased with the wealth of educational resources and content, suitable for both beginners and experienced crypto investors. Options include a press release board, blog-style forum and a comprehensive FAQ section with step-by-step details on how to open an account, deposit funds and place trades.
The exchange's sister website, Cryptopedia, is also a high-quality crypto education platform that hosts a catalog of materials. Topics include NFTs, DeFi and an intro to digital assets. Spend some time studying the instruments or finessing a strategy using the content.
Customer Support
The Gemini exchange boasts an industry-leading customer support network. Any support queries can be submitted through their request form, available in the help centre. If you have any network issues with your Gemini exchange account, for example, if the website is down or not working, you can use this form to find out if there are any outage problems.
The Gemini exchange does not have a support phone number or email. Gemini also assists customers through its social media channels on Twitter, Facebook, Instagram and LinkedIn.
Security & Safety
When using Gemini, our experts found security is high on the agenda and it is widely regarded as one of the safest brokers on the market. Gemini requires all traders to enable 2 Factor Authentication (2FA) or alternative security apps such as Google Authenticator to ensure their account is safe from hackers.
Funds are kept in a ring-fenced account to protect against business failure. All debit/credit card transactions are processed with PCI DSS compliance.
Gemini also has not been hacked before and takes the highest precautions to ensure against it. This includes third-party security assessments, including SOC2 Type 2, ISO 27001, and annual penetration testing. Multiple signatories are required to transfer cryptocurrency out of the Cold Storage System and perform other sensitive functions.
Gemini Verdict
Overall, the Gemini exchange is a safe and secure broker for trading cryptos. While fees are relatively high vs platforms such as Binance, its sleek app is superior. Gemini would do well to add more coins that are high on the market cap list to broaden its offering. In general, Gemini is a brokerage we would recommend to crypto investors.
Accepted Countries
Gemini accepts traders from Australia, Thailand, Canada, United States, United Kingdom, South Africa, Singapore, Hong Kong, India, France, Germany, Norway, Sweden, Italy, Denmark, United Arab Emirates, Saudi Arabia, Kuwait, Luxembourg, Qatar and most other countries.
Compare Gemini
Compare Gemini with similar brokers that accept traders from your location. Among available brokers these are the most similar to Gemini:
Gemini Comparison Table
Compare Gemini With Similar Brokers
Gemini
Kraken
Revolut
Uphold
Nexo
Rating
–
3.9
3.1
–
–
Markets
Crypto
Crypto
Stocks, Crypto
Stocks, Commodities, Crypto
Crypto
Demo Account
No
Yes
No
Yes
Yes
Minimum Deposit
$0
$10
$0
$0
$10
Minimum Trade
0.00001 BTC
Varies upon the crypto traded
$1
$1
$30
Regulators
NYDFS, MAS, FCA
FCA, FinCEN, FINTRAC, AUSTRAC, FSA
FINRA, SEC
FCA, FinCEN
ASIC, FCEN
Bonus
–
Lower fees when trading volume exceeds $50,000 in 30 days
–
–
Loyalty scheme with various bonuses, plus referral program
Education
Yes
Yes
No
No
No
Platforms
–
–
–
–
–
Leverage
–
–
–
–
–
Payment Methods
9
7
7
8
3
Detailed Comparison
–
Gemini vs Kraken
Gemini vs Revolut
Gemini vs Uphold
Gemini vs Nexo
Visit
Review
Gemini
Review
Kraken
Review
Revolut
Review
Uphold
Review
Nexo
Review
Compare Trading Instruments
Compare Gemini Trading Instruments

| | Gemini | Kraken | Revolut | Uphold | Nexo |
| --- | --- | --- | --- | --- | --- |
| CFD | No | No | No | No | No |
| Forex | No | No | No | No | No |
| Stocks | No | No | Yes | Yes | No |
| Commodities | No | No | No | Yes | – |
| Oil | No | No | No | No | No |
| Gold | No | No | Yes | Yes | No |
| Copper | No | No | No | No | No |
| Silver | No | No | Yes | Yes | No |
| Corn | No | No | No | No | No |
| Crypto | Yes | Yes | Yes | Yes | Yes |
| Futures | No | Yes | No | No | No |
| Options | No | No | No | No | No |
| ETFs | No | No | No | No | No |
| Bonds | No | No | No | No | No |
| Warrants | No | No | No | No | No |
| Spreadbetting | No | No | No | No | No |
| Volatility Index | No | No | No | No | No |
Gemini vs Other Brokers
Compare Gemini with any other broker by selecting the other broker below.
Gemini vs
The most popular Gemini comparisons:
FAQ
Does Gemini Exchange Support Ripple (XRP)?
The Gemini exchange does offer Ripple trading. The broker supports a long list of over 100 tradable crypto pairs with competitive fees.
Who Owns Gemini?
The Gemini exchange was founded by the Winklevoss Twins, Cameron and Tyler. The company has emerged as one of the leading crypto trading brokers over the years.
Is Gemini Legit?
Gemini is one of the safest cryptocurrency exchanges. It has a focus on customer security, requiring 2FA on all accounts. It hold licensing from some top-tier global regulators including the Financial Conduct Authority in the UK, meaning that customer funds are safely segregated from the business'.
Can I Earn Interest On My Crypto With Gemini?
Yes, Gemini provides a service called Earn where investors can lend their crypto to borrowers and earn interest in exchange.
Has Gemini Ever Been Hacked?
Gemini has never been hacked in its full company history and is widely regarded as one of the safest crypto exchanges. Large cryptocurrency platforms such as Gemini have learnt from security breaches on older platforms and have a critical eye on the safety of its funds.
Gemini is a leading crypto trading exchange with low fees and 100+ cryptocurrency and altcoins.