Nexo Review and Tutorial 2021
Traders in United States welcome
Nexo Facts & Figures

Nexo is a DeFi platform with a range of blockchain-based solutions, including crypto trading, lending, borrowing and payment cards.
Instruments
Crypto
Demo Account
Yes
Min. Deposit
$10
Payment Methods
Bitcoin Payments
Min. Trade
$30
Regulated By
ASIC, FCEN
MetaTrader 4
No
MetaTrader 5
No
cTrader
No
STP Account
No
ECN Account
No
DMA Account
No
Mobile Apps
iOS & Android
Margin Trading
No
Auto Trading
No
Social Trading
No
Copy Trading
No
Trade Signals
No
Islamic Account
No
Cryptocurrency

Nexo supports cryptocurrency trading through its exchange platform with over 100 crypto and fiat pairs.

Spread
N/A
Coins
BTC, ETH, XRP, USDT, NEXO, USDC, DAI, BCH, LTC, EOS, XLM, PAXG, LINK, TRX, DOT, ADA, DOGE, TUSD, USDX, EURX, GBPX
Risk Warning – Your capital is at risk
Nexo is a DeFi crypto lending platform and exchange system with which you can trade, borrow, lend or spend cryptocurrencies. This review will discuss the exchange's key services, outline its fee structure, explore Nexo's regulation and security systems and weigh up the pros and cons of opening an account.
Nexo Headlines
Nexo was founded in 2017 by three financial investors with over ten years of experience in European institutions. The platform's goal is to bring professional financial services to the world of cryptocurrency and digital assets. With over $12 billion worth of assets under management and over one million users, the exchange boasts of being the largest and most trusted lending institution in the digital finance industry.
The Nexo platform allows users to buy, borrow and lend over 20 supported cryptocurrencies, as well as fiat currencies like USD, EUR and GBP. Depending on the account type, users can earn between 6% and 12% interest on their idle savings. The exchange also offers cryptocurrency loans with interest rates as low as 5.9%.


Nexo Crypto Borrowing
Nexo users can access instant, crypto-backed loans without any credit checks. Depending on the amount of credit you want to take out, you will need either basic or advanced identity verification. You may be asked to provide supporting documents to receive advanced verification. Aside from this, there are no other eligibility criteria for borrowing with Nexo.
Once you have been verified, you may start the process of borrowing. First, you will need to deposit some crypto. All fiat loans are backed by at least 200% crypto collateral. This means that, if you want to borrow $25,000, you will need at least $50,000 worth of Bitcoin or another altcoin as collateral. Some of the major coins you can deposit include BTC, ETH, XRP, LTC, XLM, BCH, EOS, LINK, TRX, BNB, PAXG and NEXO. However, more new coins are added regularly.
Next, click on "Withdrawal Funds From Credit Line". You will see the available loan amount and be given two asset class finance options. The first option is a fiat currency loan, which will require your bank account details. There are over 40 fiat currencies to choose from.
The second option is to receive your loan in USDT (Tether) or USDC (USD Coin), which will require you to provide a wallet address for a loan in stablecoins. With Nexo, the minimum loan amount is $500 for fiat and $50 for stablecoins. The maximum is $2,000,000. Nexo crypto-backed loans can be spent at any time.
If the market value of your assets increases, your loan limit will increase automatically. If the market value of your assets decreases making the collateral insufficient, you will receive notifications to add more funds. Crypto may be automatically transferred from the savings wallet.
Interest Rates
The yearly interest rate (APR) paid for a Nexo's loan depends on the percentage of your portfolio balance held in NEXO, the platofrm's native tokens. Your portfolio balance is the combined value of your credit line and savings wallet. Some competitors like YouHodler, Celsius, BlockFi and SwissBorg do not have their own native tokens. As with any other cryptocurrency, the value and stock price of NEXO tokens to USD changes with demand. You can purchase native tokens on the platform and other major exchanges in exchange for fiat and other accepted cryptocurrencies.
If you own no or few native tokens (base loyalty tier), your interest rate will be 13.9%. If at least 1% of the portfolio balance is in NEXO tokens (silver loyalty tier), interest will be 12.9% APR. If over 5% of the balance is native tokens (gold loyalty tier), interest will be 8.9% APR. Finally, if over 10% of your balance is in native tokens (platinum loyalty tier), interest will be 6.9%.
Interest will be debited from your available limit and repayments can be made at any time. There are no installments.
You can repay using fiat (USD, EUR, GBP), crypto or any combination of the two. There is no minimum repayment amount in fiat, but there are minimum repayment amounts if you are repaying with crypto.
Nexo Crypto Lending
You can earn interest by storing crypto and fiat in the Nexo wallet. This wallet accepts USD, GBP and EUR as fiat and cryptocurrencies supported include BTC, XRP and XLM. Deposit times for fiat, including GBP, are one to three business days. Minimum deposits apply at USD 10, GBP 10, EUR 1,000 and BTC 0.001.
Interest rates will depend on the type of saving terms you select for your deposit and the amount of native tokens you own. You can also choose between earning interest in kind (same currency as your deposit) or in NEXO tokens.
Flex Terms
Savings that you deposit in your wallet generate interest daily and are available to use, trade or withdraw at all times. If you are storing cryptocurrencies like XLM and decide to earn interest in kind, your yearly interest will range from 4% for base loyalty tier customers to 5% for platinum customers. If you are storing fiat, interest will range between 4% and 6% and, if you are storing stablecoins like USDT, interest ranges between 8% and 10%.
If you decide to earn interest in NEXO, you will see 2% interest added to your standard interest rate – so for example, a platinum client storing fiat with interest paid in NEXO will have a yearly interest rate of 8%.
Fixed Terms
Depositing crypto or fiat with fixed terms will lock your assets for a determined period but will produce higher interest. A one-month fixed term crypto deposit will increase your standard interest rate by 1% and a three-month fixed term fiat deposit will increase your standard interest rate by 4%.
The 2% increase if you decide to take out interest in NEXO applies too, so this means your maximum interest rate in crypto will be 8% (5% for platinum customers + 1% for fixed term deposit + 2% for NEXO interest) and the maximum interest rate for fiat will be 12% (6% for platinum customers + 4% for fixed term deposit + 2% for NEXO interest).
If you enable automatic renewal your fixed term deposits will renew automatically. You will receive all your interest earned at the end of the term.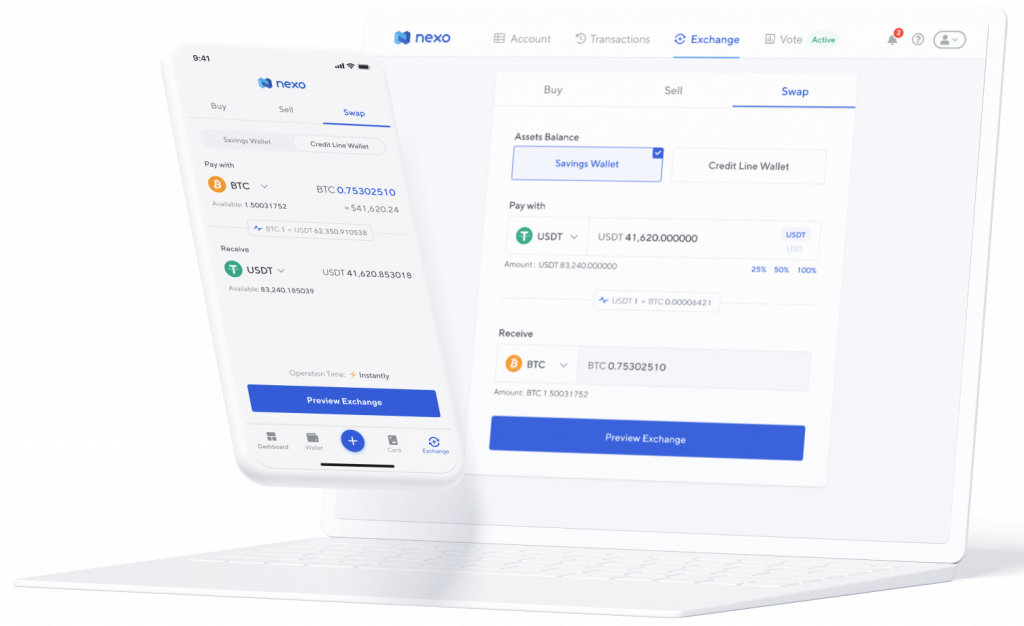 Calculating Your Interest
To calculate your daily interest, multiply your account volume by the interest rate and divide by 365. Here's an example of an XRP interest calculation:
You are a platinum user and you make a XRP 1,000 deposit in flexible terms, taking the interest in native tokens. This means your interest rate will be 7% (5% for platinum users + 2% for NEXO interest). Your daily interest will be 1,000 x 0.01918% = XRP 0.1918 per day, converted to USD then to native tokens.
Earn Interest On NEXO
As well as earning interest on the crypto and fiat that you store in your wallet, your NEXO tokens produce interest. However, you will earn daily interest on all native tokens you own, both in the wallet and as collateral. Interest on your tokens is fixed at 7%, paid daily.
On June 8 2021, Nexo held a vote for token holders to choose between the previous dividend-based system and a daily interest payout. The exchange used to pay token holders 30% of its income in dividends, but as the users' majority chose a daily interest payment, the last NEXO dividend happened in June 2021 and holders now receive daily payments.
Nexo Wallet
To access the exchange's interest for yield farming you will need the Nexo wallet app. This is available to download for free on Android (APK) and iPhone (iOS). You can store, and earn interest on, all your approved digital assets in the wallet. The  wallet also gives you access to the transfer service, the exchange platform and the crypto-backed loan system.
Through the wallet app, you can order and manage your Nexo card. A Nexo card allows you to use your credit lines from anywhere in the world without any exchange or conversion fees. The card is accepted by over 40 million merchants worldwide. There are no monthly or annual fees associated with maintaining the card and it offers 2% instant cashback on all purchases. Before making a transaction, you can choose to receive the cashback in native tokens or BTC.
Other Fees
Nexo has a zero fees policy, meaning that no extra fees are charged for taking out or withdrawing loans, no exchange fees and no fees for fiat withdrawal from your wallet. Depending on your loyalty tier, you have a number of fee-less crypto withdrawals to external wallets – these range between one free crypto withdrawal a month for base tier customers to five free monthly withdrawals for platinum users. Any extra withdrawals incur on a variable network charge. Withdrawal times are up to 24 hours.
Security & Regulation
All assets are secured by the SEC-approved custodian BitGo trust. This company insures users' funds from hacks, theft and loss of private keys and insider theft. The exchange further protects its assets and customers with secure cloud, a transfer and data protection infrastructure.
Nexo is licensed by several financial bodies across the globe, including the U.S. Financial Crimes Enforcement Network and the Australian Securities and Investment Commission. However, it is not registered with UK's FCA.
Users can increase their account's security by enabling two-factor-authentication (2FA), biometric identification and withdrawal alerts.
Note that advanced verification is not currently available for US citizens and residents, meaning that they cannot trade NEXO tokens on the exchange nor receive interest in the native tokens.
Always remember to check with a local tax advisor on how your assets and transactions should be taxed.
Customer Support
The exchange platform features a 24/7 chat option where you can access help in case of an unexpected error on the Nexo platform. For example, if you need to reset your 2FA, your account is not working or if you have any questions. You can also fill in their support form or email support@nexo.io. Moreover, the exchange has an extensive FAQ collection and educational YouTube videos on how to use their platform.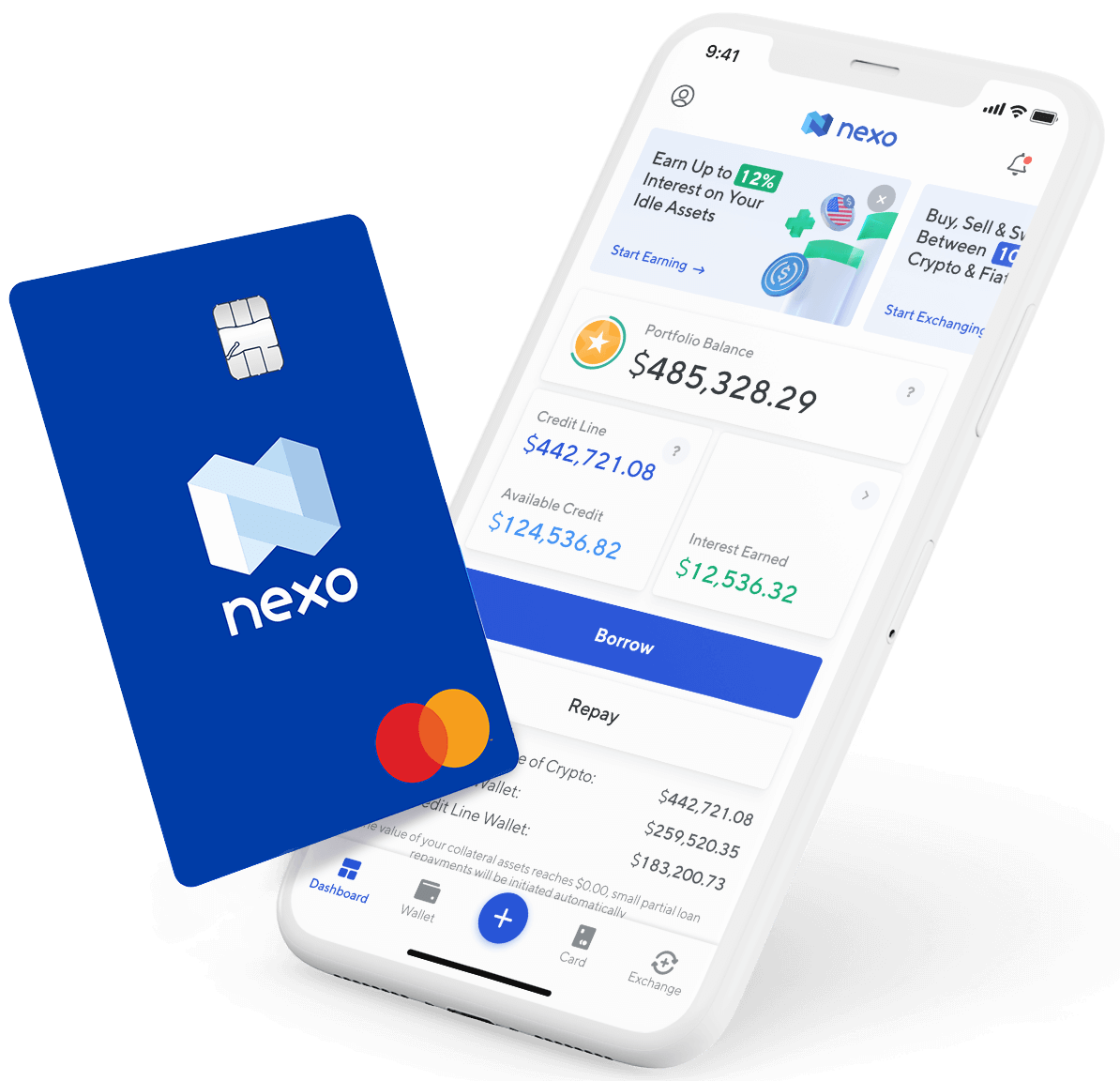 Advantages Of Nexo
Crypto and fiat-backed loans and interest payemnts
High interest rates and low loan rates
Daily interest payments
Earn NEXO tokens
Disadvantages Of Nexo
Restrictions on using native token for US citizens and residents
Native tokens required for maximum interest rates
Limited free crypto withdrawals
Registering For Nexo
Here's how to get started with Nexo:
Choose Your Platform – The exchange is available for desktop traders through its website Nexo.io. You can also download the mobile app for Android (APK) or iPhone (iOS) via the relevant app store. Both the desktop and mobile versions are clear, modern and easy to use.
Register – To begin the registration process, click "Create Account" in the upper right-hand corner.
Verify – Before you get started, you will need to verify yourself. The exchange's basic verification only requires your name, address and phone number. If you wish to increase your limits, you will need advanced verification using your ID card. Advanced verification can be found under the "My Profile" section of the platform.
Nexo Verdict
Nexo offers an array of services, allowing users with crypto to borrow cash with flexible repayments and competitive interest rates. The firm also offers high-yield interest options for users looking to safely store their crypto and fiat. However, it is important to keep an eye on your accounts to ensure your collateral remains sufficient. US citizens will have to wait until advanced verification is available to make full use of the Nexo platform.
FAQs
What Is Nexo?
Nexo is a cryptocurrency lending and trading platform. Customers can take out crypto backed loans without any credit checks as well as earning interest on idle crypto and fiat assets.
How Much Interest Can I Earn With Nexo?
Interest rates vary depending on whether you choose fixed or flex terms, how the interest is paid and how many native tokens you hold. Rates vary between 4% for base loyalty tier customers and 12% for platinum users.
Do I Need A Credit Check For A Loan With Nexo?
Nexo offers crypto-backed loans, which means you can receive a credit line without credit checks as long as you have sufficient crypto collateral. You can work out how much collateral you will need using the calculator on the website. You can use BTC, ETH, PAXG, XRP, LTC, XLM, BCH, EOS, LINK, TRX, NEXO and BNB as collateral.
Has Ripple (XRP) Been Delisted From Nexo?
There have been rumours that XRP would be delisted from Nexo. However, at the time of writing XRP is still listed for purchase, sale, borrowing and lending.
Does Nexo Charge Withdrawal Fees?
You can withdraw fiat from Nexo at any time with zero fees. Base tier customers have one free crypto withdrawal per month. Platinum users have five free crypto withdrawals per month. Any further crypto withdrawals may incur fees.
Can I Get Interest On Fiat With Nexo?
Yes, Nexo is one of the few crypto-lending companies that allows users to earn interest in fiat currencies. Accepted currencies are USD, GBP and EUR and interest on fiats ranges from 4% to 12% depending on your account type and deposit terms.
Accepted Countries
Nexo accepts traders from Australia, Thailand, Canada, United States, United Kingdom, South Africa, Singapore, Hong Kong, India, France, Germany, Norway, Sweden, Italy, Denmark, United Arab Emirates, Saudi Arabia, Kuwait, Luxembourg, Qatar and most other countries.
Alternatives to Nexo
If you are looking for alternatives to Nexo we have compiled a list of the top 5 brokers that are similar to Nexo below. This list of brokers like Nexo is in order of similarity and only includes companies that accept traders from your location.
Nexo is a DeFi platform with a range of blockchain-based solutions, including crypto trading, lending, borrowing and payment cards.
Nexo vs Other Brokers
Compare Nexo with any other broker by selecting the other broker below.