Day Trading For Beginners
Day trading for beginners can feel daunting. Fortunately, our guide for newbies covers straightforward intraday strategies, tips on risk management, plus reviews of the best software. We've also listed our top brokers for day trading beginners directly below. So, if you're looking to generate profits from the financial markets, use this tutorial to get started.
Day Trading Explained
Day trading involves speculating on the price of assets, such as stocks, forex or cryptos, within a single trading day. Traders open and close multiple positions in a session to generate profits from short-term market movements. Importantly, no positions are held overnight.
Day trading strategies can be applied to most financial markets, though they are particularly prevalent in forex and stocks. And whilst day trading for beginners is often marketed as a 'get rich quick' scheme, it requires commitment, both in time and capital. Take professional day traders, for example. They are generally well-informed with significant financial backing. They also often day trade for a living, rather than as a hobby, and use leverage to capitalise on small price fluctuations that occur in highly liquid stocks or currencies.

Day trading is significantly risky for traders of all experience levels, but particularly for beginners. It requires an in-depth understanding of how various markets work and why strategies can turn a profit. Aspiring day traders must carefully choose entry and exit points while employing effective risk management techniques to preserve their capital.
The Best Day Trading Markets For Beginners
Whilst the stock and forex markets are the most popular with day traders, all markets offer profit potential. The intraday trading of cryptocurrencies, for example, is on the rise. Equally, commodities and binary options provide opportunities for switched-on investors.
A key tip when day trading for beginners is to focus on one market. Concentrate on digital currencies, such as Bitcoin, for example. Learn how the value of BTC reacts throughout the day to news announcements or wider crypto trends. Once you have developed and refined an effective strategy for day trading one market, you can then turn your attention elsewhere. Spread yourself too thinly at the beginning and you may struggle to make progress.
When To Trade
Most successful day traders don't open and close positions all day. Instead, they focus their efforts on periods that present the most opportunity, generally offering significant volume and volatility. For example, when intraday trading stocks, the first couple of hours after the markets open and the last hour before they close, tends to see the most price action.
Of course, how long you trade for and when will ultimately depend on your strategy, but the key takeaway is that you don't need to be glued to your computer all day. Many professionals recommend only actively trading for between two and three hours each day.
Risk Management For Beginners
How to manage risk is an essential lesson when day trading for beginners. Before putting money on the line, you should have an approach to risk management. Ask yourself: how much exposure are you willing to take on a single trade or over one trading session?
One sensible risk management technique is to limit the amount of capital invested in a single trade. Professional traders often set that limit at between 1% and 2%. This ensures that even in a run of bad losses, your total trading capital won't be wiped out.
Limit orders and stop losses are also effective for curbing losses. These pending orders are essentially pre-determined points at which your platform will automatically buy or sell an asset. Let's say the price of Tesla, which you bought for $1,050, is falling. A stop loss at $950 would automatically sell the share once the $950 price point is hit, capping your losses at $100, minus any fees.
A free demo account, offered by many of the top brokers for day trading beginners, is an excellent place to refine risk management techniques before putting capital on the line.
Best Day Trading Strategies For Beginners
Day traders can employ a range of intraday strategies, including technical and fundamental approaches. We've explained the key concepts when day trading for beginners below. We've also pulled out some top tips for newbies to keep in mind.
Start Small
Day trading beginners should focus on a particular asset to start with. If you're interested in stocks, concentrate on a particular industry, such as renewable energy, or even a particular company or two, such as Facebook and Amazon. Focusing your research will help you quickly get up to speed with company news, historical financial performance, upcoming investment plans, and more. All of which will make it easier to identify and capitalise on opportunities.
Fractional shares are also a good way to get started day trading for beginners. A fractional share is a portion of a full share, allowing you to invest in companies that you may not otherwise be able to afford. Investors can take less risk, focusing on percentage returns while building up their trading capital.
Technical Analysis
A consistent, effective strategy typically relies on in-depth technical analysis, using charts, indicators and patterns to predict future price movements. The MetaTrader 4 platform, offered by many of the top brokers for day trading beginners, is a great place to start.
Equipped with 30 built-in indicators, more than 2,000 free custom indicators, plus 700 paid options, the user-friendly terminal has plenty for newbies to test out. MetaQuotes also offers a host of video tutorials and tips for those getting to grips with the platform.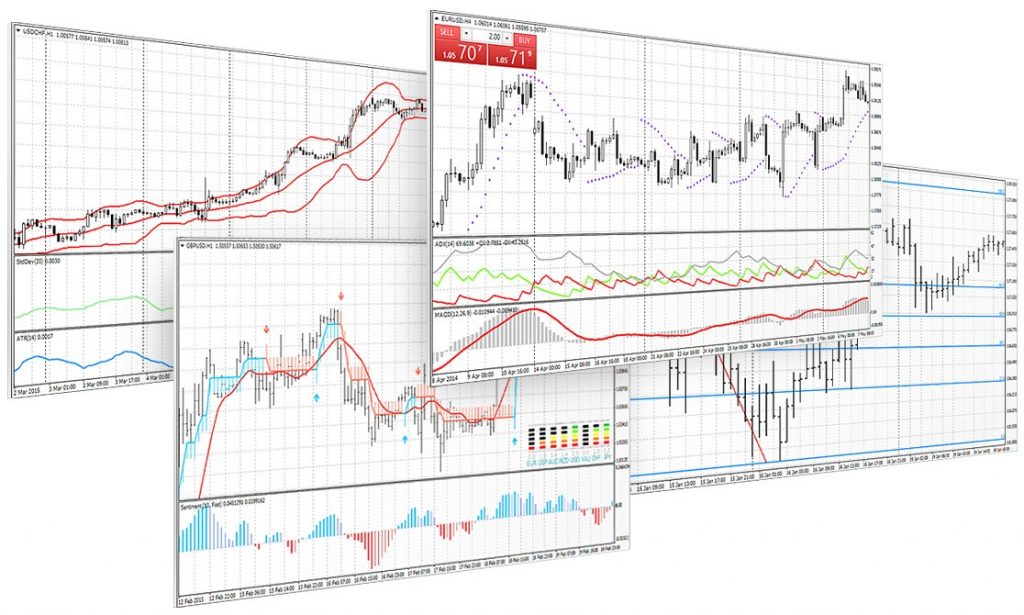 Stay Calm
A profitable day trading strategy won't lead to consistent gains without discipline. When day trading for beginners, controlling your emotions and preventing them from influencing intraday trading decisions is key. Of course, nobody is immune to pressure and sharp market fluctuations can be stressful. The key is sticking to your plan. Use stop losses and limit orders, and when your strategy does need refining, make changes at the end of the trading session when you've had the opportunity to analyse the day's events with a level head.
Scalping
Scalping is one of the most popular strategies when day trading for beginners. It involves exploiting small price gaps created by the bid-ask spread. Traders essentially close a position as soon as the trade becomes profitable, accumulating many small gains over the course of the trading day.
Scalping is particularly popular in forex markets, where there is usually substantial volume and volatility. Due to the fast-paced nature of scalping, rapid order execution and reliable trading software are required.
See our full guide to scalping here, including a list of the top brokers and sites.
Momentum Trading
Following a straightforward trend is a good place to start when day trading for beginners. This strategy can involve trading on news releases, such as Facebook changing its name to Meta and investing in the Metaverse.
A momentum trader could buy on the announcement, or in anticipation of the announcement, and ride the trend until it exhibits signs of reversal. Another option is to fade the price surge. Here, the aim is to identify when trading volumes will start to decrease.
See our online tutorial on momentum trading here.
Best Brokers For Day Trading Beginners
The best day trading platforms for beginners are easy to use and provide a variety of educational materials and research tools to encourage learning. Consider the following factors before opening a live account:
Low minimum deposit – The top day trading brokers for beginners offer a low minimum deposit, such as $10, or even no deposit requirement at all. This, along with a low minimum trade size, can help day traders with limited capital get started.
Customer service – Reliable customer support is key for day trading beginners. Not only can a hands-on support team walk through account requirements, but they can also advise on platform issues or mobile app download instructions. Make sure the broker's support channels are available during the hours you plan to trade.
User-friendly tools – The best brokers for day trading dummies offer excellent educational tools, like free demo accounts, stock pickers, and forex heat maps. Webinars hosted by day trading veterans, strategy PDFs for trading dummies, plus risk management tips in the form of articles and online guides can also prove useful.
Note, we do not recommend day trading on Robinhood for beginners due to negative customer reviews.
How To Start Day Trading
Follow the steps below to get started day trading for beginners.
1. Sign Up For An Account
Once you have chosen a suitable broker, register for a live account and deposit funds. Remember, if you do not feel ready to start trading on live markets, make use of a free demo account.
Once you have finalised your strategy and chosen a market to concentrate on, identify a suitable opportunity.
2. Open A Position
Choose from an instant or pending order type and follow the on-screen instructions on your software to open a position. Remember, if you are day trading, you may want to place both long and short positions, depending on your market prediction for the day.
3. Monitor & Close
Financial markets can move rapidly, so make use of any news streaming services and charting tools to monitor the day's activity. Once you've reached your desired profit target (or loss threshold), exit your positions.
It's worth keeping in mind that positions generally need to be closed by the end of the trading day to avoid overnight holding fees.

Day Trading Tips For Beginners
Journal
When looking at day trading for beginners, a useful tip is to maintain a trading journal of all the positions opened and subsequently closed during the day. It's worth including information on the time and size of entry and exit positions, the direction of trades, plus respective profits and losses. This will help you analyse your performance and update your day trading strategy as needed.
Books
A thorough day trading education can save costly errors. It can feel overwhelming when newbies start day trading, with an extensive range of charts, pricing structures and platform options to get your head around. Fortunately, there are a number of excellent books aimed at new day traders.
The best day trading books for beginners keep things simple, offering step-by-step guides and explaining key concepts. Some of the top books are available to buy on Amazon and eBooks can often be accessed as PDF downloads or read for free on Kindles.
Some of our favourite books for day trading beginners include:
A Beginner's Guide To Day Trading Online by Toni Turner
How To Day Trade For A Living: A Beginner's Guide To Trading Tools and Tactics, Money Management, Discipline and Trading Psychology by Andrew Aziz
Day Trading For Beginners & Dummies: How To Be Your Own Boss by Glenn Nora
Day Trading For Dummies by Ann C Logue
These books are particularly good if you're planning to start day trading in the UK, US, Canada and Europe. Some are available as eBooks and audiobooks too. However, there are also other good options for day traders based in India, Australia, the Philippines, and beyond. See online reviews for customer ratings before you buy a book.
Note, many of the best day trading books, courses and videos are also available in Hindi, Tamil and Telugu.
Videos & Courses
Day trading strategy videos and webinars are also useful. Fortunately, free courses for intraday traders starting out are frequently uploaded to YouTube. Profitable traders, like Ross Cameron from Warrior Trading, post videos of their verified trades on their channel.

Audio Learning
As well as buying books and taking online courses, there are a plethora of other resources available. Audiobooks and podcasts, for example, are a great way for beginners to learn about day trading while on the go, at the gym or on the school run.
Forums
Some people learn best from online forums such as Reddit and Quora. Day trading for beginners can often feel lonely so an interactive community where you can exchange ideas and discuss new opportunities, such as the latest emerging cryptocurrency, can prove valuable.
Final Word On Day Trading For Beginners
Day trading requires patience. Beginners shouldn't expect to make huge profits from day one. Aspiring day traders should make use of the range of resources available online, from free demo accounts to educational materials. Use our list of the best brokers for day trading beginners to get started today.
FAQ
Is Day Trading Suitable For Beginners?
Every trader has to start somewhere, including day traders. With that said, intraday trading is difficult, so novice investors should be prepared for a steep learning curve. Take the time to research and understand the financial markets that you're interested in and to develop a suitable strategy before investing money.
What Do I Need To Start Day Trading?
Beginners need very few tools to start day trading. On the hardware side, a computer and a trusty internet connection are all that is required. The online broker you sign-up with will provide the trading software needed to monitor the markets and execute positions.
How Much Money Do Day Traders Make?
The short answer is that it varies. Experienced veterans can make substantial sums while absolute beginners may generate limited extra income on top of their current jobs. It's also worth remembering that profits and losses fluctuate so it's important to focus on long-term results rather than returns on a particular day.
Should Beginners Take A Day Trading Course First?
Day trading courses can be a valuable tool for beginners. The best providers detail suitable strategies, explain risk management techniques and provide insights into particular markets, such as forex, stocks, cryptos or futures. An excellent range of free and paid-for courses are now available online, including at Warrior Trading, Bear Bull Traders, and Udemy.
What Are The Best Day Trading Apps For Beginners?
A mobile day trading application is a great way to implement strategies while on the move. The eToro app, in particular, is great for newbies as you only need $50 to start trading on stocks, commodities, indices and forex markets. ETX is also a good day trading platform for beginners with 101 investing guides.
Further Reading