Meta
Meta (formerly Facebook) stock is a member of the so-called FANG group of stocks and has been popular with traders for many years. Read on for day trading analysis of Meta plus the latest news and tips. We also explain how to invest in Facebook and where to buy and sell shares, including the best Meta stock trading brokers and platforms.
Top Brokers For Day Trading Meta
About Meta
Facebook is a global social networking platform that launched in February 2004. Founded by Mark Zuckerberg while he was studying at Harvard University, 'The Facebook' began its life as a network for students. It provided unique profiling for users to share posts, view content, and interact with other users.
The first investment came from venture capitalist Peter Thiel, offering $500,000 in return for just over 10% of the company. A series A investment followed shortly in 2005.
Today, the social media giant has a market capitalization of just under $600 billion and reported an annual revenue of $117.2 billion in 2021. Despite its popularity waning with the rise of newer channels such as TikTok, the brand still has more than 2.5 billion monthly active users.
The company also made clever acquisitions of Instagram in 2012 for $1 billion and WhatsApp in 2014 for $16 billion to maintain its presence across a range of market audiences.
On 18th May 2012, Facebook went live with what is still today the largest technology brand IPO in history with a share price of $38. The firm raised an impressive $16 billion in the initial offering, valuing the organization at $104 billion.
Rebrand
On 28th October 2021, Facebook rebranded as 'Meta', echoing the brand's ambitions to move towards the Metaverse virtual world. This includes the introduction of virtual reality platforms, NFTs (non-fungible tokens), and cryptocurrency. On 9th June 2022, the company stock began trading under the new ticker symbol 'META' replacing 'FB' on the NASDAQ exchange.
As the innovative tech firm looks to repeat the success of Facebook and produce the next ubiquitous social media app, many investors have their eye on Meta stock as a potential world beater over the next decade.
Facebook Trading Chart
Price Determinants
Investors who wish to start Meta stock trading should take the following factors into account:
Advertisement Revenues – A major part of the Facebook/Meta business model is the revenue driven by advertisement space on the channel. In 2017, a massive 98% of the company's revenue was driven by advertising. If the firm sees a drop in the number of users, companies may look elsewhere to pay for advertisement, therefore causing a significant decline in Facebook's revenues. Importantly though, the number of Facebook users is still rising globally and is expected to increase by 3% a year through 2024.
Metaverse Uptake – As Meta Platforms plan to expand services into the virtual, augmented reality scene, there is a chance that stock prices may slide for the short-to-medium term before they increase. Some investors are skeptical of the company's innovations and the somewhat short timeline of just 10 years (from 2021) for the plans to come to life
Competition – Facebook is no longer the sole, major player in the social media networking environment. Despite the early purchases of Instagram and WhatsApp, Meta Platforms will not be able to acquire every new networking channel that launches. 2022 saw the continued rise of the video-sharing app TikTok, which is forecast to take over the Gen-Z landscape
Apple Privacy Settings – Following changes to Apple's data privacy rules, customers can now opt in or out of activity tracking across third-party sites when downloading mobile applications. With concerns around breaches, many users now opt out of this function, meaning firms that rely on targeted advertising are majorly missing out on vital information. Meta CFO David Wehner predicted the Apple data settings could cost Facebook anywhere in the region of $10 billion
Earnings Reports
There are multiple factors to consider when deciding when to buy or sell Meta stock. The company's earnings release dates are one of them. To highlight the significance of company release dates on stock prices, in July 2018, Facebook's share price dropped 7% immediately following the release of the mid-year earnings report.
The company operates on a standard fiscal year, with full-year earnings reports typically released in February of the previous year ending 31 December. It is worth undertaking some simple analysis of the P&L quarterly results, which will indicate the latest performance and price trends.
Share Price Highs & Lows
The year 2018 was particularly turbulent for the brand. On 12th January 2018, the company experienced a 4% share price drop (decreasing the market value by $24.5 billion) following product changes. Facebook then saw itself at the heart of a data privacy scandal, following reports that it had exposed the personal information of around 87 million users to a researcher for tech consultancy firm Cambridge Analytica in service of the Trump presidential campaign. This saw the company's value decline by over $35 billion.
In February 2022, Facebook faced its biggest daily stock price decline ever, plummeting 26% as it entered Thursday 3rd February. This saw more than $232 billion lost in stock value in the space of a day following a concerning earnings report indicating a drop in daily users and weaker-than-anticipated revenues for the quarter.
The all-time high FB financial stock closing price was $48.07 on 12th March 2021
The initial share price of Facebook was $38 when the stock went public on 18th May 2012
The all-time high Meta Platforms stock closing price was $382.18 on 7th September 2021
How To Start Trading Facebook Stock
The ticker symbol for Meta Inc is META. Meta is traded on the US NASDAQ exchange which is open to trade Monday to Friday from 9:30 AM and 4 PM (ET).
Purchasing Shares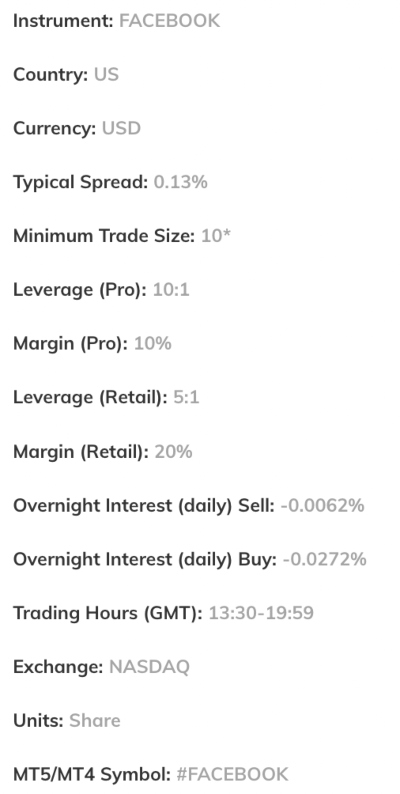 The most popular way of investing in Meta is by buying shares directly through an online broker. Investors who hold onto their shares may benefit from dividend payments and an increase in price in the long run. On the other hand, day traders will buy and sell Meta shares to profit from short-term price fluctuations.
An alternative to purchasing Meta shares directly is to use a derivative product such as CFDs (contracts for difference). This means speculating on the price movements of the stock without owning it. Day traders can use CFDs to open a long or short position on META, depending on whether they think the price will rise (long) or fall (short).
CFDs can also be traded with leverage. This means day traders can borrow funds from a brokerage and open larger positions than would be available with personal capital alone. The broker AvaTrade, for example, offers Meta stock trading CFDs with a 1:5 leverage ratio, which is the maximum amount of leverage permitted by the UK regulator on this type of financial asset.
ETFs
An ETF (exchange-traded fund) is a profile that tracks the performance of a specific index or industry. Traders can invest in a basket of securities through a brokerage firm on a stock exchange. Given the size of the company, technology ETFs or NASDAQ exchange tracker funds are likely to contain Meta shares.
For example, the Fidelity MSCI Communication Services Index ETF (FCOM) includes Meta Platforms Inc with a 9.25% weighting.
Share Baskets
Due to the significant volatility that individual stocks face, some investors may want to consider buying Facebook/Meta stock within share baskets. The ready-made 'baskets' group a range of companies by theme. For example, CMC Markets offers a Social Media share basket consisting of 12 companies, including Meta Platforms Inc with a 10.43% weighting.
Baskets can be traded as one instrument. Rather than having to decipher specific volumes to trade, the broker's expert analysts use technical and fundamental data to split company ratios for investors. This means users can still buy and sell Facebook Meta stock, but not be impacted by specific company share price fluctuations.
Comparing Meta Trading Brokers
If you are confident that investing in Meta stock is for you, a key step is to find a reputable broker that offers trading on Facebook shares. There are several elements to consider when choosing a Facebook stock trading broker:
Instruments & Financial Products – The best Meta brokers will provide retail investors with various ways to trade Facebook shares. This includes purchasing individual stock and trading via exchange-traded funds or CFDs and other derivatives.
Fees – Charges can vary significantly between brokers that offer Meta shares. Most trading platforms allow you to purchase US shares, though sometimes additional costs may be involved, including foreign exchange fees. As your trading may involve opening and closing positions intraday or every few days, commission fees can quickly eat away at profits. Additionally, look out for deposit/withdrawal charges, other non-trading fees, and overnight rollover charges.
Platform – Does the Meta broker offer proprietary software, tools, and analysis? The best Meta brokers will offer industry-standard terminals such as MetaTrader 4 and MetaTrader 5, plus an option to trade on a bespoke platform. You will need access to reliable and stable analysis features to review the share price history and trends of the Meta stock. Additional features such as online tutorials, educational content, and video demos should rank highly, particularly for beginners.
Regulation – The best brokers for Meta stock trading will be regulated and authorized by a top-tier financial body. This may include the US Securities and Exchange Commission or the UK's Financial Conduct Authority, for example. You can check whether your trading broker is a member via the respective regulator's official website. Regulated brokers are considered the safest option and will provide capital protection and safeguarding initiatives for retail traders, including negative balance protection and segregated accounts.
How To Sign Up With A Broker
Most online Meta brokers have a similar registration process, usually involving the following steps:
On the broker's website or mobile app, select 'Register' or 'Open An Account'
Complete the registration details – typically you will need to provide an email address, contact number, and country of residency
Many Meta stock trading brokers will then require identity verification documents to comply with AML and KYC. These can often be uploaded online
Once your account is approved, login details will be sent to your registered email address
Sign in to the customer dashboard with your credentials
Make a deposit
Open the broker's platform or app, find the Meta ticker and enter a buy or sell order
Tax
Whether you are looking to invest in Meta in the long term or to make money through shorter-term price fluctuations, at some point it's likely you will need to deal with the issue of taxes.
Since Meta is a US stock, income from dividends may be subject to withholding tax. This can be mitigated by residents of countries like the UK that have tax treaties with Washington by filling in a W8-BEN form.
Some brokers such as eToro automatically integrate the W8-BEN form into their system, allowing users to easily sign it via a pop-up window when they purchase their first US stock. With other brokers, you may need to fill in and supply the form yourself.
Another tax-efficient way for UK investors to benefit from Meta stocks is through independent savings accounts (ISAs). These accounts allow holders to deposit a maximum of £20,000 per year, which in stocks and shares ISAs can be invested in any stock or fund supported by the broker, including Meta.
Many ISAs provided by established financial firms like Fidelity tend to offer a shorter list of ETFs to ISA holders, who in this case would likely need to invest in a Nasdaq or tech ETF to gain exposure to Facebook/Meta.
However, some online brokers such as Trading 212 offer a more diverse list of assets to their ISA account holders, including Meta and many other US-listed stocks.
Final Word On Meta Stock Trading
Meta has seen significant share price volatility over the past few years as the latest social networking channels have seized a larger market share, putting Facebook in a vulnerable position. Having said that, the company's early movement towards Metaverse innovative technologies could place it a step ahead of the game.
Use our ranking of the best brokers that offer trading on Meta to start buying Facebook stock now.
FAQs
How Can I Buy Meta Stock?
The first step is to find a Meta stockbroker. Look for online brokers that accept residents of your jurisdiction – whether that be in Nigeria, Ghana, Kenya, South Africa, Pakistan, Australia, India, Canada, or Singapore. From here, choose how you want to trade Facebook stock; CFDs, share baskets, direct purchasing, etc. Then open a live account, make a deposit, and place a buy or sell order on the broker's platform or app.
Is Facebook Still A Good Stock To Buy?
Facebook has been rebranded to Meta Platforms Inc. Meta is moving towards immersive experience services such as augmented and virtual reality, and some investors who believe are keen on the Meta stock as they believe this technology will soon take off. The number of global users has also been steadily rising and is expected to continue to do so through to 2024, providing additional advertising opportunities.
How Much Does It Cost To Buy Stock In Facebook?
Share prices vary daily, and buying Meta/Facebook stock is no exception. Company news, product innovation, and earnings releases can impact the price of shares. Head to our full guide to Meta trading for the latest price charts and data.
Can You Buy Stock In Meta?
Yes, Meta Platforms Inc shares are available to purchase through online brokers. There are several ways to invest in Meta stock including ETFs, CFDs, and share baskets. We have reviewed and rated the top Meta brokers in 2023. Find out where to buy Meta shares.
How Do You Buy Into Facebook Stock Without A Broker?
To buy, sell or hold Facebook stock, you will need a brokerage account. Meta does not offer a direct stock purchase plan (DSPP). Use our list of the best Meta brokers to get started.