Share Baskets
Share baskets are an attractive trading instrument that group individual stocks into one asset, treating them as a single order. Traders and investors often take advantage of share baskets to make a customized selection based on their personal interests, prosperous market sectors, or high dividend paying companies.
This guide will cover how trading share baskets work, typical fees and swap rates, how to initiate a transaction, and more. Use our ranking of the best share basket brokers to get started.
Top Brokers With Share Baskets
IG-US offer spread betting, CFD and Forex trading across a range of markets. They are FCA regulated, boast a great trading app and have over 47 year track record of excellence.

Forex trading involves risk. Losses can exceed deposits

IB Boast a huge market share of global trading. With a minimum deposit of $10,000 however, they remain an option for larger traders only.

InstaForex is a CFD broker providing access to forex, stocks, cryptocurrencies, commodities, energies, indices, and more. With competitive fees and a huge range of available assets, the brand offers safe and reliable trading.
What Are Share Baskets?
A share basket is an assortment of several individual securities that are combined to be traded as a single instrument. The group of shares are traded as one position rather than having to open multiple positions to trade each security individually.
The shares within the 'basket' may have similar ESG values, be experiencing strong performance, or even just operate in the same sector, such as finance or technology. The best brokers allow up to 50 different stocks within each 'basket'.
Although trading baskets of shares is the most common, it is worth considering creating groupings of other instruments too. Integrated baskets may also include forex and commodities.
History & Background
Stock basket trading first began in 1989 on the NYSE (New York Stock Exchange). The US SEC (Securities and Exchange Commission) approved the new product, originally permitting investors to purchase all the individual stocks of the S&P 500 in one order. On the first day, nine total 'baskets' were bought.
Since then, thousands of institutional firms and professional investors have used a share basket trading strategy to improve the efficiency of the trade process and maximize profits. Thanks to these benefits, it is now becoming increasingly popular among retail traders.
How Share Baskets Work
Share baskets allow investors to speculate on the performance of a specific sector without being exposed to the price fluctuations of each stock individually. The weighting of each security in the basket could be divided equally, or differentially according to the investor's or broker's criteria and product composition.
For example, traders may want to split a $10,000 investment equally between 20 global company stocks within the basket, with each stock receiving $500 of the total funds. Alternatively, in some share baskets, different companies receive a higher or lower proportion of the funds depending on the investor's risk appetite and goals.
Importantly, trading share baskets is relatively simple. If an investor believes the performance of the group of securities will improve, a purchase is made, if the investor thinks the performance will weaken, they can sell.
The performance of share baskets is typically ranked against a pre-defined benchmark or an entity, such as an index. As the price of the individual stocks rises and falls, the impact vs the total portfolio fluctuates.
The good news is, stocks can often be removed, added, or amended as necessary, which can create a total rebalancing within the basket.
Example
Let's say a trader wants to purchase stock in a social media company, but cannot decide which will offer the highest returns based on previous financial results and upcoming events and planned product announcements.
Instead, the investor may consider a share basket containing all the big-name social media companies such as Meta, Pinterest, Snapchat and others. Here the trader could apply the same weightings to all stocks, remove any underperforming firms or boost the percentage rankings of companies expanding their services.

Fees
The costs involved with trading share baskets will vary depending on the broker and assets within the created grouping. Some share basket brokers will charge a commission fee and others will offer a spread-based pricing model.
Below we outline some of the associated fees on some share basket trading examples at CMC Markets:
Big Tech
20% margin rate
Commission-free
Spreads from 1.5 pips
0.0145% overnight swap fee
1.9% annual holding cost (sell)
5.3% annual holding cost (purchase)
Gaming
20% margin rate
Commission-free
Spreads from 3 pips
0.0145% overnight swap fee
1.8928% annual holding cost (sell)
5.3% annual holding cost (purchase)
UK Banks
20% margin rate
Commission-free
Spreads from 3 pips
0.0135% overnight swap fee
4.9269% annual holding cost (purchase)
1.6269% annual holding cost (sell)
FXCM, on the other hand, does not charge any fees to enter or exit a position. All costs are included within the spread. There is a 20% margin requirement and a maximum number of 200 contracts per trade for all share baskets.
Pros Of Trading Share Baskets
Diversification – Share baskets are a good way to create a portfolio suited to specific investment goals or interests. The best share basket brokers allow complete flexibility to choose any supported global company stocks.
Reduced Volatility – Combining more than one individual stock in a basket can reduce the overall volatility of the asset. If a stock experiences an adverse market shift, it is less likely to cause a significant impact on the basket overall.
Efficient – Tracking the entire performance of the total share basket vs individual stocks is much easier and will save a significant amount of time. There is less monitoring required and you can add or remove multiple stocks at a time if the trade isn't going your way.
Cons Of Trading Share Baskets
Fees – There are fees associated with share basket trading, which are often described as holding charges or management expenses. These can be anywhere in the region of 2-5% which will be deducted regardless of whether your position ends in profit.
High Initial Investment Requirements – Retail traders are often required to include a minimum number of individual stocks per basket, sometimes at least 20. This typically means that the starting amount is much higher compared to an investment in an individual instrument.
Potentially Lower Returns – When investing in a share basket, particularly pre-made portfolios, traders are exposed to company stocks that may provide negative or flat returns. Investing in a more specific set of individual, high-performing stocks may result in a higher yield.
Where To Invest Or Trade In Share Baskets
Share baskets are popular among investors who believe that securities tied together in a specific sector or by a certain theme will perform well over the mid to long term. These investors will usually be willing to buy the share basket and hold onto it through an acceptable amount of volatility, benefiting from dividends while waiting for the share basket's value to reach its target level.
Importantly, you will need to find a broker that offers share baskets trading, such as IG or Fidelity. The best brokers will provide both pre-made share baskets and fully customizable products so you can add a bespoke selection of stocks to a collection. FXCM, for example, offers 15 ready-made baskets. These are selected by themes, including US banks, airlines, travel & hospitality, and gaming. Each share basket contains four to six companies with varied inception weights.
Some brokers, such as CMC Markets, offer share basket derivatives, providing an excellent way for traders to use this financial instrument in shorter-term speculative trades with leverage of up to 1:5. CMC traders can spread bet or invest via CFDs on the broker's basket portfolios designed around a specific theme. This includes social media, UK banks, renewable energy, and mobile payments. Company weightings within each index are suggested by the broker's analysts.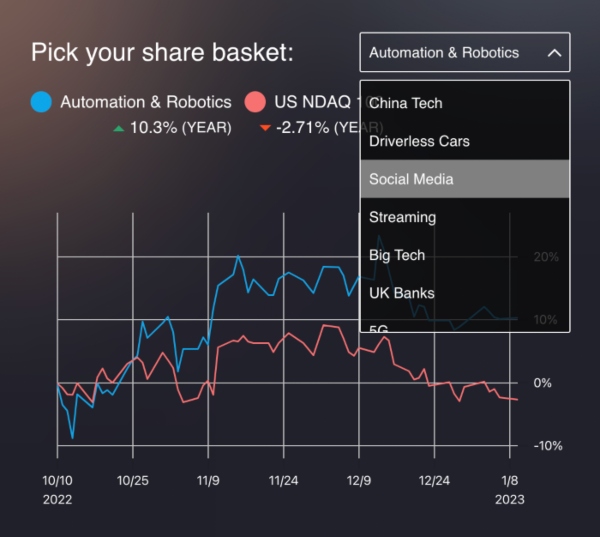 Interactive Brokers also offer traders an advantage with the opportunity to create bespoke baskets from scratch. Using the TWS BasketTrader, investors can drag individual assets into a basket and amend individual order sizes and prices before opening a position. The tool is fully flexible, meaning established basket portfolios can be managed and rebalanced at any time.
Comparing Stock Basket Brokers
There are various factors to consider when comparing brokers that offer share-basket trading. One of the most important factors is fees. Review the holding costs associated with trading a share basket, including overnight fees and account funding charges. Alternatively, skip to our ranking of the best low-cost share basket brokers.
Some brokers will also implement a minimum investment amount to trade share baskets. Although the basket will be purchased as one order, the best brokers will allow full customization of each share basket, including the option to amend weightings, add/remove individual stocks, and close trades at any time.
Always review the purchase agreement terms and conditions before investing personal funds.
Some other important factors when choosing between stock basket brokers include:
Available trading platforms (MT4, MT5 etc.)
Financial vehicles offered (CFDs, spread betting etc.)
Oversight by a reputable regulator (CySEC, FCA etc.)
Demo account and educational material
Sign-up, referral and deposit bonuses
Customer support options
Supported payment methods
How To Get Started
Choose one of the best share basket trading brokers
Review individual stocks within a specific sector/theme/interest
Select a pre-made share basket or create a custom portfolio
Amend stock weightings (percentage- or dollar-based)
Invest funds (minimum investment requirements may apply)
Monitor performance and add or remove individual stocks
Dividends & Taxes
As stock baskets may be made up of a group of dividend-paying stocks, investors and traders may be impacted by dividend payments and may also be liable to pay taxes on them.
Traders with a long position on a share basket will be credited a dividend adjustment, while those with a short position will be debited.
If you benefit from dividend payments from a share basket that includes US stocks, you will be liable to pay a withholding tax of 30% of the dividend adjustment. This will usually be automatically deducted from your account by your broker, but it's worth checking.
Traders in the UK and other countries that have tax agreements with Washington can complete a W8-BEN form to mitigate their withholding tax liability. Some brokers such as eToro have a quick and convenient system that allows users to sign the form by clicking a pop-up window, but you may need to fill out and supply the form yourself.
Final Word On Trading Share Baskets
Trading share baskets is a good way to gain exposure to a broader range of securities united by a specific theme. The instrument is suitable for traders and investors who want to gain exposure to a specific sector or group of companies while protecting themselves from the extremes of volatility that individual companies may face. However, this may come at the price of potentially lower returns compared to traditional stock trading.
Sign up with one of the best share basket brokers to get started.
FAQ
What Is A Share Basket?
A share basket is an assortment of individual stocks, for example, technology firms in the US. They are classified as one instrument, meaning they are purchased and sold together simultaneously. The top share basket brokers offer up to 50 stocks in a single basket.
Can Anyone Trade Share Baskets?
Yes, all traders and investors can purchase share baskets if they are signed up with a broker that offers them. Having said that, there are costs involved and most share basket brokers will impose a minimum investment requirement which can make it an unrealistic trading opportunity for beginners.
What Are The Advantages Of Trading Share Baskets?
The main advantage of trading share baskets is relative protection against volatility. For example, if one stock within a basket faces a significant price drop, this could be counteracted by an increase in the price of another stock. Weightings can be adjusted and stocks can be added or removed to create a more stable index.
How Can I Invest In Share Baskets?
What Is The Best Share Basket To Trade?
There is no 'best' share basket. Spend some time studying the markets and sectors before selecting a portfolio to invest in. You could review recent company announcements, ESG initiatives, new product launches, and more. Remember though, past performance is no guarantee of future profit.