ETF
Exchange-Traded Funds are baskets of securities, that act like securities themselves. They track an underlying index (comprised of all the securities covered by the ETF) and they are marketable. There is no limit on what an ETF can contain: stocks, bonds, commodities, various investment types, and soon: cyptocurrencies.
An ETF trades exactly like a stock (hence its name). It has a price which tracks the prices of its constituent securities.
Some ETFs cover thousands of stocks across a wide spectrum of industries. Others limit themselves to very specific verticals and fewer constituents. Through an ETF, traders can gain exposure to scores of stocks and entire industries, or even countries, without the need to invest directly in its constituents.
Diversification is one of the core strengths of ETFs. At the same time, it is one their main shortcomings too.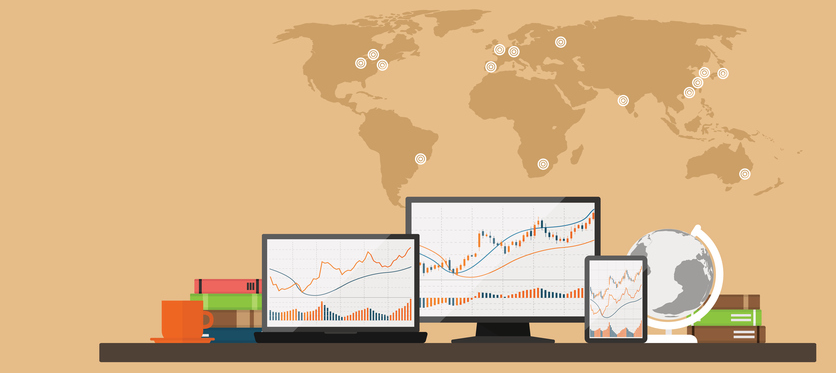 ETF Advantages
As mentioned, ETFs trade just like stocks. What this means is that through an ETF, one can trade options and futures just like stocks. ETFs can also be sold short and traded on margin.
ETFs entail a better tax regime than mutual funds. Most ETF management is passive, which means lower fees. ETF-based company dividends are reinvested immediately. There are however actively managed ETFs out there as well.
The price of an ETF follows the price of its underlying securities closely. Arbitrage quickly erases premiums and discounts.
ETF Disadvantages
In some cases, ETFs do not cover a wide-enough range of constituents. By limiting themselves to large cap stocks, they effectively deny investors access to growth opportunities created by small-cap companies.
Long-term investors might not like intraday pricing.
ETFs can be speculative. Because of their diversity, ETFs may contain leveraged financial derivatives. Leverage can boost investment returns, but the same goes for losses. Investors should avoid leveraged ETFs, or at least carefully weigh them.
ETFs entail lower risk, but investors pay for that stability through lower dividend yields. In this regard, high performing individual stocks or stock-baskets have ETFs trumped.
Exchange-Traded Funds best mutual funds cost-wise, hands down. When compared to individual stocks however, the give up this edge. Unlike stocks, ETFs do entail management fees.
ETFs based on low-volume indices feature higher spreads.
Types Of Fund
ETFs are mostly differentiated by the type of underlying securities they track. Thus, there are:
Industry ETFs – which track an index associated with a specific industry/sector, such as tech, gas or oil. Sector ETFs fit in this category as well.
Commodity ETFs use gold, silver, oil or a number of other commodities as underlying assets.
Bond ETFs use corporate and government bonds etc.
Currency ETFs track indices associated with currency pairs, such as the EUR/USD, GBP/USD etc.
Leveraged ETFs include leveraged financial derivates and are therefore more risky than their more "conservative" peers.
Inverse ETFs add an interesting twist to the ETF investing game. Such ETFs profit from shorting stocks. They work by including stocks likely to decline in value. They then sell these stocks and re-buy them at a lower price point.
A process known as Creation and Redemption governs ETF shares. The entity needed to "create" ETF shares is an Authorized Participant. To create shares, the Authorized Participant buys stocks from the index tracked by the fund. It then puts them into the ETF, by exchanging them for shares representing equal value. The AP sells these shares to investors.
The redemption process effectively reverses the above detailed steps.
Conclusion
Introduced in 1993, ETFs have seen massive growth. Their advantages are very attractive for retail- as well as institutional investors.