New York Stock Exchange (NYSE) brokers offer investment opportunities on the world's largest stock exchange by market capitalization. Located at the famous New York Stock Exchange building on Wall Street, huge technological advances have enabled the exchange to now trade exclusively electronically.
In this guide, we provide a NYSE brokerage comparison guide plus a list of the top brokers with access to the New York Stock Exchange in 2023. We also give a brief history of the New York Stock Exchange and explain how you can start trading on the NYSE.
Top New York Stock Exchange Brokers
NinjaTrader offer investors futures and forex trading. Use auto-trade algorithmic strategies and configure your own platform while trading with the lowest costs.

Pocket Option is a global binary options broker with a sleek proprietary trading platform and competitive range of assets.

Moomoo is an app-based stock broker that offers trading in US, Hong Kong and Chinese shares. Clients can get started with a sign-up bonus and $0 minimum deposit.
Comparing NYSE Brokers
Choosing a broker with access to the NYSE is one of the first steps you need to take. Key factors to compare in NYSE brokers include:
Fees
There are often commission fees and costs when investing in stocks, which can quickly eat into profits. This may be a flat cost per trade or a percentage of the value being traded. Pepperstone, for example, has a $3.50 per lot commission charge for share CFDs on their MT4/MT5 Razor account.
Compare NYSE brokers' pricing schedules before opening a live account and reach out to the customer service team if you cannot find this information. The best NYSE brokers will also publish their non-investment charges, such as deposit and withdrawal costs, inactivity fees or currency conversion rates.
Mobile App
Does the broker offer a mobile application? NYSE brokers with a mobile app offer a stable environment to execute trades whilst on the go. You may need the full functionality and features of desktop terminals, but with zoom and scroll to ensure you can still analyze price data and projections via charts and graphs.
XTB, for example, has a proprietary mobile terminal named xStation with an intuitive design, plus access to live breaking news and posts directly from the firm's market analysis teams.
Many third-party software providers also offer mobile app compatibility, including MetaTrader 5, which is available for free download to iOS and Android devices. Leading brokers with access to the New York Stock Exchange will list their available mobile apps before you open an account.
Demo Accounts
The top NYSE brokers will provide demo accounts with virtual funds and no time limit. Also check that the paper profile offers access to real-time price data on all instruments, including the New York Stock Exchange.
The best brokers with access to the NYSE will allow switching between live and demo profiles so you can finesse a strategy or confirm a trade plan before putting your money on the line. XM, for instance, enables users to demo trade the NYSE with live market pricing, and use a paper trading profile alongside a live account.
Deposit & Withdrawal Methods
Look out for NYSE brokers that work seamlessly with local deposit and withdrawal solutions. If you are a US resident, NYSE brokers that offer ACH transfers, debit cards or check payments may be the most appealing.
NSYE brokers with no payment fees, fast processing times and flexible limits should be top of your list. A low minimum deposit requirement may also be appealing, particularly if you are new to retail investing.
What Is The New York Stock Exchange?
Owned by Intercontinental Exchange, the New York Stock Exchange (abbr NYSE) is the world's largest stock exchange by total trading volume and averages 253 trading days per year. As well as being home to the famous trading floor, prestigious events are also hosted in the NYSE building each year.
A Brief History
The Buttonwood Agreement is thought to be the beginning of the New York Stock Exchange, which 24 brokers signed in 1792 to set a standard commission rate and ensure trading preference was given to other members of the agreement.
The first shares traded on the NYSE were the Bank of North America, First Bank of the United States and the Bank of New York. Later, the Open Board of Stock Brokers was launched as a rival to the NYSE, however, the two exchanges merged in 1869.
Increased regulation was introduced following the Great Depression of the 1930s, caused by the crash of the stock market. And over the years, the NYSE trading floor has continued to evolved greatly. In 2020 the New York Stock Exchange became an electronic-only platform, due to the Coronavirus pandemic. For the first time in history, the trading floors were closed while the market remained open, however, it has since re-opened.
Today, visitors can have live tours of the New York Stock Exchange floor, or view videos of the NYSE trading room on YouTube.
New York Stock Exchange Indices
There are multiple indices that track the prices of groups of shares on the New York Stock Exchange. Here we list some of the most popular that you might find at NYSE brokers:
NYSE COMPOSITE (DJ) – the NYSE Composite includes all common securities that are listed on the New York Stock Exchange. It is capitalization-weighted, meaning the securities are weighted according to their value. As well as the composite, additional indices exist for industrial, utility, financial and transportation securities.
NYSE ARCA TECH 100 – this is a price-weighted index that contains the 100 top US technology companies. Although the NYSE maintains the index, it includes securities listed on other exchanges too.
DOW JONES INDUSTRIAL AVERAGE – the Dow Jones is formed of the 30 largest companies listed on stock exchanges in the US. It is historically one of the most followed indices, although many believe that it does not provide a good representation of the overall US stock market, especially when compared with other indices such as the S&P 500. The value of the index is the total price of the securities in the index, divided by a factor that is updated whenever a company undergoes a stock split. This ensures the index value is unchanged by the split.
S&P 500 – the Standard and Poor's 500 tracks the 500 largest companies listed on the US stock exchanges. It is also capitalization-weighted, and one of the most followed US indices.
NYSE FANG+ – the NYSE FANG + is an equal-weighted index formed of 10 global tech giants. As the stocks are equally weighted, the portfolio is more diverse. It consistently outperforms many of the other major indices.
THE NYSE BITCOIN INDEX – the NYXBT represents the US dollar value of one Bitcoin based on Bitcoin transactions that meet the New York Stock Exchange criteria.
What Is The New York Stock Exchange Used For?
NYSE vs NASDAQ
The NYSE is an auction market which means participants buy and sell directly from each other. This is different from the NASDAQ stock exchange, which is also located in New York City but is a dealer market instead and therefore has designated market makers to maintain liquidity.
The NYSE is more focused on industry, unlike NASDAQ which focuses on technology, and therefore tends to have more established, stable stocks. Because of this, some investors consider the NYSE to be a less risky investment opportunity.
NYSE Pillar
NYSE Arca is a subsidiary of the NYSE Group and is an Electronic Communication Network (ECN) that matches orders, unlike the NYSE which is both a physical and electronic stock exchange. NYSE Arca is the leading market for ETFs.
NYSE American (also known as AMEX), is a stock exchange for small to mid-capitalization companies that traditionally can't meet the NYSE's stringent listing requirements.
However, NYSE Pillar is a new integrated platform that allows members to access the NYSE, NYSE American Equities, NYSE Arca Equities, NYSE Chicago and NYSE National. NYSE Arca Options and NYSE American Options also joined the platform in 2021 and 2022 respectively. NYSE Pillar will therefore provide a wider selection of stocks; containing all 8000 securities listed on all US stock exchanges.
The market opening hours remain the same for NYSE Arca, American, Pillar and Options exchanges.
Tapes A, B and C
Tapes A, B and C are used to categorize different types of stocks in the United States:
Tape A – NYSE listed stocks
Tape B – regional stocks (mostly listed on Arca)
Tape C – NASDAQ listed stocks that are also traded on the NYSE
How It Works
Here we discuss some of the key features of the New York Stock Exchange.
Floor Brokers
Identified by their jackets, floor brokers provide information and execute orders for their clients by 'open outcry'. This is the use of shouting and hand signals to provide information about orders, which takes place on the NYSE trading floor, also known as the pit.
However, since the 1980s, outcry exchanges have been increasingly replaced by electronic platforms on the trading floor – though the floor jobs and dress codes haven't completely disappeared yet.
Program Trading
Program trading is another phrase for algorithmic, portfolio or basket trading, which is used for high-volume transactions and is the way the majority of investments are carried out nowadays.
The NYSE defines program trading as buying or selling of 15 or more stocks that have a purchase value of greater than $1 million, and are part of a coordinated NYSE trading strategy. These trades are all captured in a program trading report. However, program trading is thought to contribute to market volatility and is believed to have led to market crashes in the 80s and 90s.
Halts
NYSE halt rules or trading curbs are a mechanism used for market suspension if a severe price drop occurs that could eliminate liquidity. These suspended investing period restrictions are known as market-wide circuit breakers (MQCBs), which either temporarily stops trading or closes the market early in extreme cases. This means investors will not be able to speculate on stocks at NYSE brokers.
NYSE market halts are triggered by measuring the decrease of indices. For example, the halt rule 80B means that if the Dow Jones Industrial Average falls by more than the set limits in a single day, trading will be paused for a defined period of time.
A recent example of this was the Gamestop (GME) halt which was put in place across NYSE brokers following extremely high trading volumes and volatility.
Reports
The volume summary report contains volume charts as well as NYSE investment activity data by parameters, including share size and number of trades. These insights are documented on the NYSE website, with 2019 and 2020 for example both presenting records for options trading volume and growth.
Regulation
While the NYSE Regulation (NYSER) is responsible for monitoring activities on each market, some regulatory functions are performed by other organizations such as FINRA and SEC, who set the policy and limits, including rules around insider NYSE trading.
This is an important comparison factor between NYSE brokers, and will ensure relevant client protection protocols and access to compensation if required.
Biggest Players
The biggest stocks on the NYSE by USD value are Apple, Microsoft and Alphabet (Google). Keep an eye on the key financial metrics of these companies via your New York Stock Exchange brokers' published data.
The NYSE listing requirements are that a firm should have no less than a volume of 1.1 million shares traded with a market value of over 100 million USD, as well as a minimum  share price of 4 US Dollars per share. New York Stock Exchange equities that are trading for under $1 for more than 30 consecutive days are at risk of being removed as a listed company.
Each listed stock is also represented by unique symbols, for example NYSE: MANU refers to Manchester United and NYSE: WMT refers to Walmart. You may need these symbols when searching for a stock to trade on your NYSE broker's platform.
Why Trade The New York Stock Exchange?
There are several advantages to investing on the New York Stock Exchange:
Liquidity – the NYSE offers almost three times more liquidity than the next largest exchange
Price – some of the narrowest bid/ask spreads can be found at New York Stock Exchange brokers
Risk – some investors consider the NYSE to be less risky than NASDAQ, as it is formed of more established companies
How To Start Day Trading On The New York Stock Exchange
Pick A Strategy
Once you have compared NYSE brokers and chosen the platform that best meets your needs and investment goals, its worth reviewing a strategy or trade plan.
One common system when investing on the New York Stock Exchange is calculating the NYSE tick index trading strategy. This is done by comparing the number of stocks with increasing price versus decreasing price, to get an overall view of whether the market is up or down.
For example, if 2500 stocks have an uptick and 300 stocks have a downtick, the overall index would be 2200. Anything above +1000 or below -1000 is considered extreme and therefore a trading signal. This can be visualized in an NYSE volume graph: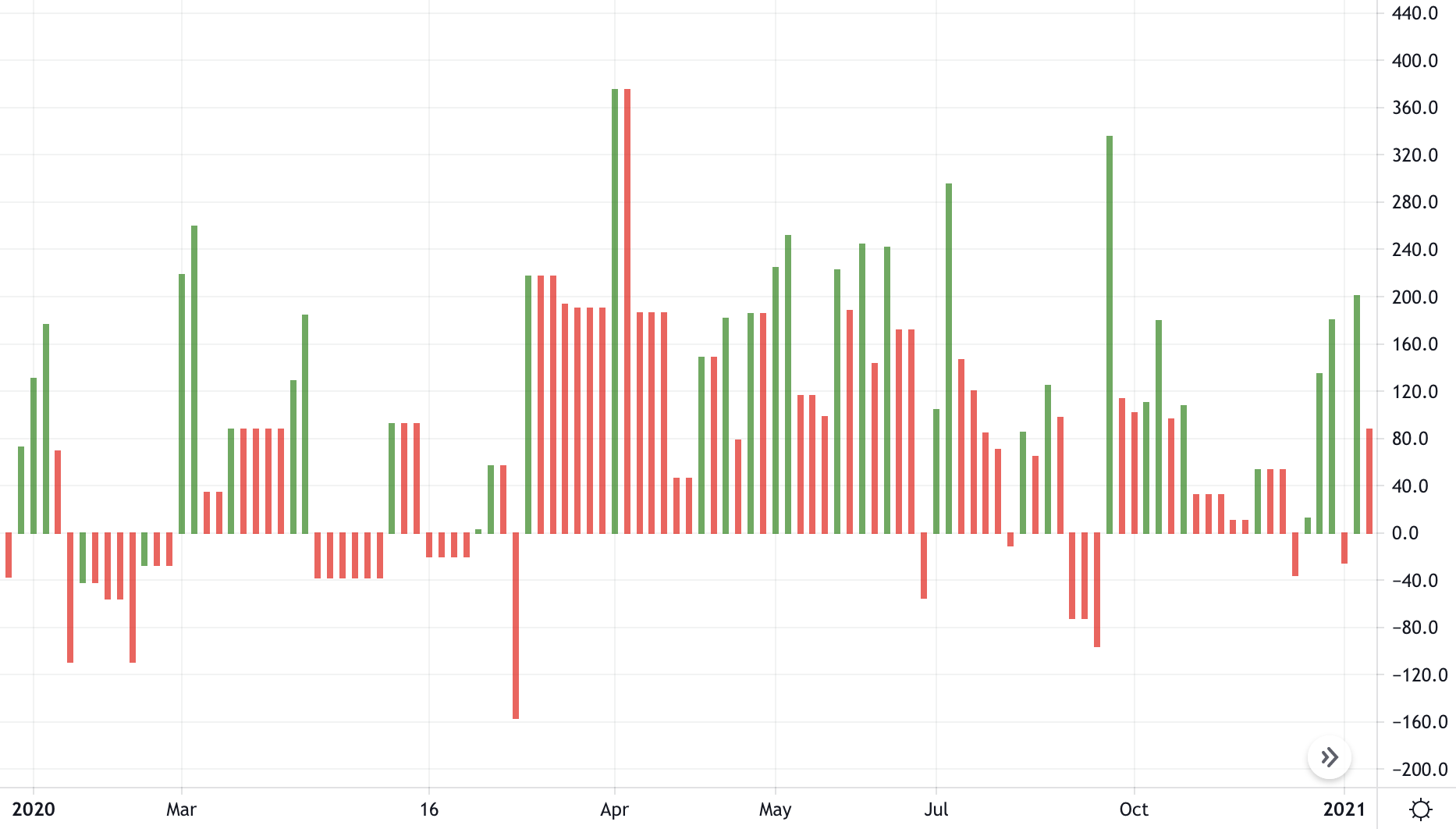 Opening Times
The New York Stock Exchange market open days are Monday to Friday, 09:30 to 16:00 hours NYC time, which is marked by the opening and closing bell. The time difference is four hours with London GMT, meaning the window for traders in the UK starts at 13:30.
Investing outside these times is also possible – pre-market sessions usually open from 08:00, with after-hours sessions beginning at 16:00 (20:00 GMT). However, this schedule is flexible and trading in these times is more volatile. Overnight trading is also possible, with bonds traded from 04:00 to 20:00 hours ET on the NYSE.
Note, some NYSE brokers may not provide premarket and aftermarket information, however online services such as Yahoo Finance can provide data on after-hours trading quotes.
In Australia AEST, regular sessions are 19:30 to 02:00 hours, while Malaysia and Singapore Standard time is UTC + 8 hours and therefore 17:30 to 00:00. Standard NYSE opening hours are from 15:00 to 21:30 in India.
Though there is no official trading hours lunch break, fewer trades take place over the lunch period in New York, meaning there is less liquidity. Day traders therefore tend to avoid this period.
There is no weekend market opening, with the NYSE closed on Saturdays and Sundays. The NYSE also has non-trading days which include Easter Friday, Thanksgiving Day and Memorial Day, though the full calendar for each year (2021, 2022, 2023 and beyond) can be found on NYSE.com or via registered brokers with access to the New York Stock Exchange. However, the NYSE is typically open as normal on New Year's Eve (31st December) and Easter Monday.
NYSE Investment Tips
API connections can be used to gain access to real-time, low-latency NYSE data
When putting together an NYSE day trading strategy, make sure you understand the tax implications of stock investments
Traders can find the latest updates and news on the NYSE.com website or via registered New York Stock Exchange brokers
The NYSE report centre contains regularly issued market statistics, which can be useful for fundamental analysis
Keeping an eye on different stocks can be difficult. Set alerts through NYSE brokers to pick up on important signals
Online clocks countdown the remaining NYSE opening hours in different time zones such as UTC or Eastern daylight time for traders in the US
Final Word On NYSE Brokers
NYSE brokers provide access to the largest and most famous stock exchange in the world, allowing traders to buy and sell shares in listed companies. Its high liquidity and low spreads attract investors from all over the world to trade in some of the largest companies on the planet. Check out our list of the best NYSE brokers to get started.
FAQ
How Do I Start Trading On The New York Stock Exchange?
Day traders will need to use registered NYSE brokers to start investing on the exchange. When selecting brokers with access to the New York Stock Exchange to open an account with, ensure they are regulated and check for commissions and fees.
How Does The New York Stock Exchange Trading Floor Work?
Traders exchange securities on behalf of clients by buying and selling at an agreed price. This may be an informal agreement at first, which is communicated to the clearinghouse and the deal is matched.
What Are The New York Stock Exchange Opening And Closing Times?
The NYSE operates from 09:30 to 04:00 UTC time. The NYSE also has extended investment hours, with the early (premarket) session start time usually 08:00 UTC, and the late session starting after the market closes at 04:00. In the UK, the regular hours are 13:30 to 20:00 GMT.
What Is The Difference Between The New York Stock Exchange Vs NASDAQ?
The NYSE is an auction market whereas NASDAQ is a dealer market. NASDAQ does not have a physical trading floor unlike NYSE and was the first all-electronic stock exchange. However, market opening hours are the same for both NASDAQ and the New York Stock Exchange.
When Did The New York Stock Exchange Begin?
The New York Stock Exchange is thought to have begun in 1792 as part of the Buttonwood Agreement. The agreement was signed by 24 brokers to set a standard commission rate system and ensure NYSE trading preference was given to other members of the agreement.
What Are The NYSE Non-Trading Days?
The NYSE non-trading days in 2023 are New Years Day, Martin Luther King Jr. Day, Presidents Day, Good Friday, Memorial Day, Independence Day, Labour Day, Thanksgiving and Christmas Day. New Year's Eve (12/31) follows regular NYSE market opening hours. Review these dates on your NYSE brokers' published calendar.