Udemy Review 2023 Review 2023
The complete guide to Udemy stock trading courses. In this review, we explore all that Udemy has to offer aspiring investors. From pricing to course curriculum, registration and format we unpack it all. Suitable for everyone, whether you're interested in intraday trading, stock market trading, forex or crypto. Could Udemy kick start your trading career?
What Is Udemy?
Udemy is an online education platform founded in 2009 by Eren Balim, Oktay Caglar and Gagan Biyani. It was set up to make education accessible to all.
Today (2023), Udemy offers over 183,000 courses, taught by more than 65,000 instructors in over 75 languages. As of June 2021, Udemy totalled 594 million enrolments, educating over 44 million students. The company operates on a global scale and has six offices across the world, including in Gurgoan, India and Dublin, Ireland.
Udemy's course offering is far-reaching, with options from music to design and a wide range of investment-focused courses. So, whether you are looking to get to grips with the basics of day trading or explore swing or options trading for the first time, chances are, Udemy can help. Also, it is not just beginners that stand to gain, the platform covers advanced stock trading, the complexities of cryptos and lots in between. However, it is worth noting that the platform's content is best suited to those with a more basic level of understanding.

How A Udemy Course Works
First, you will need to choose your course. We recommend that you dedicate a chunk of time to this step, finding the right one for you is key to success. Each listing will include a short summary paragraph that gives you a good idea of the content, structure and level of experience required.
Courses tend to be made up of pre-recorded video lessons, the key advantage of which is flexibility. Many of the resources are also available for download, so traders can learn in their own time and at their own pace.
Udemy offers several well-known stock trading courses, the most popular of which is arguably The Complete Foundation Stock Trading Course (2021). Each course will be different but this one offers a comprehensive insight into the basic principles of stock trading, as well as strategies, technical analysis, risk management and short-selling. It is targeted at newbies, which means it is really accessible and feedback from previous students is positive. This is one of the best courses available and, while not all match the quality of insight offered here, it is a good indication of what is available.
Pricing
Udemy trading courses are charged as a one-off payment. Prices vary according to the length of the course, the tutor and the format but are generally competitive. The company also runs frequent promotional offers so that courses can often be purchased at discounted rates.
Some programmes are free but you should expect the quality and depth of insight to be reduced vs the more expensive options. Other courses might offer a free trial, which we always recommend making use of as these are a great way to gauge whether a course is right for you, without having to invest upfront.
Udemy offers discounts to teams of more than 6,000 people.
For reference, The Complete Foundation Stock Trading Course (2021) is £99.99, which gets you 9.5 hours of on-demand video, 32 downloadable resources and full lifetime access to a library of content.
Pros
There are good reasons that we recommend Udemy courses, they have a lot to offer traders, not least:
Accessible
Regularly updated
Taught by experienced professionals
Cover a comprehensive range of topics
Courses are suitable for beginners and adepts
Competitively priced with frequent promotional offers
If you are a novice trader looking to get to grips with the basics or seeking to further your understanding of a specific topic, Udemy could be a great option. For more information about a particular course or subject area, get in touch with the customer support team, who can provide more details.
Cons
Of course, Udemy courses will not be suitable for everyone. If you are an advanced trader with a good level of experience, you might find that many courses offered by the platform are too basic. Other drawbacks to consider are:
No live instruction
Professional traders may find the curriculum basic
Courses tend to focus on principles rather than practical application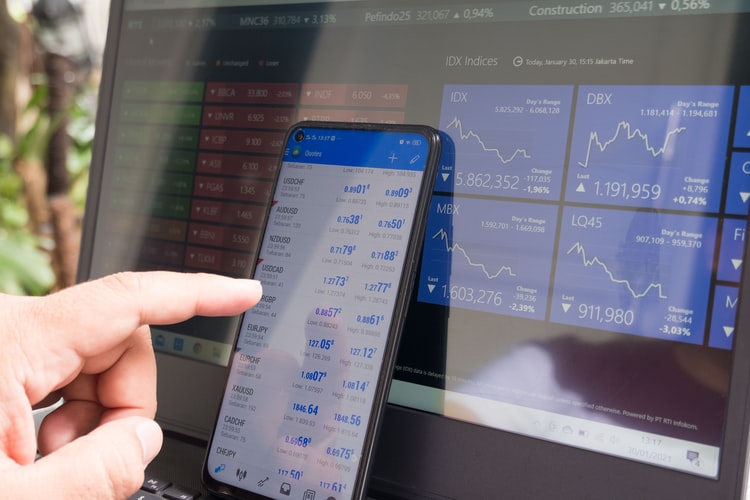 Customer Support
Clients can get in touch with the team at Udemy via email, though no phone number or live chat feature is available. There is also a useful FAQ page and six different website languages. Further information can be found on LinkedIn, Facebook, Twitter and Instagram.
How To Sign Up
To sign up for a Udemy stock trading course, head to the company's website, where you can register for an account and browse course options. The signup process is quick and simple.
Browse programmes using the search bar or drop-down menus. Courses are listed by topic and forex, day trading, cryptocurrency and stock trading courses can be found under the Finance & Accounting tab.
Udemy Verdict
Udemy's wide range of financial trading courses makes for a good starting point in any speculative career. Competitive prices, flexible course structures and a comprehensive curriculum mean that they are amongst some of the best educational resources in the market today. Crypto, stocks, commodities, forex, day trading and lots in between are reviewed, analysed and then applied in a good level of detail, to real markets – there is a lot to learn with Udemy.
Having said that, we would not recommend the courses if you are an advanced stock trader. Generally, the programmes tend to be geared towards beginners and often fall short when it comes to practical application and advanced strategies.
FAQs
Are Udemy Trading Courses Worth It?
Udemy courses are generally comprehensive, priced competitively and easily accessible. Programmes are often discounted and some even offer free trials. If you are a novice to trading, looking to learn more about strategies, markets and day trading instruments, it could be a good option.
I Am An Experienced Trader, Can I Learn Anything From A Udemy Course?
This depends on what you are hoping to get from the course. If you are an experienced forex trader that wants to know more about commodity trading, then absolutely. However, if you are an experienced trader looking to explore advanced stock trading strategies, then Udemy is probably not the right option for you. You may be better off looking at EDX or Coursera.
Which Is The Best Udemy Course For Trading?
Again, this will depend on what you are looking for. For novice traders, we would recommend The Stock Market From Scratch course and The Complete Stock Trading Course, both of which will offer a comprehensive overview of the world of trading stocks.
Does Udemy Offer An Algorithmic Trading Course?
Yes, there are several courses offered by Udemy that cover algorithmic trading. For more information and a full list of programmes, enter the term into the search bar and review the results.
What Are The Best Free Stock Market Trading Courses From Udemy?
Your experience level, time, money and energy that you can invest will influence which course is right for you. We would suggest working out what you are willing and able to apply in your trading education and go from there but The Complete Foundation Stock Trading Course might be a good place to start.
Udemy is a global education provider with courses that extend throughout the day trading and investing industries, covering all major asset classes with helpful, flexible content.