Debit Card Brokers 2022 - Which Brokers Accept Debit Card?
Debit card transactions are a popular method for making trading account deposits and withdrawals, taking the place of the cumbersome wire transfers of old. Debit cards are accepted by most brokers and retailers and are offered alongside most bank accounts, producing an efficient and accessible infrastructure. Read on to discover the security, speed, pricing and advantages and disadvantages of debit card payments, as well as brokers offering prepaid cards. We have also listed the top brokers accepting debit cards below.
What Is A Debit Card?
Debit cards are payment cards with 16-digit card numbers, expiration dates, a magnetic strip and an EMV chip. They are considered to be a convenient way to make purchases in stores or online and the same goes for online transactions with brokers. Debit cards are often provided with most bank accounts and you spend money with them, which is deducted from your account.
As well as convenience, a debit card offers many consumer protections, especially when issued by major payment processors like Visa or Mastercard. Visa, in particular, is accepted by most forex brokers in more than 200 countries across the world, working with all major currencies. Visa can also handle unlimited deposit amounts.
While standard debit cards are linked to your current or savings account, two types of debit card can be issued without a bank account: prepaid debit cards, where users can make purchases using money preloaded on the card (much like a gift card), and EBT cards (Electronic Benefit Transfer), issued by state and federal agencies in the US and allowing users to use benefits to make purchases.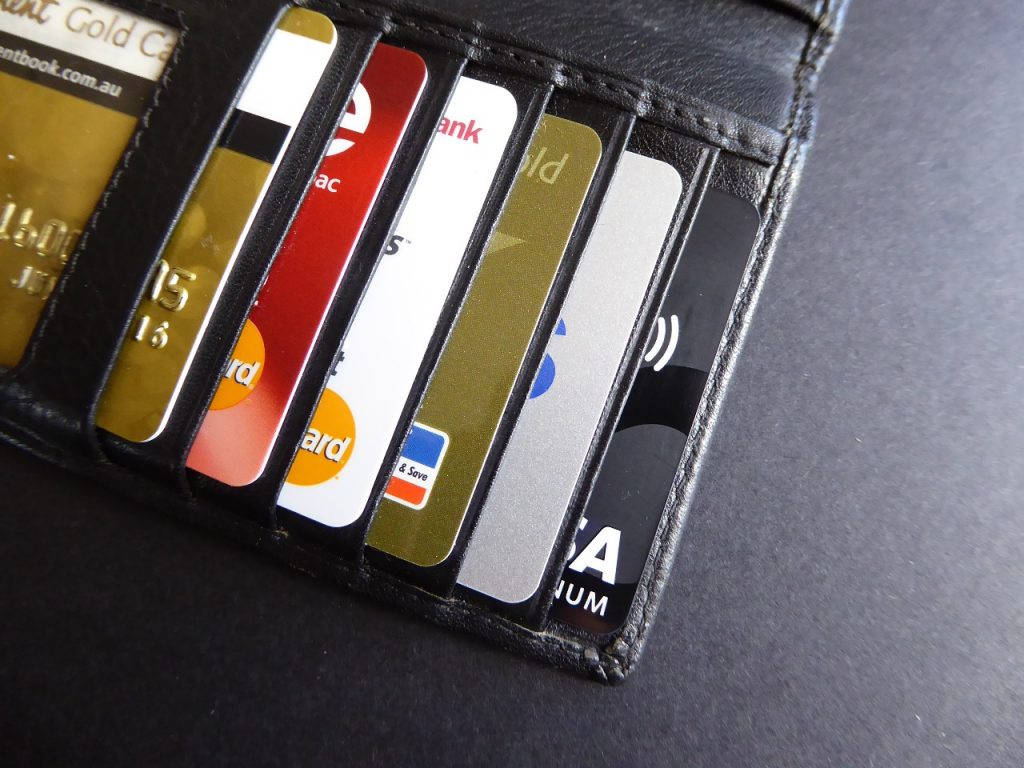 Debit Card Vs Credit Card
The difference between a debit card and a credit card is that the former contains existing cash by definition. Debit cards allow you to spend the funds that you have deposited in your account. On the flip side, credit cards allow you to borrow funds from the card issuer—a financial institution like HSBC bank—up to a certain limit. Credit cardholders must then pay the money back to the institution with added interest.
Both credit and debit cards provide their users with unbeatable convenience and protection, though credit cards offer better protection against fraud than debit cards linked to a bank account thanks to their ability to cancel a payment. There are often no fees for using a debit card (other than overdraft fees), whereas a credit card can charge annual fees, over-limit fees and late payment penalty fees.
There are some other benefits of using a credit card as opposed to a debit card, including building a credit history as well as purchase and fraud protection. However, debit cards are safer than credit cards in terms of your spending. With a debit card, you are spending your own money rather than racking up debts with money that is not yours.
Fees
Setting up a bank account that will give you access to a debit card is usually free. Some prepaid debit cards may charge a monthly fee or a small, one-off issuance fee.
Compared to other payment methods, debit card transaction and merchant fees are relatively inexpensive, especially in the UK. You can usually expect to pay a small percentage of the trade amount or a flat fee of around £2.
However, some brokers may charge small performance markup fees. Plus500, for example, charges fees for international debit card transactions, while FP Markets does not charge for deposits or withdrawals. When choosing a broker, it is often wise to pick one that has low transaction fees as this can add up if you're making multiple transactions in one day.
Speed
Paying by debit card is one of the fastest payment methods out there, not least because everyone has their cards on them in their wallet most of the time and therefore they are readily accessible to traders on the go.
Funds transferred into an account via debit card are usually instant, a trader could deposit money at 08:00 and have opened a position by 08:05. Traders can then usually withdraw the profit just as quickly. Using an alternative payment method may take a couple of days.
If not immediate, debit card payments are usually processed within 48 hours. However, some transfers can take up to 5 working days.
Withdrawal times will vary between different brokers but, generally, they can be as quick as for deposits. FP Markets estimates that its withdrawal time is around one business day while Plus500 states that funds will be received in the debit card account according to the bank's processing time only.
Security
Most brokers will require you to verify your debit card, making it a safe method to deposit funds into your trading account. It is generally a good rule of thumb to use a debit card broker with high levels of security, including two-factor authentication (2FA).
All funds deposited by debit card into a trading account must originate from an account in the same name as the trading account holder. This ensures greater security and limits money laundering opportunities. This prohibits you from making deposits or withdrawals from a corporate card or friend's card.
Broker-Issued Debit Cards
While online brokers are primarily known for buying and selling stocks and other financial instruments, some also offer prepaid debit cards and checking accounts.
Prepaid Debit Cards
These cards are funded using money in your trading account and allow almost immediate withdrawal of profits with low fees, also providing some personal privacy.
For example, in October 2020, Coinbase launched its Visa debit card, which allows cryptocurrency to be used for online and in-store purchases. The Coinbase card allows users to earn up to 4% back in Stellar Lumens (XLM) or 1% in Bitcoin (BTC). Other companies providing crypto debit cards include Binance, Crypto.com, Cryptopay and GlobaliD, which launched its XRP debit card in August 2021.
A bonus is that broker debit cards can also be used to make online purchases and ATM cash withdrawals.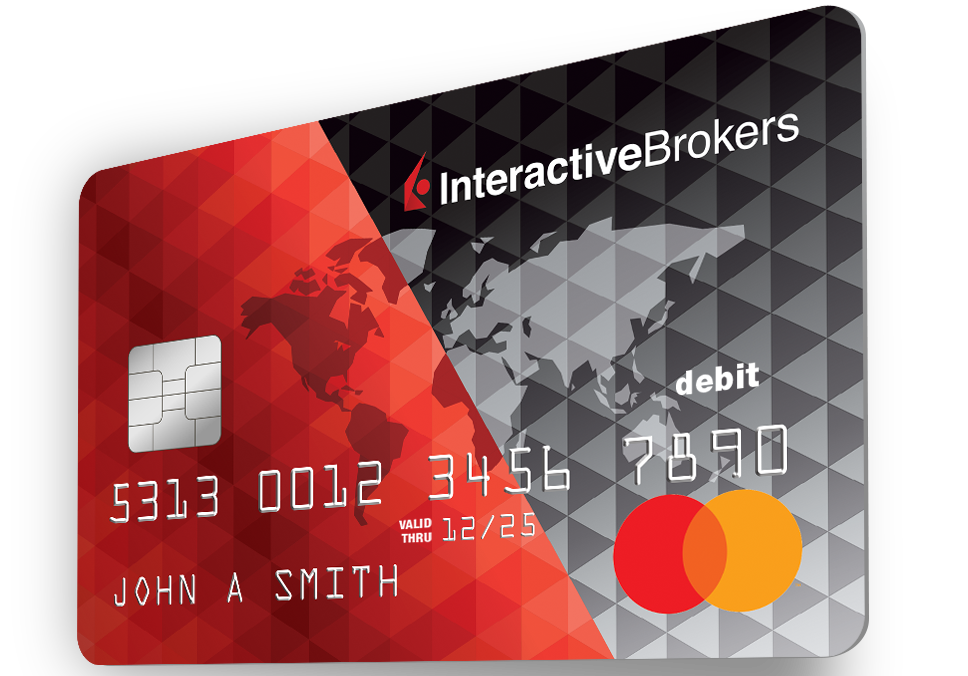 Brokerage Checking Accounts
Some brokerages like TD Ameritrade offer checking accounts that come with a debit card, mobile banking, online payments and ATM access.
Some brokerage checking accounts have similar features to checking accounts at banks but may have additional benefits like cash machine withdrawal reimbursement and zero foreign interchange fees.
The advantages of setting up a brokerage checking account are that they don't have a minimum balance and some accounts may partner with multiple program banks to offer more insurance. However, brokerage accounts don't offer all the services that a traditional bank does and generally offer a lower annual percentage yield (APY). Also, brokerage accounts don't have cash-handling employees in physical locations.
How To Make Debit Card Deposits/Withdrawals
First things first, you need to choose a broker that facilitates the use of a debit card, as there are some restrictions in some countries. Key things to look out for are the assets offered, pricing structure and trading platforms. It is often also a good idea to choose a regulated broker for security and insurance purposes. A full guide to selecting the right broker can be found here.
Following that, you need to head to the relative broker's website or app and go to your account's payments or deposits page. Here you can choose whether to deposit or withdraw funds from your account.
When making a deposit, you need to specify the amount you wish to pay in, select debit card as your preferred payment option and enter your details. Bear in mind that this is essentially a cash card, so do not deposit more money than is in your account as you may incur overdraft charges.
The same method goes for withdrawing funds, except you will only be able to withdraw funds that are currently available in your trading account.
Pros Of Using Debit Cards For Traders
Trading with brokers that accept debit card payments has many advantages:
Ubiquitous Method – paying by debit card is one of the easiest ways for traders to fund their broker account. Unlike bank and wire transfers, there are no restrictions or limits on the transfer of foreign currency.
Fast Method – before debit cards, investors would have to fund their trading accounts via bank or wire transfer, which was slow and subject to a lot of paperwork. Using a debit card is much quicker and convenient for traders on the go, especially as you can store your card on your phone via Apple Pay or Google Pay.
No Debt – as debit cards use the cardholder's own funds, there's no risk of building up debt that will need to be paid back. When trading, this can discourage you from impulsively spending more money.
Security – debit cards, especially those issued by Visa and Mastercard, offer plenty of security to holders, including fraud protection.
Low Fees – most reputable brokers charge very little to use a debit card, particularly popular types like Visa and Mastercard.
Accepted Everywhere – virtually every online vendor in the world will accept debit card payments, including trading brokers.
Easy To Sign Up – most major banks offer debit cards with their accounts as standard. If you don't want to sign up for a bank account, you can use a prepaid debit card.
Free Transactions – the majority of debit card accounts allow you to send and receive money for free. This is specific to each bank or financial institution but usually, money transfers are free. This may not be the case for all prepaid debit cards.
Chargeback – when using a debit card, some traders have had issues with brokers forcefully taking deposits on cards whose details have been stored on file. With chargeback, a trader can get this refunded if the transaction is disputed.
Refunds – if you wrongly fund your trading account with a debit card, it should be relatively straightforward to refund your card.
Cons Of Using Debit Cards For Traders
As with all payment methods, there are some disadvantages to using a debit card when trading:
Not Great For Big Purchases – debit cards are great for small transactions but not so much for bigger ones as the money needs to be in your account immediately. Conversely, credit cards can be treated like a loan that is paid back gradually, supporting much larger deposits.
No Rewards – unlike credit cards, having a debit card will not earn you any points or rewards like cash back unless it is a broker issued prepaid debit card.
Not Anonymous – by linking your debit card to your online broker account, you are potentially sharing financial information. Be sure to pick a regulated broker for maximum security.
Final Word On Debit Card Transactions
The rise of the debit card when funding and withdrawing from a trading account has been somewhat of a blessing to investors and day traders. As explained, using a debit card is much easier and faster than a bank or wire transfer and it offers more security, especially if your card is a Visa, Mastercard or American Express. Some brokers now offer prepaid debit cards, making the process even more streamlined between payments and funding your account. Ultimately, it is a fast, secure and cheap payment option for traders.
FAQs
What Is A Debit Card?
A debit card is a payment card that can be used instead of cash to make purchases in-store and online. The money is usually deducted out of your bank account unless you are using a prepaid debit card, which is loaded with independent funds.
Are There Any Deposit Or Withdrawal Limits Using A Debit Card?
Deposit and withdrawal limits can vary from vendor to vendor and are usually outlined on the deposit page next to the debit card payment method. Some prepaid debit card services may put a cap of €5,000 on withdrawals. For example, eToro has a minimum deposit of $50 and a maximum of $40,000 on a debit card. There is no limit on the number of stocks you can purchase with a debit card, other than the limit imposed by the money in your account or on your prepaid debit card.
What's The Difference Between A Debit Card And A Prepaid Card?
Broadly speaking, prepaid cards are the same as debit cards. The difference is that debit cards are linked to your bank account but prepaid cards need to be topped up with independent funds.
Are My Funds Safe With Debit Cards?
From a security perspective, using a debit card is one of the safest payment methods as it offers a lot of protection. Your trading funds aren't at risk and as you're using your own money, the only debt you could find yourself in is your overdraft and associated fees. However, linking your debit card to your trading account may require you to share more private information.
Which Brokers Accept Debit Card Payments?
There is quite an array of brokers that will accept debit cards to deposit and withdraw funds from your trading account. Pepperstone, FBS, Plus500 and eToro are some of the top brokers we would recommend that accept debit cards.