Wire Transfer Brokers 2022 - Which Brokers Accept Wire Transfer?
A bank wire transfer is a payment method used for domestic and international money transfers from one bank to another, supported by the likes of Barclays, Bank of America, NatWest, and Santander. But before you login and make a deposit, there are several factors to consider, including the time it takes to transfer cash into your trading account, fees you may have to pay, plus any minimum and maximum transfer limits.
In this guide, we list the best brokers that accept wire transfer deposits in 2022. We also run through the pros and cons of funding your trading account with bank wire transfers.
Wire Transfer Brokers
OANDA offers 70 forex pairs with two competitive pricing models and a substantial welcome deposit bonus

OANDA Corporation is regulated by the CFTC/NFA. OANDA is a member Firm of the NFA (Member ID: 0325821). CFDs are not available to residents in the United States.

Forex.com boast a global reputation. Regulated in the UK, EU, US and Canada they offer a huge range of markets, not just forex, and offer tight spreads on a cutting edge platform.

NinjaTrader offer investors futures and forex trading. Use auto-trade algorithmic strategies and configure your own platform while trading with the lowest costs.
Wire Transfer Overview
Wire transfer services were originally launched in 1872 by Western Union when the existing telegraph network was used to transmit a money transfer message to another telegraph office. In just five years, almost $2.5 million was being transacted each year.
The modern wire transfer works by passing payment instructions from a sending account to a receiving account through a secure online system, such as SWIFT or Fedwire. Funds are then deposited and normally settled within two business days for international transfers and within a few hours for domestic transfers.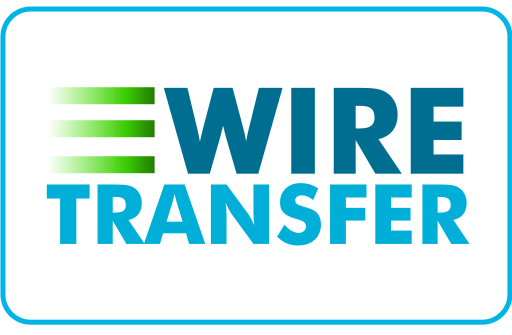 Pros Of Trading With Wire Transfer
Accepted Globally
Wire services are supported globally and are ideal for traders based anywhere in the world. They are also administered by hundreds of reputable financial institutions, including HSBC, Lloyds Bank, Metrobank and Nationwide, as well as online fintechs such as Monzo, Revolut and Starling Bank.
You can find your regional locations by typing into Google "wire transfer near me".
Offered By Most Brokers
As bank wires are so widely used around the world, traders will have no problem finding a broker that supports the deposit method. In fact, some of the top wire transfer brokers include XM, ETrade, eToro, Interactive Brokers, and Coinbase.
Fast
Wires are sent and received in real-time and are usually processed within two business days for international payments (ie: from UK to USA, Canada to UK, or even India to UK) and within a few hours for domestic transfers. Make sure to check with your broker where their receiving bank is located, as this can also affect processing times on their side.
Transfer Options
Wire transfers are normally flexible and can be done using a credit card, over the phone, or in-person at your post office or bank.
Note that a wire transfer using a credit card may incur higher fees.
Money Transfer Apps
Money remittance apps have become increasingly popular among traders for their convenience, security, speed and global reach. For example, PayPal and TransferWise can facilitate quick transactions to a wide range of countries, including Canada, Kenya, Egypt, Jamaica and India.
Relatively Safe
Brokers that accept wire transfer deposits are usually safe, as long as you know and trust the receiver. Legitimate wire services will require both parties to prove their identity, so it is important for traders to choose trusted and regulated brokerages who are both transparent and accountable.
Transfer Tracking
Most financial institutions will have tools that allow senders to apply tracking information to a transaction. You can contact customer support at your respective remitting bank or money transfer service if you have any questions. This provides an additional layer of security.
The best wire transfer brokers also have helpful customer support teams that can advise on payment queries.

Cons Of Trading With Wire Transfer
Broker Processing Times
Domestic payment systems such as Automated Clearing Houses (ACH) are processed within 24 hours. However, foreign systems must clear the domestic system as well as the foreign equivalent, therefore adding an extra day to the processing time. In addition, trading brokers will also have their own processing times, sometimes taking up to 7 days for funds to appear in your trading account. Withdrawals can be even longer.
Fees
There is usually a cost to initiate both domestic and international bank wires, which can be high even if you are only depositing a small amount. Therefore, bank wire transfers tend to be more cost-effective for experienced traders who want to deposit or withdraw large amounts of money.
Note that there may also be additional service fees charged by your broker as well as exchange rate fees. For example, sending money from the US to UK could cost you $45-50 plus any other currency conversion and broker fees.
Not Reversible
As a bank wire is processed immediately, it is not possible to reverse a payment or request a chargeback if, for example, the sender or trader has provided the wrong recipient address. This is particularly attractive for scammers who can claim the funds and disappear before the sender even realizes the money has gone missing. This also demonstrates why it's important to open a trading account with a trusted broker.
Weekend Delays
Whilst you are free to use the service at the weekend, there is no guarantee that your broker will also receive the funds at the weekend. This usually means that money wired on a Friday or Saturday is not received until the start of the following week.
Payment Speed
It only takes a few minutes to set up and initiate a wire, but bear in mind that international transactions may take a few days to be received by your broker and then released to your trading account.
It may also take several hours for domestic transfers to show in your broker's account, plus any additional processing times on your brokerage's side. For example, an ETrade wire transfer out can take three days, whereas FXTM can take up to five days.
Note that financial institutions may also have cut-off times for sending money on the same business day. For example, same-day transmissions are not possible after 5 pm ET at Bank of America and online at Wells Fargo.
The time it takes to receive your money can also be affected by limits imposed by online brokers. Higher amounts might require additional identity verification or security checks. As such, these transactions will take longer to process.
Wire Transfer Security
Wire transfers are generally very safe, as long as the receiving party, such as a trading broker, is a trusted entity. Information is transmitted through encrypted connections, which may differ depending on your banking or money transfer service.
In terms of regulations, some nations do have stringent policies in place that provide protection against money laundering activities and terrorist funding, including the Office of Foreign Assets Control in the USA and the Wire Transfer Regulation (WTR) in the UK and EU. Organizations like this collect information on transfers over $3,000.
In the US, traders that wish to receive more than $10,000 in one lump sum from the same payer must file Form 8300 to the IRS. So for big amounts, check with your local authority to make sure you comply with regulations.
In cases where there is suspicious activity, the sending bank has the authority to freeze funds and stop the transfer. Whilst this does provide a good level of safety, traders should also ensure that their brokers have measures in place to protect clients.
Investors should also be aware of broker scams where they request a hefty minimum deposit via wire order to open an account. This is often alongside other red flags such as a poorly written website, no transparency around company information and unrealistic trading conditions.
Deposits & Withdrawals
The wire transfer process is fairly simple. Look out for the logo at your broker and make sure to check any minimum or maximum limits, both with your bank and your trading platform. Usually, bank and payment service transfer limits are generous (i.e. up to 1 million dollars at TransferWise and $250,000 per business day at Chase Bank).
Once your broker has provided you with the payment details and a wire transfer receipt, enter the information into your bank's transfer form, along with the amount, beneficiary address and postal zip code, as well as the purpose of payment. Depending on where you reside or where you're transferring to, you may need to provide a routing number or a SWIFT code. Once the transfer is complete on your side, you will both receive a confirmation.
The withdrawal process can vary depending on the broker, but traders usually need to fill out a withdrawal form to request a bank wire transfer.
Wire Transfer Fees
Domestic and international wire transfers can be costly. For example, in the US, the online domestic transfer fee at Bank of America and Discover Bank is $30. In the UK, the transfer fee with HSBC is £5 for transfers in another currency than GBP. In Australia, domestic transfers are generally free but international transfers can cost up to $30, plus the foreign exchange margin.
Whilst some brokers do also charge their own fees, many cover the cost of deposits and withdrawals, including XM, FxPro and FP Markets.
Is Wire Transfer A Good Choice For Traders?
Despite growing competition with e-wallets, bank wire transfers are still the preferred option, particularly among professional traders who transfer larger sums using a credit card, bank account or money transfer app. International and domestic transfers are also safe, especially to and from jurisdictions that are backed by robust regulations. The main downsides are the fees involved with a wire transfer, as well as the time it takes for funds to clear in your trading account.
Use our list of brokers that accept wire transfer deposits to start trading today.
FAQ
What Is A Wire Transfer And How Does It Work?
A wire transfer is a popular electronic payment method that involves sending a transmission from one bank to another. Wire transfers can be carried out domestically or internationally, including to trading accounts.
Are Wire Transfer Deposits Safe?
Wire transfers are usually fairly safe, as long as the sender trusts the recipient. With this in mind, traders should ensure that they are investing with a reputable and secure broker.
Are Wire Transfers Free?
A wire transfer can cost money, whether it is domestic or international and regardless of how much money you are sending. SWIFT fees, for example, are usually priced at 3-4% of the total amount. By definition, wire transfers are expensive due to handling charges (shipping fees) between banks and currency conversion fees (if sending money internationally).
Does Wire Transfer Work On Weekends?
Generally, a wire transfer will go through on a Saturday from the sender's side, but clearing times on the recipient's side tend to slow down at the weekend. Time frames also vary depending on the receiving bank and broker. For example, if your bank is shut on weekends it may take until Monday to receive your funds.
Do Wire Transfer Trading Deposits Take Long?
International wires can take up to two days to be processed, whilst domestic transfers are usually received within a few hours. Note that brokers will have their own processing time frames, sometimes up to seven days.
How Do I Wire Transfer Online?
You can wire transfer to your trading broker by signing into your online banking and initiating a payment using a transaction form. You will need the beneficiary address details, transfer amount and reference, as well as a SWIFT or routing number if applicable. You can also send money to yourself (to another bank account you own).
Can A Wire Transfer Be Cancelled?
It cannot be recalled once it has been initiated at your bank; meaning you need to make sure you are sending to a reliable recipient and that you have entered the transfer details correctly. This is particularly true when multiple scam brokers operate in the retail trading space.
Wire Transfer Vs. Direct Deposit, What Is The Difference?
Wires are used for making local and international transfers between bank accounts, while direct deposits are suitable for regular domestic payments. Both can be used to deposit and withdraw to online trading accounts.
Wire Transfer Number Vs. Routing Number, What Are They?
A wire number is needed when making a Swift payment, for example. However, a routing number is an additional number that you must provide when sending a bank wire. Sometimes a routing number might not be necessary, so check with your broker to make sure the payment details are correct.