Best Apple Pay Brokers 2023
Apple Pay is a low-cost, fast and secure payment gateway used by millions around the world. A popular and convenient way to pay for shopping, public transport, grocery trips, and increasingly, retail trading accounts. Its widespread popularity can, in part, be attributed to its straightforward setup, accessibility, and low fees. But with broker integration still limited, in this review, we explore its true merits for online trading, from getting started to fees, security and processing speeds. We also list the best trading brokers that accept Apple Pay deposits in 2023.
Apple Pay Brokers
These are the 5 best brokers that accept Apple Pay deposits and withdrawals:
#1 - Interactive Brokers
Interactive Brokers is a leading global brokerage that provides access to a comprehensive offering of stocks as well as forex, futures, metals, bonds and cryptos. The firm has over 40 years experience in the online trading industry and is heavily regulated by SEC, FCA, IIROC, and SFC. Day traders can use the proprietary Trader Workstation and can access powerful tools and data feeds as well as comprehensive educational resources.
"Experienced day traders seeking a regulated broker with sophisticated trading software and very low fees should look at IB. Their range of stocks also can't be beaten."

- DayTrading Review Team
Instruments: CFD, Forex, Stocks, Crypto, Futures, Options, Commodities
Regulator: SEC, FCA, IIROC, SFC
Platforms: AlgoTrader, OmniTrader, eSignal, TradingCentral
Min. Deposit: $0
Min. Trade: $100
Leverage: 1:50
Pros
Commission reimbursement with Toggle AI
You have a reliable real-time market data feed, that rarely goes offline
Proprietary Trader Workstation comes with powerful tools and charting capabilities
Cons
Platform and web interface are complex and difficult for beginners to pick up
The TWS platform falls short in terms of technical charting
Accessing products like CFDs is not straightforward compared to competitors
#2 - CEX.IO
CEX.IO is one-stop-shop for crypto investors where you can buy and sell popular digital tokens, speculate on prices with margin trading and earn rewards through staking. Since it launched in 2013, more than five million traders have deposited over $7.5 billion. CEX.IO is registered with the FinCEN in the US and the GFSC in the EU.
"CEX.IO will serve a range of crypto investors looking to buy, sell, trade, hold and earn. The tiered pricing structure will appeal to active traders while rookie investors will enjoy the straightforward platform interface and excellent education."

- DayTrading Review Team
Instruments: Crypto
Regulator: GFSC
Platforms: TradingView
Min. Deposit: $20
Min. Trade: $1
Pros
200+ cryptocurrencies including Bitcoin
High quality educational materials through the University
Low pricing with 0.01% taker and 0% maker fees for high-volume traders
Cons
High deposit and withdrawal fees
No demo account
Cluttered interface on Exchange Plus
#3 - World Forex
World Forex is an offshore broker registered in St Vincent and the Grenadines, offering commission-free trading with a $1 minimum deposit and 1:1000 leverage. Digital contracts are also available, offering beginners a straightforward way to speculate on popular financial markets.
"World Forex provides both highly leveraged CFDs and digital contracts, making this a good broker for clients who want flexible and rewarding ways to trade. The copy trading service will also appeal to newer traders."

- DayTrading Review Team
Instruments: Forex, CFD Stocks, Metals, Energies, Cryptos, Digital Contracts
Regulator: SVGFSA
Platforms: MT4, MT5
Min. Deposit: $1
Min. Trade: 0.01 Lots
Leverage: 1:1000
Pros
A wide range of assets to trade, including via digital contracts
Demo account
MT4, MT5 and a proprietary trading terminal
Cons
No negative balance protection
Weak regulation
Withdrawal fees apply
#4 - Revolut
Revolut is a popular financial app that also offers trading on stocks, metals and digital currencies. The brand has over 25 million users worldwide with a choice of accounts, tools and services to suit different needs and budgets, including online investing and currency exchange.
"Revolut is suitable for casual stock traders looking for an easy-to-use app with transparent fees and a low minimum investment."

- DayTrading Review Team
Instruments: Stocks, Cryptos
Regulator: FINRA, SEC
Platforms: Own
Min. Deposit: $0
Min. Trade: $1
Pros
No inactivity charge
Good range of account types with different perks and fees
Beginner-friendly mobile investing application
Cons
Relatively narrow product range
No margin trading
No advanced trading platform
#5 - Coinmama
Coinmama is a popular cryptocurrency exchange that aims to provide streamlined and user-friendly cryptocurrency trading options to the retail market. Traders can buy a range of tokens via a fiat on-ramp, store their tokens in a third-party wallet and earn loyalty bonuses for trading with Coinmama. Millions of clients from over 180 countries have signed up to the firm.
"New crypto investors looking to buy and sell popular tokens like Bitcoin with fiat currency will appreciate Coinmama. We particularly rated the loyalty program as a way to reduce fees."

- DayTrading Review Team
Instruments: Cryptos
Regulator: FinCEN, FINTRAC
Platforms: Own
Min. Deposit: $30
Min. Trade: $30 to buy, $100 to sell
Pros
Diverse methods to buy crypto with fiat including e-wallets, SEPA, bank transfers and SWIFT
Used by more than 3 million crypto investors
Save on fees and commissions with larger deposits
Cons
Limited wallet compatibility vs MetaMask
No direct crypto trading – clients must first purchase BTC or ETH
Poor selection of cryptocurrencies compared to competitors
About Apple Pay
Apple Pay is a digital wallet that permits contactless payments using near-field communications (NFC) technology. Users can store their debit or credit card information on their Apple device(s) and can access funds in just a few simple clicks. Payments can be made on all iPhone, iPad, Mac, and Apple Watch devices (list of compatible devices provided below).
Apple Pay was launched in the US in 2014 and was subsequently rolled out internationally a year later. In 2022, there are over 500 million users worldwide with that number expected to continue to grow. The digital wallet is accepted by millions of retailers worldwide, with key websites including Amazon, Tesco, eBay, Uber (including Uber Eats), Zara, and KFC integrating it into the payment options offered. In addition, an increasing number of trading brokers are now accepting Apple Pay deposits and withdrawals.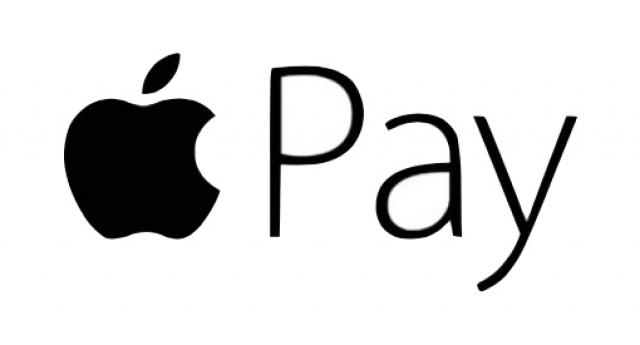 When we compare Apple Pay vs competitors such as Google Pay and PayPal, the former's market share is much greater at close to 54%. The majority increases up to a whopping 92% when looking at total mobile wallet transactions. For the time being, its usage and general integration are unrivaled, which bodes well for future growth in retail investing.
Fees
The payment solution is supported by several US, UK and global banks including HSBC, Yorkshire Bank, Halifax and Barclays. These banks, like most, do not charge fees for using the Apple wallet.
Typically, trading brokers do not charge for depositing and withdrawing with Apple Pay. There are exceptions such as Trading212 which charges 0.7% on deposits less than £2,000. However, this fee is not specific to Apple Pay. Other brokers such as FreeTrade and TD Ameritrade do not charge to deposit. As the digital wallet continues to be integrated by online brokerages, fee policies may change so it is worth checking the latest information on our reviews.
Some third parties, such as a credit or debit card provider, may charge an additional transaction fee. Always check the terms of the platform or provider you are using.
There is also a 3% transfer fee when transferring money from Apple Pay to a credit card.
Speed
Set Up
The process for adding a credit or debit card to your Apple Pay wallet takes just a few minutes. Simply select the wallet icon on your device and then add a card in the drop-down menu.
From there, users can then link Apple Pay to their trading account through the Funding Methods tab on the broker's website or app. The brokerage will have to offer Apple Pay as an accepted deposit method in order to use it.
Payments
Apple Pay transactions are usually deposited instantly. However, processing times may vary between brokers. Additional checks and processes can be added by third parties which can delay receipt.
Refunds typically depend on the broker or merchant's refund policy. Visit their website for full terms and conditions.
Privacy & Security
Apple Pay security protocols are robust. So much so, that buyer protection using the digital wallet is thought to be greater than traditional plastic cards. Users are protected at all stages throughout the payment cycle against scams and fraudulent activity.
Verification
When adding new cards to your wallet, users are required to have completed the verification process. Without doing so, you are unable to gain access to the device or wallet. Traders will be required to provide a contact number where they will receive a verification code either via text or iMessage (this won't work with a limited signal).
If there is an error with the code or your phone number is invalid then the payment method will be declined. Customers can ring an Apple help number to arrange a verification call back with your bank or contact customer service online via a support email address. Apple won't permit a new card to be added to your wallet without completing verification.
Login
The login process is also secure. Simply login in to your chosen device using either face ID, a secure passcode or a fingerprint. From there you can navigate to the wallet icon which should be visible on your homepage.
The wallet's drop-down list securely stores recent transaction history and monthly subscriptions but does not share card information with merchants and trading brokers.
Emergencies
If your device is stolen or lost, payments can be frozen by logging into your iCloud account or putting it in 'lost mode'. Apple Pay permits a contactless transaction spending limit above £45 in the UK, for example (which is the maximum for contactless card payments), however, these transactions cannot be guaranteed without an approved face ID.
Note: users also benefit from Stripe functionality such as APIs. It's also worth considering the security protocols and safety measures used by your trading broker.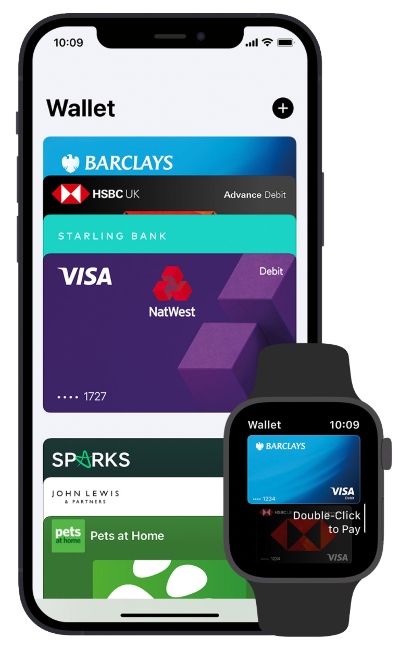 Deposits & Withdrawals
Before you can start using Apple Pay to fund your trading account, there are a few simple steps to complete:
Check Your Account Balance
Apple Pay does not hold any money. It is a payment processing interface that allows you to access funds held in a bank account and use them at a payment portal. Therefore, linked cards must hold funds or have access to funds in order to make a deposit into a trading account.
Add Your Card
Before you can deposit into your trading account you will need to add a card to your wallet. This can be done by scanning or manually inputting your card number. All traditional bank cards are accepted as well as Monzo and Revolut. The wallet provides a shortcut to remove a card, set a default card, or update card info. Multiple cards can be added.
Deposit Your Funds
Once your cards have been added and verified, you are ready to deposit into your trading account. Most Apple Pay deposits and withdrawals are instant, however, specific broker processing times may vary so check the company's website. Deposits and withdrawals can be made either on a broker's website or a mobile app.
Outside of the standard Apple Pay guidelines, brokerages may also require additional information or further identification before you can fund your account using the wallet. There may also be minimum and maximum amounts traders can deposit or withdraw at online brokers. Head to the trading platform's website for more information on limits and verification processes. Alternatively, see our list of top Apple Pay brokers for details.
Note, most brokers offer a demo account that traders can utilize before putting their capital at risk.
Pros Of Trading With Apple Pay
There are many benefits to using Apple Pay, these include:
No fees
No daily limit
Automatically installed for free on Apple devices
Growing list of trading brokers that support Apple Pay deposits
Secure with multi-level verification process including face ID for each transaction
Deposits and withdrawals are instant but may be subject to broker processing times
Can be used to purchase cryptos such as Bitcoin (BTC) or Ripple (XRP) through sites such as Coinmama
Cashback with Apple Pay is available if traders sign up to the Apple Card for Apple-related purchases
Most traditional banks support Apple Pay as well as newer banks such as Monzo with no payment plan required
Cons Of Trading With Apple Pay
There are a few drawbacks to Apple Pay:
Not available to traders with Android devices
Although increasing, trading brokers that accept the digital wallet are still relatively limited
Traders in India and Zimbabwe cannot use the payment method. Qatar only recently began accepting payments
List Of Compatible Devices
The following iPhone models support Apple Pay:
iPhone 6, 6s, 6 Plus, 6s Plus
iPhone SE
iPhone 7, 7 Plus
iPhone 8, 8 Plus
iPhone X, XR, XS, XS Max
iPhone 11, 11 Pro, 11 Pro Max
iPhone 12 mini, 12, 12 Pro, 12 Pro Max
iPhone 13, 13 Pro, 13 Pro Max
It is also available on iPad, iPad Pro, iPad Air, iPad, and iPad mini models as well as the Apple Watch Series 1 through to 7 and Macbook models with touch ID. If it won't let you add a card, or if you have any issues updating cards, contact the customer care team who are famously knowledgeable.
Is Apple Pay A Good Choice For Traders?
Apple Pay offers a cheap, quick and straightforward deposit and withdrawal method for traders. It also provides users with a high level of security throughout the payment process. For traders with an Apple device that are looking for a convenient way to make regular deposits, it could be a good option.
One key drawback is its limited integration with brokers. Only a select few brokerages currently accept Apple Pay deposits, However, with retail investing on the rise and the popularity of Apple devices unlikely to diminish anytime soon, there is an expectation that integration will grow.
FAQ
Is Apple Pay Safe And Secure?
Yes, Apple has a built-in level of security at each stage of the transaction. This includes the login process, adding a new card, and at the point of paying or making deposits to trading accounts.
Is Apple Pay Limitless?
Apple Pay payments are unlimited however brokers may cap the maximum amount that can be deposited or withdrawn. In addition, brokerages may limit the number of transactions that can be requested over a specific period. If a payment won't work, check the broker's terms.
Is There A Monthly Fee For Apple Pay?
Apple Pay is completely free. There are no monthly fees. Any fees that are applicable are issued by a third-party such as a credit or debit card provider, or by the platform or merchant. Most brokers offer free Apple Pay deposits.
Is Apple Pay A Digital Wallet?
Yes, Apple Pay is a digital wallet. It can store several cards for quick access for the purpose of making payments. No physical cards are required to process a transaction and card information is encrypted.
Is Apple Pay Safer Than PayPal?
Apple and PayPal take a different approach to security but both are considered safe. Apple Pay is a digital wallet that uses a multi-layered, fully integrated security system, whereas PayPal stores card information in a digital vault. It is thought that both of these options are safer than credit or debit cards.