Fidelity Review and Tutorial 2021
Traders in United States welcome
Fidelity Facts & Figures

Fidelity offers stock, ETFs and mutual funds to clients based in the US, Europe and Asia.

Awards
• Boring Money Best Buy 2021 – Pension
• Boring Money Best for Beginners Pension 2021
• Boring Money Best for Beginners ISA 2021
• Boring Money Best for Low - Cost Pension 2021
• Online Personal Wealth Awards - Best Retirement Adviser 2021
• Shares Awards 2020 - Best Execution-Only Stockbroker of the Year
Bonus
None
Instruments
ETFs, Mutual Funds, ISAs, Pensions, Stocks, Indices
Demo Account
No
Min. Deposit
£25
Payment Methods
Credit Card, Mastercard, Visa, Wire Transfer
Min. Trade
£25
Regulated By
FCA, SEC
MetaTrader 4
No
MetaTrader 5
No
cTrader
No
STP Account
No
ECN Account
No
DMA Account
No
Mobile Apps
Fil Mobile App
Margin Trading
No
Auto Trading
No
Social Trading
No
Copy Trading
No
Trade Signals
None
Islamic Account
No
Account
Currencies
USD, GBP
Risk Warning – Your capital is at risk
Fidelity International is a financial services company offering investments in funds, stocks and shares through ISA and pension vehicles in the UK, EU and Asia.
In the US market, Fidelity Investments allows active trading on stocks, ETFs and options. In this comprehensive review, we cover what services Fidelity offers, the trading platform available, instruments, the Fil Mobile app, fees, account types, security, and customer service. Plus, our pros and cons section will help you work out if Fidelity is right for you.
Fidelity Headlines
Fidelity was founded in 1946 by founder, Edward C Johnson, and was originally named Fidelity Management & Research (FMR). The firm was based in Boston, Massachusetts, offering financial services to US-based clients. In 1969, the company decided to branch out globally, creating Fidelity International which served investors from the UK, EU and Asia.
Nowadays, the companies are independent businesses operating as private companies. They each offer slightly different services depending on the jurisdiction you trade from. US clients will be directed to the Fidelity Investments site, and international clients, including those in the UK, Germany, Hong Kong, Japan and Taiwan will trade with Fidelity International.
Why Fidelity?
Fidelity is marketed at investors of all experience levels. Being one of the largest ETF and share brokers worldwide, it offers a wealth of resources for those new to the scene. In particular, the Select 50 recommended funds list is a great place to start for investors looking to narrow their search. The firm also offers regular market insights and sentiment articles, and for those at the very beginning of their journey, there are guides to ISAs, pensions and other investments.
For seasoned traders in the US, Fidelity Investments' Active Trader Pro account gives you access to real-time data whilst tailoring your unique trading interface. Plus, both jurisdictions boast useful mobile apps, many different account types, and a customisable user experience.
Trading Platform
Fidelity Investments – Active Trader Pro
For US clients, Fidelity Investments offers the Active Trader Pro platform to premium level traders. The service provides a suite of tools that help traders inspect market trends, facilitating the decision making process on complex trading decisions.
Although this platform may not beat the likes of MT4 for seasoned traders, it offers an impressive array of features, including shortcuts, charting, key statistics, and net profit calculators. It's suitable for active day traders who can make the most of these analytical features.
Fidelity International
For clients in the UK, Europe and Asia, Fidelity International does not offer an active trading platform. Instead, investors can select from a list of funds, stocks and shares and choose to 'deal now', purchasing the desired quantity of the asset. This service is not suitable for day traders who need to analyse small price movements and close positions quickly. Instead, it is designed for those who wish to invest through tax-saving vehicles, such as an ISA or a pension plan, and those who wish to hold positions long-term.
Products
Both branches of Fidelity offer the option to purchase stocks, shares, ETFs, mutual funds, bonds, and indices. They also offer a selection of retirement products and pension vehicles.
Fidelity Investments
Stocks & Shares – Zero commission on US stocks from NASDAQ and other major exchanges. International stocks are also listed.
ETFs – Over 2,000 commission-free ETFs in markets such as real estate, commodities, and currencies. Multi-asset and fixed-income funds are also available.
Mutual Funds – Over 10,000 mutual funds are available through their network, from both Fidelity and other companies.
Bonds – An interest-bearing security where the client will receive payouts at set intervals throughout the period and will then receive the principal amount back at contract maturity. US Treasury, corporate, municipal, agency and high-yield bonds are available.
Certificates Of Deposit (CDs) – Fixed income investments that provide set payouts over a period of time. Both bank and brokerage CDs are offered.
Deferred Fixed Annuities – This type of pension allows clients to profit from a guaranteed income every year if they defer taking their income.
Many of these are available through tax-saving vehicles such as pension pots and a 401k.
For day traders, the offering is limited to stocks and shares. Forex, commodity and cryptocurrency traders will be disappointed to see a lack of assets. However, the range of long term investment opportunities is strong.
Fidelity International
Fidelity International has a similar offering, primarily focusing on stocks, shares and funds. For UK clients, tax-saving vehicles such as the ISA, Junior ISA and pension pots are on offer.
Mobile Apps
Fidelity Investments
Fidelity Investments provides a mobile app that allows you to manage your portfolio while on the go. The app is available on both Android and iOS. Clients can trade fractional shares, manage their workplace investing accounts (such as the 401k and 403b), and monitor changes in the value of their portfolios.
Plus, the firm recently brought a new mobile app to the market, 'Fidelity Spire'. The new service focuses solely on young investors, helping them towards their financial freedom. The app is unlike the standard mobile offering as it guides attention away from short term profits and towards long term goals.


Fidelity International
Fidelity International offers a mobile app for managing investments, available on both iOS and Android with an average rating of 4.6 stars. The app has a feature list just short of what is available on desktop, meaning traders can get almost the same experience when on the go. Clients can choose from stocks, options, mutual funds, and EFTs on the app and add their favourites to a watchlist. The customisation options allow you to create your own login screen, placing frequently used icons at the bottom of your page, contributing to a seamless trading experience.
Fidelity International also offers two more apps:
Plan Viewer – Designed specifically for retirement investments. Clients are able to review their pension pot and plan for the future. However, reviews suggest the app doesn't work as well as their primary application.
Fidelity Extra – An augmented reality app that allows you to learn about workplace investing.
Fees & Charges
Fidelity Investments
Fidelity's fees vary by investment product, but most orders will have exchange fees that are paid per share or contract. For funds, each will have its own specific fee structure and all online ETFs are commission-free. The full list of pricing is available using the fund catalogue on the website and is broken down into the expense ratio, distribution and service fee. There are no fees for inactivity, transfer, account termination, sending wires/checks or paper statements. Plus, there's an extensive list of NTFs (no transaction fee funds) to choose from. However, these are for long-term investing only, as there is a $49.95 charge upon redemption if held for less than 60 days.
For stocks and shares, Fidelity offers 0% commission on US stocks. For the full list of fees, log in and check out the Stock Screener which allows you to analyse and confirm fees for each product.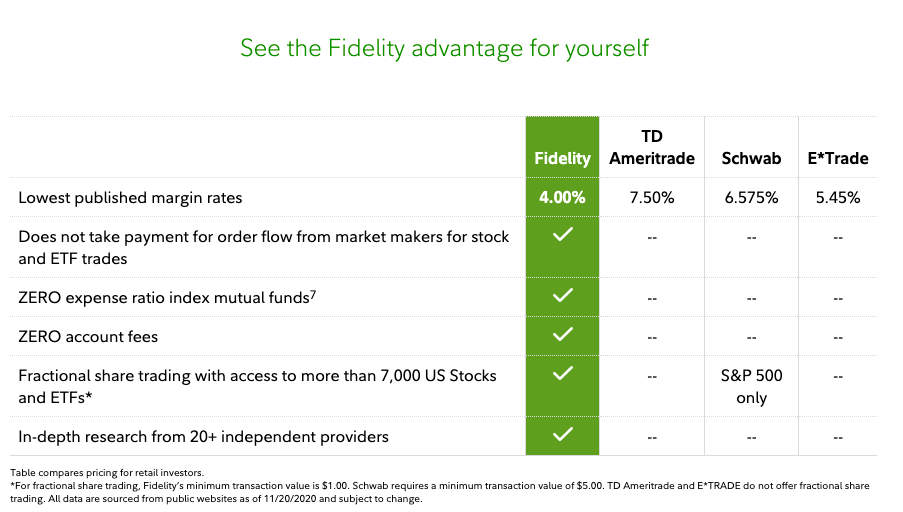 Fidelity International
Fidelity International charges a 0.35% service fee on all products. However, this decreases to as little as 0.2% depending on the amount you have invested. There are no service fees on accounts that hold over £1m, cash held in accounts, junior accounts or for exchange-traded investments held in an Investment Account.
Plus, there are no charges for buying, selling or switching funds. For online deals on shares, ETFs and investment trusts, there is a £10 charge per trade. This increases to £30 for phone deals.
On top of the deal fees, each fund will come with its own set of charges to cover management costs. These are specific to the fund you choose and start from 0.05%. Fidelity International provide discounts on these charges for hundreds of investments, details of which can be found on the fund specifications.
Demo Account
Fidelity Investments
Fidelity Investments does not currently offer demo accounts on their Active Trader Pro platform. This is disappointing, as these can be crucial for beginners who wish to practice before trading on the live markets.
Fidelity International
Since there is no trading platform, Fidelity International does not offer a virtual or practice account.
Regulation
Fidelity Investments
In the US, Fidelity Investments is regulated by the Securities and Exchange Commission (SEC). The SEC aims to protect retail traders from unscrupulous broker activities. The regulator has the power to bring civil suits against firms who act in the disinterest of their clients.
Fidelity International
In the UK, Fidelity International is regulated by the Financial Conduct Authority (FCA), a global leader in financial services regulation. The FCA is known for its stringent standards, protecting retail clients at every suitable opportunity. Traders can be assured their money is safe in the event of broker insolvency as client funds are segregated from the business's and compensation is available should the worst happen.
Additional Features
Fidelity Investments
Fidelity Investments has a strong focus on educating whilst trading. Their online learning centre targets areas like fixed income, technical analysis, and how to achieve financial freedom through invaluable content, including videos, articles, and webinars. On top of this, their news and events page helps to keep clients updated with crucial market insights, ensuring trades have the best chance of success. We've listed a few more of our favourite resources below.
Stock & Fund Screener – This functionality allows you to search from the list of stocks and funds on offer to find an asset that suits you. Investors can filter the list to find the top performers, the worst losers, and those with the most volume traded in a given timeframe.
Asset Comparison – Enter up to five ETFs to compare their features side by side.
'Find Similar' Search Functionality – Enter an asset whose features you're interested in and this search functionality will find a fund with similar attributes for you to consider adding to your portfolio.
Fidelity Viewpoints – For the latest industry news and commentary, Viewpoints offers education and insights to help you make an informed decision on your investments. Free live webinars are held regularly, with topics that include the top tips for using the Active Trader platform, 5 must-ask questions on ETFs, and stock ideas.
Social Forum – Fidelity's online forum coaching sessions help users connect with other traders in a group, holding discussions around analysis and charting.
Fidelity International
Similarly, Fidelity International also offers a strong selection of educational resources and guidance. We've captured our most-used resources below.
Helpful Guides – There is an extensive selection of guides for those who are entirely new to trading. In particular, we found the 'self-employed guide' and the 'principles for good investing' useful. There are also introductions to each investment vehicle, such as the ISA, annuities and taxation on pension withdrawal articles.
Select 50 List – For those looking for support on which funds to invest in, the broker provides a list of the top 50 funds to watch as assessed by their in-house analysts.
Fidelity World Index Fund – The fund produced by Fidelity that encapsulates assets from across the globe. The world fund allows clients to invest in a range of markets, creating a diversified portfolio from the off. Plus, with a fund charge of 0.1% and a service fee of 0.35%, it's a low-cost option.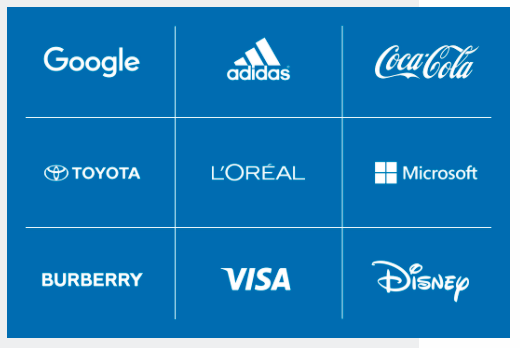 Account Types
Fidelity Investments
There are four account options available:
Fidelity Go – Designed for digital investing
Wealth Management – Includes planning and investment advice from an advisor
Personalised Planning & Advice – Includes digital planning and financial advice during 121 calls with advisors
Private Wealth Management – Comprehensive advice from an advisor-led team of wealth managers.
Fidelity International
Fidelity International offer accounts based on the investment vehicle you select. In the UK, the following options are provided:
Stocks and shares ISA – A tax-efficient vehicle that allows you to invest £20,000 annually, with all earnings tax-free
Junior ISA – Saving for a child's future by adding funds to an account on their behalf
Investment Account – Investing with no limits
Personal Pension (SIPP) – Save for retirement using a lump sum or regular payments
Junior SIPP – Saving for a child's retirement. They will not be able to access the funds until they are 55
Benefits
Fidelity Investments
Fidelity has a track record of impressive investment opportunities due to its emphasis on improved prices vs competitors. In 96% of cases, orders for Fidelity users are executed at a better price than the national offering, meaning clients benefit from increased profits. Plus, you can track these savings by reviewing the order confirmation report.
Another solid benefit is Fidelity's money market fund, which your uninvested deposited money automatically enters when left in your account. Funds can be removed whenever necessary, but this ensures your money is working for you even when you are not actively trading.
Fidelity International
Fidelity International is great for new investors who need help selecting funds that work for them. Their educational resources, Fidelity World Fund and help guides make learning to trade easy. Plus, the low-cost fees and vast selection of funds on offer make it a practical choice for experienced investors too.
Drawbacks
Fidelity Investments
Fidelity users have to jump between the website, app, and Active Trader Pro to find the information they are after. For example, the website offers lots of news and educational tools that the app does not.
No automatic refresh for data on the website meaning that you must manually update the feed for new information. This can be a problem when making a trade on another screen as in trading every second counts.
No demo account which makes learning difficult for beginners as information cannot always prepare you for the live markets.
Many popular assets and markets that traders are used to, such as crypto and forex are not provided. This means that many expert traders may outgrow the platform quickly.
Fidelity International
Similar to above, there is a lack of forex, commodities or crypto assets.
Not suitable for day traders as there is no trading platform and all assets are suited to long-term investments only.
The minimum deposit is £1,000 which may not be suitable for traders with lower capital.
Trading Hours
Fidelity Investments
Trading is available 9:30 – 16:00 ET Monday – Friday. Extended trading times are available on the NASDAQ and other major US stock exchanges. Pre-market hours are 7:00 am – 9:28 am, after hours are 4:00 – 8:00 pm ET.
Fidelity International
London markets are open from 8:00 am to 4.30 pm. This does not mean your trading time is limited to these hours, but any deals placed outside these will be processed the next working day.
Customer Support
Fidelity Investments
For US clients with general questions, Fidelity can be reached on their customer service line 800-343-3548. Live chat is available and is particularly useful for technical support issues. Opening times are Monday to Friday, 8 am – 10 pm ET. Support is also provided through Reddit on the channel r/fidelityinvestments.
Fidelity International
UK & Ireland-based teams are available to contact via the telephone number 0333 300 3350, or +44 1737 838 000 from outside the UK.
Opening hours are 9 am – 5.30 pm GMT Monday to Friday (brokerage trades can be made weekdays from 8 am), 9 am – 2 pm on Saturdays, closed on Sundays.
Security
The Fidelity app uses face or fingerprint recognition whilst logging in from an unknown browser requires you to answer security questions. Two-factor authentication is also used for more risky deals.
Fidelity Verdict
Fidelity Investments
For US traders, Fidelity is the perfect offering for a seasoned trader that is primarily interested in long term investments. However, the lack of a demo account means traders will need to try their luck on the real markets without practice. Luckily, Fidelity makes up for this with its extensive educational resources. But, if you're looking for a hands-on learning experience, we'd suggest you assess your options before trading.
Fidelity International
Fidelity International is ideal for long-term investors who are looking for diverse portfolios made from a selection of funds and stocks. However, day traders looking for forex, cryptocurrencies and commodities will be disappointed. Despite this, the insights, news and help guides will help new traders discover investment opportunities that suits their needs. Therefore, we'd recommend Fidelity International to traders of all experience levels.
FAQs
How Do I Login To My Fidelity International Account?
To log in to your UK or international account you can find the hyperlink through the Fidelity website or their mobile app. Go to the 'my account' section online to view your personal details.
How Do I Contact Fidelity International?
UK & Ireland-based teams are available to contact via the telephone (0333 300 3350, or +44 1737 838 000 from outside the UK). Opening hours are 9 am – 5.30 pm Monday to Friday, 9 am – 2 pm on Saturdays, closed on Sundays. Deals will be processed from 8 am when the London markets open.
What Are Fidelity's Trading Hours?
Fidelity opening hours are 8 am – 4:30 pm Monday to Friday when the London trading markets are in session. Deals can be placed outside of these times but will not be executed until the next working day.
Who Is Fidelity Regulated By?
In the UK, Fidelity International is regulated by the Financial Conduct Authority (FCA) which is a global leader in legislation ensuring your money is protected to the highest standards. For US clients with Fidelity Investments, the broker is regulated by the Securities and Exchange Commission (SEC).
Does Fidelity Offer A Demo Account?
Fidelity doesn't currently offer practice accounts, which can be crucial for beginners. Those looking to trial the platform or practice strategies will be better suited to alternative brokers.
Does Fidelity International Have A Mobile App?
Fidelity International offers a mobile app, available on both iOS and Android with an average rating of 4.6 stars. This app has a feature list just short of what is available on desktop, ensuring traders can get the most from trading on the go. Clients can deal in stocks, options, mutual funds, and EFTs using the service.
Accepted Countries
Fidelity only accepts traders from United States, United Kingdom, Hong Kong, Singapore, Germany, Japan.
Alternatives to Fidelity
If you are looking for alternatives to Fidelity we have compiled a list of the top 5 brokers that are similar to Fidelity below. This list of brokers like Fidelity is in order of similarity and only includes companies that accept traders from your location.
Fidelity offers stock, ETFs and mutual funds to clients based in the US, Europe and Asia.
Fidelity vs Other Brokers
Compare Fidelity with any other broker by selecting the other broker below.