Warrior Trading Review 2022
Warrior Trading is a name you'll likely recognise if you've been in the industry for a while, but what do they offer beyond market scanning? And what could this mean for your day trading career? This is your all-access guide to Warrior Trading; following a dive into the company's history, we unpack the various features on offer, including pricing, penny stocks advice, security and customer support. Could this community platform take your day trading career to new heights?
What Is Warrior Trading?
Warrior Trading is an educational platform built to equip retail investors with tools and insights to become successful day traders. From stock market simulators to webinars, mentoring, trade ideas and scanner settings, the services cover everything you need to know about day trading.
The company has quickly risen to become one of the largest and most popular intraday investment communities around, with over 500,000 active members. The platform began as a simple blog and has evolved into an interactive trading chatroom educating traders across the world.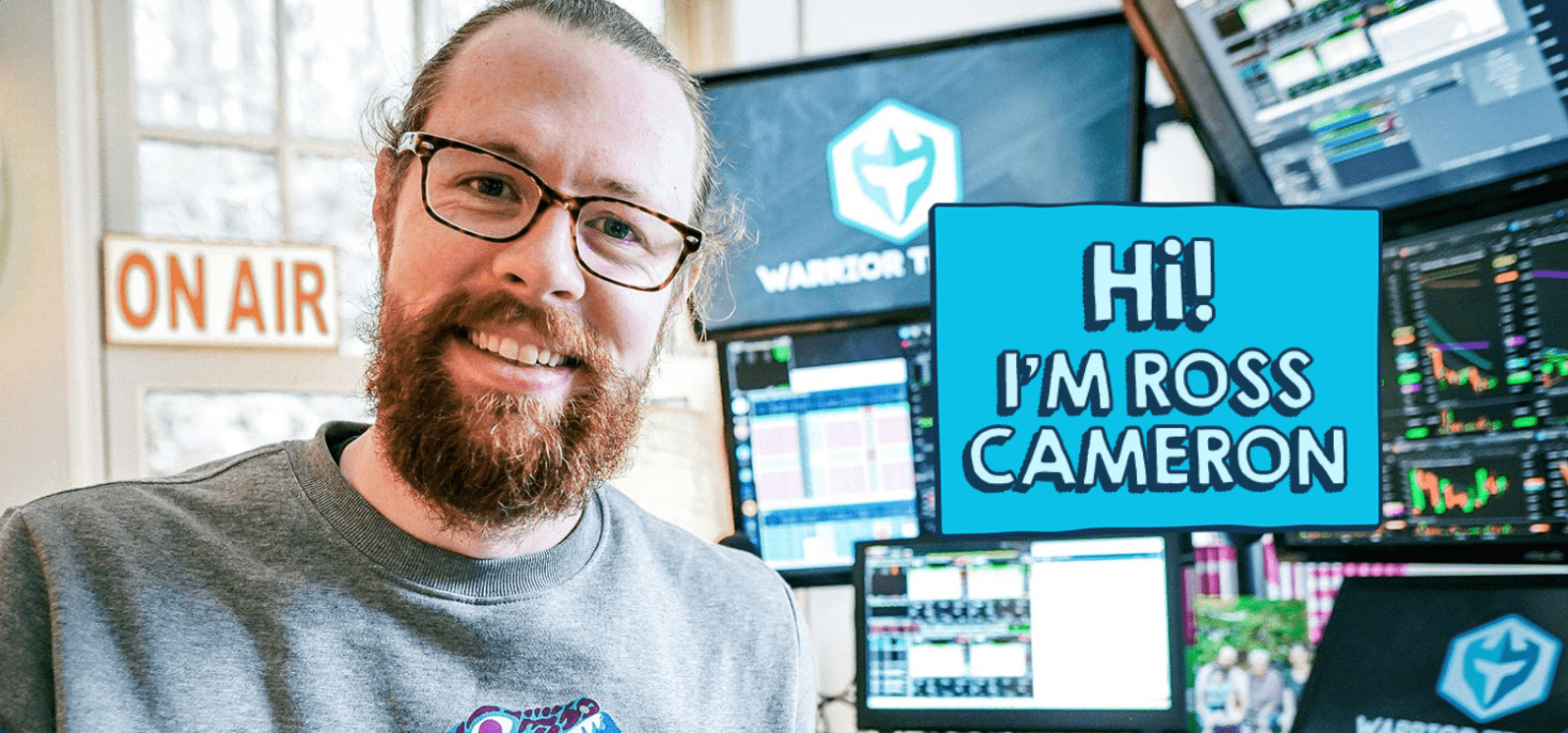 The platform was set up by Ross Cameron, an experienced day trader with a background in education. He aims to break down some of the barriers around day trading through training courses, videos, chat rooms and simulators. With one review calling it the pinnacle of stock market education, Warrior Trading's accredited platform teaches individuals the fundamentals of day trading forex, stocks and shares.
Features
Warrior Trading offers four main features, or services: the Live Trading Simulator, Stock Market Scanner, Day Trading Chat room and Free Trading Materials. We've broken each down into more detail below.
Live Trading Simulator
The live simulator acts much like a traditional demo account; it offers paper executions in a real trading environment. The idea behind the feature is to enable people to get to grips with trading, establish a strong foundation or trial new strategies without the worry of losing capital. The simulator is monitored by the Warrior Trading team, so should you make consistent errors, the team will let you know where you went wrong and offer advice for future moves. The simulator offers access to US equities and options markets, with features including:
Mentoring
Intuitive dashboard
Advanced reporting
$200k in virtual funds
Hotkeys for long or short orders
Accurate live trading representation
Create stop orders and profit targets
Real-time level two quotes and order execution
The paper simulator is available for Warrior Pro clients and Warrior Starter students.
Stock Market Scanners
When a stock is moving, it is important to know why. The scanners have been designed by experienced traders to supply critical information to users when they need it. Traders can view stocks by volume and gap scanners, or 'gappers', in addition to accessing key information such as price, float, relative volume and more. The scanners support a range of strategies, as well as customisable alerts and access to notes on former runners, providing important context to any trade.
Day Trading Chat Room
The chat room is an interactive platform in which moderators, including Ross, share their latest trading insights and members can discuss issues and ideas, much like a forum. Each day will usually kick off with an update on the market via a live-streamed morning show, followed by a midday recap and a Q&A to close the day.
A daily watch list of between three and five promising stocks is circulated ahead of the opening of the session at 09:30 EST. The room can be accessed via both the Warrior Starter and Warrior Pro bundles or in conjunction with an educational course. Features of the day trading chat room include:
Live chat
Mentoring
Insights and advice
Interactive activities
Screenshare facilities
Real-time alerts and announcements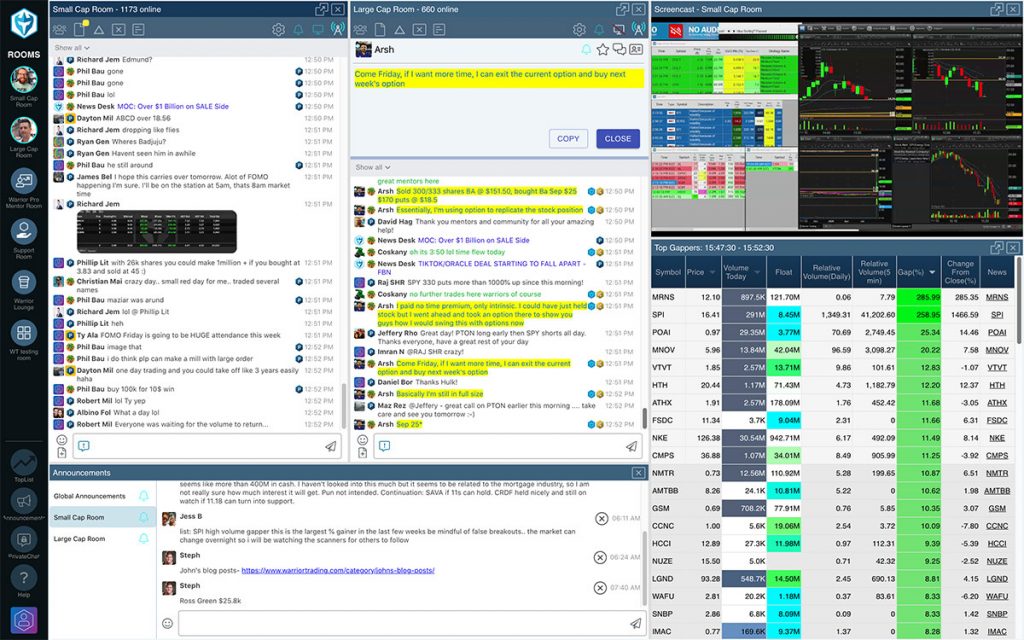 Free Day Trading Materials
Warrior Trading offers a whole range of free resources, including watchlists, market insights, analysis and advice. The bank of information is great for all experience levels, but it is especially useful for those that are new to the world of day trading. The content is accessible, engaging and free.
Resources include terminology breakdowns, reviews of platforms, TD Ameritrade's Thinkorswim automated trading bots, and brokers, such as eTrade, Webull and Lightspeed. Some reviews, like the charting platform eSignal, can come with discounts and layout advice.
The platform also supports a host of additional features, including social media platforms such as Tradervue, a trading journal community page. Members can access support on a wide range of topics including hotkey keyboard downloads, monitor setups, scanner settings and e-signals. There are several explainer articles on topics such as ABCD and bull flag chart patterns and strategies, broker statements, wash sales and bots. Games and a 'Beginner Kit' are also offered.
The community also runs a YouTube channel that can be accessed by members and non-members for useful strategy advice, tips on moving averages, asset explanations like futures, halts and more.
Warrior Trading Day Trading Courses
Warrior Trading offers three membership options, including a free introductory course. Each course caters for different experience levels but can be accessed by PC, Mac and mobile.
Warrior Starter
This 15-chapter course is perfect for those looking to kickstart their trading careers, laying a good foundation and, upon completion, providing an upgrade option. The syllabus covers key topics like technical indicators and risk management. Features include:
Live trading chat room
Flexible monthly membership
Optional paper trading simulator add-on
Partial access to stock scanners and news service
Warrior Pro
Albeit the more premium offering, this review suggests that Warrior Pro remains suitable for traders of all experience levels. This membership package provides extra insight into advanced trading concepts, momentum and gap and go strategy advice and swing, momentum and opening range breakout approaches. The Warrior Pro course includes:
Mentoring
Masterclass courses
Live trading chat room
Customisable stock scanner
Optional paper trading simulator add on
Free Intro Course
If you're looking to get started in day trading, or just want to know more, this could be a good option for you. The course entails a free trial offering insight into three key day trading strategies and a free copy of Ross' how to day trade book or ebook.
Other course types may be run as part of promotional events or marketing runs, for example, there is a 2022 day trading summer school. These events may also come with discount codes, anniversary sales or coupons that can reduce the cost of additional courses or the simulator.
Top Warrior Trading members that are committed to continual growth and profits could be invited into the inner circle, which can give you additional facetime with the team and extra support.
Fees
Warrior Trading is an investment, requiring significant capital, especially when compared to the wealth of free educational resources that are available online. Prices are:
Warrior Starter: $997 for the first month, then $197 per month after that
Warrior Pro: $4,297 for the first three months, then $197 per month after that


Security
There have been some concerns around the security of Warrior Trading. The platform was under investigation and subject to a lawsuit regarding a potential scam. It seems that the claim was dropped but there is some sentiment online that the guidance offered by Cameron's platform was incorrect.
Our view is that, while the platform can advise and offer support to traders, everyone is ultimately unique and clients will need to ensure they have themselves evaluated their strategies and positions.
Pros Of Warrior Trading
Several attributes distinguish Warrior Trading from other communities and educational platforms in the day trading space:
Mentoring
Live trading archives
User-friendly interface
Engaged group of traders
Structured trading materials
Comprehensive support team
Customisable stock scanner access
Expansive pool of educational resources
Cons Of Warrior Trading
However, there are a few drawbacks to be aware of:
Expensive
No affiliate/referral program
Security and validity concerns
Customer Support
The customer support offered by Warrior Trading is great. The team operates across email, social media platforms like Twitter, Instagram and Facebook and through the Warrior Trading Support portal. You can typically expect a response within 24 hours, Monday to Friday. As traders themselves, the support provided is comprehensive and practical. However, no phone number is given.
Email: team@warriortrading.com
PO Address: Warrior Trading, PO Box 330, Great Barrington, MA 01230
How To Sign Up
To create an account with Warrior Trading, head to the company's website, where you will find the course options. Once you have chosen the right course for you, you'll find an option to sign up under the relevant course page and create your member login details. Following completion of the registration process, you will be able to log in to your Warrior Trading portal and access the resources.
Warrior Trading is a web-based trading community, though some of the software and tools provided, like the simulator, can be downloaded onto your PC or laptop.
Warrior Trading Verdict
Overall, Warrior Trading offers a great pool of resources and technologies suitable for traders of all experience levels. The features offered are insightful, comprehensive and accessible. It is definitely an investment but, whilst it may seem expensive compared to some of the other resources online, like Tim Sykes and Investors Underground, you do get value for money.
If you're looking to get started with day trading or to solidify your understanding and refine your strategies, Warrior Trading is a great asset to utilise, you may even reach their prestigious 100k club.
FAQs
Is Warrior Trading Legitimate?
Warrior Trading is a legitimate platform offering a range of educational resources for traders of all experience levels. While there have been claims of dishonest behaviour and incorrect content being exposed, this review has not found a scam and nothing materialised of the legal claims. For more information about the licensing documentation held by the company, head to the website.
Is Warrior Trading Worth It?
Warrior Trading's subscriptions are expensive, with prices starting at $997 per month. While it won't be for everyone, there are a lot of valuable resources on offer if you want to take day trading seriously. Honest reviews from former clients can also be viewed online. There are, however, cheaper alternatives online, such as Bear Bull Traders and Bulls On Wall Street.
Does Warrior Trading Accept UK Clients?
Yes, the community and education platform can be utilised by UK residents. However, while international clients are accepted, they should be wary that the focus of the platform is on US-based stocks and markets.
Who Is The Owner Of Warrior Trading And What Is His Net Worth?
Ross Cameron is the founder and owner of Warrior Trading. In 2021, his net worth was estimated to be $4 million.
Is Warrior Trading An Offshore Broker?
No, it is an education platform and trading community that provides a 101 for all things day trading. If you are looking for a broker, see our guide to finding the right provider.
Warrior Trading is a community hub and educational platform with sophisticated content and extensive market insights.