Investors Underground Review 2022
Investors Underground is a leading day trading community with a vast selection of video lessons, group webinars and chat rooms. Supported by a team of successful traders, Investors Underground provides resources that have taught traders how to be profitable all over the world.
In this article, we review the features Investors Underground has to offer, plus the pros and cons of subscribing.
Investors Underground Explained
Investors Underground is a paid-for trading community that provides educational resources and forums to discuss strategies, with a strong focus on technical trading. It was founded by Nathan (Nate) Michaud, a full-time trader who now shares his lessons on the platform and is prominent on Twitter and Instagram.

A subscription to Investors Underground provides members with access to a huge array of video lessons, chat rooms and webinars. Users can also pay extra to access some of the highest-rated trading training courses around. For non-members, the website offers free access to a substantial selection of blog posts on trading topics including weekly reviews and stocks to watch.
While the trading lessons may appear broad, Investors Underground focus largely on trading preparation. In particular, they release a nightly stock watch list so traders are prepared for the next day. There is also a heavy focus on momentum trading, specifically seeking out low risk and high reward stocks. However, Nate has a team of traders that share lessons, with each offering a slightly different trading style. Cam is one of the most well-known contributors who specialises in shorting pharma stocks.
How It Works
In this section, we explain how Investors Underground works and the key features offered.
Chat Room
The Investors Underground chat room is one of the largest trading rooms available on the web, with contributions from experienced day traders who often participate while trading.
The chat room service has three rooms which each review a different type of trading: momentum, swing and Over-the-Counter (OTC). However, the majority of Investors Underground content is about momentum intraday trading which looks at the strength of recent price trends.
The momentum chat is strict, with only valuable trading alerts allowed. Otherwise, contributors may get muted. For more laid-back discussion, customers can join the Traders Lounge.
New starters may be unfamiliar with the lingo and fast pace of the chat room at first, which tends to have more activity vs the Tim Sykes equivalent. Don't expect specific alerts about which stocks to buy at which price – trading tips are more general. This prevents a scenario where everyone is copying trades, which could influence the market given the large number of people in the chat. It also aligns with the Investors Underground ethos – to learn, rather than to copy.
The swing trading room provides great tips for those looking to hold trading positions for days or weeks. The OTC chat room is a slower pace if there is no OTC activity, but still a great place to seek out tips.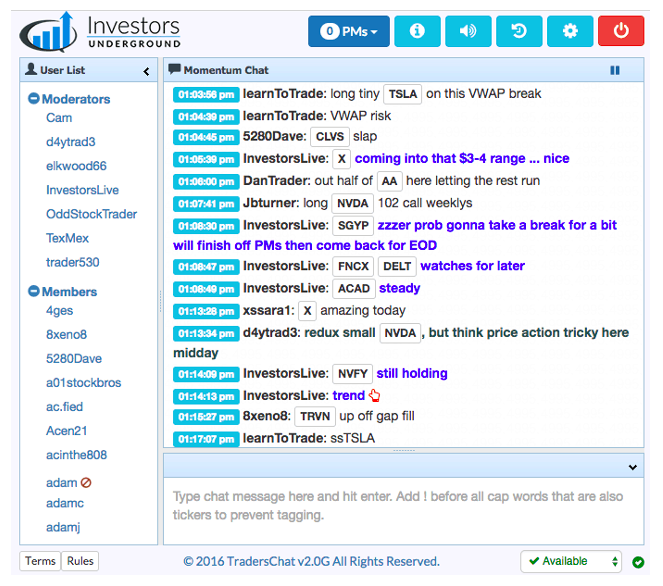 Courses
Investors Underground offers highly-rated video training courses at an additional cost to the members' subscription. While they may seem expensive – approximately $1000 on top of the subscription – the courses are consistently highly reviewed, with traders all around the world claiming it has significantly improved their trading. There are three courses available on DVD with free previews. The videos are also available via instant download:
Textbook trading is a highly-rated eight-hour course for beginners, advertised as an all-in-one trading course that reviews the most profitable chart patterns and free strategies.
Tandem trading for intermediate and advanced traders is a twelve hours comprehensive trading course with lessons that aim to teach how to be consistently profitable.
Swing trading focuses on the swing trading methodology and strategy through six hours of video content.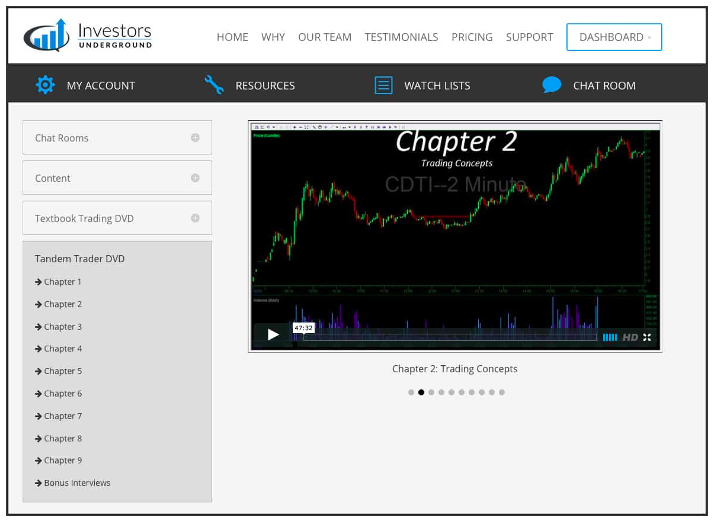 Video Lessons
Investors Underground provides its members with access to over a thousand video lessons that cover trade recaps. Being able to go back and understand the trades made by Nate can be extremely useful, especially for beginners who might not have been able to follow the chat room discussion.
For more general videos check out the Investor's Underground YouTube channel, which has lessons on topics including reading Level 2 screens, identifying bullish patterns, VWAP strategies, short selling and liquidity traps.
Weekly Webinar
Subscribers also have access to a weekly webinar that offers greater depth than the video lessons. There is a large proportion of time dedicated to Q & A in the webinars, so this is a great time to ask questions directly to the moderators. It's also possible to view free webinars online to get a taster, or listen to Nate's podcasts on the Spotify app to learn more about his style.
Watchlists
Free Scan Sundays are free weekly emails with a trading video lesson and detailed stock watchlist. For members, a nightly watchlist gives more frequent updates and is considered one of the highlights of an Investors Underground membership. Instead of being specific buy or sell recommendations, tips are provided based on different situations that might occur.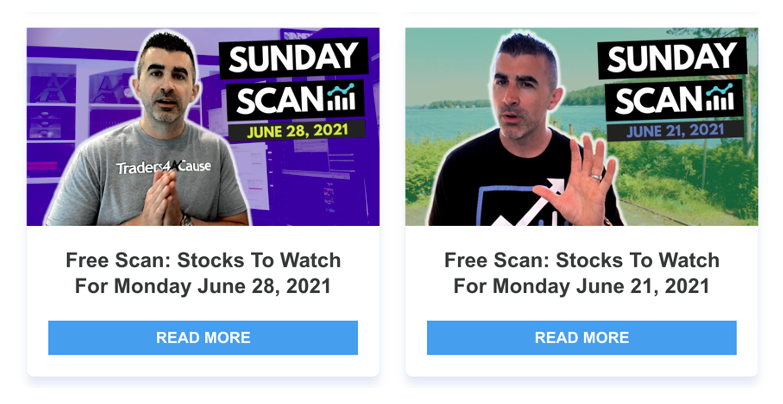 Other Features
Investors Underground provide a very thorough blog, with topics from trading desk and computer setups to brokers, platforms and ABCD chart patterns. For those that might be lost in some of the jargon, an encyclopedia provides reference material about strategies and trading terms that are relevant to day traders. Finally, test your new knowledge with the Investors Underground trading quiz.
Fees
Investors Underground is pricey, especially when compared with some other day trading communities. However, it is also good value considering the quality of resources and focus on long-term teaching rather than copying. Signing up for a year in advance is a savvy way to get a 50% discount. Make sure to check online for coupons, promo codes and Black Friday sales too.
Unfortunately, the subscription doesn't include training courses, but there are 'specials' bundles available that include elite subscription plus access to the Textbook Trading, Swing Trading and Tandem Trader courses.
While Investors Underground does not offer a free trial period, there is a free trading course for beginners that gives an introduction to day trading and provides a feel for how the courses are laid out.
Benefits
Investors Underground offers several advantages:
Learn from a real profitable trader, who continues to trade while teaching
The huge community results in a diverse range of discussions and tips
Focused on learning rather than copying, which can reap high rewards for serious traders in the longer term
Excellent customer support including a live chat service offered by the Investors Underground contributors
Drawbacks
There are also some disadvantages associated with Investors Underground:
The pricing is on the expensive side and courses are sold separately to membership
The chat rooms can be fast-paced, so be prepared to take some time to learn the lingo
How To Sign Up
Traders can take advantage of a free taster by entering their email on the website, which provides access to free video lessons, tips and strategies.
Signing up for the full membership couldn't be easier. All that's required to login are basic personal details and your payment method, which will set up either a monthly, quarterly or annual recurring payment. This can also be cancelled for free at any point.
Final Word On Investors Underground
Investors Underground is a highly-rated community in the trading industry that focuses on teaching traders the essentials to make consistent gains, rather than giving straightforward buy and sell signals. New members should spend the time taking advantage of the educational resources offered by Investors Underground and to get up to speed before getting involved in the fast-paced chat rooms.
FAQs
What Is Investors Underground?
Investors Underground is a paid-for day trading community that provides members with access to video lessons, chat rooms and other educational resources, with a focus on learning rather than copying.
Is Investors Underground Legit?
Investors Underground is a genuine trading service with exceptional reviews. Its founder Nathan Michaud is a well respected full-time trader and educator.
Is Investors Underground Worth It?
Though Investors Underground is pricey, its offerings are almost unrivalled in the industry. The high price point also means that it is home to only those traders that are serious about learning.
How Do I Sign Up For Investors Underground?
Signing up is straightforward – head to the Pricing section of the website and select the payment frequency you're interested in (monthly, quarterly or annually).
What Is The Difference Between Investors Underground Vs Warrior Trading?
Warrior Trading is another popular online trading service that offers chat rooms and education resources at a similar price point. However, the Warrior Trading chat rooms are for day trading only.
Investors Underground is a top-rated trading community, offering chat rooms, webinars and training courses in a supportive environment with a choice of price plans.