Alternatives To Revolut
Founded in 2015, Revolut is best known for its mobile banking services, however investors can also trade stocks, metals and cryptos through its digital platform. But while Revolut offers a modest selection of low-cost assets, there are some excellent alternatives online. See our list of the best brokers like Revolut, including AvaTrade and Saxo. Find out whether you should open an account with one of our alternatives to Revolut.
Revolut Headlines
Products
Stocks – Revolut members enjoy commission-free stock trading within the monthly allowance. Users can access over 750+ stocks listed on the NYSE and NASDAQ. A unique feature is the ability to buy fractional shares from as little as $1. And while UK, European shares and ETFs aren't offered at the moment, this is something Revolut plans to offer in the future.
Cryptocurrencies – Members can exchange over 30 cryptocurrencies instantly, including Bitcoin, Ethereum and Litecoin. Cryptos can be traded against 25 different fiat currencies such as the British Pound, the US Dollar and the Euro. However, a big downside is not being able to withdraw the coins you purchase outside of Revolut.
Commodities – In 2020, Revolut introduced the ability to trade gold and silver from just $1. While currently limited to two precious metals, Revolut plans to expand its selection of commodities. To trade metals, simply add the XAU or XAG account via the Commodities widget in the app.
Platforms
As Revolut's mobile trading platform is an extension of its banking app, you need to hold a bank account with the fintech to start trading. It is suited to beginners looking for free stock trading and cheap price plans. Revolut does not offer a web trading platform and is only available on mobile.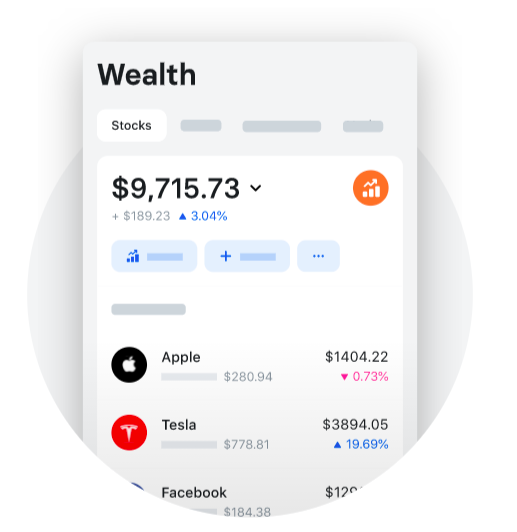 The app is user-friendly with assets easily accessible via the search function. As it's aimed at beginners, charting tools are limited, with no technical indicators or drawing tools. Users are only able to view basic key information, such as changes in the stock price.
Fees
Revolut offers four pricing plans:
Standard – The Standard account has no monthly charge and includes 3 free stock trades a month. Trading cryptocurrencies comes with an expensive exchange markup of 2.5%, 1.5% on commodities and no interest on savings.
Plus – The Plus account also offers 3 free trades and costs £2.99 per month with up to 0.4% AER interest. The same cryptos and commodities markup on the Standard account applies.
Premium – The Premium account costs £6.99 per month with up to 0.5% AER interest, 1.5% markup on cryptos and 0.25% on commodities.
Metal – The Metal plan costs £12.99 per month with interest up to 0.65% AER and the same markup as the Premium account.
After you have surpassed your monthly free trade limit, trades cost £1 or currency equivalent. Revolut also charges 0.01% in annual custody fees. On a lighter note, they do not charge inactivity, deposit or withdrawal fees.
Overall, alternatives to Revolut are more competitive for trading cryptos and metals.
Best Alternatives To Revolut
Now it's time to discuss what similar alternatives there are to Revolut.
Saxo
Saxo Bank has a wide product portfolio, offering stocks, forex, cryptos, ETFs, bonds, CFDs and more. The broker offers 28 stocks along with major and minor forex markets, which is an edge over Revolut's card and trading services. However, Saxo only offers two cryptos; Bitcoin and Ethereum.
Saxo has a web, mobile and desktop trading platform, which has advanced tools for technical analysis as well as automated social trading. Further, it has a two-step authentication process for enhanced user security, which Revolut currently does not offer.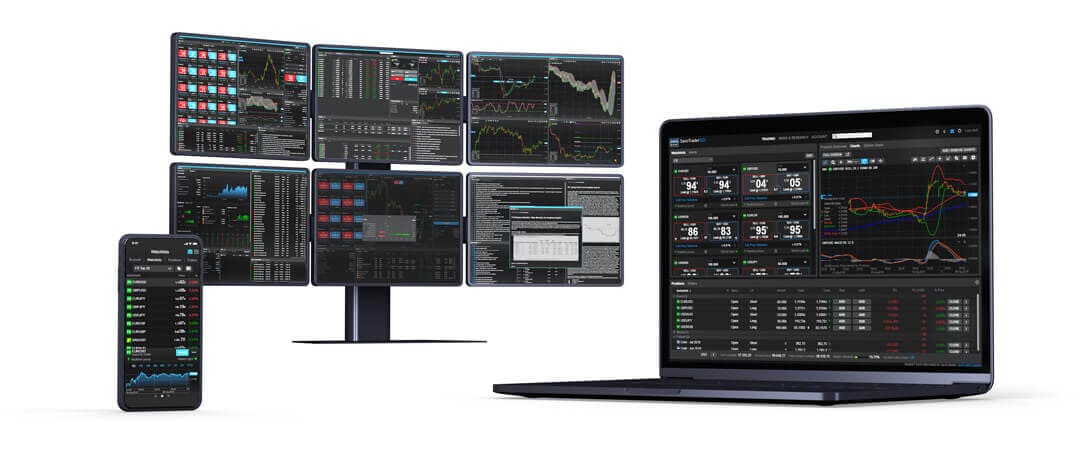 When it comes to trading fees, some costs are high. For example, on a $2,000 trade, US stocks come in at $10. When compared to the no minimum deposit requirement by Revolut, Saxo's minimum deposit of $600 to $10,000 is a disadvantage. And while the broker does not charge withdrawal or deposit fees, it charges a high inactivity fee of $150 after 6 months.
Still, for clients wanting to trade forex and pursue automated investing as well as copy trading services, Saxo is one of the top alternatives to Revolut.
Degiro
Degiro positions itself as the first pan European broker, available in 18 EU countries. Users can trade 30 stocks, 5,000 ETFs, 14 futures, 649 bonds and 12 options, among others – a significantly wider range than Revolut. However, you can't trade forex or cryptos.
Degiro offers both a web and mobile trading platform. Its web platform is great for executing trades with several order types but does not offer advanced tools i.e. customisable charts.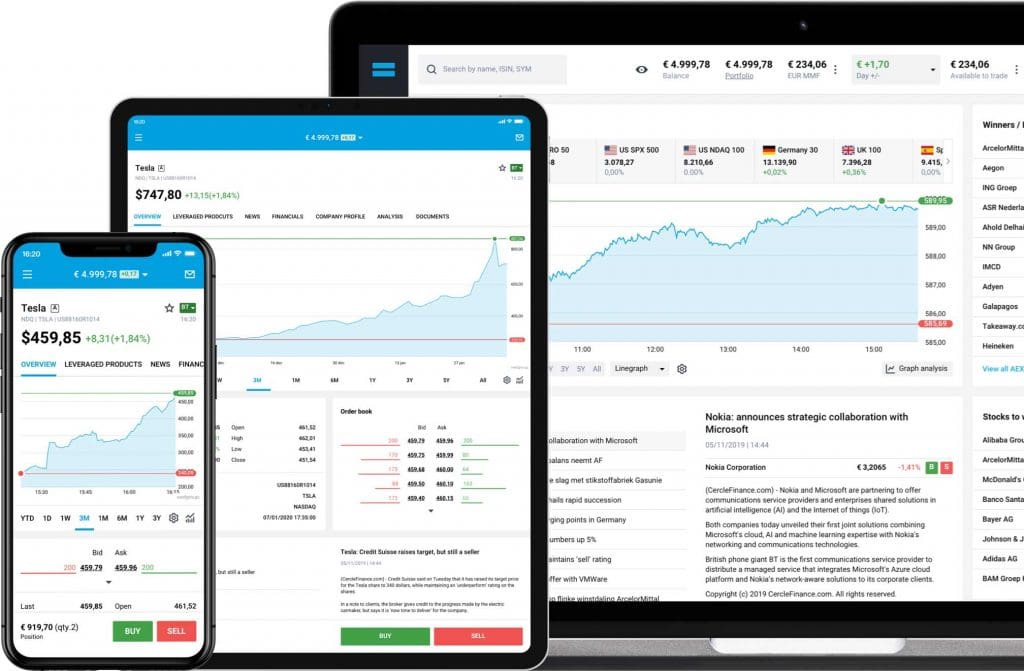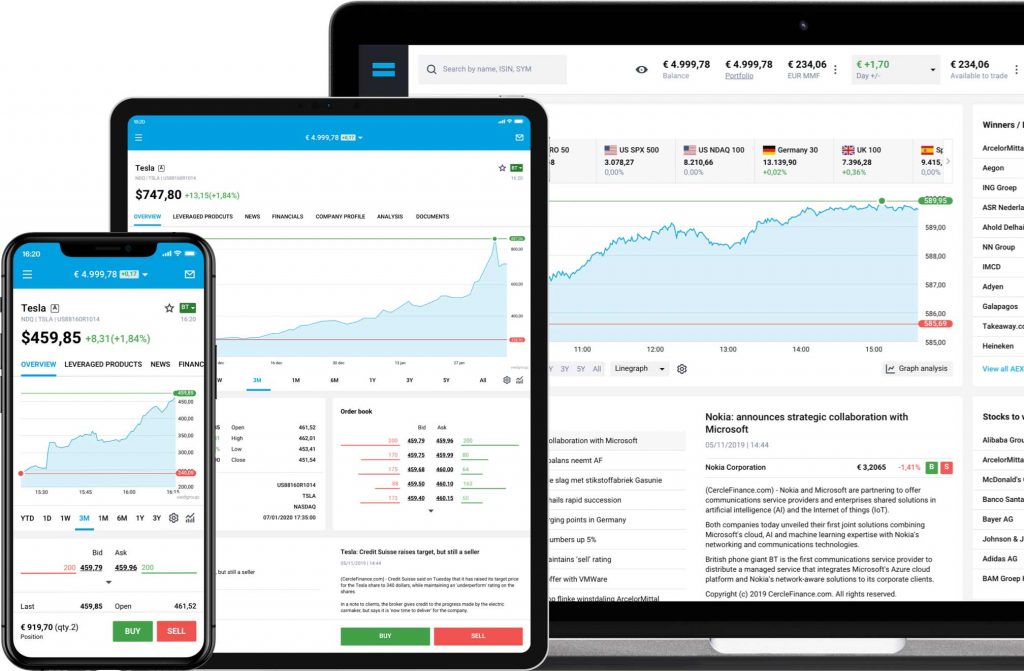 Degiro offers one of the lowest fees in the market for all instruments and no inactivity, deposit or withdrawal fees. For example, stock fees on a $2,000 trade are $0.7 on US stocks, $1.6 on UK stocks and $5.8 on German stocks.
For traders seeking wider access to the financial markets with decent trading tools, Degiro is one of the top alternatives to Revolut.
AvaTrade
AvaTrade has a decent product range, including various CFDs across stocks, indices, commodities, 55 forex pairs and 13 cryptos. It also offers web, mobile and desktop trading platforms, including MT4, MT5 and AvaOptions. As a result, users can conduct detailed technical analysis using dozens of indicators, drawing tools and customisable charts. Automated trading is also available.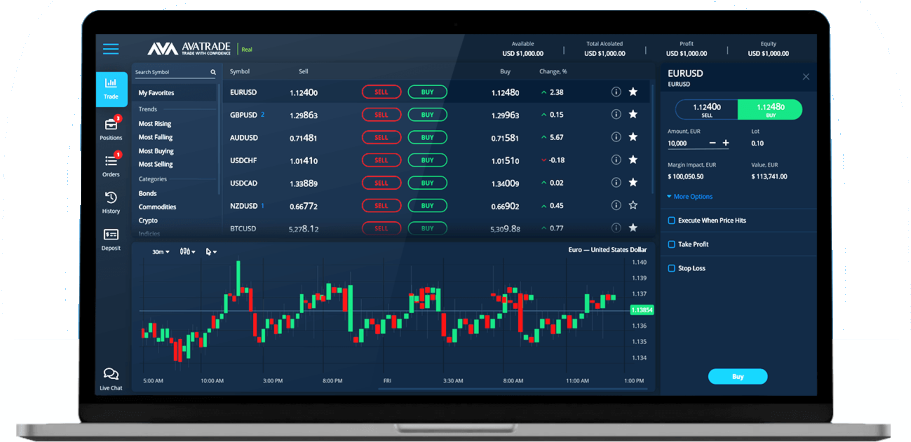 AvaTrade offers low CFD fees, average forex fees but high inactivity fees of $50 per quarter. However, the broker offers zero commissions on cryptos and does not charge deposit or withdrawal fees.
For beginners looking to step up their trading tools and access to the financial markets, AvaTrade is among the best alternatives to Revolut.
Blackbull Markets
Users can trade forex, index CFDs, commodities, metals and energies at BlackBull Markets – a wider selection compared to Revolut. As BlackBull Markets offers the MT4 and MT5 platforms, users have access to an excellent range of tools and a comprehensive trading experience vs Revolut's basic buy and sell features.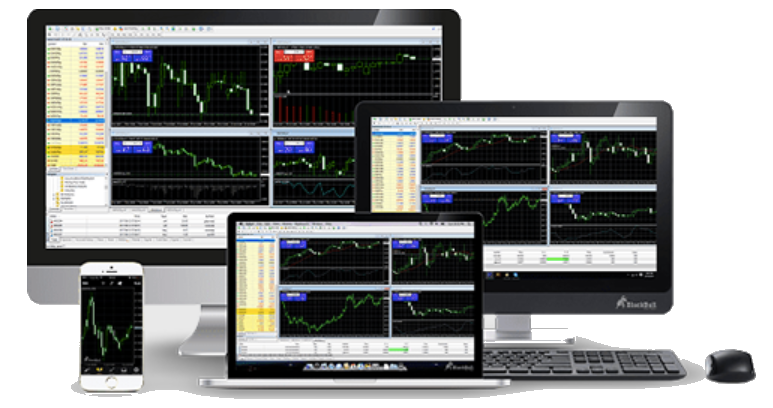 BlackBull Market's fee structure is considered average and varies with account type. The standard account requires a minimum deposit of $200 and the EUR/USD pair comes with a minimum spread of 0.8 pips.
Again, BlackBull Markets is one of our top alternatives to Revolut for traders looking to up their investing game.
Pros Of Trading With Revolut
Free stock trading
Low minimum deposit
Trade fractional shares
User-friendly mobile trading platform
No inactivity, deposit or withdrawal fees
Cons Of Trading With Revolut
Narrow product range
Limited research and educational tools
High exchange markup on cryptocurrency
Cannot withdraw crypto or metals profits outside of Revolut
Final Word On Alternatives To Revolut
If you are looking to trade US stocks free of charge or are a beginner searching for a user-friendly mobile platform, Revolut is a good choice. However, one of the best alternatives to Revolut for trading cryptocurrencies is AvaTrade who offers zero commissions vs Revolut's 2.5% markup. AvaTrade also provides access to 13 different crypto coins.
Additionally, AvaTrade offers the trusted MetaTrader platforms to suit both new and professional traders, while Revolut only offers a simple mobile trading platform. Also, AvaTrade and our other brokers listed allow you to withdraw into an independent bank account, while Revolut withdrawals are restricted to Revolut bank accounts.
AvaTrade, Degiro, Saxo and BlackBull Markets are all among the best alternatives to Revolut.
FAQ
What is the best alternative to Revolut? 
AvaTrade would be the best alternative to Revolut if you are serious about cryptocurrency trading. However, if you are a new trader looking to get into stock trading, Revolut is a good option, offering fractional shares from $1. As Revolut only offers US stocks, Degiro is a good alternative for trading UK and German stocks.
Is Revolut safe for trading?
Yes. Revolut is licensed and regulated by multiple trusted bodies like the SEC, FINRA and FCA. Because of its regulation, clients are protected up to $500,000 (including up to $250,000 cash) under the Securities Investment Protection Corporation's (SIPC) insurance. In the UK and EU, funds are protected by the FSCS protection scheme up to GBP 85,000.
What is a similar alternative to Revolut in Canada?
As it stands, Revolut does not accept clients in Canada. However, they are coming to Canada soon. You can join the waiting list on their website to be one of the first to be notified when they are available. BlackBull Markets, AvaTrade and Degiro are all similar alternatives available in Canada.
Is Revolut Business free?
Revolut Business price plans come in either a basic free plan or a subscription plan. The basic free plan comes with no monthly fee but only a handful of features with the option to buy features separately. You get 5 free money transfers, which then cost £0.20 thereafter. International money transfers are £3 + a 0.4% fee that applies to all foreign exchanges.
What are good alternatives to Revolut and Revolut Business?
Popular alternatives include N26 as it doesn't charge commission on foreign currencies. This is a good option if you travel often. Monzo is a good alternative for UK based residents as its app replaces the traditional current account without any day to day fees. Transferwise allows you to hold up to 40 currencies in one account and is available worldwide.