DEGIRO Review 2023


United States not accepted.
Go to the Brokers List for alternatives
Degiro is perfect for low-cost stock trading on US, UK and European markets with a straightforward platform and app. Casual investors will appreciate that there are no inactivity fees while long-term traders will rate the wide selection of ETFs.
- DayTrading Review Team
Investing involves risk of loss
DEGIRO is a Netherlands-headquartered broker with millions of users and authorization from leading regulators, including the BaFin and FCA. Clients can access global exchanges anytime, anywhere, and on any device. DEGIRO offers stock trading with exceptionally low fees and a huge range of markets. DEGIRO are not CFD brokers and do not offer CFDs.
$0
Own
Stocks, ETFs, Bonds, Futures, Options, Warrants
-
USD, EUR, GBP, SEK, NOK, DKK, CHF, PLN, CZK
Wire Transfer, Sofort, Trustly
Stock Trading
DEGIRO offers access to over 50 exchanges from more than 30 countries. Fees are low with a €1 commission on US shares plus a €1 processing fee. ETFs have no commission, just a €1 processing fee. The free cost calculator available to all users is also a bonus.
Awards
Best Online Broker - Qualebroker 2022 (Italy)
Best Broker For ETFs And Investment Funds - Qualebroker 2022 (Italy)
Best Discount Broker - Broker Chooser 2022 (UK)
Best Broker For Stock Trading - Broker Chooser 2022 (UK)
✓ Pros
Low minimum deposit
Multiple account currencies
Commission-free stock trading
Access 50 exchanges in 30 countries
Beginner-friendly platform and app
Regulated by BaFin and FCA
No inactivity fee
90+ global awards
2+ million users
✗ Cons
No copy trading
No demo account
No MT4 integration
No CFD trading
Few payment methods
DEGIRO is an online broker based in the Netherlands. The brand has established itself as a trusted name in share dealing thanks to its low-cost pricing model. This DEGIRO review answers traders' questions on customer contact options, dealing costs, minimum deposits, account types and the trading platform itself. Find out if our experts recommend signing up with DEGIRO.
Assets & Markets
The following asset classes and markets are supported:
Stocks
Bonds
Futures
Options
Structured products
Exchange-traded funds (trackers)
Hard and soft commodities
Overall, DEGIRO is great for access to stocks and ETFs. There are currently 30+ stock exchanges listed, with more than 5000 ETFs to choose between – from the largest international markets to smaller European stock exchanges. However, the brand has a narrow selection of funds and bonds on offer, particularly US-based assets.
On the downside, contracts for difference (CFDs), forex and cryptocurrency are unavailable  – DEGIRO provides execution-only share dealing.
Spreads & Commission
DEGIRO is among the top European share dealing brokers for low fees. In most asset classes, it is one of the best-value platforms on the market.
Accessing the broker's platform is free, including real-time quotes from Euronext exchanges and Tradegate. In addition, users get a range of financial data and market information at no cost.
DEGIRO levies a commission for US, Canadian and local stock trades of €1 per trade, plus a €1 handling fee. This is competitive vs alternatives.
For ETFs, there are zero commissions on Core Selection products in the US, Europe, Asia, worldwide and emerging markets, plus relevant exchanges, such as Euronext Paris, Euronext Amsterdam, and Xetra. With that said, external product fees and spread charges may apply. For the remaining ETFs, there is a €2 commission. Similar to stocks, the handling fee for ETFs (except the Core Selection) is €1 per transaction.
DEGIRO charges connectivity fees for trading outside the home market. For example, if you are an investor located in the UK, you would not need to pay data charges to trade on the London Stock Exchange (LSE). However, if you were looking to invest in shares on the New York Stock Exchange (NYSE), you would be liable for an annual €2.50 fee per additional connection.
The online broker also streamlined its pricing structure in recent years – introducing flat fees across popular products. For all other European exchanges and for Tradegate transactions, it's €3.90 per trade while for Asian-Pacific exchanges, it's €5, and for bonds, it's €2. Futures and options contracts come with a €0.75 charge.
Note, if your account currency differs from the currency of the asset you wish to buy, you will be charged a currency conversion fee at a rate of 0.25%.
There is a €20 fee per position plus external costs to transfer a portfolio from DEGIRO.
Leverage Review
DEGIRO offers money lending using the trader portfolio as collateral, the service is referred to as Debit Money. The amount available will vary based on the composition of the portfolio.
You will need to upgrade your account type to Active or Trader. For this, you will to complete two tests and sign additional conditions in the trading platform.
When you are trading on margin from DEGIRO, your Cash Balance will be negative. The negative balance is the funds you have interest on, which will incur an interest rate fee of 4%.
Account Types
DEGIRO offers five live accounts to traders. All accounts come with their benefits, many of which can be tailored to suit individual trading requirements. Nonetheless, each account type has its own set of conditions for commission, margin call, and leverage, plus differing minimum deposit requirements.
This comprehensive range of accounts means that the needs of most traders are covered, from complete novice investors to experienced, high-volume traders.
The features of each profile:
Custody account (not available to new traders): This entry-level account allows users to trade shares, investment funds, bonds and trackers (ETFs). Custody accounts come complete with free real-time prices on the latest Euronext exchanges.
Basic account: The broker's default profile. In addition to all the features available with a custody account, a basic account also entitles users to trade on products and warrants. Like a custody account, basic users are unable to short stocks or buy on margin.
Active account: Active accounts combine all the features of custody and basic accounts, with the additional option of being able to buy on up to 50% of your available margin and the ability to go short.
Trader account: In addition to all previously mentioned features, trader accounts allow users to buy on up to 100% of their available margin. Trader account holders also get access to free dividends and coupon processing.
Day trader account: This account allows users to trade derivatives and buy on up to 100% of their available margin – with additional margin available during open trading hours.
Note, the risks associated with investing are lowest in the Basic account and the highest in the Day Trader profile. Ensure you select the most appropriate solution based on your trading experience and attitude to risk.
Payment Methods
Deposits
Deposits to the platform can be made via the following methods:
Bank transfer – two to three day processing time
Sofort (Available in select countries) – instant processing
Trustly (Available in select countries) – instant processing
It is a shame to see such a limited selection of payment methods. There is no possibility of depositing funds via credit/debit cards or popular e-wallet solutions such as Neteller or Skrill.
You can deposit in nine account base currencies: CHF, DKK, GBP, NOK, SEK, EUR, CZK, PLN and HUF.
The firm has relatively strict rules on bank transfer deposits. You should have a bank account opened in the home country of the currency you are depositing in. This means DEGIRO will only accept bank transfers in bank accounts linked to your name, from accepted countries only.
When we used the DEGIRO platform it was good to see no minimum deposit requirement, or fees to fund a live account.
Withdrawals
DEGIRO does not charge any withdrawal fees. However, when we used the Czech platform, withdrawals were only possible in CZK. The broker provides a manual conversion tool from EUR to CZK (fees are waived).
Like many online day trading platforms, withdrawals can only be made via bank transfer. The firm ensures that all withdrawn amounts are sent via bank transfer within two to four business days. We did not come across any minimum or maximum withdrawal limits while using DEGIRO.
As a security measure, users are not permitted to transfer to accounts that are not in their own name. It is also worth noting that DEGIRO may require additional information from you prior to authorizing an initial withdrawal. If this information is not provided promptly, the withdrawal period could take longer than the standard four-day timeframe.
Trading Platform
Web users will find the DEGIRO platform easy to navigate and make trades on. The broker's award-winning software is suited to all investors, combining a user-friendly interface with all the relevant trading tools required to make investment decisions. A lot of effort has been put into the user experience.
For additional safety, the site uses two-step authentication (2FA) which means that your personal information and trading data are kept safe.
As an international day trading platform, DEGIRO is attuned to local language requirements. For example, when we used the platform in the UK, the site loaded in English. Whereas if you are a German investor, the platform will automatically load a German version of the terminal without having to adjust any settings.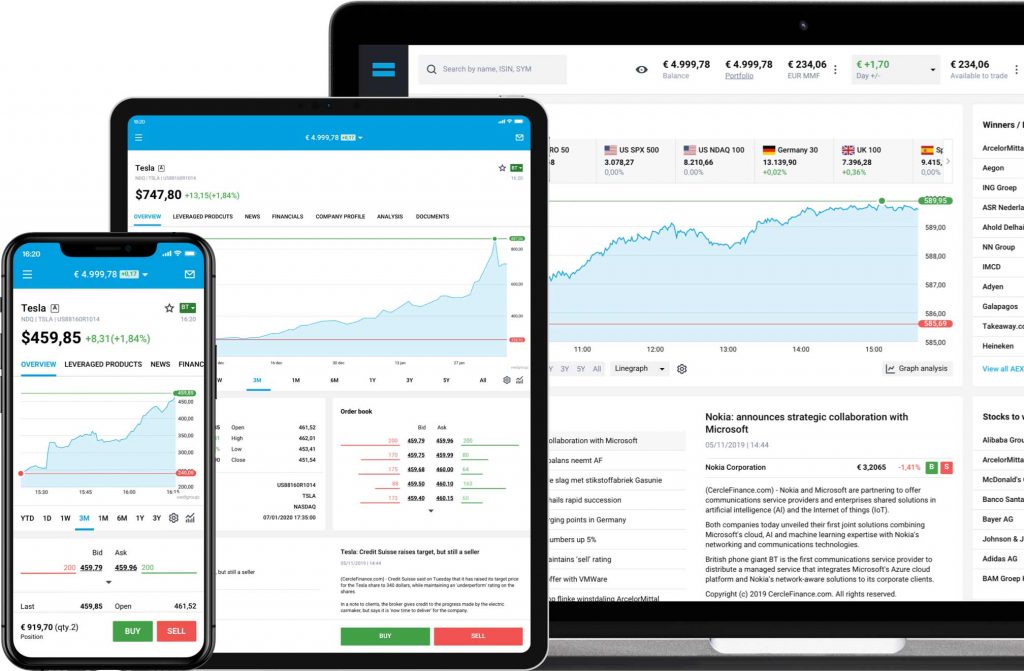 When we used DEGIRO's web-based platform, we thought it was intuitive and easy to execute trades, despite not being the most advanced trading site in the industry. The charting tools are rather basic but adequate for an execution-only platform. Paired with 10+ technical indicators, it generates a suitable environment to explore and invest. Our experts did note a lack of customization options that could be improved.
Nonetheless, the search functions are excellent, and you will generally find the name of the product you're looking for before you've even finished typing. Products are categorized by asset class, and you can also view the stock market and currency each product is available in. There is also an option to filter your search based on the type of asset you are currently interested in.
We summarize some of our favorite platform features below:
Touch ID login
Real-time quotes
Stock specific news
Fundamental analysis tools
Extensive order capabilities
Integrated economic calendar
Note, there is no MetaTrader 4/MetaTrader 5 platform.
How To Place A Trade
While using the DEGIRO platform, it was straightforward to place a new order:
Open the order window – select the '+' symbol or buy / sell button in the product detail page. Alternatively, you can initiate a new trade directly via price charts
A separate window will open – fill in the relevant details including volume, validity, buy or sell and order type
Review the details and click 'place order'
The screen will be replaced with an order confirmation screen – confirm the trade or exit without investing funds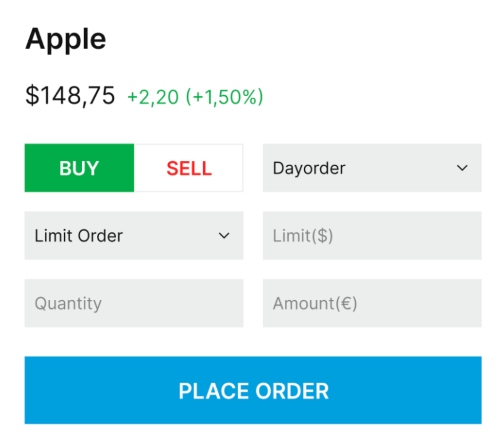 Mobile App
DEGIRO's dedicated mobile app is reasonably basic, although the beauty lies in its simplicity – the app is incredibly straightforward to use.
With an intuitive interface, we were able to begin trading in a matter of seconds, which is important for day traders and those who want to strike at an opportune moment.
Ultimately, the DEGIRO app has been designed for use on the move, allowing investors to make trade decisions wherever they are in the world.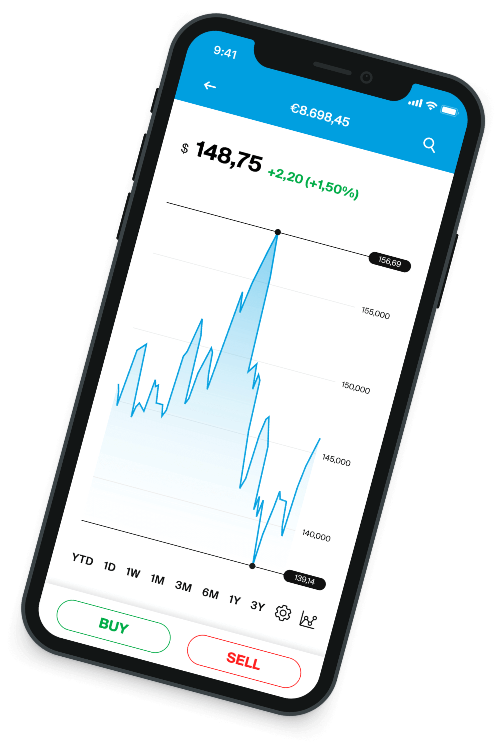 Order management within the app functions the same way as it does on the desktop site. Users can decide to turn on push notifications and email confirmations, although DEGIRO currently does not offer price alerts.
It is a comprehensive, user-friendly platform that everybody should find easy to navigate around. In addition, the app offers:
2FA
Charting tools
Favorite lists
ESG ratings
Single click trades
Real-time updates
Interactive graphs
Winners and losers
Hundreds of instruments to choose from
The ability to rapidly open, close and modify positions
Demo Account
DEGIRO does not currently offer a demo day trading account, which is unusual vs competitors such as Plus500, eToro, Interactive Brokers and XTB. The broker does not offer this profile as an alternative because there are no fees to sign up for a live profile.
This is disappointing, particularly for beginners. Simulation profiles are incredibly useful when it comes to honing trading skills without having to risk any capital. However, seasoned traders who have a good idea of what they are doing shouldn't feel dissuaded by the absence of a demo account, and with low minimum deposits, newcomers can start trading penny stocks until they gain the confidence to begin risking larger amounts.
Deals & Promotions
Promotions and offers at DEGIRO are communicated directly with account holders, or via their website.
Regulation & Licensing
DEGIRO is regulated by several top-tier financial authorities such as the Federal Financial Supervisory Authority. Although a private company, DEGIRO has its own banking license following the merger with Flatex AG in 2021. FlatexDEGIRO Bank Dutch Branch, trading under the name DEGIRO, is the Dutch branch of flatexDEGIRO Bank AG.
As a German-regulated bank, flatexDEGIRO Bank AG falls under a license from the Bundesanstalt für Finanzdienstleistungsaufsicht (BaFin) due to its corporation location. With this comes indirect oversight from the European Central Bank (ECB).
Our experts found that the broker is licensed in all relevant operational markets including holding legitimate status by the UK Financial Conduct Authority (FCA). Additionally, licensing is approved by the Dutch Central Bank (DNB) and The Netherlands Authority for the Financial Markets (AFM) which continuously supervises the company's operations and financial integrity.
Investor Compensation
DEGIRO clients' assets are segregated into separate entities and thus protected against the insolvency of DEGIRO.
In the unlikely event that the segregated assets cannot be returned to clients, DEGIRO falls under the German Investor Compensation Scheme, which compensates any losses from non-returned assets up to 90% (with a maximum of EUR 20,000).
Furthermore, any money deposited on a DEGIRO Cash Account with flatexDEGIRO Bank AG will be guaranteed an amount of up to EUR 100,000 under the German Deposit Guarantee Scheme. This additional protection is partly why so many users choose DEGIRO as their preferred trading platform.
Additional Features
DEGIRO's app and desktop versions are unified, which allows for a seamless transition between the two. This is particularly useful for those who trade from a desktop device and who also want to keep an eye on the latest market movements while on the go.
It also ensures that all features available in the web version of DEGIRO are accessible via the app, meaning all aspects of asset management can be handled in a platform-agnostic manner.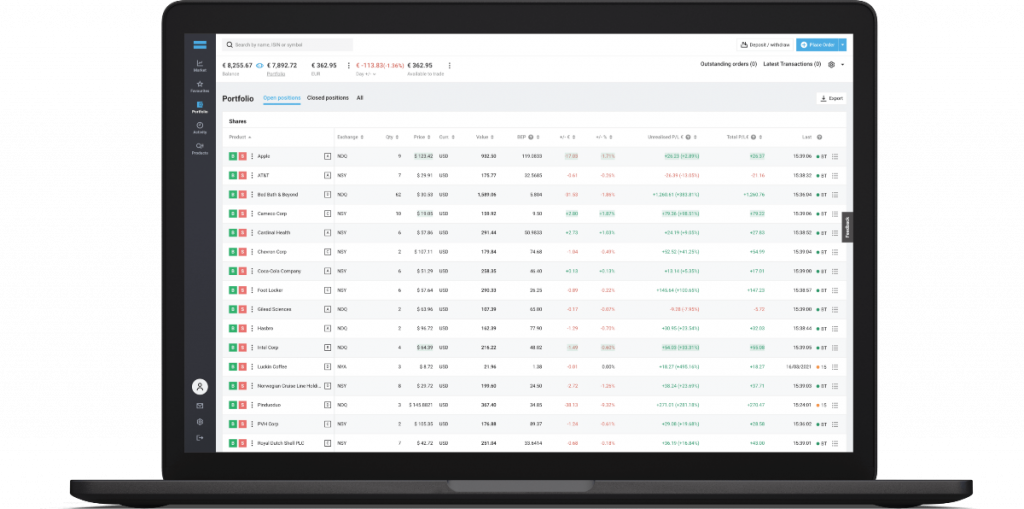 One of the more useful features we found when using the DEGIRO platform was the "stocks to watch" section of the platform. This provides information on various companies which have recently made the headlines or are currently receiving larger than average trading volumes. The purpose of this feature is to give you an insight into stocks you might find relevant or interesting. Better still, it's possible to order stocks directly from the "stocks to watch" page by simply clicking on the 'B' symbol next to each mentioned asset.
To conserve energy and to make browsing easier during night-time, DEGIRO has now published a dark mode that launched to traders in 2021. Users can now switch seamlessly between day mode and dark mode, which can be particularly useful for users who are trading on-the-move from a device with low battery life.
DEGIRO also offers tailor-made information dependent on your previous trading choices. This helps to highlight assets or stocks you may be interested in while cutting down on clutter within the platform dashboard, leaving more room for information that is relevant to you.
Finally, our experts found the broker's educational videos useful for getting to grips with the platform and completing basic tasks, from making deposits and withdrawals to buying stocks.
Customer Support
We were offered plenty of customer support options while using DEGIRO. Customer service for technical issues/software problems is free. Day traders should feel assured of responsive customer service, with telephone helplines available from 7 AM to 9 PM Monday to Friday. Users should be aware that if they wish to trade over the phone, they will receive a surcharge for trades/seeking advice.
Support details:
Email – clients@degiro.co.uk
Telephone Number – +31 20 261 3072
HQ Address – DEGIRO, Rembrandt Tower – 9th Floor, 1096 HA Amsterdam, The Netherlands
It is disappointing to find no live chat services. However, a comprehensive FAQ section is available via the 'help center'.
For questions regarding platform support, tax queries or general investing with the brand, visit the 'knowledge center'.
Safety & Security
Security is a key focus for DEGIRO. Some of the steps we came across when trading with the brand included:
Face & Touch ID
Segregated client funds
Two-step authentication to bolster security
State-of-the-art encryption to ensure data is kept private and secure
Client's assets are segregated in separate entities and thus protected against insolvency risk. In the unlikely event that the segregated assets cannot be returned to clients, DEGIRO falls under the German Investor Compensation Scheme, which compensates any losses from non-returned assets up to 90% (with a maximum of EUR 20,000). Furthermore, any money deposited on a DEGIRO Cash Account with flatex DEGIRO Bank AG will be guaranteed up to an amount of EUR 100,000 under the German Deposit Guarantee Scheme.
With plenty of IT security measures in place, it's fair to say that DEGIRO is one of the most secure trading platforms. The brand regularly updates its app to ensure it is secure and functions well for users on all operating systems.
Ultimately, from a safety and security perspective, it is difficult to find fault with how DEGIRO operates.
Company Details
DEGIRO was founded in 2008 before launching its online brokerage services in 2013.
Headquartered in the Netherlands, the brand now operates internationally, successfully expanding across 18 regions to make it one of the leading stockbrokers in Europe. Today, more than two million users utilize the trading platform, assured by top-tier regulatory oversight in the various countries in which it operates.
The company's mission statement explains their intention is to provide a low cost, comprehensive share dealing service, via a simple, trustworthy platform, empowering their customers. The service essentially allows investors to access global exchanges at any time, in any place, from any device.
In 2020, DEGIRO joined forces with Flatex AG. The following year DeGiro B.V. merged with flatexDEGIRO Bank AG to become the biggest online execution-only broker in Europe.
The firm offers hundreds of tradeable assets, including stocks, mutual funds, ETFs, options, bonds, warrants and more. In December 2020, flatexDEGIRO AG was listed on the SDAX, making the brand one of the 160 largest listed companies in Germany.
As a German regulated banking institution, flatexDEGIRO Bank AG is primarily supervised by the German financial regulator, the Bundesanstalt für Finanzdienstleistungsaufsicht (BaFin). This is the German equivalent of the Dutch Authority for the Financial Markets (AFM).
In the Netherlands, the Dutch Central Bank (DNB) is tasked with the integrity supervision of DEGIRO and the organization is subject to conduct supervision by BaFin.
In addition, flatexDEGIRO Bank AG falls under the indirect supervision of the European Central Bank (ECB).
Trading Hours
Users can trade on DEGIRO 24 hours a day, 7 days a week. However, it's important to understand that not all markets are open 24 hours a day. This means that your trading is limited to the hours when the markets you want to trade in are open.
For example, the London Stock Exchange is open 8am to 4:30 pm GMT, whereas the NASDAQ is open for normal hours trading between 2 pm and 9 pm GMT.
DEGIRO Verdict
DEGIRO is an excellent choice for traders who want a simple platform without having to spend a lot on fees. It is a lot cheaper than some of its bigger European competitors, with few coming close to even competing with DEGIRO's current fee listings. With a dedicated, integrated website and mobile app, DEGIRO is ideal for traders who might want to make multiple trades on the move. This approach can be particularly beneficial to day traders, as the fast-paced nature of day trading means that users need to have their finger on the pulse of all the latest financial goings-on during the day.
The "refer a friend" scheme can also be useful for those who want to save money on transaction fees. Elsewhere, there are other interesting features that can help traders keep up to date with current financial news. The "stocks to watch" section helps day traders choose relevant assets and products to purchase.
However, despite the low prices and intuitive user interface, DEGIRO is not without its shortfalls. While some onsite educational tools exist (such as trading tutorials and videos), there isn't quite enough to help educate new traders. The absence of forex trading is likely to put some users off, and the fact that money can only be withdrawn via bank transfer might be enough to dissuade some day traders from using the platform altogether. The lack of price updates via push notifications is also something that DEGIRO might consider working on in the future if they want to further improve their platform.
Overall, DEGIRO is a top-rated broker with low fees, no minimum deposit and rich market data.
Accepted Countries
DEGIRO only accepts traders from Australia, United Kingdom, Austria, Croatia, Estonia, Finland, Germany, Gibraltar, Hungary, Iceland, Latvia, Liechtenstein, Martinique, Mayotte, Norway, Poland, Romania, Saint Martin, Slovenia, Spain, Belgium, Bulgaria, Czech Republic, Denmark, France, French Guiana, Greece, Guadeloupe, Italy, Ireland, Lithuania, Luxembourg, New Zealand, Netherlands, Portugal, Reunion, Singapore, Slovakia, Sweden, Switzerland.
Payment Methods
DEGIRO Details
Minimum Trade
Variable
Regulated By
BaFin, FCA
Account Types
Islamic Account

No

Mobile Apps
iOS, Android & Windows
Margin Trading

Yes

Margin Rate
4%
Volatility Index

No

Spot Trading

No

Perpetual Swaps

No

ELWs

No

REITs

No

AI / Machine Learning

No

Robo Advisor

No

P2P Trading

No

Negative Balance Protection

Yes

VPS Hosting

No

Tournaments

No

Demo Competitions

No

Managed Accounts

No

Market Maker

No

Social Trading

No

Inactivity Fee
$0
Guaranteed Stop Loss

No

Stock Exchanges

Australian Securities Exchange
Borsa Italiana
Chicago Mercantile Exchange
Deutsche Boerse
Euronext
Hong Kong Stock Exchange
London Stock Exchange
Nasdaq
New York Stock Exchange
SIX Swiss Exchange
Tokyo Commodity Exchange
Toronto Stock Exchange

Commodities

Aluminium
Cannabis
Coffee
Copper
Cotton
Gasoline
Gold
Livestock
Oil
Silver
Compare DEGIRO
Compare DEGIRO with similar brokers that accept traders from your location. Among available brokers these are the most similar to DEGIRO:
IG Group – IG is an award-winning broker that has an excellent reputation globally. The brand-US offers spread betting, CFD and forex trading across a comprehensive suite of markets. IG is also multi-regulated, provides a great trading app and has 50 years experience.
Go to IG Group
Just2Trade – Just2Trade is a reliable multi-regulated broker registered with FINRA, NFA and CySEC. The company has 155,000 clients from 130 countries and stands out for its huge suite of instruments and additional features, including a social network, robo advisors and a funded trader programme.
Go to Just2Trade
Forex.com – Forex.com boasts a global reputation with multiple awards and 20+ years experience. Regulated in the US, EU, UK and Canada they provide a huge range of markets, not just forex, and offer competitive fees on a cutting-edge platform. The brand also provides a suite of additional tools, from performance analytics and SMART Signals to advanced charts and strategy builders.
Go to Forex.com
DEGIRO Comparison Table
Compare DEGIRO With Similar Brokers
DEGIRO
IG Group
Just2Trade
Forex.com
Rating
2.8
4.4
3.5
4.5
Markets
Stocks, ETFs, Bonds, Futures, Options, Warrants
CFDs, Forex, Stocks, Indices, Commodities, ETFs, Futures, Options, Crypto, Spread Betting
Stocks, ADRs, ETFs, Futures, Options, Commodities, Bonds
Forex, Spot Metals
Demo Account
No
Yes
Yes
Yes
Minimum Deposit
$0
$0
$100
$100
Minimum Trade
Variable
0.01 Lots
0.01 Lots
0.01 Lots
Regulators
BaFin, FCA
FCA, ASIC, NFA, CFTC, DFSA, BaFin, MAS, FSCA
CySEC, NFA, FINRA, Bank of Russia
NFA, CFTC
Bonus
–
–
Up to $2,000 for professional accounts
Active Trader Program With A 15% Reduction In Costs
Education
No
Yes
No
Yes
Platforms
Own
MT4, AutoChartist, TradingCentral
MT4, MT5, TradingCentral
MT4, MT5, TradingView, eSignal, AutoChartist, TradingCentral
Leverage
–
1:30 (Retail), 1:250 (Pro)
1:20
1:50
Payment Methods
3
6
20
8
Visit
–
Visit
Visit
Visit
Review
DEGIRO
Review
IG Group
Review
Just2Trade
Review
Forex.com
Review
Compare Trading Instruments
Compare the markets and instruments offered by DEGIRO and its competitors. Please note, some markets may only be available via CFDs or other derivatives.
Compare DEGIRO Trading Instruments

| | DEGIRO | IG Group | Just2Trade | Forex.com |
| --- | --- | --- | --- | --- |
| CFD | No | Yes | Yes | No |
| Forex | No | Yes | Yes | Yes |
| Stocks | Yes | Yes | Yes | Yes |
| Commodities | Yes | Yes | Yes | Yes |
| Oil | Yes | Yes | Yes | Yes |
| Gold | Yes | Yes | Yes | Yes |
| Copper | Yes | Yes | No | No |
| Silver | Yes | Yes | Yes | Yes |
| Corn | No | No | No | No |
| Crypto | No | Yes | Yes | No |
| Futures | Yes | Yes | Yes | No |
| Options | Yes | Yes | Yes | Yes |
| ETFs | Yes | Yes | Yes | No |
| Bonds | Yes | Yes | Yes | No |
| Warrants | Yes | Yes | No | No |
| Spreadbetting | No | Yes | No | No |
| Volatility Index | No | Yes | No | No |
DEGIRO vs Other Brokers
Compare DEGIRO with any other broker by selecting the other broker below.
The most popular DEGIRO comparisons:
FAQ
Is DEGIRO Legit Or A Scam?
Yes, DEGIRO is regulated under the trading name flatexDEGIRO, which is the Dutch branch of flatexDEGIRO Bank AG. The broker is primarily supervised by the German financial regulator, the Bundesanstalt für Finanzdienstleistungsaufsicht (BaFin), however it also holds relevant licensing from other countries of operations. This includes regulation from the Financial Conduct Authority (FCA) and the Dutch Central Bank (DNB).
Is Degiro A Good Online Broker?
DEGIRO is a good online broker – particularly when you consider that it is possible to trade with no inactivity fees or minimum deposits. This is reason enough to give DEGIRO a try, particularly if you're an intermediate or experienced day trader who does not require much in the way of tutorials.
What Products Can I Trade Through DEGIRO?
DEGIRO offers trading in ETFs, bonds, shares, leveraged products and derivatives such as options and futures. The broker does not offer fractional shares, forex or cryptocurrency (including Bitcoin) investments.
Does DEGIRO Accept Global Clients?
DEGIRO currently offers services to residents of 18 countries. This includes the UK, France, Germany, Italy and Belgium.
Can Anyone Open A DEGIRO Investment Account?
To open a live profile you must be; 18 years or older, have a valid ID, have a bank account held in your name and are an exclusive tax resident in the broker's accepted countries list.
Does DEGIRO Offer A Demo Account?
DEGIRO does not offer a demo profile. However, live accounts can be opened free of charge meaning you can familiarize yourself with trading platform features and only invest personal capital when you're ready.
Article Sources
The writing and editorial team at DayTrading.com use credible sources to support their work. These include government agencies, white papers, research institutes, and engagement with industry professionals. Content is written free from bias and is fact-checked where appropriate. Learn more about why you can trust DayTrading.com
Visit
DEGIRO is a Netherlands-headquartered broker with millions of users and authorization from leading regulators, including the BaFin and FCA. Clients can access global exchanges anytime, anywhere, and on any device. DEGIRO offers stock trading with exceptionally low fees and a huge range of markets. DEGIRO are not CFD brokers and do not offer CFDs.

Investing involves risk of loss