Filecoin Day Trading 2022 – Tutorial and Brokers
Filecoin (FIL) has surged in popularity among traders in 2022. It is a decentralised peer-to-peer storage network that uses blockchain technology. In this review, we explain how Filecoin works, its benefits and risks from a trading perspective, plus how to start buying and selling the cryptocurrency. We also examine price predictions, use cases and digital wallets. Find out how to start trading Filecoin today.
What Is Filecoin?
Filecoin is a decentralised storage protocol where participants can rent, sell or buy unused storage space on the blockchain in return for FIL tokens. Filecoin is essentially an incentive layer built on top of the peer-to-peer InterPlanetary File System (IPFS). Miners can also earn FIL tokens by storing and serving data.
The network operates similarly to other file storage platforms like Dropbox and Amazon Web services (AWS). However, these have a centralised authority that holds client data. The data held on the FIL network is stored on multiple computers around the world.
Filecoin is also exploring other use cases for blockchain technology outside of traditional financial means, which could positively impact the value of the crypto.


History
Filecoin was launched in 2014 by Juan Benet when he released the whitepaper "Filecoin: A Cryptocurrency Operated File Storage Network". Juan Benet is also the founder of Protocol Labs.
In a 2017 ICO, the team raised around $250 million, which was the largest token offering at the time. Notable investors included Digital Currency Group, Winklevoss Capital and Union Square Ventures.
The Filecoin mainnet release date was the 15th October 2020. The price of the crypto was expected to climb by more than 150% between March and April 2021. This jump has been attributed to news of Grayscale adding Filecoin as a trading asset. Grayscale also facilitates investing in larger cryptocurrencies such as Bitcoin, Ethereum and Litecoin.
Filecoin currently has a fully diluted market capitalisation of over $5,000,000. FIL reached an all-time high (ATH) on March 30th, 2021 at $191.36, though it has since dropped as low as $69.82.
How Does Filecoin Work?
Filecoin is a distributed, peer-to-peer network where participants communicate through secure channels. As mentioned, the network is built on top of an IPFS, which uses hash-addressed content structures to store data as opposed to IP addresses. Nodes manage the distribution of the crypto and receive FIL tokens as rewards.
Miners have to submit Proof of Replication (PoR) to show they are capable of storing data. Miners must also periodically submit additional proofs to show that they are fulfilling storage agreements. This is called Proof of Space-Time (PoST). Miners can lose FIL tokens if they fail to meet the requirements.
Clients who wish to store data on the Filecoin network have to pay an initial fee and another to retrieve the file. The storage and retrieval costs are agreed upon with miners.
On top of the tokens paid to miners for storing data, they can earn block rewards that are proportional to the hard drive space they've contributed to the network.
Filecoin Chart
Pros Of Trading Filecoin
Price swings – Day traders can profit from FIL's active intraday price movements. The value of the token can swing up or down by up to 20% in 24 hours. This provides plenty of opportunities for earnings.
Fast-growing – The crypto has seen a noticeable surge in recent months. It is one of the fastest-growing altcoins in the market, rivalling the likes of Litecoin. The crypto is also proving particularly popular in China.
Leveraged trading – Many exchanges offer leveraged trading on cryptocurrencies. While this may amplify losses, savvy day traders can multiply profits with borrowed capital.
Accessibility – As long as you have a reliable internet connection, you can start day trading Filecoin from anywhere, 24/7, 365 days a year. It's also available at most of the top exchanges, including those listed above.
Maximum coins – The total token supply can reach up to 2 billion. Competitors such as Litecoin only reach up to 84 million.
Alternative opportunities – The Filecoin network uses blockchain technology to create decentralised storage. This means you can also store NFTs on the network, opening up the list of possible use cases and trading opportunities.
Resources – There are plenty of resources to utilise when trading FIL. Historical price charts and YTD graphs make analysis and predictions easier to forecast in 2022. In addition, educational content, community discussion forums and the latest news can help traders keep on top of Filecoin updates and roadmaps. There are even free earnings calculators online to help you predict returns on investments.
Cons Of Trading Filecoin
Uncertain future – It is hard to predict how Filecoin will perform in the long-term. Even 5-year predictions can't accurately forecast the future price of the token. There is also the possibility that the cryptocurrency market will eventually crash or face significant regulation.
Competition – Filecoin is one of thousands of altcoins available today. Additionally, it's regularly compared to similar cryptos like Chia and Siacoin. Both also make use of excess hard drive space or offer open-source storage. Thus, Filecoin has some stiff competition to overcome.
Volatility – As with most cryptocurrencies, the live price of Filecoin can be extremely volatile. This brings unpredictability and creates risks for inexperienced traders. Make sure you consider your approach to risk management before you fund your trading account.
Double spend – Protocol Labs have recently come under fire for a potential bug in the API code. Traders claimed to have received double deposits on the Binance exchange, creating a potential loophole in the network. Developers eventually discarded the V1 Filecoin API. As a result, it's clear the crypto is far from a finished product.
How To Start Trading Filecoin
Open an account – You will need to pick a broker to open a live trading account with. Since its launch, Filecoin has been listed on plenty of major exchanges, including Gemini, Coinbase, Kraken and Binance.
Open a wallet – You will need to open a digital wallet to store FIL tokens off the exchange. The private key to a wallet ensures only you have access to your funds. A wallet also reduces the risk of losing your investment if the exchange platform gets hacked. You can choose between a hardware wallet or a software wallet. One of the top-rated hardware wallets is Ledger Nano X. To use this, you will need to download the Lotus application.
Buy or sell – There are many ways to trade Filecoin. Firstly, you will need to place an order to buy the crypto. You may opt for trading pairs like FIL/USD, FIL/GBP or crypto pairs like FIL/USDT. Fiat pairs tend to have higher liquidity and tighter spreads. You can also choose to increase profit potential with leveraged trading. However, your options will depend on the exchange.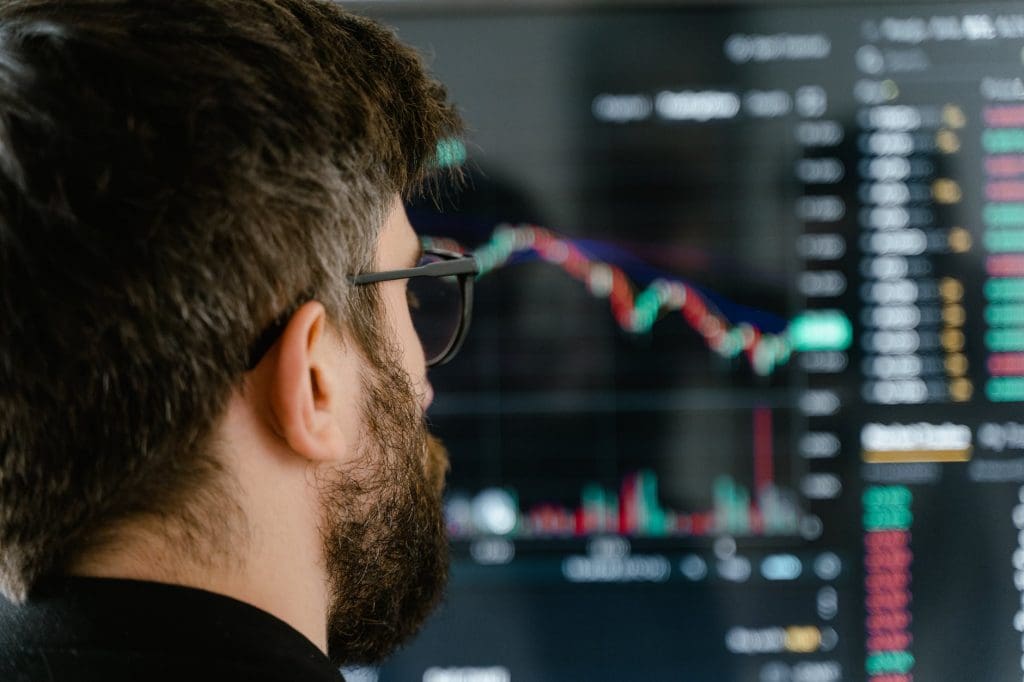 Should You Start Trading Filecoin?
Filecoin offers a disruptive decentralised storage solution using blockchain technology. The crypto has grown in popularity and can be found on most major exchanges. But whilst wild price swings may offer profit potential, they can also lead to large losses if investors aren't careful. Make sure to use price prediction charts, technical analysis and keep on top of the latest news to inform your trading strategy into 2022, 2025, 2030 and beyond.
FAQ
What Is Filecoin?
Filecoin is a decentralised peer-to-peer file storage network that uses blockchain technology. Storage miners and clients (also known as nodes) participate in deals to agree on costs in return for FIL tokens. The distribution of files is shared across multiple locations around the world where no one person has central authority. You can also convert FIL into ERC20 tokens.
Is Filecoin A Good Investment?
The choice to add Filecoin to your portfolio will depend partly on your risk tolerance. The price of Filecoin peaked at $191.36 in March 2021 – a 325% increase since its mainnet launch in October 2020. And whilst the subsequent dip may not make it a promising long-term investment, short-term traders may be able to yield substantial profits.
Where Can I Trade Filecoin?
There are a number of exchanges where you can start trading Filecoin (FIL). Some of the best options include Coinbase, Binance, Gemini and Kraken. Each broker will have varying transaction fees, while some offer leveraged trading. Additionally, Binance allows users to earn staking rewards. It's important to do your research before opening an account.
What Is The 5 Year Price Prediction For Filecoin?
Some experts on Digitalcoin offer bullish predictions for Filecoin over the next five years. Technical analysis also indicates there is potential for the price of FIL to rise. However, no forecast can be truly accurate as the cryptocurrency market is extremely unpredictable, as evidenced by Bitcoin.
How Do You Mine Filecoin?
Miners must prove they can store client data. This is called Proof of Replication. Miners then have to submit additional proofs called Proof of Space-Time to show they are fulfilling responsibilities. In return for storing data, miners receive rewards in FIL coins. Note, the Filecoin website warns that storage mining is an advanced process, with notable hardware requirements i.e. GeForce RTX 3090. You can estimate potential earnings by using a mining profitability calculator online. For more information on mining rigs, hardware and other requirements, download the relevant docs from the Filecoin website.