Hedget Crypto Review
Hedget is a blockchain-based platform offering leveraged trading on cryptocurrencies. Users benefit from low prices on fully decentralised trading options. This review will analyse the Hedget platform, how it works, its merits, fees and more.
What Is Hedget?
Hedget is a blockchain platform specialising in decentralised options trading. Its goal is to protect investors from the fluctuating prices of digital currencies. Options products allow clients to trade the underlying asset, such as Bitcoin, without owning the coin itself. Clients essentially pay a small premium to hedge against volatile cryptos.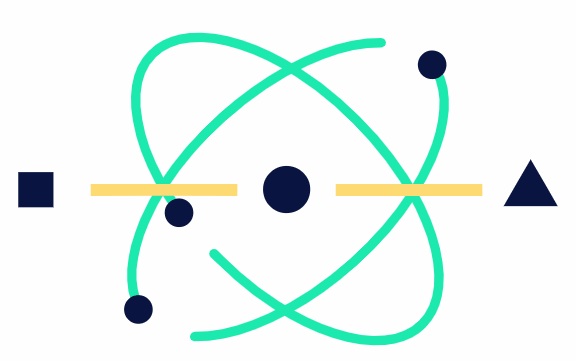 Hedget launched at the beginning of 2021 as a DAO (decentralized autonomous organization). The DAO uses the Ethereum chain for settlements and has backing from leading VCs including FBG Capital and Alameda Research. It is operated by Sam Bankman-Fried of FTX and the management team is experienced in blockchain.
According to Crunchbase, Hedget raised $500,000 in its seed round with investors optimistic about the emerging crypto project.
How Hedget Works
In the past, options and other derivatives have been tested in a decentralised manner. The lag in settlement and other technological limitations that come with blockchain made this a challenge. Digital financial tools also greatly rely on relational databases, something that blockchains simply cannot do – Hedget aims to provide a solution to this.
Hedget exists as a layer on top of the Chromia blockchain. The "relational blockchain" acts as a second layer on top of the popular blockchain system, Ethereum. A combination of the two platforms enables Hedget to perform settlements on Ethereum, while trading is done on Chromia. By using the Ethereum chain for settlement, slow and expensive transactions and reduced.
Hedget allows users to create and trade options on the platform. Every time an options product is created, the system will generate a token to represent the option. The platform only allows best-fit combinations of maturity dates and strike prices to ensure optimal liquidity of options. The pricing options use stablecoins such as USDC, DAI, and BUSD.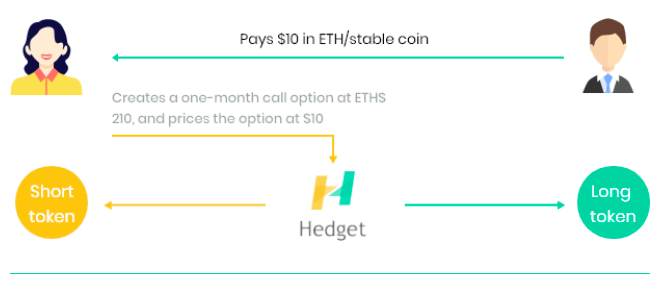 Hedget uses European-style options which support cash or physical settlement. Options providers are required to put down full collateral, ensuring a secure trading environment for users. The platform's options products can also be used to protect DeFi positions in lending and trading.
Hedget is powered by flexible modules that can be integrated seamlessly into other platforms.
Three Key Structures
The design of the Hedget protocol is simple. The platform will also continue to evolve, adding features that further help users mitigate risk when it comes to trading in the decentralised finance space.
The three structures are as follows:
ESC: Ethereum smart contract that will handle ETH and ERC-20 token deposits and withdrawals. It also facilitates physical settlements.
CTD: Chromia-based blockchain (dApp) which handles traders and tracks the ownership of contracts. It also runs the necessary communication to perform settlement via Ethereum contracts.
CSW: The client-side wallet and trading interface takes commands from users and carries them out using smart contracts and the Chromia dApp.
Binance Smart Chain
Hedget has expanded to the Binance Smart Chain (BSC). By integrating BSC as a secondary settlement layer, Hedget will allow its users to both provide and trade options backed by BEP-based projects and tokens. Most of the top 30 crypto assets beyond ERC20 tokens are available on BSC including DOT, BCH and FIL.
The Hedget Token (HGET)
HGET is an ERC-20 token that Hedget uses for governance and utility.
As a governance token, it settles transaction fees and funds asset reserves as well as general functions. It is also used to prevent price manipulation of order books through spamming. To do this you need to stack HGET tokens. These tokens are controlled by the DAO.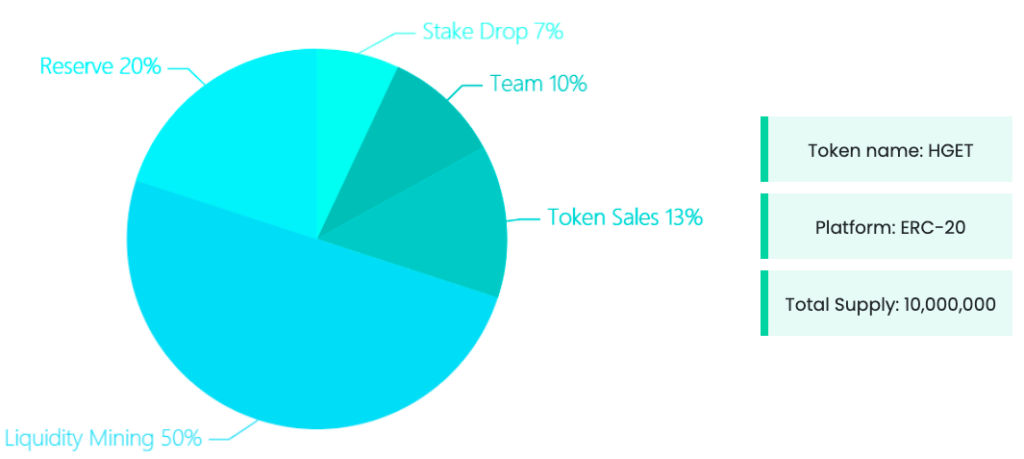 The $HGET initial coin offering (ICO) was held in September 2020. In total there were 423,000 tokens for sale at $13.00. The token is available on Uniswap. A token swap between HEDG and ETH or other ERC-20 tokens can now be completed seamlessly on Uniswap's decentralized asset exchange.
When Hedget tokens migrate to Mainnet, HGET will be used to prevent spamming of orders. This can lead to API overloads and order book manipulation. HGET tokens will need to be staked to interact with the platform. Staking requirements will increase as the monetary value and frequency of user interactions increase.
Hedget Live Price Chart
The share price can also be tracked on CoinMarketCap. Users will find historical data, market insights and future price predictions.
Fees
The platform offers near-zero fees. Investors pay the smallest possible premium to secure positions against unexpected price movements:
Taker fee: 0.04% of underlying assets
Maker fee: -0.02% of underlying assets (rebate fee part of liquidity mining)
Reserve fee: 0.02% difference between Taker and Maker fees will go to the special reserve. These will be locked for two years and governed by the DAO
Settlement fee: 0.02% +ETH charge (if settled on Ethereum) paid by the options buyer
Note, in the first 3-4 years, 0.02% of settlement fees will be paid by the system's liquidity mining pool. This rewards options writers and reduces the total fees for options buyers.
Opening An Account
Hedget is currently in its Alpha phase. To open an account you need to connect to Metamask or BinanceChain. The Alpha account will allow you to exercise and settle options. Hedget Alpha is running on Ethereum testnet and Chromia testnet.
Benefits
As a new, emerging crypto project, there are several benefits to trading with Hedget:
Secure and decentralized platform
Experienced and transparent team
Straightforward hedging for cryptocurrencies
Near zero fees that will help to protect positions against unexpected price movements
The project is backed by Alameda Research which has a successful history and should give the public confidence in the platform
You can use it as an add-on to other DeFi protocols by paying a price premium to protect your position. The extra fee paid can then be used to purchase call/put options
Drawbacks
As a brand-new platform, Hedget is still in the alpha phase. Standard trading accounts will be launched this year. Keep an eye on the broker's website for updates on retail trading accounts.
Contact
The team at Hedget can be contacted via Telegram, a free online messaging app. To stay up to date with the latest developments, including on the Hedget coin, there are also multiple threads on Reddit.
We expect the website to introduce further support options when the exchange goes fully live.
Final Word On Hedget
With the volatility and the rigidity of current DeFi platforms, Hedget brings much-needed relief. And when used with blockchain-based lending systems, it can help prevent automatic liquidation. Hedget's application in leveraged trading, as well as its ability to hedge against price swings, removes the need for third parties. The platform is still in its infancy but promises to bring huge benefits to investors who want to take positions on popular cryptocurrencies.
FAQ
What Does DAO Mean In Hedget?
A Decentralized Autonomous Organization (DAO), sometimes called a Decentralized Autonomous Corporation (DAC), is an organisation represented by rules encoded as a transparent computer program. It is controlled by the organisation's members, as found with Hedget.
Is Bitcoin A DAO?
Bitcoin is the first and best established DAO implemented to date. Since Bitcoin, there have been over 800 other DAOs created based on similar designs, most of which are considered to be cryptocurrencies, and like Bitcoin, they allow for value exchange.
What Is ERC-20 In Hedget?
ERC20 is an official protocol for proposing improvements to the Ethereum (ETH) network. ERC stands for Ethereum Request for Comment, and 20 is the proposal identifier. This token standard defines a set of rules that apply to all ERC20 tokens that allow them to interact seamlessly with one another.
Is Crypto Trading Profitable?
Day trading cryptocurrency can be a lucrative pursuit when strategies are executed correctly. With that said, cryptos are notoriously volatile, making it a challenge for new traders. Hedget offers mechanisms to minimise the risk of owning a volatile crypto.
What Is Hedget's ICO?
An Initial Coin Offering or Initial Currency Offering is a form of crowdfunding. It is used to fund emerging crypto projects. A private ICO which does not seek public investment is also possible. The HGET ICO was held in September 2020 with 423,000 tokens put up for sale at $13.00.