Crypto Wallet
Crypto wallets are essential for traders looking to capitalise on the growth of the digital currency market. However, with so many options available including hardware, software and online crypto wallets, it can be difficult to identify the best way of safely storing your crypto keys. If you're on the search for the best crypto wallet, look no further. In this article, we define what crypto wallets are, explain the different types available and review the five best wallet providers of 2023.
The Top Cryptocurrency Brokers
Speculate on the world's biggest cryptos by market cap

OANDA Corporation is regulated by the CFTC/NFA. OANDA is a member Firm of the NFA (Member ID: 0325821). CFDs are not available to residents in the United States.

Trade the major cryptos against USD, EUR, GBP and AUD. All traded with tight spreads. No virtual wallet required, just a trading account. Note, cryptos are not available in the US or Canada.

Trade micro Bitcoin with low fees
Crypto Wallets Explained
Crypto Wallet 101
A crypto wallet stores digital currency assets and enables transactions using a unique address which can be represented as characters or by a QR code. They can be categorised as hot wallets, which means they're connected to the internet, or cold wallets, meaning they're completely offline.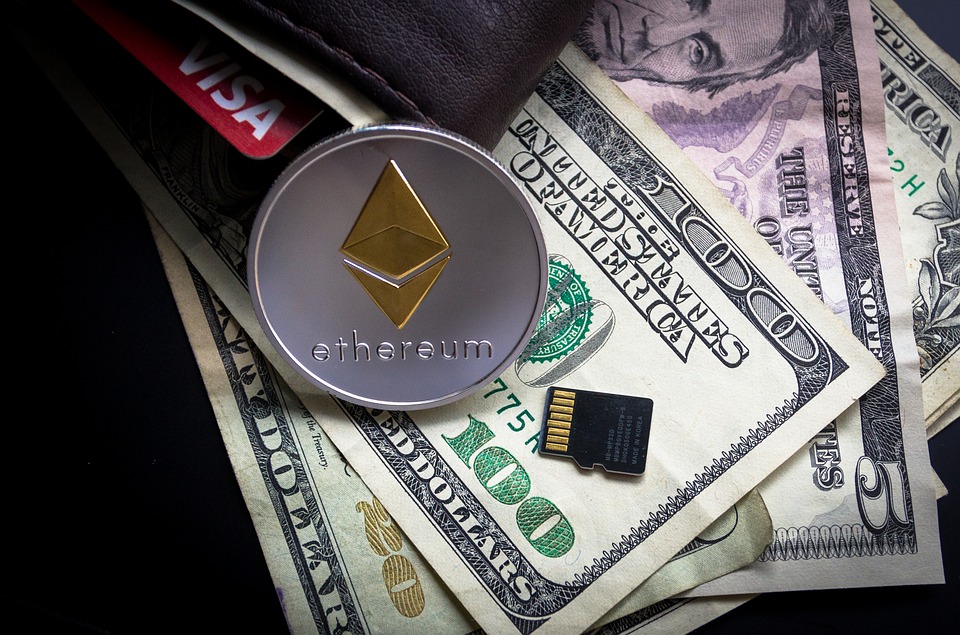 Crypto wallets have public keys from which the wallet address is derived to facilitate receiving altcoins. Additionally, private keys enable cryptocurrency to be sent to other users.
Providers such as PayPal and Revolut don't fall under the true definition of a crypto wallet, as users can only store cryptocurrency and are not able to transfer or pay for goods and services with their digital assets.
Guide To Setting Up A Crypto Wallet
While it is possible to set up a crypto wallet and store altcoins without ID, identification is usually required to purchase and sell cryptocurrency.
KYC (Know Your Customer) is a verification process that has become a regulation applied to wallets enabling cryptocurrency exchange in most countries. The customer will likely be required to supply their name, address, phone number and identification documents such as a passport, to reduce the risk of fraud. This also makes it a lot more difficult for traders under 18 to set up a crypto wallet. If using bank transfer to deposit and withdraw funds, customers will also be required to supply their bank account details.
Once set up, digital currency can be purchased and managed from the crypto wallet. It's also possible to look up the balance of a crypto wallet using blockchain.info or other online wallet address checkers.
To sell or 'cash out' on altcoins, customers will often be required to deposit from their crypto wallet to a fiat wallet first. Funds can then be withdrawn to a bank account.
How To Make A Crypto Wallet
Bespoke crypto wallets can be created by configuring an API. This can be copied from code libraries like Github, though traders should be aware of the potential security risks. Custom hardware crypto wallets can be built using Raspberry Pi, including versions 3 and 4.
Different Types of Crypto Wallet
Here we provide more info on the types of crypto wallets available, including their pros and cons.
Hardware Crypto Wallet
Hardware crypto wallets are physical wallets that allow the storage of cryptocurrency keys in an offline hardware device such as a USB stick.
Pros – The key advantage of hardware crypto wallets is their resistance to hacking, as the keys are stored offline. Traders holding a significant volume of cryptocurrency usually use a hardware device for this reason.
Cons – It can be difficult to recover crypto keys if the wallet becomes damaged, lost or stolen. Many wallet providers therefore offer recovery methods. Users are also faced with the upfront cost of purchasing the device, unlike when opening an e-wallet.
Desktop Crypto Wallet
Desktop crypto wallets are downloadable software applications that store cryptos locally on a PC's hard drive. The crypto wallets can be set up on all major operating systems, including Windows, Mac and Linux.
Pros – Desktop crypto wallets are more secure than web-based wallets because they enable offline storage of funds.
Cons – Desktop crypto wallets are still susceptible to attacks, for example if the computer is hacked. It's important to have good anti-virus software and make frequent backups of any hard drive.
Online Crypto Wallet
With an online crypto wallet, funds are accessible through any device. Online crypto wallets include web-based wallets and mobile apps which are very popular. The Samsung Galaxy Note 10 phone even comes with a crypto wallet app preinstalled.
Pros – Online crypto wallets are accessible from any device meaning it's possible to carry out transactions from any location. Most popular online crypto wallets are free to open (though transaction fees will apply).
Cons – Online wallets are more vulnerable to hacking than other options. Traders therefore often move their currency to a hardware wallet once they have completed any transactions. It's possible to buy insurance for online crypto wallets, to protect against malicious hacks.
Paper Crypto Wallet
A paper wallet is a piece of paper or card with printed keys and QR codes that can be used to facilitate cryptocurrency transactions if the trader has a live account connected to the internet. It's even possible to create a paper crypto wallet by using a private key generator and simply recording the public and private key pair in a notebook, though this isn't recommended for large crypto holdings.
Pros – This cold storage crypto wallet option is often thought to be very secure because it is not connected to the internet, preventing it from being hacked.
Cons – Paper wallets are easily lost or damaged. They are also not as secure as some other offline options such as hardware wallets that come with additional encryption.
Top Crypto Wallets 2023
Here we provide reviews for the top 5 crypto wallet names of 2023, covering hardware, software and desktop options.
Coinbase
The Coinbase app is one of the best solutions for traders who want to manage coins via a crypto wallet on their phone. With a reasonable offering of 50 cryptos, the Coinbase e-wallet is available in over 100 countries including Canada, the US, UK, Kuwait, India and New Zealand. It's also recently been expanding its list of supported tokens in New York, which has stringent regulatory requirements. However, Coinbase isn't available in Germany, Japan or Qatar.
Transactions are straightforward, with Coinbase offering the option to send crypto using a username, rather than a full-length crypto address. There are zero fees for transferring from one Coinbase crypto wallet to another. Additionally, having a Coinbase account provides users with access to Cointracker; a tool that allows traders to monitor their crypto wallet portfolio value and taxes.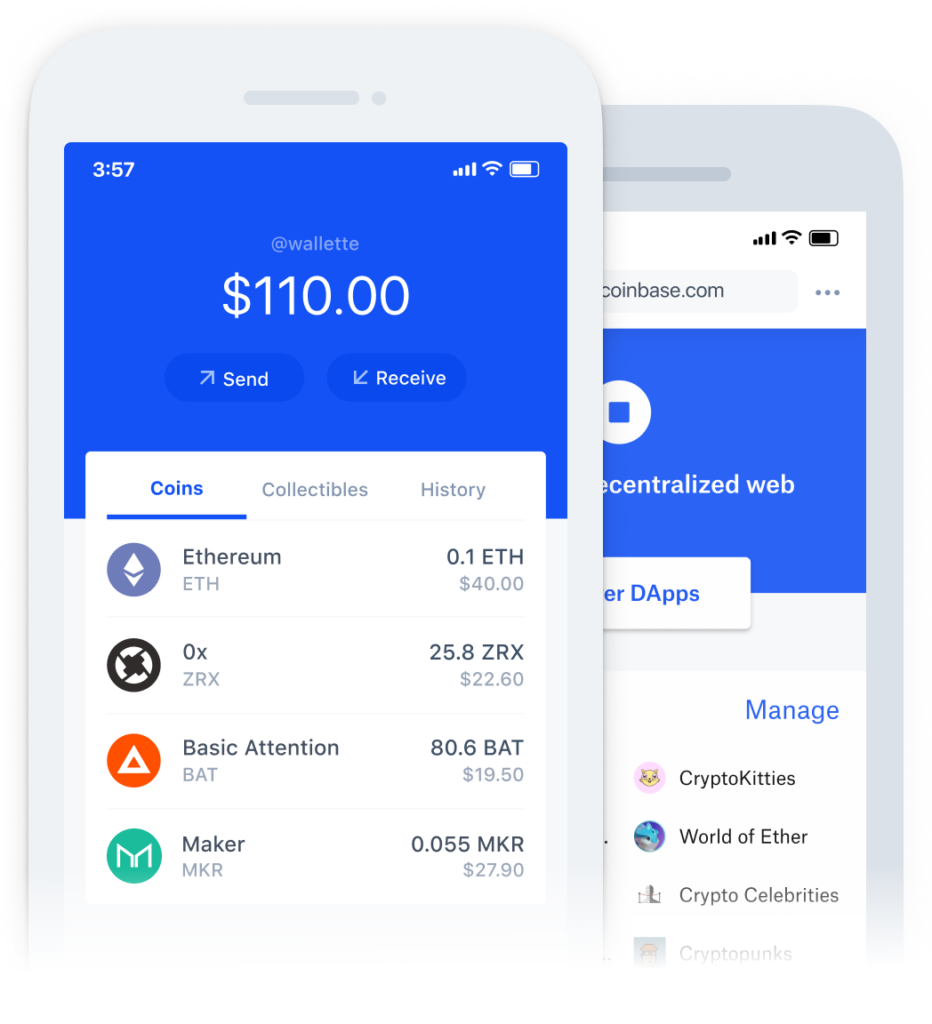 Coinbase is also a great option if you're looking for a crypto wallet that pays you. The wallet comes with generous rewards, including a referral programme where you can earn a signup bonus, and the option to earn interest on cryptocurrency with a digital crypto savings account. US-based customers can earn interest of 1.25% APY on US Dollar Coins. Additionally, Coinbase has a crypto wallet Visa debit card that allows clients to make transactions with any asset in their portfolio, earning rewards on their spend.
Even though Coinbase is based in California, it has some of the best reviews for traders looking for a crypto wallet app in the UK. Customers in the UK can have both a GBP and EUR wallet which they can link directly to a UK bank account.
Exodus
Exodus is a great choice of crypto wallet for beginners. Over 100 cryptos can be managed via a sleek user interface, using desktop, mobile, or hardware devices.
With the desktop wallet, blockchain portfolios can be managed as soon as the software has been downloaded. No account sign up is required and users can back up their crypto wallet and enable a secret recovery phrase consisting of 12 words.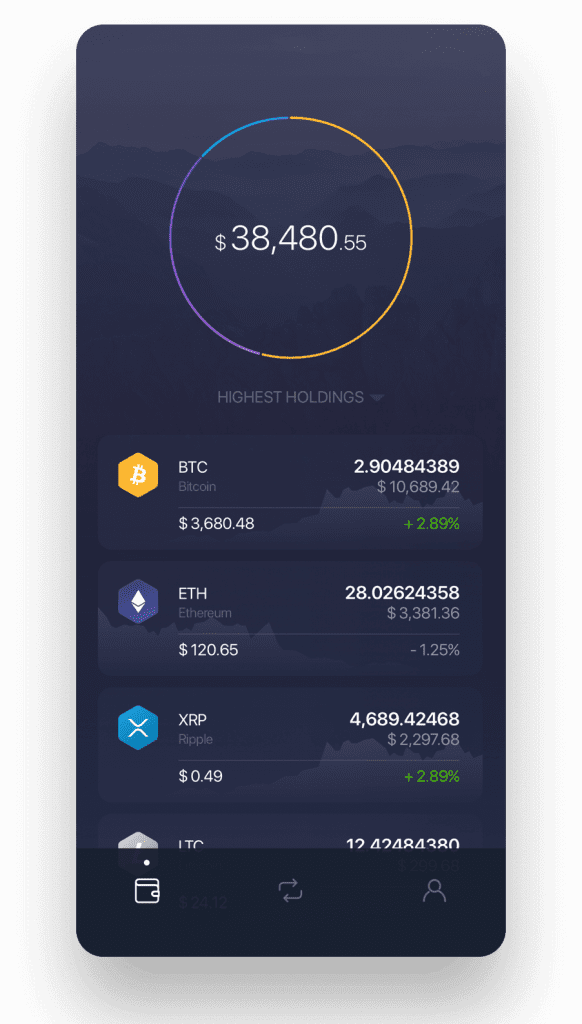 The Exodus crypto wallet mobile app is available for iPhone users with iOS 10 or above, as well as Android 8.0 devices and above.
Additionally, Exodus has teamed up with Trezor to offer management and exchange of cryptocurrencies using the Trezor Model T and One crypto wallets. Funds can quickly be transferred between the Exodus wallet and Trezor hardware wallet so that users can take advantage of the Trezor hardware security, in combination with the sleek Exodus interface.
Ledger
Ledger is a multi-currency wallet that offers two hardware products: the Nano X and Nano S. Both devices are excellent options for traders who want to store their keys offline, with some of the best hardware wallet reviews around. When traders start using their Ledger wallet, they will receive a recovery phase of 24 words.
While the Nano S does not support transactions, the Ledger Nano X device enables transactions with a Ledger Live account via a Bluetooth connection. Only public key data is transported in this way, ensuring the security of the private keys. However, if users are concerned about this, they can choose to transmit information via USB c only.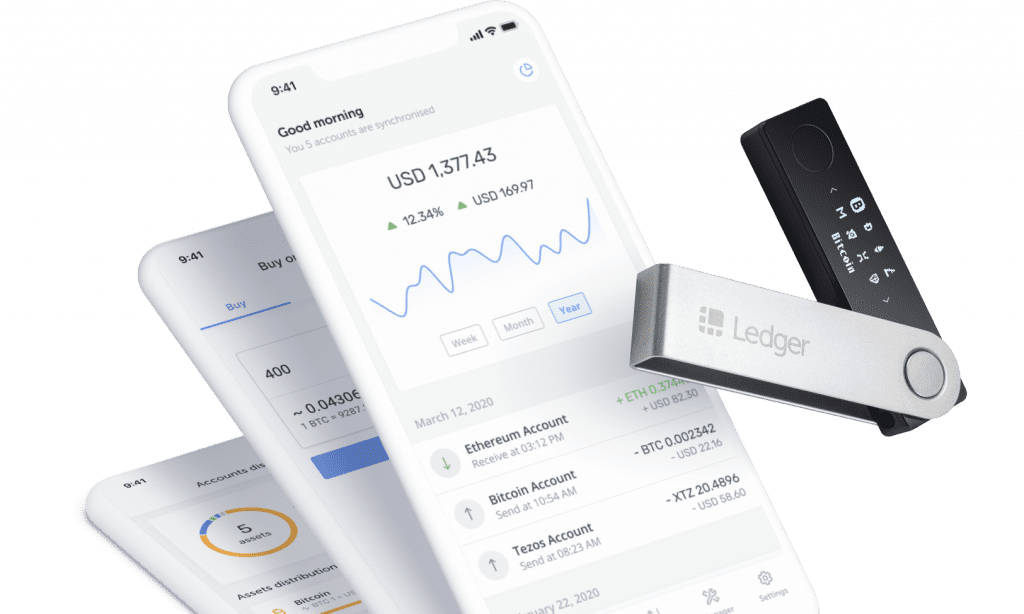 Both hardware devices support the exchange and management of 27 coins and over 1500 tokens. This includes the popular Bitcoin, Ethereum, Ripple and Monero (XMR), making the Nano Ledger X the first hardware wallet to support Monero with iOS devices. It's also possible to manage the more unusual Zilliqa (ZIL) coin using Ledger, which is often unsupported on other wallets.
While the Nano X retails for around double the price of the Nano S, the cost to buy the Ledger Nano S crypto wallet is competitive for a hardware wallet with a screen. The crypto wallets can be bought directly from Ledger or online companies such as Amazon.
Electrum
Electrum is a Bitcoin-only crypto wallet that prides itself on execution speed and high security, through a very basic user interface. With the official documentation being difficult to absorb, Electrum is best suited to the experienced Bitcoin trader, though Reddit forums are useful. One of Electrum's most powerful features is the Python console, which allows users to write scripts to automate tasks such as reporting.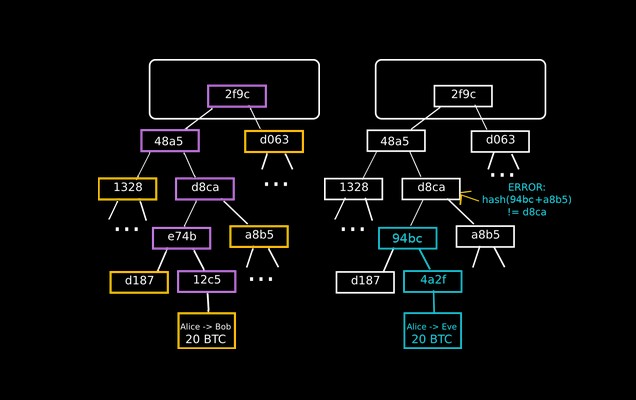 To gain access to an Electrum crypto wallet, the software can be downloaded directly from electrum.org, including to Windows 10 operating systems.
Trezor
Trezor is another highly rated hardware wallet, with Ledger and Trezor designs occupying 4 of the 5 top hardware crypto wallets.
If you're looking to open a crypto wallet that supports almost all coins, Trezor is a great option with over 1600 different cryptos available. This includes well-known coins as well as those that are recently gaining popularity, including Verge (XVG), Stellar (XLM), Monero (XMR), Ripple (XRP), XYO, Quant (QNT), Dogecoin (DOGE), Cardano (ADA), DOT futures (xDOT) and z cash (ZEC).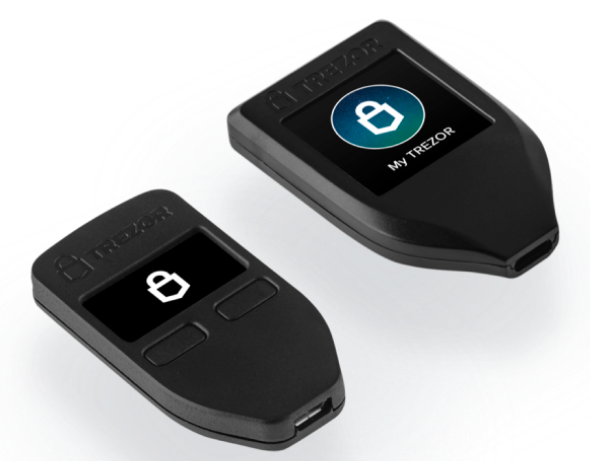 A further perk of the Trezor crypto hardware wallet is its highly secure password manager. Each password is encrypted separately with a unique private key in an offline environment. This replaces a 1 password crypto wallet which is notoriously weak.
Further Crypto Wallet Options
With such a wide selection of crypto wallet offerings on the market, we don't want to stop at the top five. Here we list some alternative crypto wallets with features that may suit traders with more niche requirements:
Robinhood – though technically not a crypto wallet, Robinhood has extended its stock platform to sell and buy altcoins in a wallet style. As Robinhood does not charge any fees, it's a good alternative vs crypto wallets.
Zengo – the world's first keyless crypto wallet aims to be the most simple provider by using facial biometrics instead.
Yoroi – a light wallet for the Cardano blockchain platform. There is no need to download the blockchain when you open the wallet.
Xapo – a Hong Kong-based company that provides a Bitcoin wallet combined with a cold storage vault and a Bitcoin-based debit card.
eToro – an easy-to-use crypto wallet for beginners, which can be used by existing and verified members of eToro.
MetaMask – the fox logo crypto wallet browser extension that can be used with Chrome.
Jupiter – an extremely slim and sleek card-like hardware crypto wallet, with a thickness of just 2.3mm.
Jaxx – a multicurrency wallet created by one of the founders of Ethereum, which comes with some of the best reviews for user experience.
JB – a crypto wallet that doesn't require a credit card, bank transfer or cash payment for JBcoin. No personal data is required to create an account, either.
Trust – the official crypto wallet of Binance, where users can earn interest and play blockchain games. It can be downloaded directly from the Google Play Store, however users should pay attention to app versions. It is no longer compatible with Android 5.1 devices so people have resorted to downloading the 5.1.1 and 5.1 APK (Android Package Kit) from other places.
Q Wallet – a Chinese crypto wallet that offers users a reward of 1500 QLC for coin staking (holding funds) for one year.
Zion – a hardware and software hybrid crypto wallet app for the HTC EXODUS 1 phone.
Crypto.com – over 80 cryptocurrencies can be bought with over 20 fiat currencies. Customers can also take advantage of the metal Visa cryptocurrency card, which provides up to 8% rewards on spending. crypto.com is one of the best crypto wallet options for traders in Japan.
NGRAVE ZERO – a hardware wallet nicknamed the 'coldest wallet', in reference to its extra high security.
O3 – the mobile app and desktop wallet O3 lets you store all assets that are on the NEO and Ontology blockchains.
Gemini – offers a hot wallet insured by third-party insurance underwriters, in addition to a cold wallet.
SecuX – advertised as being 'as secure as a vault', the hardware wallet uses a secure element chip to ensure the private key is unattainable.
Final Word On Crypto Wallets
Crypto wallets are essential for traders to manage and carry out crypto transactions. The ease of transferring cryptos from one wallet to another allows traders to be picky with their choice of provider.
The most suitable wallet mainly depends on the type and amount of cryptocurrency being stored, with high volume traders often combining hardware and software options. While Electrum provides high-speed execution of Bitcoin via an interface more suited to experienced traders, Binance provides traders with an all-round easy to use crypto wallet with among the lowest fees. If traders are looking for the wallet with the most coin types, Trezor is a great solution.
FAQ
How Does A Crypto Wallet Work?
Crypto wallets allow users to store cryptocurrency and execute transactions using public and private keys and an address. The address is a shortened version of the public key that ensures you can receive funds. The private key allows the crypto to be spent.
Can A Crypto Wallet Be Hacked?
Blockchain technology itself is difficult to hack. However, there are examples where hackers have gained access to cryptocurrency wallets.
Is A Crypto Wallet Necessary?
Yes, a crypto wallet is required for storing and managing cryptocurrency. Traders often store cryptos in more than one form of wallet for optimum security and management.
What Are The Top 3 Crypto Wallets?
The Ledger Nano S is a great value hardware wallet, while Coinbase is often the #1 crypto wallet for people who want to exchange and manage altcoins from a mobile app. Electrum is a great desktop option for experienced traders looking to manage Bitcoin.
What's The Difference Between A Crypto Wallet And An Exchange?
An exchange facilitates trading from one coin to another, while a crypto wallet manages cryptocurrency and facilitates its transfer. For example, Kraken is an exchange rather than a crypto wallet.
What Is The Difference Between A Crypto Wallet Vs A Fiat Wallet?
A fiat wallet stores currency issued by a government that is not backed by a commodity, for example USD and GBP. A crypto wallet stores cryptocurrency such as Bitcoin and Ripple.