MetaMask Review 2023 Review 2023
MetaMask is a crypto wallet that allows users to securely store digital currencies and ERC-721 NFTs. Originally built for the Ethereum blockchain, the wallet can be customized to support a host of other blockchains such as the BNB Chain. Users can hold Ethereum (ETH), any other ERC-20 network token and coin, and a range of other cryptocurrencies like BUSD in their crypto wallets.
This MetaMask review will outline the key features of the wallets, as well as the supported cryptocurrencies, the typical gas fees, and more. Read on for an explanation of how to download MetaMask so you can create an account and start to use the service today.
What Is MetaMask?
MetaMask is a cryptocurrency wallet that was built to interact with the Ethereum blockchain. It was developed in 2016 by ConsenSys, a blockchain technology company founded by Joseph Lubin that is headquartered in New York City.
The digital wallet is known for its ease of use. It is available to download as an app on desktop or mobile, and as a browser extension or plugin for Google Chrome, Safari, Yandex, Brave and Firefox. Users can also connect a hardware wallet like a Trezor or Ledger to their MetaMask wallet.
The solution allows its users to store and manage any private crypto account key, track their transaction history, and connect to decentralized applications on the Ethereum network. It also allows users to send and receive Ethereum-based cryptocurrency coins and tokens, as well as those based on other chains. Clients can purchase coins directly on MetaMask or transfer them from an alternative exchange or wallet. For example, you can transfer cryptos like BNB from exchanges such as Coinbase, Gemini, Binance, Kucoin, Kraken and Crypto.com.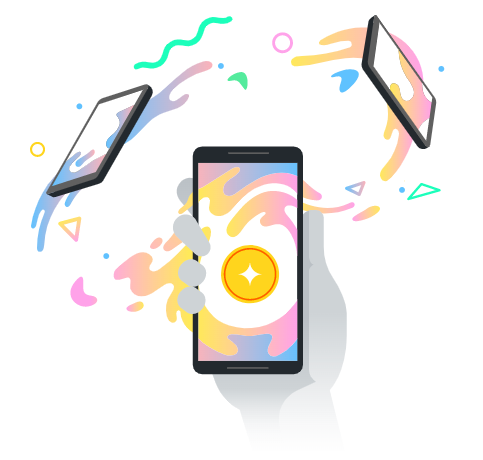 Since its foundation, MetaMask has seen rapid and extensive user growth. In July 2020, it had 545,000 monthly active users, which increased to 5 million in April 2021 and then 10 million in August 2021, a growth of 1,800% in just one year. As of March 2022, the crypto wallet had over 30 million monthly active users. This popularity sees the company regularly discussed and often trending on social media platforms like Twitter, YouTube, Reddit and Discord.
Features
Store Crypto
Users can buy, store, send and swap over 450,000 cryptocurrencies on the Ethereum network. The wallet also supports multiple other blockchains, for example, the BNB Chain (formerly known as the Binance Smart Chain.) Each crypto wallet comes with its own unique twelve-word secret passcode.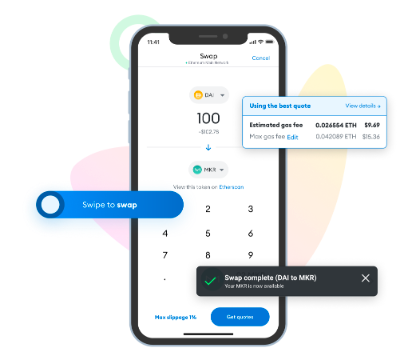 Users can access their wallet across two or more devices or hardware wallets. Each wallet also offers the opportunity to open multiple sub-accounts which can then be dedicated to different transactions.
Blockchain Access
Customers can use their crypto wallet to connect with a variety of blockchain-based applications. This is a straightforward method for exploring these apps, that ensures that the customer is always in control when interacting with new applications on the decentralized web.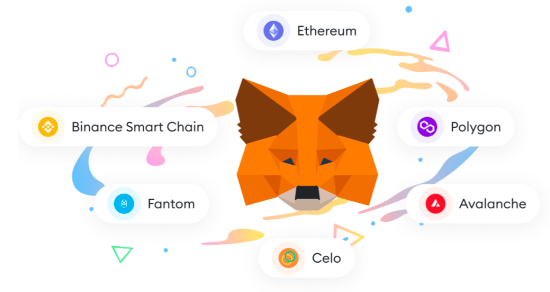 Anonymity
When users create a MetaMask wallet they simply have to download the software and click "create a new wallet". There is no need to provide the company with personal data, such as their name, email, public address, phone number or any identifying information. The firm also does not require any know-your-customer (KYC) regulations to be completed to verify your wallet.
As a non-custodial wallet, data is not stored on a central database and the brand does not collect information about customer wallet use. This means that you can trade anonymously, and you also don't have to trust any third-party website to keep your personal data secure.
If you ever receive an email asking you to complete any verification for MetaMask, it is likely a scam or phishing attempt.
Store NFTs
Users have the ability to store and view any NFT that they hold in a MetaMask wallet. Owners can connect their wallet to Opensea, the world's largest NFT marketplace. Once connected, any NFT art or collectible bought will automatically transfer to your MetaMask wallet under the "collectibles" tab. This feature makes it easy to view any NFTs that you own, swap them, or sell them.
Cryptocurrencies
The wallet supports over 450,000 cryptocurrencies on the Ethereum network, BNB Chain, Polygon, Avalanche as well as many smaller blockchains. Importantly, the wallet cannot be used to store Bitcoin. Polkadot, Ripple, Zilliqa, ZCash, Litecoin and Solana also cannot currently be stored on the MetaMask network. However, Binance provides a peg coin which can be stored for many of these tokens.
There are thousands of other coins that users can add to their wallet and store immediately or through the addition of various custom blockchains. These include Ethereum (ETH), PancakeSwap (CAKE), Cronos (CRO), Voyager (VGX), Terra (LUNA), GoChain (GO), GCash (GCASH), Binance (BUSD), Tether (USDT), Uniswap (UNI), USD Coin (USDC) and Monero (XMR) to name a few.
Adding Support
While MetaMask was initially built to function on the Ethereum blockchain, its capabilities are not limited. The wallet allows users to link a range of fully-fledged chains as well as smaller test chains to increase the functionality of their wallets. These include Okexchain (Okex), ZKSync, Velas Network RPC, Zed Run, XLM Network, Optimistic (or Optimism) and the Avalanche network.
To learn how to add other extension networks like BNB Chain (Binance Smart Chain or BSC), Polygon (Matic) Network, and Fantom Network to your MetaMask wallet, visit trusted sites like CoinMarketCap and read their in-depth tutorials for adding each custom chain/network. Look for the MetaMask logo and icon on websites to check for compatibility.
Gas Fees
When you make any transaction on the blockchain, you pay a charge known as a "gas fee" to initiate and complete transactions. Gas fees vary depending on whether you are on the standard Ethereum network or another blockchain, for example, the BNB Chain. MetaMask provides users with the option to adjust the gas price and limit in settings when sending Ether and tokens. On the Ethereum chain, gas service fees are typically between 0.3% and 0.875%.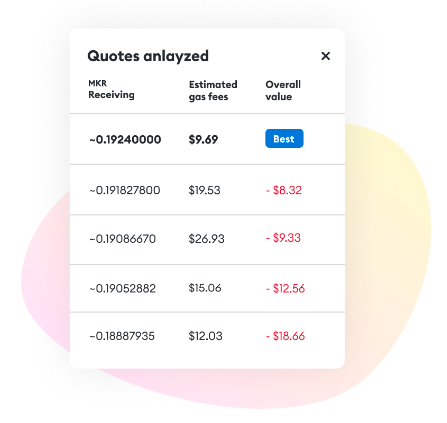 Always ensure you have enough cryptocurrencies to complete a transaction. If you have insufficient funds or a 0 (zero) balance in your account, the transaction will fail.
On the official website, the firm notes that users who choose to buy crypto can "expect to pay a processing fee, MetaMask fee and the market rate for gas". Bear in mind that most investors will use their wallet simply for storing cryptocurrencies that they have already bought on separate third-party exchanges.
Security
The only way to gain access to any MetaMask account is via a secret recovery phrase. If you forget your password, it is important to note that the company does not have a password recovery, reset or change option. The only way to restore and recover a wallet is via the 12-word secret recovery phrase, or "seed phrase".
If you lose your seed phrase, the support team will not be able to help you. Therefore, you must keep a safe note of your personal phrase. You should never share your secret recovery phrase with anyone else. Visit the official website to learn how to locate the seed phrase and store it securely.
MetaMask does not support two-factor authentication (2FA) when you unlock the wallet. Users cannot set the account up to require a mobile prompt before each sign-in. This is because the secret recovery phrase system is considered secure enough already. However, users can link MetaMask with Yubikey if they wish to add further security.
Pros
The main advantages of using MetaMask are:
Over 450,000 Ether-based coins supported plus more chains
No personal data required
No KYC verification steps
Create multiple wallets
Highly secure
Easy to set up
Cons
Potential drawbacks include:
Cannot reset password
Bitcoin not supported
Not regulated
MetaMask Vs Competitors
Investors regularly compare the MetaMask wallet vs the Coinbase Wallet, Trust Wallet, Exodus, Wallet Connect, Ledger, Coin 98, Zeroin or 1Inch Exchange. Coinbase and MetaMask, as well as other wallets, can be linked with hardware wallets like Ledger, meaning that security levels are relatively similar. If you are someone who regularly trades Ethereum and other alt-coins, MetaMask is perfect for you. If you prefer Bitcoin, you may be better off opting for an alternative like Trust Wallet.
Mobile App
The mobile wallet app is available on iPhone and iPad (iOS), and Android (APK). The latest version can be found on the App Store as well as the Google Play Store. Your desktop MetaMask wallet will sync with your mobile device once you have set it up. The app has a rating of 4.6 out of 5 on both stores, which illustrates the positive reception it has received.
The mobile app features all the same capabilities as the desktop version: it allows users to send and receive crypto, view NFT collections and confirm transactions. The mobile app can also connect with a hardware wallet like Ledger.
How To Setup MetaMask
In order to set up your MetaMask, follow this step-by-step guide:
Either download the extension for your chosen browser or download the app on your mobile device
Select "Create a wallet"
Set a password and then write down your 12-word recovery phrase
You will then receive your wallet address. With this, you can send and store crypto and NFTs
Customer Support
The customer service team is available to contact if you encounter any issues or if your wallet is hacked. Users can get in contact via the help center, community message board, or the ticketing system. The ticketing system involves email correspondence. MetaMask does not provide any live support methods.
Regulation
MetaMask is not regulated by a top-tier authority in any jurisdiction. While this may appear worrying, it is commonplace for crypto-related products to be unregulated. One of the key principles of cryptocurrency is privacy and anonymity, which stems from Satoshi Nakamoto and the birth of Bitcoin. As they put it, "the possibility to be anonymous or pseudonymous relies on you not revealing any identifying information about yourself".
Regulation brings with it a requirement for KYC verification and the loss of anonymity. Because the digital wallets are non-custodial (the customer has entire control over their funds), it is arguably not necessary for MetaMask to be heavily regulated. While a crypto wallet may not be entirely anonymous, it is still more so than Apple pay, or a debit or credit card.
Taxes
MetaMask does not report on individual account activity to the Internal Revenue Service (IRS) or any other tax body. However, this does not mean that users can avoid filling out tax documents. Depending on your jurisdiction, any profits that you make could be subject to taxation. Be sure to check the laws in the country that you live in. The solution also supports an API to make tax reporting easier if you need it.
MetaMask Verdict
MetaMask is one of the most popular crypto wallets across the globe. It is built on the Ethereum chain and supports over 450,000 coins along with digital currencies on other networks like the BNB Chain. Users can also store NFTs and explore a range of decentralized apps. With low fees, quick setup and no KYC requirements, MetaMask is a popular wallet for every type of crypto user.
FAQs
Does MetaMask Support Binance Smart Chain (BSC)?
Yes, it is possible to connect MetaMask with the BNB Chain. This allows users to make BNB transactions through the online wallet.
Does MetaMask Support BEP20?
MetaMask does support BEP20 (Binance Smart Chain). It also supports ERC20 (Ethereum) and BEP2 (Binance Chain).
Is MetaMask Legit?
Yes, MetaMask is legitimate. It has been available for use since 2016 and is a popular choice amongst crypto traders.
Is MetaMask Legal?
Yes, MetaMask is legal. It provides a variety of security features and warns customers of the dangers of scams and phishing attempts. It is the responsibility of each individual user to ensure that they store their private keys safely.
Is MetaMask Safe?
Trading cryptocurrency is inherently risky. However, MetaMask is considered a safe place to store digital assets. Your level of security can be increased by linking with a hardware wallet like Ledger or Trezor.
MetaMask is a cryptocurrency wallet that provides access to blockchain applications, digital currencies and NFTs. Over 30 million investors, traders and collectors use the wallet worldwide.