Crypto Trading Apps
Crypto trading apps let everyday investors speculate on leading digital currencies, such as Bitcoin and Ethereum. There is a range of free and easy to navigate mobile applications on the market. To help you find the best solution, we've listed the top 5 cryptocurrency trading apps for beginners and experienced investors. Our reviews of the top crypto trading apps cover the coins offered, fees charged, download options, and more.
Top Brokers With Crypto Trading Apps
What Is A Crypto Trading App?
A cryptocurrency trading app is a mobile platform that enables you to buy, sell and hold crypto. The majority of applications are easy to use, with the high demand for digital currencies leading to increasingly convenient and affordable solutions.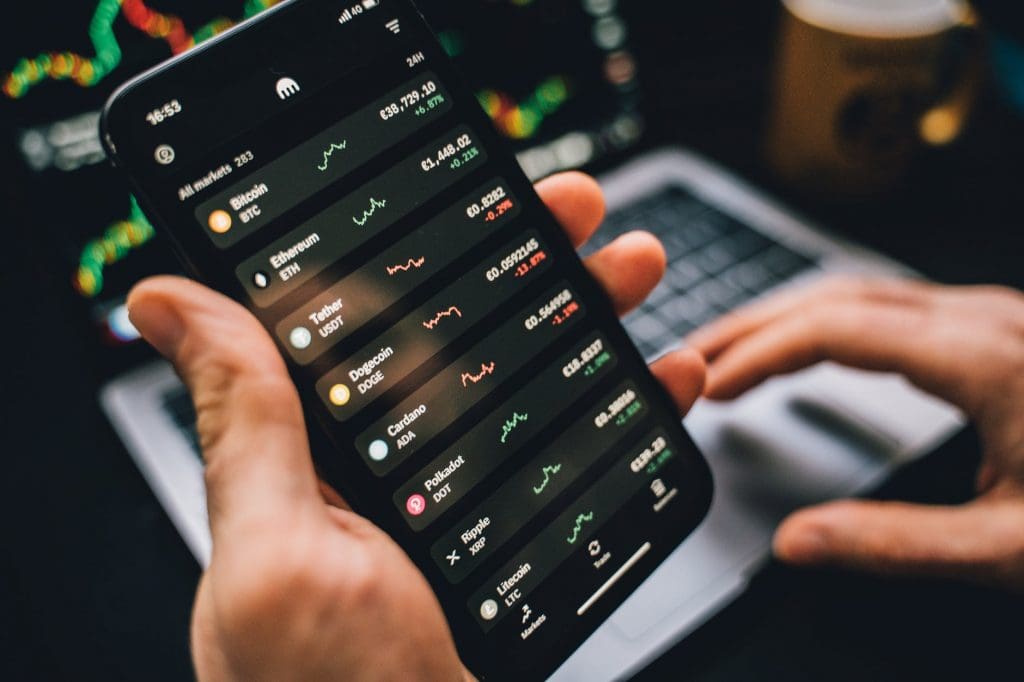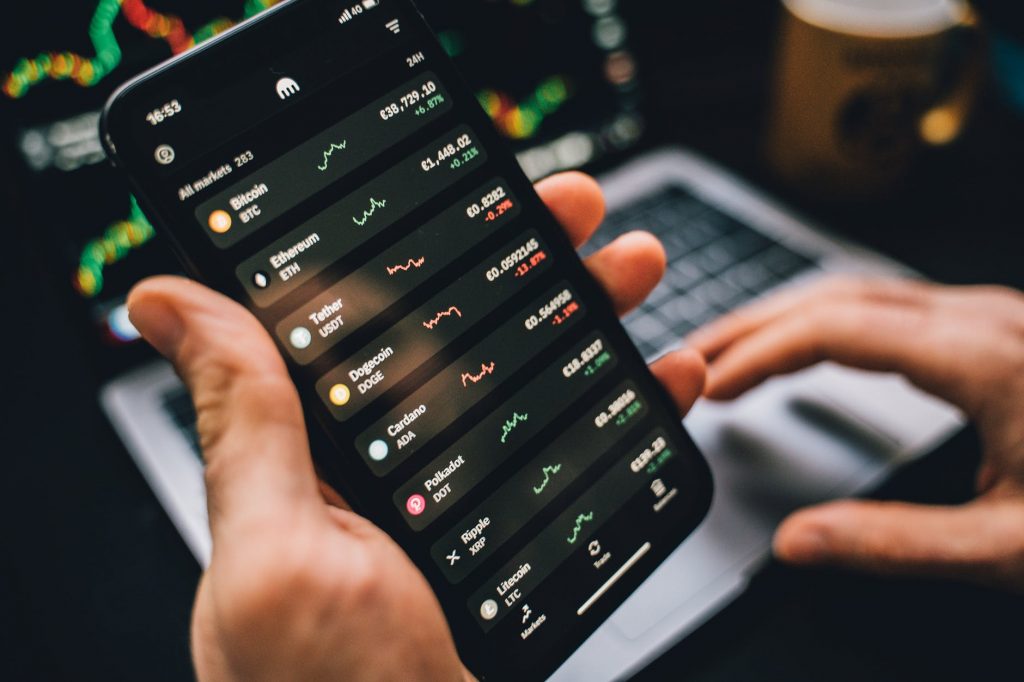 With most crypto exchange apps, you can purchase digital currencies with a bank card, PayPal, or Apple Pay for iPhone (iOS) and Google Pay for Android (APK). Nowadays, many of the best cryptocurrency apps also offer an integrated wallet, so you can purchase and store your altcoins in one place.
Using a crypto app is relatively straightforward. An investor opens an account, downloads the app, buys and trades altcoins with their fiat currency, and stores the purchased coins in a crypto wallet. Most crypto trading apps take a commission, spread or a flat fee for their services.
Top 5 Crypto Trading Apps
The best crypto trading apps of 2023 offer hassle-free account opening, low fees and an extensive list of tradable altcoins. Our list of the top apps below compares key features, trading tools and account options.
Coinbase
One of the top free cryptocurrency trading apps, Coinbase is a solid option for beginners. The exchange was founded in 2011 by Brian Armstrong, who was previously an AirBnB engineer. Fred Ehrsam joined in 2012 when they launched the platform as a service for buying, selling and storing Bitcoin. Coinbase is now the most widely used Bitcoin app in the USA. The exchange boasts over 56 million users across more than 100 countries.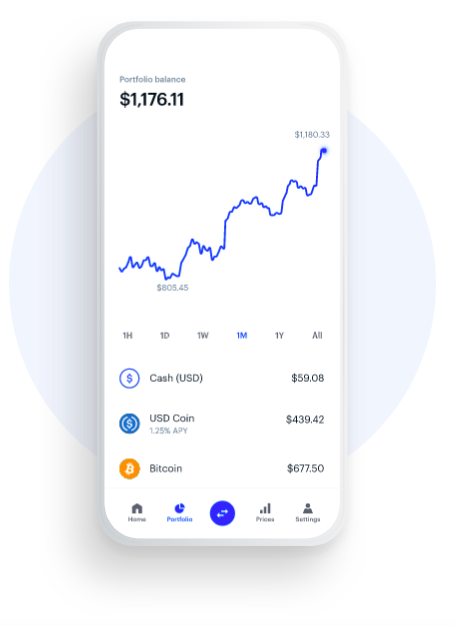 Benefits of the Coinbase crypto trading app include:
Products – You can trade approximately 40 leading currencies, including Bitcoin, Ethereum and Litecoin. All digital currencies can also be stored in Coinbase's secure mobile wallet.
Ease of use – It's easy to get started. Simply open an account, link your bank card and submit a photo of your ID for verification. The graphic layout of the application also makes it easy to get to grips with. Charts are basic for new users while Coinbase Pro offers advanced analytics and lower fees for established investors.
Security – Sensitive data and 98% of customer funds are stored offline. Data is then split with redundancy, which essentially means a group of participants all hold a share which is of no use individually. It is then AES-256 encrypted and backed up on FIPS-140 USB drives and copied to paper. Wallets are also stored with AES-256 encryption. We trust that Coinbase is safe and secure.
Fees – The app is free to use and Coinbase offers competitive fees for making transactions. The standard UK flat fee is around 1.49%, up to £2.99 depending on the value of the transaction. There are variable fees too including 3.99% for instant debit card buys, free bank transfer deposits and £0.15 withdrawals. Instant card withdrawals cost a minimum of £0.55 and up to 2% of any transaction.
Additional features – Other useful features include the Coinbase blog and the learning page on their website. The educational area includes crypto basics, trading tips and tutorials, plus market updates.
Binance
Headquartered in Malta, Binance was founded in 2017 by Changpeng Zhao and Yi He. The crypto exchange has grown rapidly and is now the world's largest altcoin platform in terms of trading volume. The company also offers its own currency (BNB), based on blockchain technology.
Binance is one of the best Bitcoin apps globally including in the UK, Canada, and India; however, Binance US has fewer trading pairs than elsewhere and 22 states, including New York, are not supported.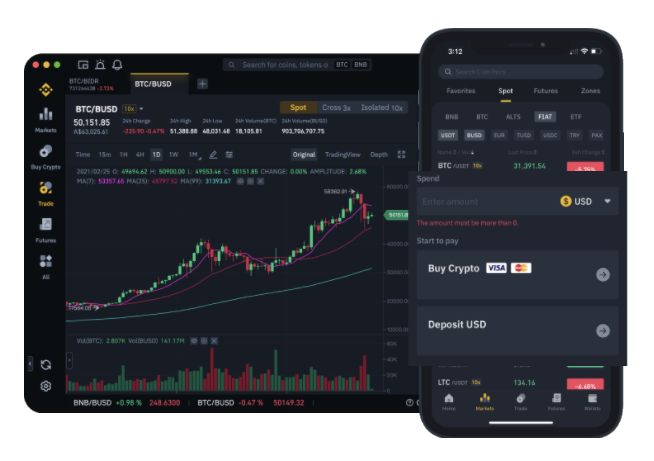 Benefits of the Binance crypto trading app include:
Products – Home to over 200 cryptocurrencies, including their native BNB coin, Binance is one of the most popular apps for alternative digital currencies. They also offer an extensive list of the top altcoins with Bitcoin, Litecoin and Dogecoin available.
Ease of use – There is a Binance Lite and normal version. The normal version boasts stronger analytical functions and charting for more experienced traders. The Lite version is more suited for beginners, with less information to take in, a simple interface, basic charting and faster trading.
Security – Binance adheres to strict security protocols. That said, the platform was the victim of a huge hacking scandal in 2019, where over 7,000 Bitcoin were stolen. This was worth around $40 million at the time.
Fees – You can purchase a variety of cryptocurrencies via debit and debit card, using 13 fiat currencies. There are no deposit fees, and a standard trading charge of 0.1% if you don't use BNB. Using BNB applies a 25% trading discount, and the fees will be automatically subtracted from your account. Withdrawal fees are dynamic, adjusting depending on the market at the time.
Additional features – Binance promotions are a key feature, with plenty of deals and rewards for investing in certain coins. They also have a Binance Blockchain Charity Foundation, where they take zero profit. There has been 2,758.43 BTC raised thus far and over 100,000 beneficiaries. The exchange also has an incubator scheme for technical projects to help the blockchain ecosystem develop. The Binance academy is their education centre, filled with news and crypto articles.
eToro
Founded in 2007 in Tel Aviv by Yoni and Ronen Assia, eToro launched as a social investment platform in 2010. The platform boasts unique copy trading features which allow beginners to view and copy the trades of expert investors. They initiated crypto trading capabilities in 2017, launching an app in the USA a year later. The company has facilitated over 340 million trades so far.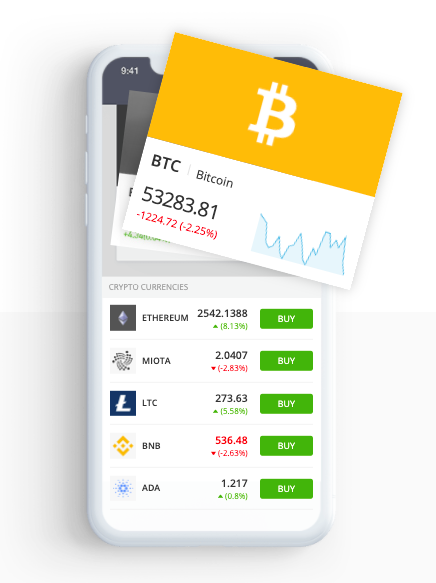 Benefits of the eToro crypto trading app include:
Products – Alongside leading cryptocurrencies such as Bitcoin, Ethereum, Ripple, and more, you can trade stocks, ETFs and CFDs at low rates.
Ease of use – You can store over 120 cryptocurrencies with the eToro Money crypto wallet. You can set a range of technical indicators and tools, plus use stop losses and profit parameters to protect your investments.
Security – eToro is one of the more regulated cryptocurrency trading apps, holding a license with the FCA in the UK and the CySEC in Europe. This, coupled with industry-standard security protocols, inspires trust in the company.
Fees – eToro is one of the best global Bitcoin apps, with a minimum deposit of $50 for residents of the US and Australia and $200 anywhere else. eToro offers free accounts, 0% commission on stocks and no management fees for their copy trading services. Spreads on cryptocurrencies range from 0.75% on Bitcoin to 4.5% on other coins. Transfer fees range from 0.005 units and withdrawals incur a $5 fee.
Additional features – Copy trading is the most prominent feature of eToro, but you can also practise trading with $100,000 in a demo account.
Kraken
Kraken is a cryptocurrency exchange, headquartered in San Fransisco, US. Founded in 2011 by Jesse Powell, the platform provides crypto to fiat trading. Amongst other projects, Jesse Powell later joined other major Bitcoin players to form the self-regulatory body DATA.
Available in over 175 countries and 48 US states, Kraken is one of the most popular crypto trading apps in Japan, Australia, Nigeria, the UAE, the UK and is widely regarded as the safest exchange in the world. In 2020, Kraken became a legally chartered bank in the US, one of the first two digital asset companies to do so.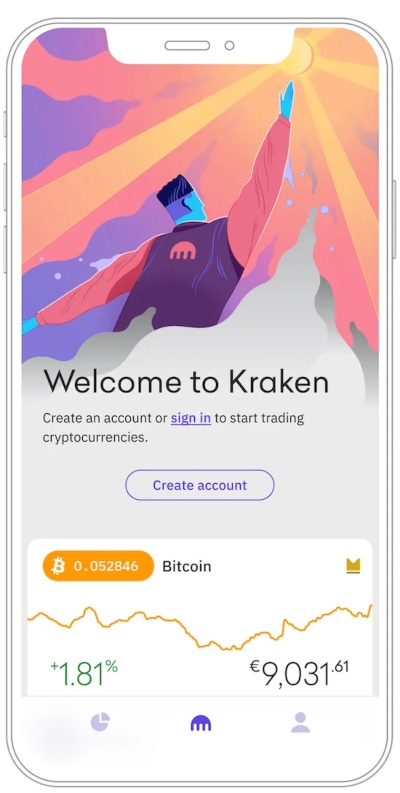 Benefits of the Kraken crypto trading app include:
Products – There are over 55 cryptocurrencies to chose from at Kraken including Bitcoin, Ethereum, Ripple and Dogecoin. Leveraged crypto trading is also available.
Ease of use – The Kraken interface is colourful, clean and well designed. The app has advanced features and high trading volumes, making it great for experienced traders. Investors have, however, been subject to long user verification and capital processing times.
Security – Kraken is one of the few crypto trading apps that hasn't been hacked. Their security procedures are transparent on the website. The Kraken CEO Jesse Powell is an expert in cryptocurrency, online payments and fraud. His team's dedication to safety and security has given the app a reputation as one of the most trustworthy exchanges. 95% of deposits are kept in offline, air-gapped, geographically distributed cold storage. All data is encrypted and access is monitored. SSL encryption is in place and 2FA keeps your account secure.
Fees – Fees are taken when your order is executed, ranging from 0% to 0.26% of the value of the order. This depends on the currency pair, 30-day trading volume, and whether you are the buyer or seller. If you are using leverage, additional charges apply.
Additional features – 24/7 support is an attractive benefit of trading with Kraken. The learning centre offers a range of educational resources, including crypto guides, detailing a wide variety of currencies. As part of their mission to bring altcoins to everyone, they offer a crypto 101 course, presented by the CEO. They also have a podcast, 'How to Grow a Decacorn', where Christina Yee (Chief Brand Officer) and Jesse Powell invite listeners to join their journey to becoming a company valued at $10 billion.
Gemini
Founded in New York in 2014 by the Winklevoss twins, Gemini has since expanded across Europe and Asia. The company became the first licensed Ether exchange in 2016 and was voted the Best Cryptocurrency Exchange at the 2019 Markets Choice Awards. They have also launched their own altcoin, the Gemini dollar.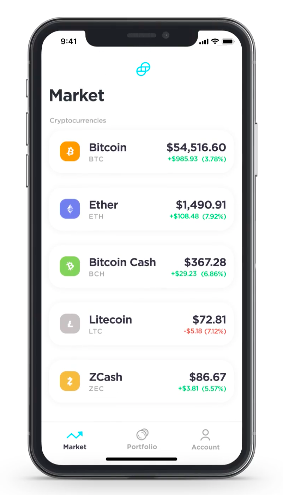 Benefits of the Gemini crypto trading app include:
Products – Gemini has its own wallet and offers over 20 cryptocurrencies. You can trade with most of the leading coins, including Bitcoin, Ether, Litecoin and Uniswap.
Ease of use – The Gemini app utilises a streamlined trading view with a clean, minimal interface. You can trade assets, manage holdings and schedule orders easily, with technical indicators and simple buy alerts.
Security – Gemini was the first cryptocurrency custodian and exchange to complete SOC Type 1 and SOC Type 2 examinations. They aim to 'foster trust through action', represented in features such as their wallet insurance, cold storage coverage and WebAuthn hardware security keys. Website data is TLS encrypted and 2FA is used amongst a range of other security protocols.
Fees – Accounts are free to open and a full pricing schedule is available on the Gemini website. There is a convenience fee of 0.5% of the market rate and flat transaction fees which range from $0.99 to 1.49% of the order value.
Additional features – Gemini recently launched Nifty Gateway, a leading NFT marketplace selling digital artwork and collectables. Partnered with Flexa, you can now buy from participating retailers with cryptocurrency via Gemini. They also have a blog, a newsroom, webinars and further crypto tutorials. Additionally, Gemini has promotional offers, including $10 of Bitcoin for using a friend's referral code.
Other Useful Crypto Trading Apps
Other apps which can add to the crypto trading experience include news and tracking applications. Crypto News and StockTwits, for example, offer stories and articles on scams, bugs, price analysis and current affairs which influence market prices.
A separate tracking and journal app, like Blockfolio Bitcoin or Delta, can be useful for keeping tabs on cryptos. You can track spending and view live updates, which could be helpful if you own a range of cryptos across multiple applications.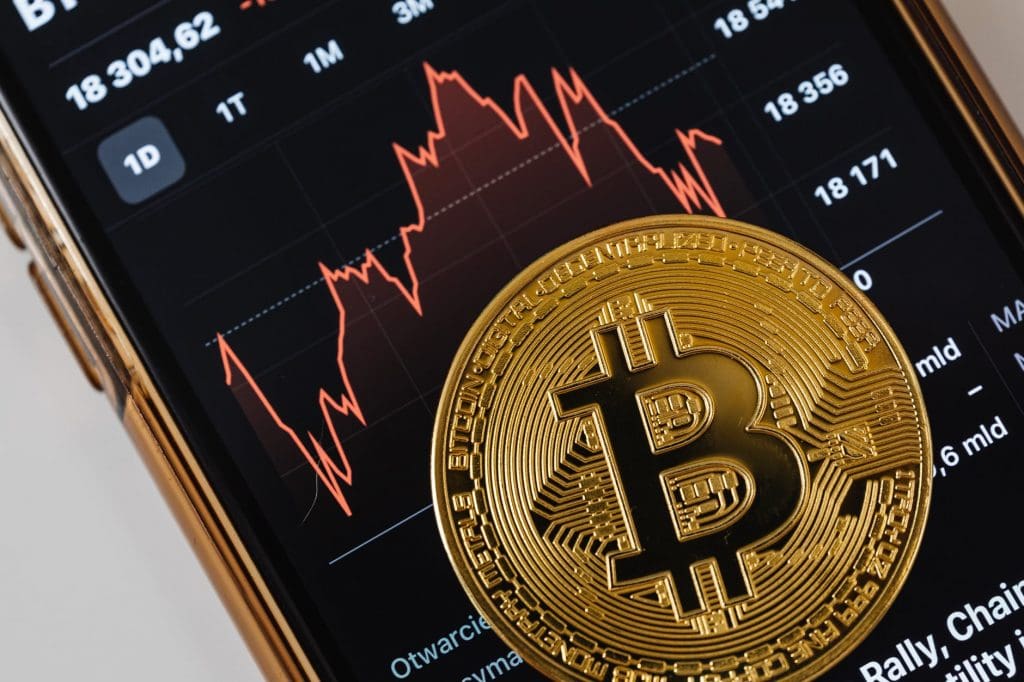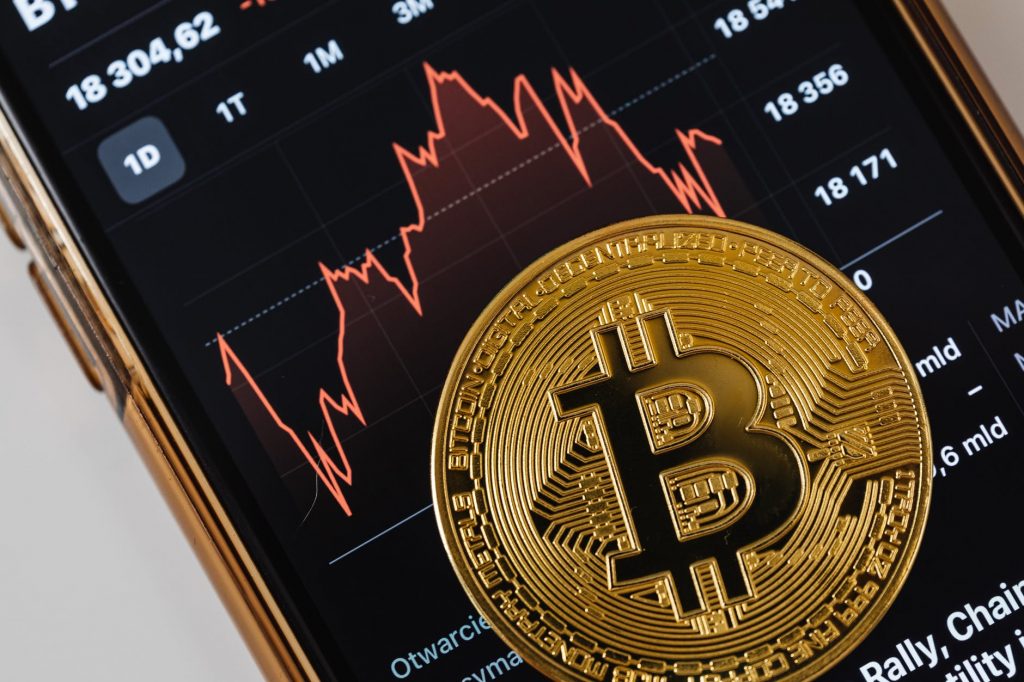 Final Word On Crypto Trading Apps
Whether you're a veteran trader or a complete beginner, there are plenty of crypto trading apps to choose from. The top 5 listed above are a good place to start, offering an excellent selection of coins with the lowest fees and robust security. It could also be worth opening a demo account before you download an app and start trading Bitcoin. Ultimately though, the best cryptocurrency app will depend on individual needs.
FAQ
Are Crypto Trading Apps Profitable?
Many have turned to day trading cryptos in search of profits. Downloadable mobile apps connect investors to the altcoin market with low barriers to entry. However, the potential profits of crypto trading apps should be balanced with the significant risks stemming from market volatility.
What Do You Need To Start Trading Crypto?
It is easier than ever to start trading crypto. You don't need to be watching multiple currencies at once across a wall of screens. Many apps offer little to no minimum deposit requirement and a user-friendly application. Once you've opened an account, you simply need to download the app and deposit funds before you start trading cryptos.
What Are The Best Crypto Trading Apps?
The best cryptocurrency app ultimately depends on your objectives and location. Coinbase, Binance, Kraken, eToro and Gemini are all global front runners. See our reviews and comparison above for a deeper dive into the services offered by each.
When Can I Trade Crypto?
Cryptocurrency exchanges are open 24 hours a day, 7 days a week. Most Bitcoin apps don't have a limit on the number of trades per day. Some exchanges will, however, take time for updates and restructuring.
Is It Safe To Leave Cryptocurrency With A Trading App?
If you hold your crypto in a mobile app, you are leaving the private key to your currency with the exchange. This leaves them open to hacking. Whilst blockchain is notoriously difficult to hack, several exchanges have been targeted before, including Binance. Most exchanges implement high-security protocols and offer insurance for holding your data and cryptocurrency. Hardware and paper keys are among other alternatives for storing your private keys off a mobile crypto trading exchange.