Nifty Gateway Review 2023 Review 2023
Nifty Gateway is a leading online marketplace for NFT trading, offering a range of tokens with low fees.
Nifty Gateway is an exclusive NFT platform that has taken the blockchain world by storm. The platform blends crypto-technology and collectable artwork to create a rich suite of high-value, tradable assets, bringing a world of new investment potential. In this review, we explain what Nifty Gateway is, what can be traded, and the pros and cons of the platform. We also provide a tutorial on how it works what to buy and sell.

Nifty Gateway Explained
Nifty Gateway is a platform for buying and selling non-fungible tokens (NFTs or Nifties). An NFT is a digital token recorded on a ledger known as the blockchain. NFTs are similar to cryptocurrencies, which are also recorded in this way, but can be all manner of assets, such as art, music or games and are non-fungible (i.e they are not interchangeable). Think collectable packs of sports cards but stored digitally on an IPFS network.
Nifty Gateway is owned by the parent company Gemini LLC, a cryptocurrency exchange website with twin owners and founders, the Winklevoss brothers. Gemini is a New York trust company with no foreseeable IPO and therefore no stocks or shares price. Despite this, a recent valuation put the company at between $774 million to $1.2 billion as nifty sales volumes have soared in recent months.
Nifty Gateway Recent History
Recently, Nifty Gateway hit news headlines in the crypto and tech world when users reported account hacks, with nifties worth thousands of dollars stolen. The users targeted were not using 2FA, which is recommended by the firm to increase protection.
Since its acquisition by the Winklevoss twins, Nifty Gateway 2.0 launched with new features including services that tapped Google and Facebook's APIs.
NFTs You Can Trade
Nifty Gateway is an exclusive marketplace reserved for music and artwork which has been curated by the Nifty team. Popular DJs and musicians such as Deadmau5, Carl Cox, Gramatik, Ozuna and rapper, Lil Yachty have all had drops, with sales reaching into the thousands of dollars.
Murals of famous sports players such as NBA basketball player, Kobe Bryant or footballer, Mesut Ozil are popular. Plus there are collaborations with sports organisations such as OG Esports.
And then you have your classic NFT artists that started it all, such as Beeple – whose digital collage of 5000 images sold for over $69 million. Plus, Trevor Jones and his Bitcoin Angel artwork, Mankind, known for his captivating collection of moving pieces, and New York-based artist, Kenny Scharf.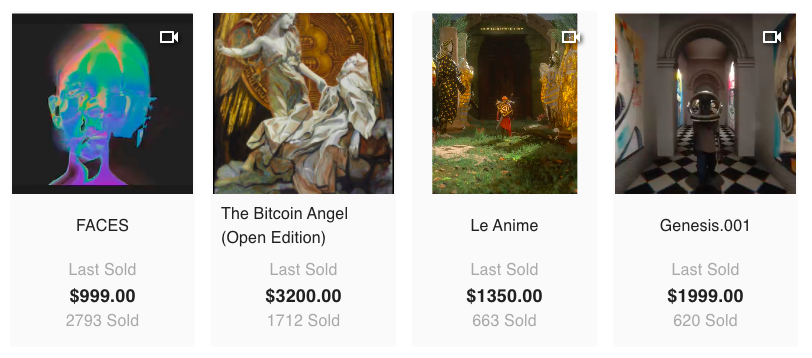 Other popular artists include:
3LAU
Genies
Lushsux
Greg Mike
Matt Gondek
Mad Dog Jones
John Burgerman
Justin Roiland (Co-Creator of Adult Swim's Rick and Morty)
You can discover which upcoming releases are next by visiting the drops schedule.
How To Purchase Nifties
To purchase a Nifty, first, you'll need to open an account. Click the 'sign up / login' button on the homepage, enter your details and create a username. When funding your account, there are two payment options to choose from. You can pay with a credit/debit card or with Ethereum using an ETH pre-paid balance. Once you've logged in, navigate to the account section and link your card or ETH. Alternatively, find the nifty you'd like to purchase and click 'place bid'. From here, you'll be prompted for your card details.
NIfty Gateway has a few purchase methods. These vary between drops:
Online Silent Auction – Collectors place a blind bid and wait and see whether they won.
Drawing – A raffle or lottery where the winner gets to purchase the desired NFT for the value price. Some drawings get thousands of entries with only one winner. These have been introduced recently to stop bots from grabbing the top pieces
Open Edition – For a short period of time (usually 5 to 15 minutes) an unlimited number of NFTs are available on the selected piece, meaning thousands could be sold, or just one or two.
Global Offer – Submit an offer on a piece of artwork and a notification will go to all the NFT owners. If they want to sell at that price, they'll have the option to.
How To Sell & Create NFTs
If you already own an NFT, you can upload it to your Nifty Gateway Omnibus Wallet using MetaMask. Nifty Gateway currently only accepts NFT deposits using this method. If you're looking to become a Nifty creator and sell your own artwork, you can apply via the website. You'll need to submit an 8-part questionnaire and complete an interview.

Fees & Commissions
Nifty Gateway makes its revenue from taking royalties on a percentage of each sale made, including secondary sales made through the marketplace. When a Nifty is sold, the platform takes 5% of the sale price in fees and taxes, plus 30 cents to cover transactions fees. 10% of the sale price goes to the original artist on secondary sales, so keep this in mind if you're looking to make a profit reselling a Nifty. One downside of Nifty Gateway is that fees are not necessarily fully transparent. Users have complained that 'gas fees' can quickly rack up.
Cash-Out
If you've sold a Nifty and want to cash out or you've made a deposit and would like to get a refund, you can do this by visiting the account page. You can withdraw directly to your bank account, however, this functionality is only available for US bank account holders. There is a $5000 weekly cash out limit to bank accounts. Alternatively, withdraw to a Gemini account wherever you are in the world. Withdrawals are unlimited using this method.
Displaying Your Nifty
Now you've purchased your digital art, how do you display it? Nifty Gateway has recently introduced a new Display App, available on Android devices only (not yet suitable for iOS). It allows you to view your NFTs on various devices such as a tablet or smart TV.
Pros Of Nifty Gateway
The Nifty Aesthetic
One of the biggest factors when comparing Nifty Gateway vs Makerspace, Rarible or another NFT market place is that the artwork aesthetic. The NFTs on the platform are created by exclusive artists and are collectors items. Each platform has its own artistic vibe, just like a gallery might specialise in abstract art. Therefore, one of the biggest draws to Nifty Gateway is its unique collection.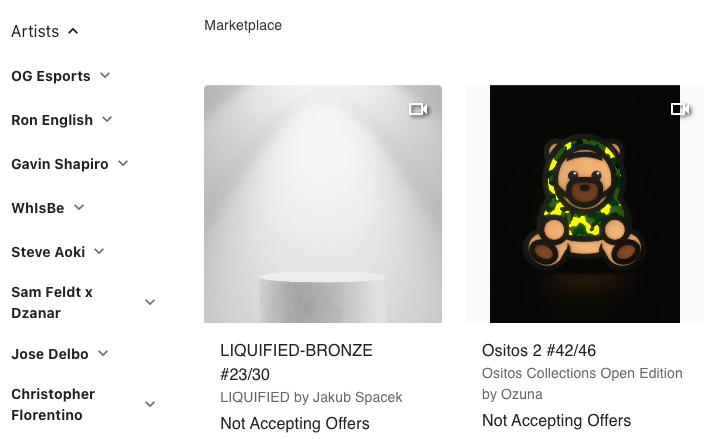 Exclusivity
Nifty Gateway rigorously vets its NFT artists and handpicks the best to invite onto the platform. Therefore one of its selling points is its exclusivity. When you join Nifty you know you're getting the pinnacle of NFT artwork vs marketplaces such as Opensea which allow anyone to list an asset. For this reason, Nifty Gateway is a good choice if you're looking to purchase an NFT for an investment.
Cons Of Nifty Gateway
The NFT Heist
In the so-called 'NFT heist', a number of Nifty Gateway accounts were hacked with thousands of dollars worth of artwork stolen – an event that rocked the NFT scene. However, since all the victims had failed to utilise the 2FA functionality, Nifty Gateway recommends all users install this on their accounts to prevent this from happening in the future.
Environmental Impact
Blockchain technology is costly for the environment. The real-world energy used to process a single Ethereum transaction is equivalent to the average EU resident's power usage for four days. Whilst Nifty Gateway is one of the more eco-friendly NFT marketplaces (minting happens on chain), there's no doubt it's a huge drain on the environment. And for users, this can mean expensive 'gas fees' – a complex costs system where buyers and sellers pay for the energy use of processing blockchain transactions.
US-Based Payment Withdrawals
Currently, withdrawal to bank accounts is only available to US banks. Other users will need to withdraw to a Gemini account. This is fine for crypto users, but for true international attention, Nifty Gateway could do with introducing alternative options.
Nifty Gateway Support
If you need to contact Nifty Gateway for support with a transaction, the first place to visit is their desktop help centre. Here you can search for frequently asked questions, for example, if you have a problem signing up, your purchase was unable to be completed, or another similar error.
Unfortunately, there is no support phone number available to customers. The best way to contact the platform for further queries is through their email address support@niftygateway.com. Alternatively, contact Nifty Gateway through their social forums on Instagram, Twitter or Discord.
Plus, for tips and tricks on how to be successful with silent auctions, there is a guide available in the help section of the website.
Final Word On Nifty Gateway
Overall, if you're a digital art fan, Nifty Gateway is one of the best marketplaces for NFT trading. Its partnership with world-renowned artists makes it perfect for those looking for NFTs with investment potential. Limitations on its payment options mean there's still room for improvement, but on the whole, Nifty Gateway is a great option for NFT traders.
FAQ
What Is Nifty Gateway?
Nifty Gateway is a platform for buying and selling NFTs (AKA nifties or non-fungible tokens) via the Ethereum blockchain. It offers an exclusively curated selection from world-renowned musicians and artists. Nifty Gateway claims it will not stop until 1 billion people are collecting nifties.
Which Blockchain Does Nifty Gateway Use?
Nifty Gateway uses the Ethereum blockchain to host its NFTs. Ethereum is widely considered one of the most secure blockchain platform options.
Is Nifty Gateway Legit?
Nifty Gateway is a legitimate NFT trading platform that utilises the Ether blockchain to mint digital artwork. It is owned by Gemini, the cryptocurrency trading platform regulated by the New York State Department of Financial Services (NYSDFS).
How Do You Sell On Nifty Gateway?
If you own an NFT that has previously been sold on the Nifty Gateway, selling your asset is easy. Navigate to the 'Your Nifties' section and click 'put up for sale'. To list an NFT you've created, you'll have to go through a rigorous application process. Nifty Gateway only offers an exclusive artwork collection from recognised artists.
How Do I Pay For An NFT On Nifty Gateway?
There are two payment options on Nifty Gateway. You can either pay with credit/debit card or with Ethereum via your Gemini account.
Nifty Gateway is a leading online marketplace for NFT trading, offering a range of tokens with low fees.