Alternatives To Coinbase
Coinbase was founded in 2012 and is a platform for buying, selling, storing and trading cryptocurrency. It supports over 36 crypto coins and is designed for traders new and advanced. But whilst a popular platform, there are now excellent alternatives to Coinbase. Read on for a review of Coinbase vs Binance, Kraken, BitMEX and Gemini. We wrap up by answering what broker to use instead of Coinbase for those ready for a change.
Coinbase Headlines
Coinbase is based in San Francisco and is a fully licensed and regulated cryptocurrency exchange in 40 US states. Its services are also available globally, including to those in Australia, the UK and Europe. In fact, the crypto exchange boasts over 40 million users across 100 countries. And while our best alternatives to Coinbase have a lot to offer in terms of tools, features and fees, few can match the global reach of the crypto exchange.
Products
Coinbase offers a wide range of products to suit beginners and professionals.
Coinbase – Buy, sell and store digital currency
USD Coin – Coinbase's proprietary cryptocurrency that is tied to the US dollar
Wallet – Retail investors can manage and store their crypto assets without a centralised brokerage or exchange. There are options to use US dollars or other local fiat currencies.
Coinbase Pro – Formerly GDAX, Coinbase Pro is a premium service with the ability to make crypto-to-crypto transactions and earn through advanced trading functions.
Platforms
Coinbase
Coinbase is a secure online trading platform that utilises the US dollar to purchase a growling list of 32 cryptocurrencies. Geared toward beginners, this platform has a straightforward, user-friendly interface with options to 'buy', 'sell' or 'convert' when placing a trade.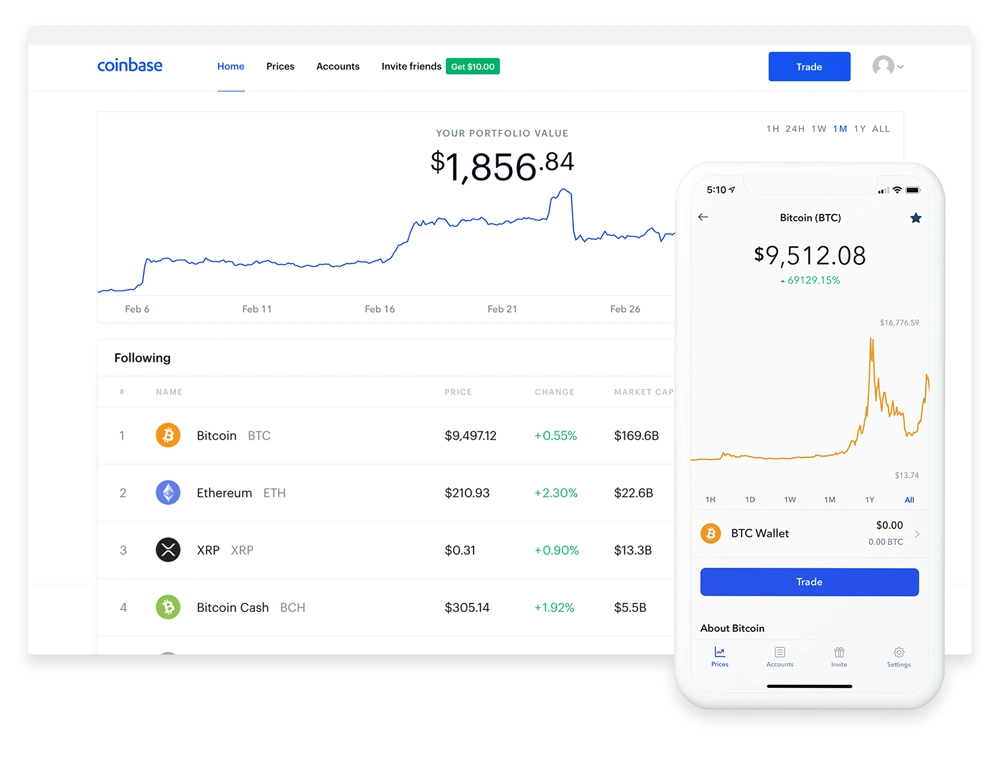 The Coinbase mobile app can be accessed through Android and iOS devices.
Coinbase Pro
Coinbase Pro was formerly known as Global Digital Asset Exchange (GDAX). It's an in-depth platform that caters to more advanced traders and offers 36 cryptocurrencies. On top of the same functionalities as the original platform, it offers advanced charting functions as well as the ability to place market limits and stop orders. You can specify an order type, which defaults to market.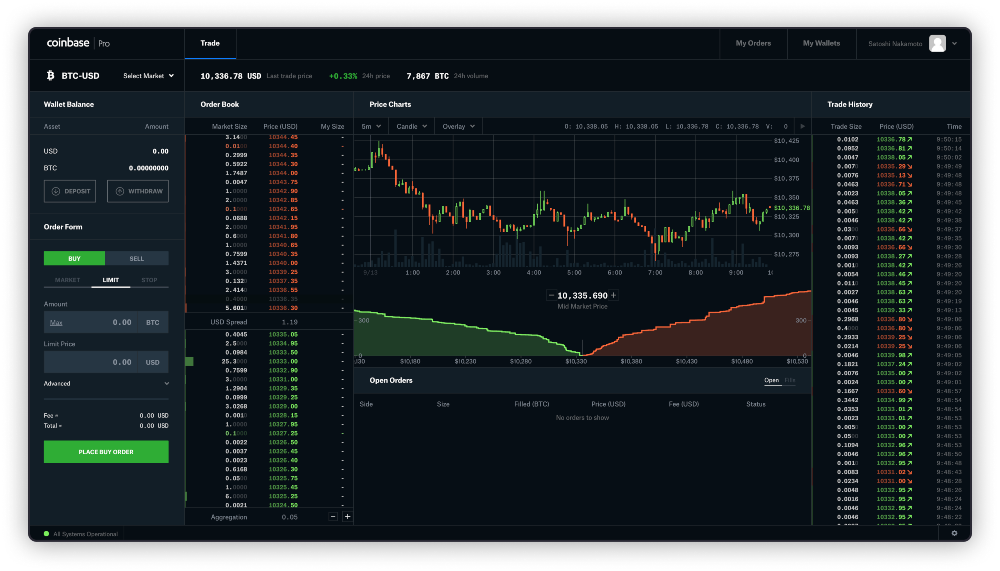 Fees
With the exception of Coinbase Pro, fees are expensive compared to competitors. Fees vary from between 0.5% to 4.5%, and also between payment methods, cryptocurrency type, transaction size and platform used.
Coinbase charges spreads of 0.5% for crypto purchases and sales. Depending on market fluctuation, rates may be higher or lower. On top of that, they charge a flat fee or variable percentage fee, depending on region, amount purchased, product feature and payment type. For example, a $100 purchase of Bitcoin with a USD bank account will come with a flat fee of $2.99 + a $1.49 variable fee.
On the other hand, Coinbase Pro's fee schedule is straightforward and less expensive. It is based on monthly trading volume and a taker-maker fee model, which is based on the liquidity of the asset at the time of purchase. Depending on pricing tier, taker fees vary between 0.04% to 0.50%, while maker fees vary between 0.00% to 0.50%
On the basic Coinbase platform, deposits on wire transfers are $10 and $25 to withdraw. The exchange also requires a minimum $2 to purchase and sell and is capped at $25,000 a day. Trade and balance levels are unlimited on Coinbase Pro, however, withdrawals are limited to $25,000 by default, which can be increased by request.
Best Alternatives To Coinbase
Whilst the crypto exchange has a lot to offer, there are several strong alternatives to Coinbase. See our comparison below.
Binance
Founded in 2017, Binance's broker terminal is a good alternative to Coinbase for those looking to instantly buy and sell crypto or fiat services.
Compared to Coinbase, Binance offers a wider range of platforms that suit all levels of skills. They offer Classic, Advanced, Margin, Convert and P2P. Classic provides a more traditional platform with charts and options to trade with stop loss, by market or limit order. Advanced offers all the Classic features but with full access to trading tools. Margin allows traders to increase profits with leverage. Convert is an OTC trading platform, which offers quick settlement for larger buy or sell trades. Lastly, P2P allows you to buy and sell cryptocurrencies among fellow Binance users with zero fees.
It's also worth pointing out that Binance offers a greater range of 150 crypto coins. Additionally, Binance offers among the best apps for crypto trading like Coinbase.


Binance's fee structure is less complicated and cheaper compared to Coinbase. Binance offers a tiered fee structure based on 30-day cumulative trading volume. It charges a fee of 0.1% for all trades and a 50% discount on fees that use Binance Coin. Unlike Coinbase, Binance does not charge any deposit fees but withdrawal fees change based on the market.
This all makes Binance one of the best alternatives to Coinbase.
Kraken
While Kraken offers services to both new and advanced traders, it is not considered beginner-friendly. However, it is a great alternative for advanced traders, when compared to Coinbase Pro.
Established in 2014, Kraken is a hassle-free cryptocurrency exchange. Kraken also offers margin and OTC trading with over 50 coins. Unlike Coinbase, it does not offer a wallet, a brokerage service or its own crypto coin.
Platforms include the Kraken Terminal and Cryptowatch. The Kraken terminal allows you to view markets in real-time, access customisable price charts with a live trade feed and order book, along with a depth chart to help you visualise market sentiment.
Advanced features on Cryptowatch include an additional 25 crypto exchange services, automated orders, technical analysis features and more.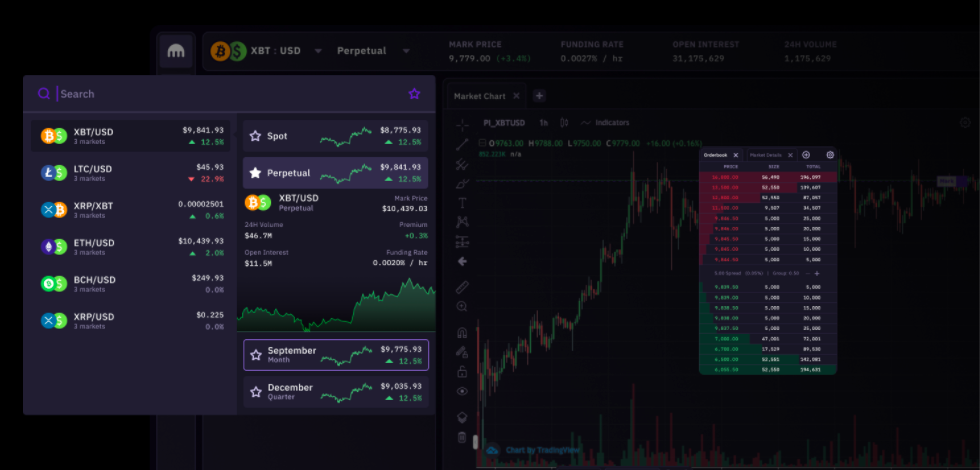 Fees on Kraken Pro are significantly cheaper than Coinbase and Coinbase Pro. The fee schedule depends on your last 30 day trading volume and is based on a taker-maker model. For example, a trading account with a 30 day volume of $0 to $50,000 will pay a 0.16% maker fee or 0.26% taker fee. A full detailed fee schedule is available on the Kraken website.
Overall, Kraken is among the strongest alternatives to Coinbase.
BitMEX
BitMEX is a peer-to-peer (P2P) crypto-products trading platform that offers leveraged contracts, which are only bought and sold in Bitcoin. Unlike Coinbase, BitMEX does not handle fiat currency but offers up to 1:100 leverage.
As Coinbase has disabled margin trading due to regulatory changes, BitMEX is a great alternative. BitMEX only offers three Bitcoin products; XBT Perpetual, XBT Quarterly Future and XBT Biquarterly Future. Instead of trading currency directly, users simply trade contracts, which can be significantly more volatile than traditional investing. As a result, this platform is much more suited to advanced crypto traders.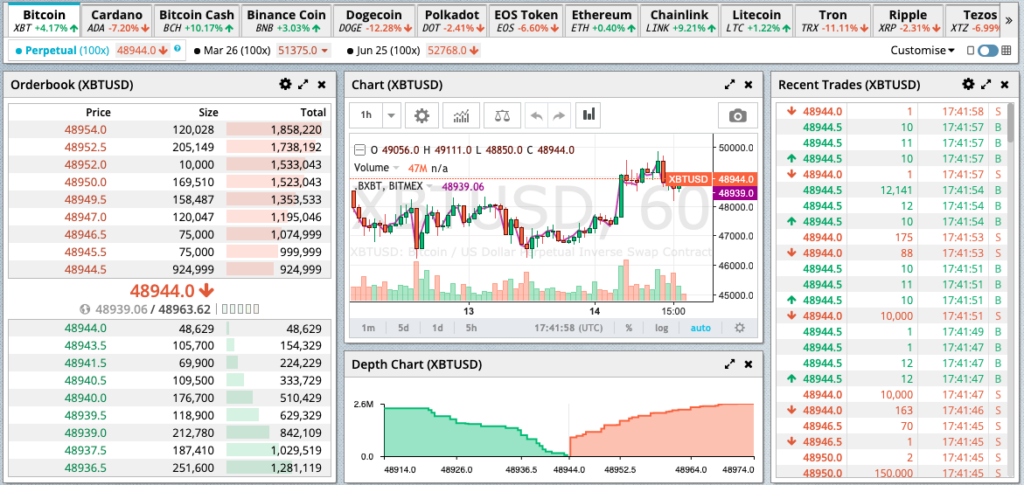 Since BitMEX only exchanges cryptos, it does not incur added fees from buying crypto with cash. Thus, fees are as low as 0.05% to 0.25%. BitMEX also does not charge fees on deposits or withdrawals.
Ultimately, BitMEX is one of the best alternatives to Coinbase for users looking to cut costs.
Gemini
Gemini is more suited to advanced traders. It has similarities to Coinbase, such as the ability to buy and sell using fiat and cryptocurrencies. However, Gemini offers different buy and sell orders. On top of that, it offers a wider range of platforms that suit all levels, such as a simple web interface or a more advanced ActiveTrader platform. On the downside, Gemini currently only offers 26 cryptocurrencies.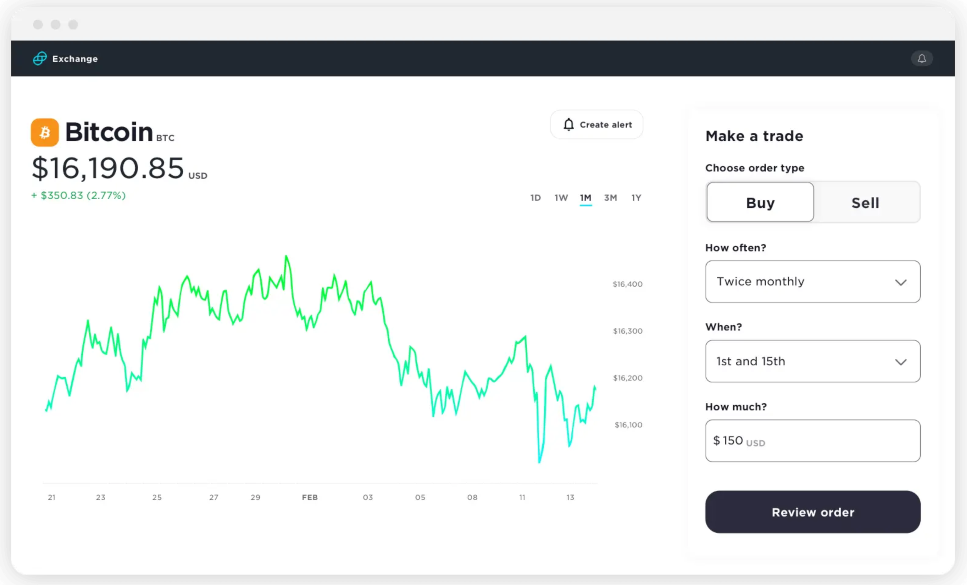 You are more likely to save on Gemini as it does not charge on deposits and only charges up to 2.5% when trading. With that said, the fee schedule on Gemini vastly differs depending on the products used and trades made in a 30 day period. For example, trading volume of up to $500,000 on the ActiveTrader platform charges a 0.35% taker and 0.25% maker fee, which is more expensive than Coinbase Pro but cheaper than Coinbase.
Overall, Gemini is one of the top alternatives to Coinbase for those looking for a wider range of cost-efficient trading platforms and tools.
Pros Of Coinbase
Simple interface for new crypto traders
Cryptocurrencies are insured
Trading on up to 36 cryptos
Low minimum deposit
High liquidity
Cons Of Coinbase
Complicated and expensive fee structure on original Coinbase platform
Lack of autonomous control on wallet keys
Final Word On Alternatives To Coinbase
While considered one of the top cryptocurrency exchanges in the industry, there are great brokers like Coinbase that suit various goals and skill levels. Coinbase Pro provides a good all-round platform for advanced traders with decent fees. On the other hand, Coinbase provides a simple and user-friendly interface for new traders. Unfortunately, costs on Coinbase are by far the most expensive.
Overall, when comparing similarities to Coinbase, Binance has to be the best alternative. It is cheaper to trade with, offers a wider range of platforms and up to 150 coins. It also provides one of the best mobile app alternatives to Coinbase.
FAQ
What is a similar and better alternative to Coinbase?
Out of Binance, Kraken, BitMEx and Gemini, Binance offers the most similar service to Coinbase. It offers competitive products such as a crypto wallet and fiat currencies. Its trading platforms also suit both new and advanced traders while offering services that Coinbase doesn't, such as P2P and margin trading.
What are cheaper alternatives to Coinbase?
Coinbase's original trading platform has the highest and most complicated fees than all alternatives mentioned in our review. However, when comparing Coinbase Pro, it provides similar and competitive rates. As BitMEX only exchanges cryptocurrencies via contracts, it has the cheapest fees amongst all alternatives mentioned with a range of 0.05% to 0.25%.
Is Coinbase legal in UK?
Yes. Coinbase is legal in the UK. It is also available In Australia, Canada, Singapore, the United States and a number of European countries based on regulation. But while Coinbase is available in the UK and other European countries, the UK's Financial Conduct Authority (FCA) has banned the sale of crypto derivatives as of Jan 6th 2021 because of the risk to retail consumers. Coinbase is only regulated in 40 states in the US.
How to buy and sell on Coinbase without fees?
While it is not widely popular and known, it is possible to buy Bitcoin without fees on Coinbase Pro. This can be executed as a maker or taker. To find out how head to the Coinbase site.
Does Coinbase sell instantly vs alternatives?
Whether you can sell instantly will depend on which region you are from. For US customers it typically takes one to two business days to complete after initiating a sell or withdrawal. However, for UK and European customers, buying and selling occur instantly as local currency is stored within your Coinbase account. Coinbase is, therefore, in line with alternatives.