Cryptocube Review 2023
Cryptocube is a central location for high-quality crypto articles, coaching and tournaments. With cryptocurrency making a comeback, it's no surprise that traders are on the hunt for premium crypto analysis. Equally, crypto tournaments are seeing a surge in popularity, providing everyday traders with the opportunity to compete against professionals on a level playing field.
In this article we explain what Cryptocube is, how it works, and the pros and cons of the emerging platform.
What Is Cryptotube?
Cryptocube is a company that markets itself as the place to go for top-quality crypto resources and the world's first digital currency tournament portal.
It provides a library of cryptocurrency analysis articles from a selection of specialists, as well as the opportunity to book coaching with some of the authors themselves. The website describes its purpose as a 'neat little package' of cryptocurrency resources; a refreshing solution to today's overwhelming sources of unfiltered crypto content.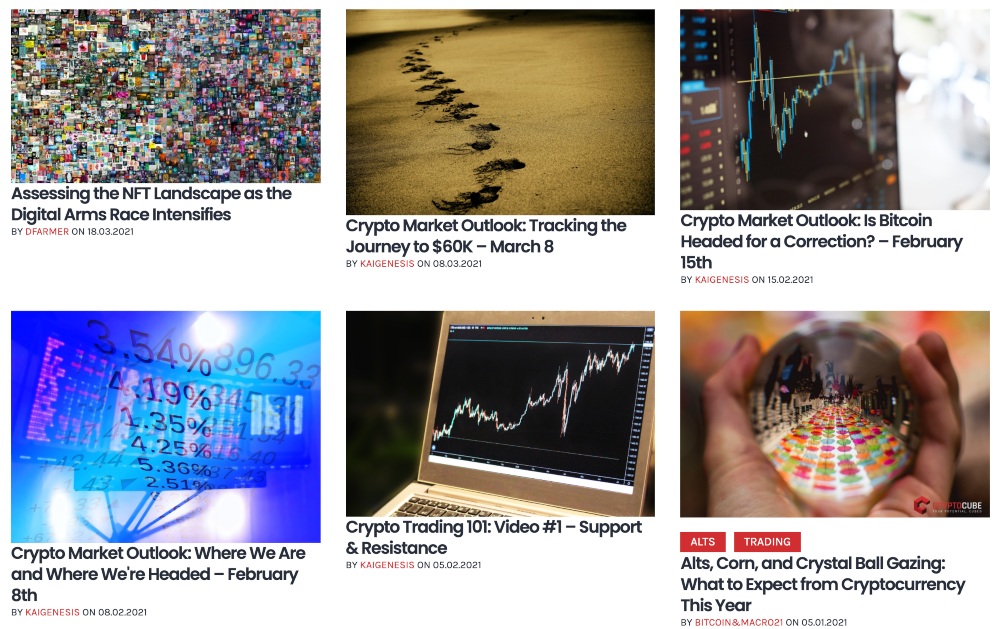 Cryptocube is also a central location for crypto tournament resources, including an access point for the tournaments, as well as competition tips and coaching. The firm's article 'A Simple Guide to Crypto Tournaments' is a great starting point for beginners unfamiliar with the concept.
Additional resources include the Cryptocube exchange review section, where altcoin exchanges are scored out of 100 and come with an in-depth review of their platform, coin offerings and tournaments. Cryptocube has struck a deal with the exchanges they review, meaning customers who sign up through their link can take advantage of offers such as free deposit bonuses. A dedicated Telegram messaging group also exists for Cryptocube, where users discuss the latest hot altcoin topics.
Coaching
Cryptocube offers coaching services from an impressive selection of digital currency specialists. Their website contains a page on each coach's experience, which ranges from NFT and tournament experts to researchers with crypto related PHDs. Handy tags are used to label each coach's specialism, while photos and details of their background makes it feel more personal.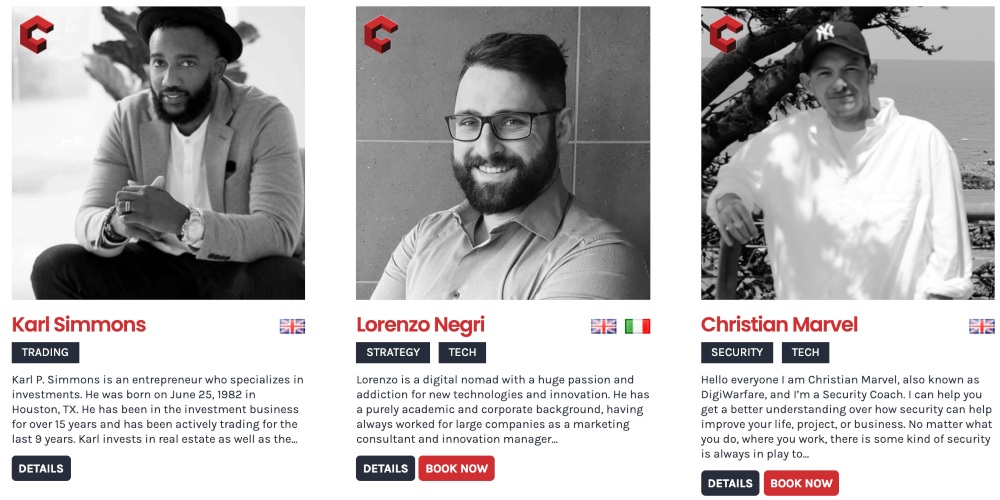 Tournaments
Cryptocube aims to be a one stop portal for crypto tournaments, covering details of different competitions and specific coaching.
According to the Cryptocube definition, a tournament is a competition that has a fixed buy-in (meaning everyone starts out in the same position). Participants then carry out trades that result in wins or losses. On top of this is a prize pool, which is distributed among the trader(s) with the highest returns.
Tournaments are an excellent opportunity for everyday traders to compete against some of the best professional crypto traders in the world, for relatively low buy-in (with some being as low as ten dollars). They are also a great way for new investors to practise trading techniques.
The Binance Futures Tournament is an example of a crypto tournament that offers up to 1.5 million USD worth of BNB prizes to be shared among the winners, depending on how many people sign up. Participants compete in teams and trade using BNB which is the Binance cryptocurrency. The events take place over a month and offer a variety of prizes and bonuses throughout the competition. Cryptocube provides essential information on the Binance tournament in one neat article, including how to register, minimum deposit requirements and how the prize fund works.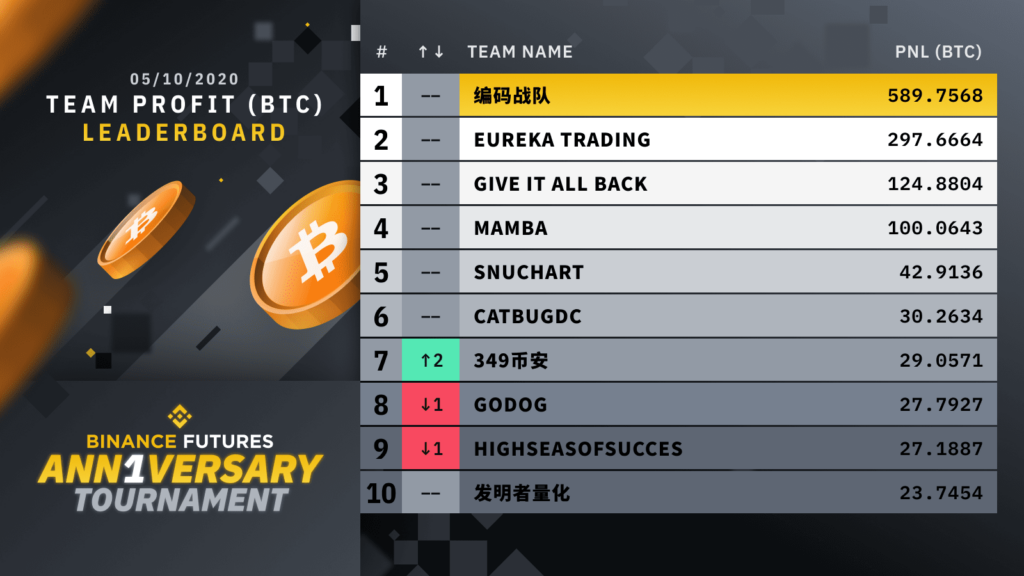 However, the tournament resources currently offered by Cryptocube are limited, with details of the Binance tournament and a couple of coaching articles so far. We're hoping this area will be developed in the future, as in-depth details of crypto tournaments would be a valuable resource for anyone interested in competing.
Pros
Cryptocube offers several advantages that make it a contender for becoming a leading platform in crypto analysis:
Content – the articles published by Cryptocube are written by a range of experts, resulting in diverse, quality content.
Interface – Cryptocube has a clean user interface that is easy to navigate, providing centralised, no-frills crypto information.
Profiles – each Cryptocube contributor has a detailed bio which gives customers the ability to understand more about their background and experience before signing up for coaching.
Cons
However, Cryptocube currently has a few drawbacks:
Lack of tournament content – while a clever concept that provides a respectable range of crypto articles, the tournament section of the website is currently lacking.
Fee transparency – Cryptocube would benefit from being more transparent with their coaching fee structure. Currently, potential customers are only able to enquire by contacting coaches individually, meaning it isn't possible to compare fees up front.
Final Word On Cryptocube
Cryptocube is a platform that provides a centralised source of high-quality crypto information and tournament access. The variety of coaching on offer is impressive, from experts in NFTs to business consultancy. Currently the business has little tournament information on offer despite promising weekly content, so we're hoping that this develops as the platform grows.
Find out how to get started trading cryptocurrency.
FAQ
What Is Cryptocube?
Cryptocube is a platform that provides a central source of crypto analysis from a range of experts who can also be booked for 1:1 coaching. On top of this, it markets itself as the world's first crypto tournament portal, providing competition tips and articles.
How Does Cryptocube Work?
Customers can book coaching with crypto experts directly through the website using a booking form. However, customers must first have a Telegram account to submit their enquiry. Tournament information and crypto analysis can be accessed via the 'Library' and 'Tournaments' sections of the website.
What Is A Crypto Tournament?
A crypto tournament is a competition where participants have a fixed buy-in and carry out trades resulting in wins or losses. A prize pool is distributed among traders or teams with the highest returns.
What Type of Coaching Does Cryptocube Offer?
Cryptocube has a portfolio of 15 coaches from all over the world, specialising in subjects including crypto tournaments, business consultancy, crypto research, fundraising and web design.
How Can I Sign Up To Cryptocube?
As well as booking personal coaching, traders can also sign up to a tournament newsletter or join the dedicated Telegram channel to discuss the latest crypto topics.