Exodus
Exodus is a global multi-currency crypto wallet. The company's goal is to make digital currencies accessible to everyone in an easy to learn and intuitive environment. This Exodus crypto wallet review will cover security features, exchange fees, reasons for transactions not working, the secure login process, download requirements, and more.

Exodus Overview
Exodus was established in 2015 as a platform for securing, managing and exchanging blockchain assets. The crypto wallet offers an easy to navigate design with innovative UI features making it suitable for both new and experienced users.
Key company headlines include 200+ product updates since the launch, software releases every 2 weeks, and 130+ digitally supported currencies. Exodus is currently pioneering a project filed with the US Securities and Exchange Commission to offer their own digital stock. This is available publicly and can be invested in through shares.
Coins
At the time of writing, Exodus supports 132 crypto coins. This is a lower offering vs Binance and Trust Wallet, though most popular altcoins are still offered. Available cryptos include Bitcoin (BTC), Ethereum (ETH), Litecoin (LTC), Ripple (XRP), and Monero (XMR).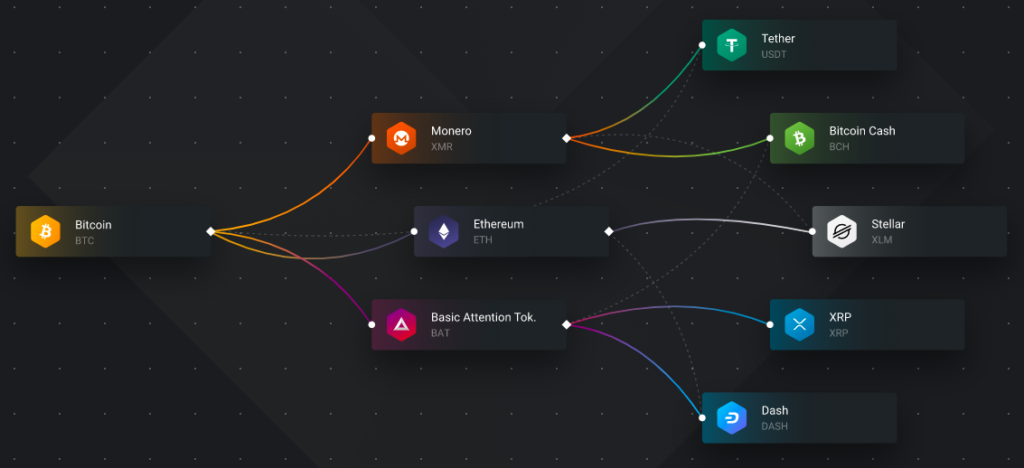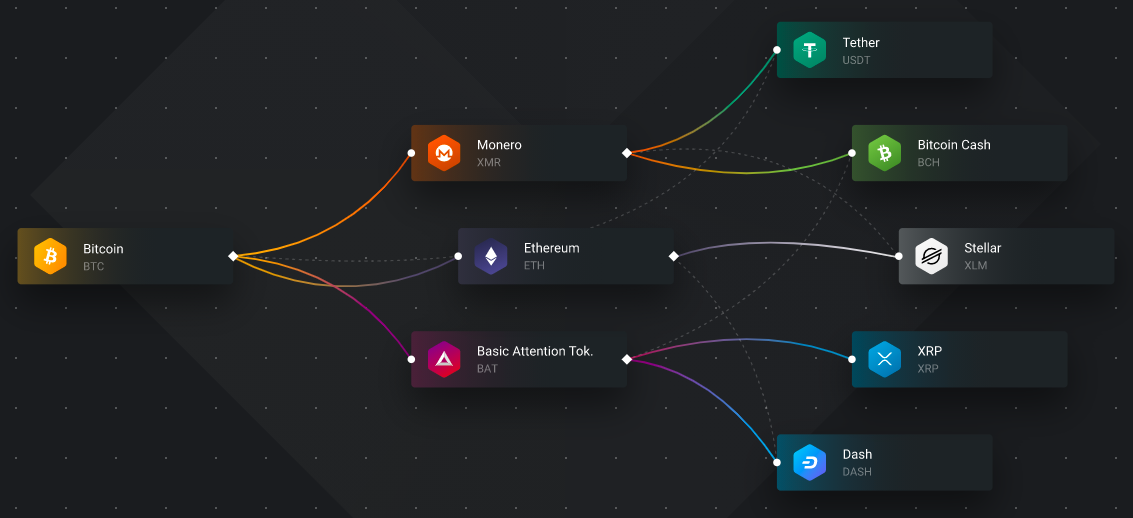 Exodus exchange partners set floating minimum and maximum levels on all orders, subject to market conditions and liquidity. A live coin update and status are provided on the company website. Note, the availability of cryptocurrencies can vary between mobile and desktop platforms.
Exodus Desktop Wallet
The Exodus desktop trading wallet is highly intuitive. The platform offers simple navigation, suitable for new crypto investors. The platform can be downloaded to Windows, Mac, and Linux devices. The Exodus software is also compatible with the Trezor hard wallet for advanced security.
Features include:
Exchange in seconds
Cryptos available 24/7
Online help desk and customer support
Limited registration or sign-up required
Diversify your portfolio by exchanging between assets
Private keys and transaction data encrypted on devices
Safe and secure automatic address checks with QR code send & receive options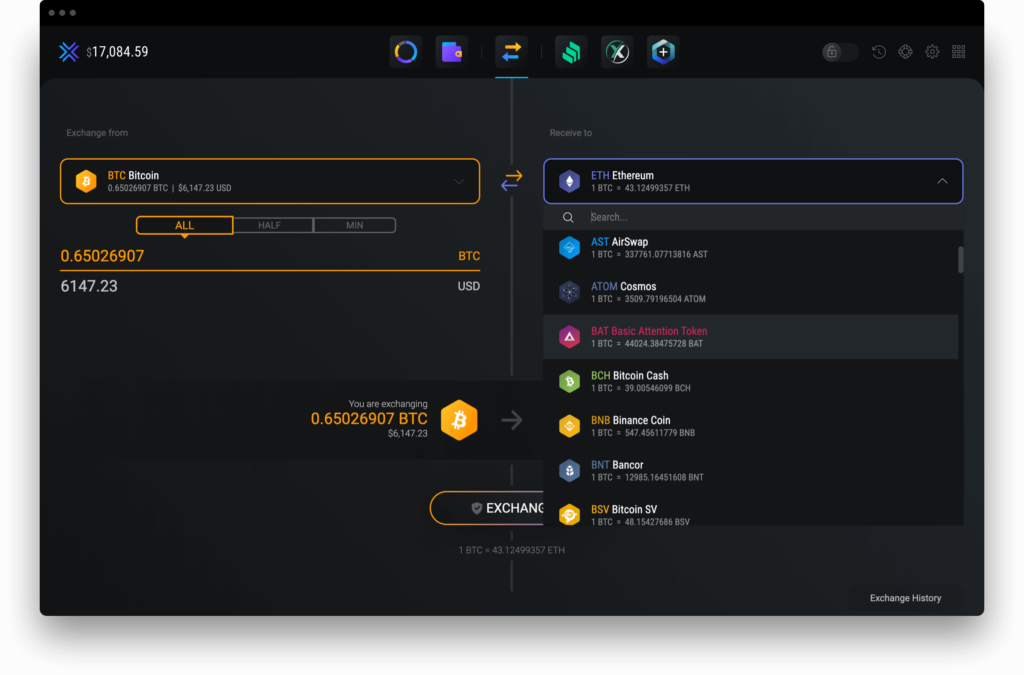 Trezor
Exodus has a partnership with the Trezor hardware wallet to manage and protect blockchain assets, similar to the Ledger wallet. The concept allows for advanced security, allowing clients to safely manage digital currencies. The partnership currently supports 90+ crypto assets.
Features include:
Secure private keys offline
Track Trezor portfolio performance
React to market movements instantly
Real-time charts and live market details
View transaction history with one click links
Exchange assets directly from Trezor without moving funds to a different wallet
Reduce long confirmation times vs average 1-hour crediting time on other exchanges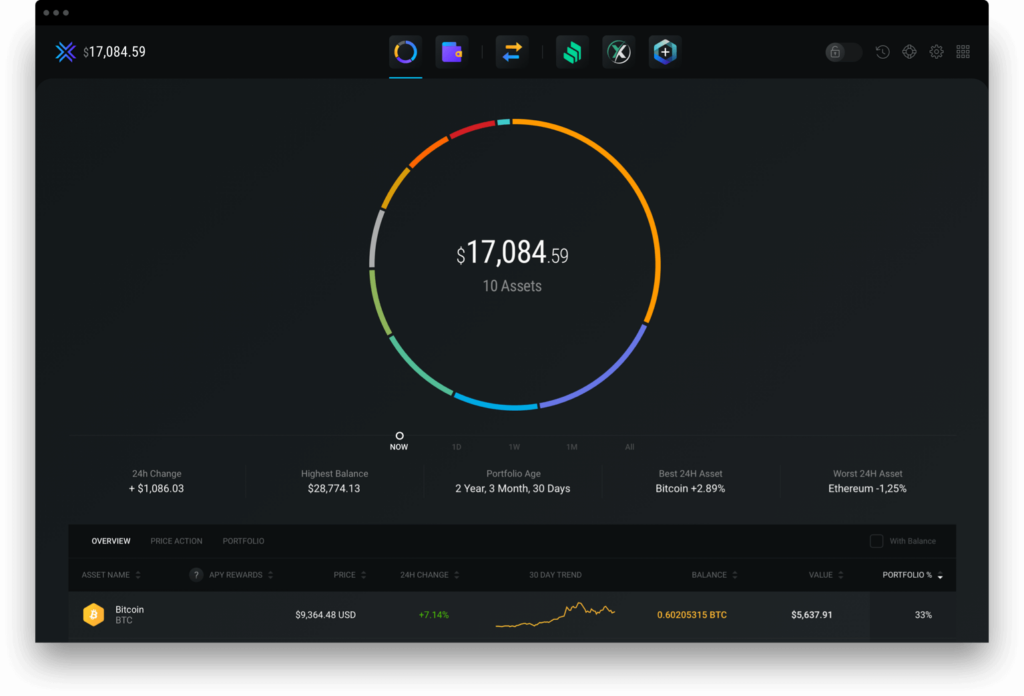 To get started using cryptocurrencies in Trezor:
Purchase a Trezor
Install Trezor Bridge
Pair with your Exodus wallet
Mobile App
The Exodus mobile app is available for free download to iOS and Android devices, meaning clients can buy and sell cryptocurrency in seconds while on the move. Currently, the application offers all 130+ cryptocurrency assets including Bitcoin, Dogecoin, Ripple, and Monero.
Features include:
One-click exchange
Trezor compatibility
24/7 customer support
Face recognition & fingerprint security
12-word phrase desktop and mobile sync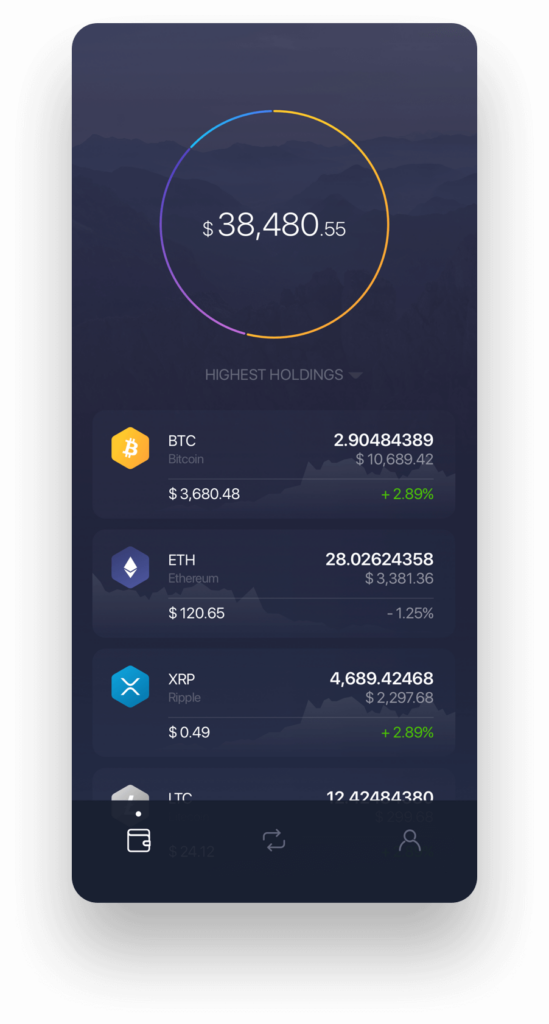 Deposits & Withdrawals
To use the Exodus service, clients must purchase cryptocurrency from a local exchange using fiat money such as EUR, GBP, USD, and CAD. Popular local exchanges for global clients include Coinbase and Kraken.
The Exodus wallet does support Bitcoin purchasing with fiat currency but only on iOS mobile devices. This is available to residents of select countries including the United Kingdom, Germany, and Canada, in USD only. Go to the Profile tab of your wallet app, select 'buy Bitcoin', then select the amount. The service is compatible with Apple Pay only.
Crypto purchasing is not supported through Exodus on computer devices. Crypto withdrawals are also not available to bank accounts via the exchange.
Exodus Fees
Exodus does not charge a network fee for sending or receiving cryptocurrency. However, the use of the blockchain does come at a cost regardless of the exchange wallet being used. BTC and UTXO fees are based on Exodus calculating and setting optimum wallet fees for the transactions in the next block. Ethereum and non-UTXO assets work on a fee calculation based on the transaction type.
Note network exchange fees can be viewed before submitting a transaction. Custom fees may also be charged but for Bitcoin and Ethereum transactions only.
Some user ratings highlight that Exodus exchange fees are high vs competitors such as Jaxx. Instead, the platform is designed with transaction speed in mind. This makes it a good option for traders looking to quickly take positions on the crypto market.
Pros
No registration required
Access 130+ crypto assets
Public investment via shares
Trezor hardware partnership
Customer support available 24/7
Mobile app with easy to use navigation
Back-up and restore options with security phrases
Safety protocols and extensive user protection information
Cons
Closed source
Only available in English
In-wallet crypto exchange subject to high fees
Custom fees only available for Bitcoin and Ethereum
Limited cryptocurrency buying services – only Bitcoin purchase via mobile app
Customer Support
Exodus offers multiple support avenues via the company website:
FAQs
Tutorial videos
Email – support@exodus.com
Online live chat with instant answers via help bot

Note, the exchange does not offer support via the telephone app currently. Also, be aware of 'official Exodus support' phone numbers as these can lead to wallets being hacked and scam issues.
Security
Exodus manages private keys for clients to reduce phishing. Manual management is available, however it is recommended for advanced users. The company does not store any sensitive data. This includes passwords, 12-word recovery phrases, or private keys. These are encrypted locally and stored on your device only.
Key security features include:
Two-factor authentication present on all apps
Release hashes to verify the installer's authenticity
12-word recovery phrase – the master key to your wallet
In-wallet lock function – available to customise to a set time
Exodus highlights its partnership with the Trezor hardware as additional protection for your funds. Hardware wallets are resistant to viruses and malware with all sensitive data restricted to the device. This is a secure way to manage large amounts of cryptocurrency.
Visit the Exodus website to understand how to protect against scams, store sensitive data, download material, plus how to backup, restore and update your wallet.
Exodus Verdict
Exodus is an easy-to-use, intuitively designed crypto wallet, ideal for new traders. The wallet supports a range of crypto coins with no registration requirements, secure login features, and 24/7 customer support. Be aware of high exchange fees when using this wallet and ensure security protocols and system updates are implemented to protect funds. Overall, Exodus is a good choice for users looking to start trading cryptocurrency.
FAQ
How Can I Transfer From An Exodus Wallet To Coinbase?
Select the wallet app within the Exodus platform. Click the cryptocurrency, press send. Paste the address to send your crypto or scan a QR code. Type the amount to send in blockchain units or via fiat currency. Confirm and click send.
Does Exodus Support Staking?
Yes, Exodus does pay stakes through a rewards scheme. The Proof of Stake system allows clients to hold and assign crypto to support the network, with a reward available. These vary by crypto.
What Are The Key Differences Between Exodus Vs Coinbase?
Exodus is a software or desktop wallet offering crypto to crypto exchanges. Coinbase is a web-based wallet integrated with the Coinbase exchange, a reputable crypto purchasing platform.
My Exodus Exchange Is Still Showing In Progress, Why Is This?
Transactions will show as pending until there have been one or more network confirmations. Progress times vary depending on network traffic, asset, or the fee used.
Do I Need An XRP Tag When Sending XRP From Coinbase To My Exodus Wallet?
You do not need to input a tag when sending XRP from Coinbase to your Exodus wallet. Exodus to Coinbase transactions may require the tag due to centralised exchanges not creating distinctive XRP addresses per user.