Shorting Crypto | Tutorial & Brokers
Shorting, or short selling, is a form of trading where an investor seeks to make a profit when the value of an asset, such as Bitcoin, falls. Shorting crypto is an exciting, although risky strategy capable of generating profits. This guide will explain how to short cryptocurrency on leading exchanges including Binance, Coinbase and Kraken.
What Is Crypto Shorting?
To open a short position, a trader borrows a cryptocurrency and sells it on an exchange at the current price. The trader then buys the digital currency at a later date and repays the capital borrowed. If the price of the coin has dropped, the trader will make a profit on the difference between the cost of buying and selling.
Let's look at an example:
You want to short one Bitcoin when the market value of Bitcoin is £40,000. Therefore, you borrow one Bitcoin and sell it at market value, earning £40,000
The price of one Bitcoin drops to £30,000
You buy one Bitcoin for £30,000 and return it to the broker you borrowed it from plus any interest
You keep the difference between the sale and purchase price, meaning £40,000 – £30,000 = £10,000 (minus any interest)
Shorting crypto is the opposite of going long – a trader should short when they expect a currency to decrease in value, and go long when they expect the coin to increase in value.
Shorting or longing is different from pump and dump schemes, where a group of investors artificially raise the price of a currency and sell it when it's high.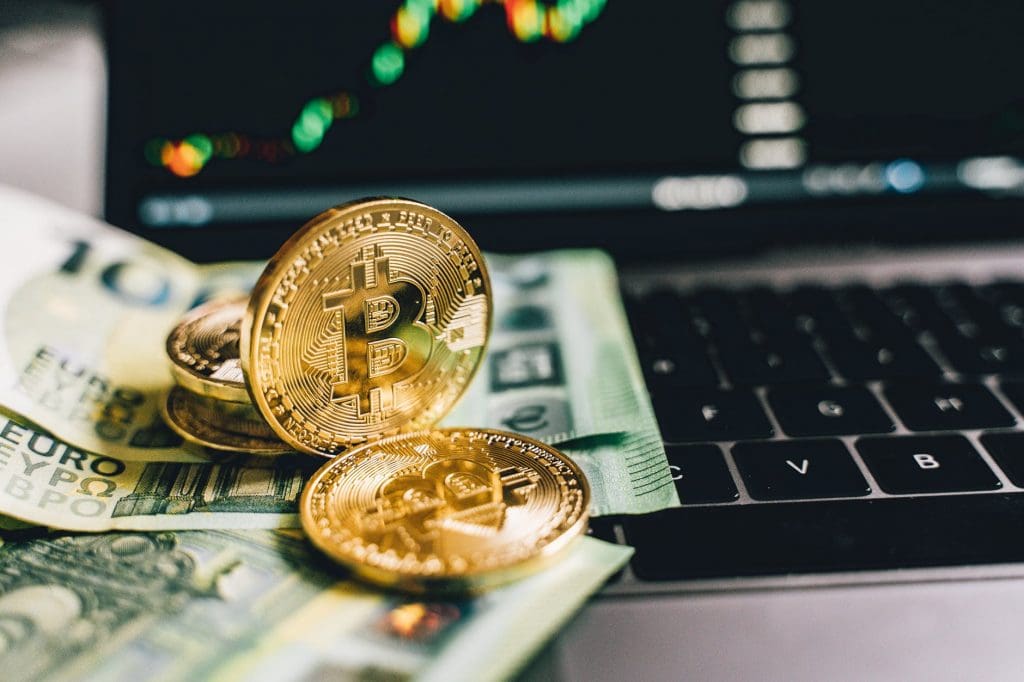 The easiest way to short cryptocurrencies is through a margin trading platform. Margin trading allows an investor to borrow capital from a broker which could either increase your gains or losses. Some margin trading platforms also allow you to short cryptocurrencies with futures contracts, where you agree to sell or buy an asset for a set price, on a fixed date.
Although the potential for gains shorting a volatile market like crypto is real, the level of risk is much higher. In a typical long position, the currency can only ever drop to zero – in which case you lose your original investment. In a short position, the price of Bitcoin for example has the potential to rise infinitely – and so do your losses.
Pros Of Shorting Crypto
Short selling is an advanced strategy that should only be undertaken by experienced investors. However, get it right and there are multiple benefits:
High-profit potential
Limited capital required
Multiple margin trading platforms
Cons Of Shorting Crypto
Downsides of shorting cryptocurrencies include:
Unlimited losses
Margin interest
Short squeezes
How To Start Shorting Cryptos
If you're interested in shorting cryptos, follow our step-by-step guide:
Find a trend – The cryptocurrency market is extremely volatile and can be influenced by any number of factors. Developments in news, politics or even celebrity culture can all influence the value of popular cryptocurrencies. Make sure you carry out careful analysis of the asset you want to start shorting, be it Bitcoin, Ethereum, Ripple or another.
Open a margin trading account – Most of the top crypto brokers offer short selling capabilities with leverage, including Binance, Coinbase, eToro and Kraken. However, regardless of whether you're from Canada, India, Europe or elsewhere, it's important to adhere to regulations in your country. For example, investors in the UK can no longer trade derivatives on cryptocurrencies.
Minimise your risk – The digital currency market is turbulent and losses on short positions can grow exponentially. Make use of stop losses and take profit levels in your trading platform to limit your exposure. Many brokers also offer useful crypto shorting calculators.
Open your position – Once you have determined your entry and exit points, go short and sell the cryptocurrency that you're interested in.
Shorting Crypto On Binance
If you want to short Bitcoin or other cryptocurrencies on Binance, you have a couple of options:
Margin trading – Once you have opened a live account, head to the dashboard, select 'Margin' and complete the necessary identification checks. Next, load your account with funds, then navigate to the margin trading platform and open a position on the crypto that you're interested in.
Futures & options – You can also short cryptocurrencies using futures and options contracts, including perpetual and quarterly futures. Download the broker's mobile app for iOS or Android to start short selling on your phone. Ensure you have enough funds in your wallet before you start trading.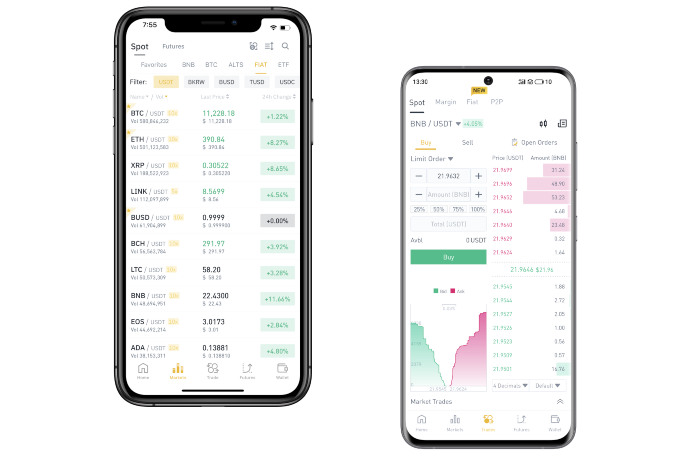 Shorting Crypto On Coinbase
Coinbase is a US-headquartered company and one of the most popular crypto exchanges worldwide. Margin trading is no longer available on Coinbase but you can start short selling without leverage using futures contracts. So once you have signed up for an account, identify a downward trend on one of the dozens of coins available and then take your position.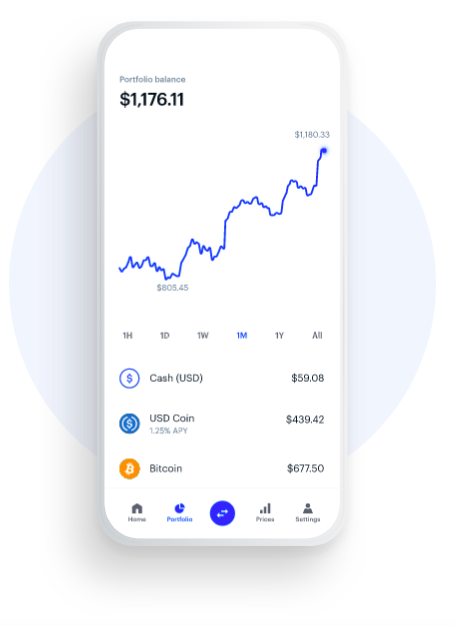 Shorting Crypto On Kraken
Kraken is one of the biggest Bitcoin exchanges in the US. Margin trading is available so once you have completed the KYC checks, take advantage of the range of leverage options.
To open a short position:
Select sell order
Select limit order
Select 2x leverage (necessary to go short)
Check the current price
Select your position size
Set the sell price
Confirm
And for the exit:
Select buy order
Select limit order
Select 2x leverage
Select your position size
Set the buy price
Confirm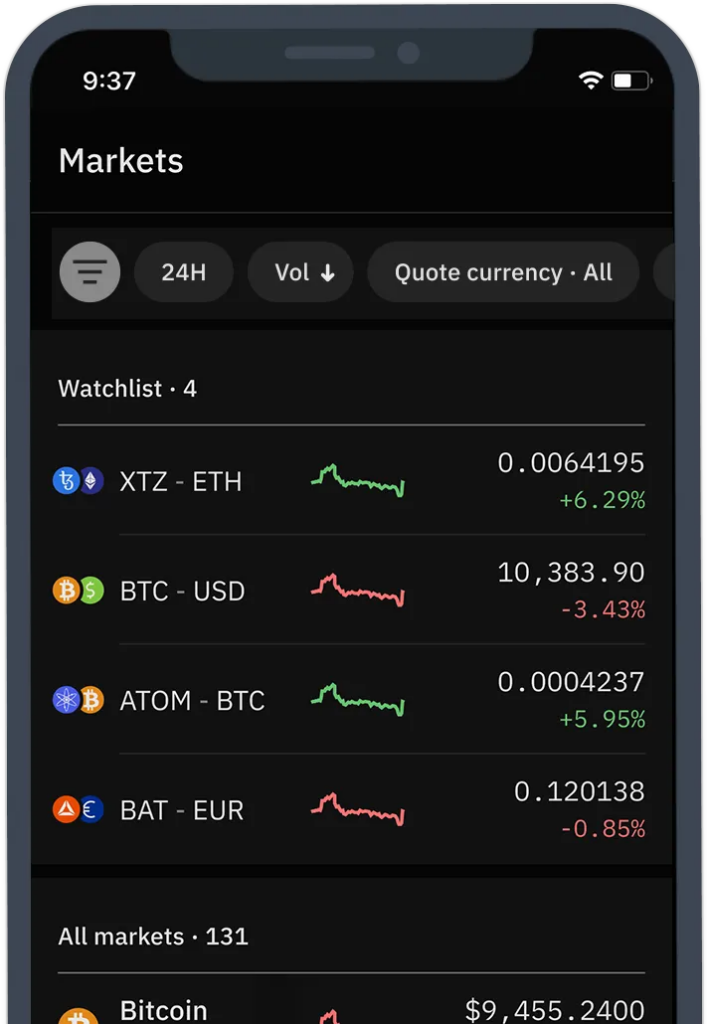 Final Word On Shorting Cryptos
Shorting crypto like Bitcoin can be an effective trading strategy. Implemented correctly, experienced traders can take advantage of the volatile digital currency market. And with increasing government regulations and a host of new tokens emerging all the time, prices are constantly rising and falling.
With that said, beginners should avoid shorting strategies due to the increased risks. See our guide to trading cryptocurrencies for more ideas, including day trading and ETFs.
FAQ
What Does Shorting In Crypto Mean?
Shorting crypto means borrowing an amount of digital currency from a broker and selling it at market value. Once the value of the crypto has fallen, the trader then buys it and returns the borrowed amount, plus any interest, to the broker. The profit is the difference between the cost of buying and selling the crypto.
Is Shorting Bitcoin A Good Idea?
The crypto market is highly volatile and the profit potential in short positions can be appealing. However, short selling is also risky and traders can lose more than their original deposit. As a result, short selling is best suited to experienced investors.
Is Shorting Bitcoin Halal?
Shorting cryptocurrencies like Bitcoin Cash is usually considered Haram because it involves the selling of something that is borrowed. However, it may be worth consulting your religious leader for guidance.
Where Can I Short Crypto?
There are several crypto platforms on which margin, futures and options contracts can be traded. Some of the best include Binance, Robinhood, Coinbase, Kraken, eToro, Webull, Bitfinex, Interactive Brokers, Cryptohopper and Kucoin.
Is Shorting Crypto Illegal?
In traditional financial institutions short selling is highly regulated. However, crypto trading is unregulated in many jurisdictions, including the US, Canada, Australia, Europe and India. Traders should be wary of cryptos being hyped on social media as this could be a deceptive pump and dump scheme. Note, trading crypto with CFDs or other derivatives is no longer possible in the UK.