Forex Brokers In The UK
Forex brokers in the UK vary significantly, so where do you even start your comparison? The decision regarding the best FX broker comes down to individual preferences and goals. This review will consider fees and spreads, platforms, regulations, payment methods and more, forming a good starting point for beginner and professional traders alike. Use this guide to find the best Uk forex broker for your needs. We list what we consider to be the top forex brokers at the top of the list.
What Is A UK Forex Broker?
Forex brokers based in the UK provide British investors with access to the foreign exchange market through platforms for buying and selling currencies. Transactions in the forex market are presented as a pair of two different currencies, e.g. GBP/USD or EUR/AUD.
Investors saw the profit potential that could be made from forex when the strengths of many currencies fluctuated greatly in the 1980s. Before the boom of the internet, getting accurate currency prices required a squad of brokers and investors. However, the internet facilitated easy communication all over the world in the mid-to-late 1990s, helping the forex market to become more sophisticated. This allowed British individuals to trade using retail forex brokers in the UK, creating one of the biggest and most liquid financial markets in the world.
The popularity of forex amongst UK investors can be attributed to its liquidity and the fact that it is open 24 hours a day, six days a week around the world. Furthermore, through derivatives, clients can hedge against volatile markets without owning any assets. Today, there is around $5 trillion being traded in the forex market every single day.

How Forex Brokers In The UK Make Money
There are a few main ways through which forex brokers in the UK make money:
Spreads
The spread of an instrument is the price difference between the bid and ask price, where the bid price is the quoted price for selling a currency pair, while the ask price is the quoted price for buying the currency pair. For example, if the broker displays the GBP/USD price as 1.1000/1.1001, then the spread would be 0.0001, or 1 pip.
Spreads can be either fixed or variable. Fixed spreads mean that the price displayed on the platform is the guaranteed price that your order will be executed at. Fixed spreads tend to be offered by market makers.
Variable spreads mean that the price will change depending on market conditions. For example, the market liquidity of GBP pairs increases greatly when the London session times open, which can facilitate extremely tight spreads. Similarly, major news releases can trigger participants to exit the market, which can widen the spread. Variable spreads are generally offered by ECN and STP forex brokers in the UK.
Commission
Commissions are charges made by brokers when customers open and close orders. These are commonly charged by ECN forex brokers as it is typically their main source of revenue. Commissions can either be charged as a flat fee (i.e. £2 per round per lot) or a percentage of the position value (i.e. 0.5%).
Types Of Forex Brokers In The UK
Market Makers
Forex brokers in the UK who are market makers operate a dealing desk to execute orders. They create or 'make' the bid-ask prices on their platforms. They can either match buy orders with sell orders already on their books or they can become the counterparty of the client's positions by taking the other side of the position themselves. Market makers thus provide liquidity to the markets.
Market makers make money through spreads and by betting against the clients' positions. Spreads are usually fixed and competitive due to the number of market-maker forex brokers in the UK. Counterparties will try to hedge or cover your order by passing on the risk to someone else. However, this presents a conflict of interest, as they may bet against you and manipulate currency prices on their system.
ECN Brokers
ECN brokers, which stands for Electronic Communications Network brokers, provide real-time connections between yourself and other forex market participants. True ECN forex brokers in the UK offer direct access to the best bid and ask prices. ECN forex brokers have tight spreads at peak trading volume, which is favourable for frequent traders. ECN forex brokers tend to charge commissions on each position to make up for their tight spreads. An advantage to using ECN brokers is zero conflict of interest between clients and the brokers, as they are not the ones setting prices. In fact, it is in their interest for customers to make money and trade in greater volumes.
STP Brokers
This stands for Straight Through Processing and is a no-dealing desk model. Instead of providing direct access like ECN brokers, STP forex brokers in the UK route client orders through liquidity providers who quote the bid and ask prices. The STP broker then amalgamates these quotes to provide clients with the best prices. Typically, STP brokers make money by adding a spread markup.

How To Compare UK Forex Brokers
Forex brokers have a range of advantages and disadvantages, each of which makes them more or less competitive for a different set of clients. Below are some of the most important factors that should be taken into consideration when searching for the best forex brokers in the UK.
Currency Pairs
First and foremost, ensure that your top forex broker list in the UK contains those offering the forex pairs you want to trade. While most brokers offer the popular major forex pairs (GBP/USD, EUR/GBP and GBP/AUD) minor and exotic pairs are less common. Most brokers will have a full breakdown of the assets offered on their website. However, if you want to trade a pair that you cannot see, such as GBP/ZAR, you can make an enquiry with customer service to see if they could cater for your needs.
Spreads & Fees
These conditions are often considered the most important aspect when looking for forex brokers in the UK as they have a direct and meaningful impact on profits. Spreads will often differ across each FX pair. Lower spreads, or even 0 spreads, brokers can suit high volume traders, although these brokers may charge a higher commission.
As well as spreads and commissions, forex brokers in the UK can charge transaction fees, inactivity fees and overnight swaps, all of which you should find out and incorporate into your decision and calculations.
Leverage
Leverage on forex is generally more generous than other instruments as price movements can be smaller. This is capped at a 1:30 ratio for major pairs by forex brokers regulated in the UK. The more leverage offered by the broker, the bigger the position you can open in the market. However, higher leverage magnifies your risks as well as your profit potential. More details on the benefits and risks related to leverage and margin trading can be found here.
Regulatory Status
The regulating agency for forex brokers in the UK is the Financial Conduct Authority (FCA). It is highly advised that you find an FCA licensed forex broker in the UK. The FCA can protect customers from fraud, set legislation to minimise risks and provide compensation of up to £85,000 in the event of broker misconduct or insolvency.
Payment Options
Ensure the broker provides your preferred methods of transaction. The best forex brokers in the UK should offer a wide range of options, as not only does this demonstrate commitment to user accessibility, but each payment option requires its own set of security checks. Therefore, the larger the range of payment methods available, the more secure the broker's transactions are likely to be. Popular methods include VISA, Mastercard, bank wire transfers or e-wallets, like Skrill and Neteller.
Low Minimum Deposits
When opening an account with a forex broker in the UK, you are required to fund your account by at least the broker's minimum deposit amount. Beginners may find low minimum deposit forex brokers in the UK more accessible as they require less capital to be put at risk. Some brokers may offer a minimum deposit as low as £10.
Bonuses
While many international brokers offer bonuses and promotional deals, such as welcome or deposit bonuses, the FCA dictates that forex brokers in the UK are not permitted to do so. Therefore, promotions and bonuses are a good way to gauge the legitimacy and regulatory status of a broker that claims to be regulated by the FCA.
Accounts
Forex brokers in the UK often offer more than one account option. Each account tends to have different conditions and will be geared towards different experience levels or strategies. It is worth checking whether or not the broker offers one that will support your needs, such as lower minimum deposits, a wider range of tradeable instruments or additional features and services.
Platforms
The platforms offered by forex brokers in the UK can make or break your experience in the forex market. The top-rated platforms for forex traders are MetaTrader 4 (MT4) and MetaTrader 5 (MT5). These offer a wide range of useful tools for technical analysis and can be customised to suit your needs. For brokers that offer different platforms, try to find out how many chart types, technical indicators, analysis tools and additional functionalities are supported by the platform.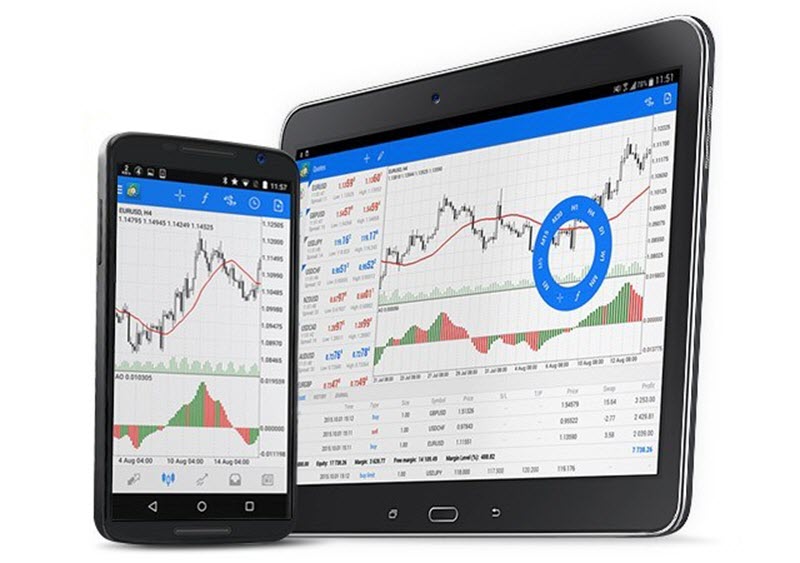 Mobile Apps
For those who may want to access their account or to execute positions on the go, mobile applications are a must. MT4 and MT5 automatically come with supported mobile apps, though brokers may offer their own bespoke applications that better integrate with their systems. You can easily check out app reviews on the Apple App Store or Google Play Store.
Additional Features
Forex brokers in the UK may offer a range of additional functions and tools to enhance the customer experience. Passive tools, such as economic calendars and education centres, can make your life easier, while other features, such as EA robots, social & copy trading platforms and scalping support, can provide additional profit routes.
Customer Support
The best forex brokers in the UK are responsive and reliable, especially given that your capital may be on the line. Ensure there is a range of options to connect with the customer service team, such as telephone, email and live chat. Additionally, make sure their contact hours align with the hours you normally trade.
Final Word On Forex Brokers In The UK
Choosing the best forex brokers in the UK can be a difficult task. However, breaking it down into the features above can be a useful tool to speed up your search and support easier decision-making, though it is important to first understand what your trading style and needs may be. Whether you're narrowing your search to the top 10 or to the top 5 UK forex brokers, our comparison table can help kickstart your search.
FAQs
What Are The Best Forex Brokers In The UK For Beginners?
What Is A List Of FCA Regulated Forex Brokers In The UK?
There is a long list of forex brokers in the UK with an FCA license, including IG, AvaTrade and Admiral Markets. You can check a broker's regulatory status on their website or find a list of registered UK brokers on the FCA database. It is highly advised to find a trusted, regulated forex broker in the UK to ensure a safe and legitimate experience.
How Much Leverage Can I Get With Forex Brokers In The UK?
The leverage limits offered to clients depend on whether the broker is FCA regulated or not. Unregulated forex brokers can offer generous leverage ratios of up to 1:100 or more. However, this comes with amplified risks of losses that can extend beyond the balance of your account. Given the risky nature of leverage trading, the FCA has capped forex leverage to 1:30.
Which Is The Best Forex Broker In The UK?
It is not possible to say that one broker or another is the best forex broker in the UK.  There are many top brokers that can compete for that title.  You should not try to find the best broker.  You should try to find the right forex broker for you.  The best broker for one person's needs is not necessarily the best broker for another person's needs.  With this being said. IC Markets is a very good broker that was named our forex broker of the year and the FCA-regulated broker AvaTrade was namned the best overall broker.
Which Forex Brokers In The UK Have 0 Pip Spreads?
Zero pip spread brokers are highly beneficial for high-volume traders like scalpers. These types of providers are typically STP or ECN brokers. However, costs may then be passed on through higher commission charges.
How Much Capital Do I Need To Trade With Forex Brokers In The UK?
This will depend on the minimum deposit requirements granted by the broker. Some FX brokers allow you to open an account and get started with as little as £10, while others require higher minimum deposits like £1,000.
Is It Possible To Make A Living With A Forex Broker In The UK?
Foreign exchange markets offer the potential for very high profits, with some investors making an impressive salary. However, success is highly dependent on the commitment and composure of the trader, as well as the suitability of the forex broker they have chosen. Some forex traders become very rich.
Which Are The Top Forex Brokers In The UK?
There are many good brokers in the UK and it is hard to say which forex brokerage is the best.  Generally speaking, we believe that the top forex brokers in the UK are the ones that we have listed near the top of our broker list.   However, these are not necessarily the brokers that fits your needs the best.  We recommend that you compare as many brokers as possible to find the right one for you.