Forex Trading Apps
The best forex trading apps can make a difference to your investment performance. Whether you need a downloadable application on Android or iPhone (iOS), or you want FX signals or a demo account for practice and simulation – our review of the top forex trading apps has got you covered.
Top Forex Trading Apps
OANDA App Review

The FxTrade app is OANDA's proprietary forex trading application. One-click trading, historical price history and straightforward account management is available. Traders can speculate on 70 major, minor and exotic currency pairs. The forex app is available to download from the Apple App Store and Google Play.

App Rating: 50%

OANDA Corporation is regulated by the CFTC/NFA. OANDA is a member Firm of the NFA (Member ID: 0325821). CFDs are not available to residents in the United States.

Forex.com App Review

Running alongside the Advanced and WebTrader Platforms, the Forex.com mobile app offers full trading capabilities on a user-friendly, compact platform. Integrated news and analysis, plus real time trade alerts, are two mobile specific features that set this app above the crowd.

App Rating: 98%

Nadex App Review

NadexGO allows trading whenever, wherever, and however traders want. Specializing in short term trading, the mobile app needs to offer quick response times, and certainly delivers. It is also reliable and secure, ensuring traders can trade with confidence on the move. NadexGo is a rock solid trading app.

App Rating: 86%

IG Group App Review

IG offers a superb all-round trading app. One of the pioneers of mobile trading, the application has been developed and refined over many years, meaning it is now among the best trading apps. Quick response, user friendly layout, access to full charting and a stable and reliable application. Top marks.

App Rating: 97%

Forex trading involves risk. Losses can exceed deposits

eToro App Review

eToro bring their social trading platform to your mobile, enabling you to copy trades, manage your account and invest via Android or iOS. Trade the key forex pairs from the palm of your hand.

App Rating: 84%

79% of retail investor accounts lose money when trading CFDs with this provider. You should consider whether you can afford to take the high risk of losing your money.

TD Ameritrade App Review

TD Ameritrade offers currency trading via Android and iOS mobile and tablet apps. Users can speculate on over 75 currency pairs with low fees and advanced trading tools. Deposit funds and manage accounts in a few clicks.

App Rating: 50%
Forex Tools
Every day, companies and individual investors buy and sell billions in currencies. This presents real opportunities, but it takes skill, experience and effective insights to be a truly lucrative forex trader.
There are many things to consider, as well as a wealth of data to be analyzed and interpreted. This is where forex trading apps come in. FX applications are specially designed to optimize the mobile trading experience while providing tangible market insights and real-time data and news to inform trade decisions.
They are usually available free of charge and can be downloaded to a range of platforms, from Android, Uptodown APK and iOS devices to Windows or Mac.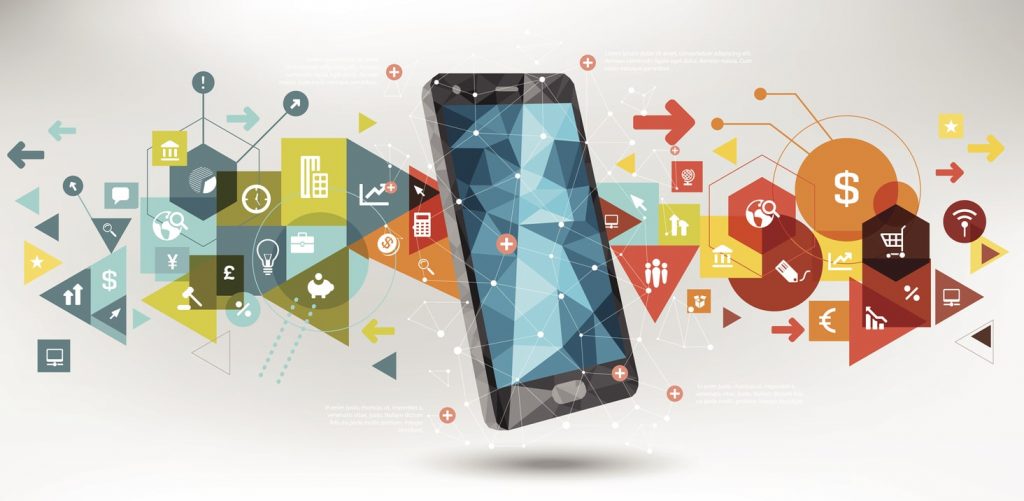 Types Of Forex Trading Apps
Forex trading apps can support a range of the activities required to be a successful FX investor. Users need a platform to interact with the markets, buying and selling currency pairs to generate profits. Traders may also need online/offline educational tools like journal applications to learn their craft and continue their professional development over the long term.
Global news developments are also important because they can have a significant impact on the value of currencies. In addition, the analysis of trends and statistics can prove useful, so the best free forex trading apps often come with tips and advice from forex experts and peers.
When deciding on the number 1 forex trading app, each trader will need to identify the most important features that will supplement their strategy and investing style. They may even be region-specific, for example, the best forex trading app in South Africa, Pakistan, Singapore, UAE, Australia, or Kenyan. Alternatively, the top applications on iPhones, iPads and Androids can be tool-based, such as using automated robots to speculate on forex & binary options. Other investors may prefer to download an FX trading app based on social network and media reviews from Reddit, Twitter, or Instagram.
Trading Apps
The most comprehensive forex trading apps, these tools allow you to buy and sell major, minor and exotic currency pairs. Fully-serviced investing apps are provided by most top forex brokers free of charge. Clients can scan the markets to find potentially profitable opportunities and then execute instant or pending orders.
On the downside, the trading experience on mobile is not always as fully-featured or as effective as the corresponding desktop terminal. But nonetheless, forex trading apps can still be useful for keeping track of positions and closing out trades.
Analysis Apps
Forex trading apps that provide real-time market insights and analysis can be used to validate trend predictions and confirm trade entries and exits. The best apps provide interactive charting across multiple timeframes and graphing styles, including candlestick, bar and line.
They will integrate touch controls and offer split-screen modes to let you observe two or more FX markets simultaneously. Modern forex analysis apps will also be powered by the cloud, which enables you to access trade data, analysis tools and price alerts wherever you are. They will provide streaming quotes that cover forex, indices, cryptocurrencies, commodities and precious metals.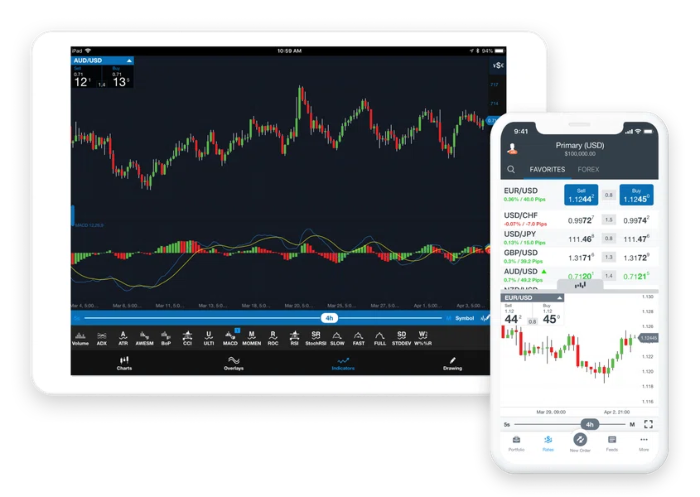 Look out for additional built-in trading tools, such as:
Risk scanners
Data release alerts
Trading simulators
Intelligence reports
Economic calendars
The best FX analysis apps can be free or come with a charge.
Forex Signals
Some forex trading apps provide live signals with trade suggestions. For example, buy the EUR/USD at X price and place a stop limit at Y.
Forex signals are based on the analysis and suggestions of professional investors. They can be provided free of charge or users may have to pay a small fee. Importantly, prospective traders should check the track record and reviews of signal providers. There is a long list of scams and fraudulent operators in this area.
Market News & Event Calendar
It is useful to stay abreast of news that is relevant to the forex market, whether you are at your desk or on the move. By keeping a watchful eye on live data feeds and key market announcements, particularly if you have an open trade in progress, you can make informed decisions.
Many forex trading apps deliver an events calendar that will list economic announcements like central bank rate-setting meetings or notable figures and reports being released.
The simplest forex trading apps often have sections for economic or financial news bulletins, but the best tools offer in-depth insights to accompany headlines. They may even incorporate technical analysis alongside news to help you interpret the latest developments. The best brokers also provide forex heat maps and market sentiment indicators.
Demo & Practice Apps
The majority of forex investors starting out trade around their day job. Trial apps provide a free simulated trading environment with access to virtual funds. Users can practice strategies and trading setups without risking their own cash. The top forex practice applications also provide comprehensive market tutorials to keep learners busy.
Look for the following features:
Stop-loss and limit orders
Access to a large number of FX assets
Advanced charting with one-click trading
The ability to build and manage a diverse portfolio in real-time
Note, the best forex brokers offer a free demo account available on mobile.
Best Forex Trading Apps
The top 5-10 best forex trading apps will offer a range of features. Each investor may value different things, but when comparing mobile software look for the following:
Execution speed
Charting & drawing
Available trading hours
In-app customer support
Well maintained by the developer
Major, minor and exotic currency pairs
Platform layout, usability and customizability
Reliable software with no crashes or technical glitches
Fee-free and fast deposits and withdrawals via PayPal and other popular methods
Check the mobile app matches the desktop platform or website in terms of tools and order functionality
App Compatibility
Application software is often developed for all major types of devices, so Android, iOS, Windows and Mac.
Beyond the device itself, however, there are several forex platforms that are particularly popular:
MetaTrader 4 (MT4)
MetaTrader 4 is the most popular forex platform. It is available at most online brokers and is beginner friendly. The application offers 23 analytical objects and 30 built-in technical tools. Users also benefit from 9 timeframes, 3 execution modes, 2 market orders and 4 pending orders.
Traders can also access live signals and can automatically copy the positions of thousands of investors. 1,700+ indicators and 2,100+ technical indicators are available from the MetaTrader marketplace.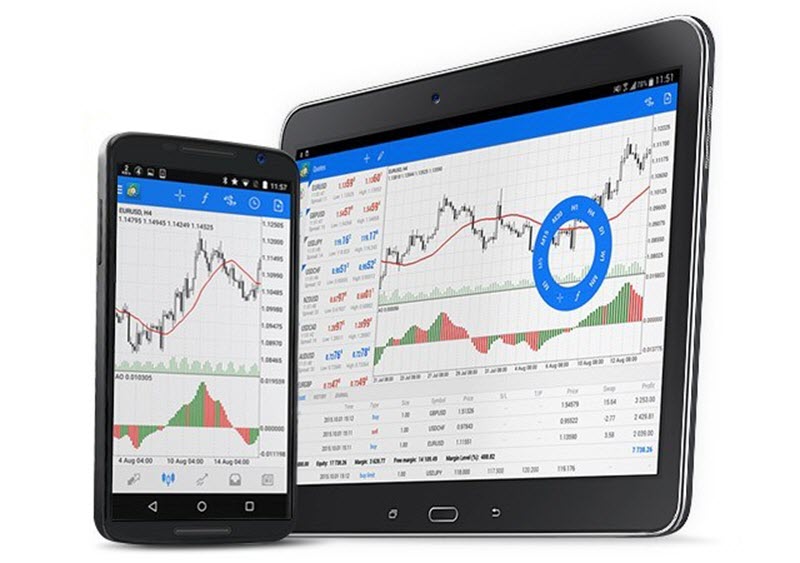 MetaTrader 5 (MT5)
Many brokers now offer MT5 integration in place of (or as well as) MT4.
MT5 has additional features and more asset classes available: stocks, indices, commodities and cryptocurrencies, as well as detailed reports and faster trading. Users also benefit from professional analysis tools with 21 timeframes, up to 100 charts, plus over 80 technical indicators and trading tools.
In addition, MT5 features an integrated newsfeed for fundamental analysis. Similar to MT4, MT5 facilitates automated trading through Expert Advisors (EAs).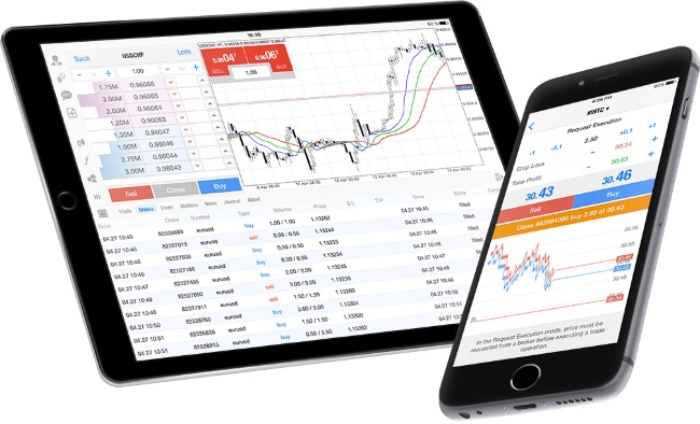 Bespoke Platforms
Some brokers also develop their own forex trading apps and platforms, available both on websites and mobile devices. These can come in the form of dedicated signals services, news applications or free demo accounts. Some of these applications are user-friendly and compatible with iOS and Android devices. However, we would recommend checking reviews and ratings on the respective app store.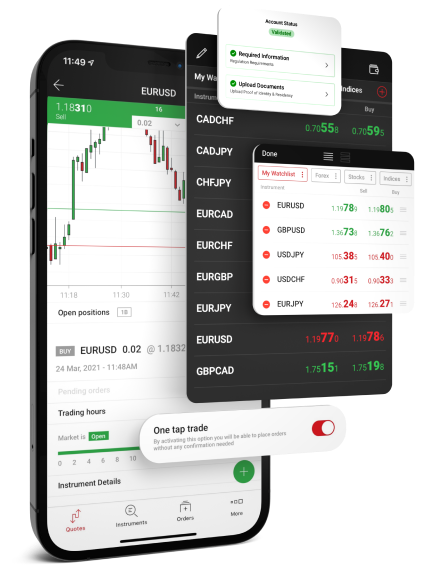 Pros Of Forex Trading Apps
The main benefits of forex trading apps include:
Convenience – In the past, traders could only engage with the forex market from their office or home set-up. They could follow the latest news by scouring the newspapers and watching the television; only able to explore and analyze data by sitting at their desktop. And they could only get advice and analysis by making contacts and checking in with them regularly. However today, all of these functions can be performed through forex trading apps.
Mobility – Not only do forex trading apps make it convenient to access everything you need in one place, but they also enable you to do it on-the-move. You no longer have to be at your desk or in the office to work – you can keep your finger on the pulse wherever you are, whatever you are doing. This is an empowering feature, making it easier than ever before to be a forex trader.
Speed – Real-time data and insights, alongside one-click trading, mean forex traders can react immediately when they identify opportunities.
Cons Of Mobile Forex Trading
Here are some of the issues investors encounter when forex trading through mobile apps:
Screen size – Many FX traders work with twin desktops, displaying multiple charts and holding several positions concurrently. This is not possible on a mobile device – even with a larger screen size.
Distractions – Mobile devices are designed to give you notifications and enable people to contact you. If you are messaging and checking social media whilst investing, your focus is divided and you run the risk of making errors.
Execution Speed – You are unlikely to be using your mobile device for fast, Straight-Through Processing (STP) trading. The speed of mobile networks is always improving, but there is often latency compared to desktop terminals. Forex trading apps can also be prone to crashing.
Over Trading – The convenience of forex investing apps can put you at risk of trading too often. Discipline is key – have a plan and stick to it.
Final Word On Forex Trading Apps
There are multiple options when it comes to forex apps. Some solutions provide a live trading environment while others are demo applications aimed at beginners. Other tools provide live forex signals and automated trading. The best forex trading learning app will even allow users to take screenshots and save them as a PDF for later reference.
When choosing your number 1 forex trading app, think about the features the broker and provider offers. This list can include safety and security measures, execution speed, software reliability, reputation and regulation, fees, and download compatibility.
Use our list of the best forex trading apps in 2022 to get started.
FAQ
What App Do Forex Traders Use?
There is no single app that every forex trader prefers. The choice will normally come down to a range of factors, such as costs, speed and reliability. However, some of the most popular tools based on downloads in the Google App Store are Trading212 (10+ million), Plus500 (10+ million) and Markets.com (1+ million).
Which Is The Best Forex Trading App For Beginners?
Beginners should head for forex trading apps that offer a demo or virtual account. These practice accounts require no deposit and newbies can learn how to trade without risking real money. Once they have gained confidence, investors can open a real-money account via the same brokerage and app, knowing the platform will remain exactly the same.
Can I Open A Forex Account From An App?
Yes – most forex trading apps allow clients to open an account directly from within the application. Simply follow the on-screen registration and sign-up instructions.
How Does A Demo Forex Trading Account Work?
Most demo forex apps operate in the same way as a 'real money' platform. They give traders a starting balance of 'virtual funds'. Users can then make investments, opening and closing trades while utilizing any trading system or style. If trades show a profit, the virtual balance will grow, but losses will reduce the balance – just like a real account.
Are Forex Trading Apps Free?
Brokers do not usually charge for downloading their forex trading apps. Investing costs, however, whether via commission or spreads, will be the same on mobile apps as they are on full online trading platforms.
What Are The Best Online Forex Trading Apps In India?