Forex Trading With MetaTrader 4
Forex trading with the MetaTrader 4 (MT4) platform allows retail investors to speculate on the currency market. The software has the indicators and functionality needed for beginners and experienced traders to implement strategies. The system also offers trading robots, a mobile app, and more. This article will explain how to start using MT4 for forex trading.
How To Start Forex Trading With MetaTrader 4
To start forex trading with MetaTrader 4, you'll first need to sign up with an online broker. Brokers connect traders to the market, who then use the MT4 platform to analyse trends and perform trades.
Lots of forex brokers offer widely used trading platforms like MT4 in addition to their own proprietary software. So once you've registered for an account, select MetaTrader 4 from the systems available.
You can download the MT4 platform from your broker or the MetaTrader website. Alternatively, you can trade directly through the MetaTrader 4 WebTerminal. Mobile traders can also download the MT4 app from their respective App store.
For help finding the best forex broker, see here.
How To Use The MetaTrader 4 Platform
Once you've opened a MetaTrader 4 forex account, you can explore the platform.
Orders
To take a position, open the 'Order' window.


From the Order window, you can:
Select a currency pair from the drop-down menu
Tweak your position size using the 'Volume' field. Position sizes are displayed in lots, with a standard lot equating to 100,000 currency units.
Decide whether you want to 'Buy' or 'Sell'
Add any trade notes in the 'Comment' box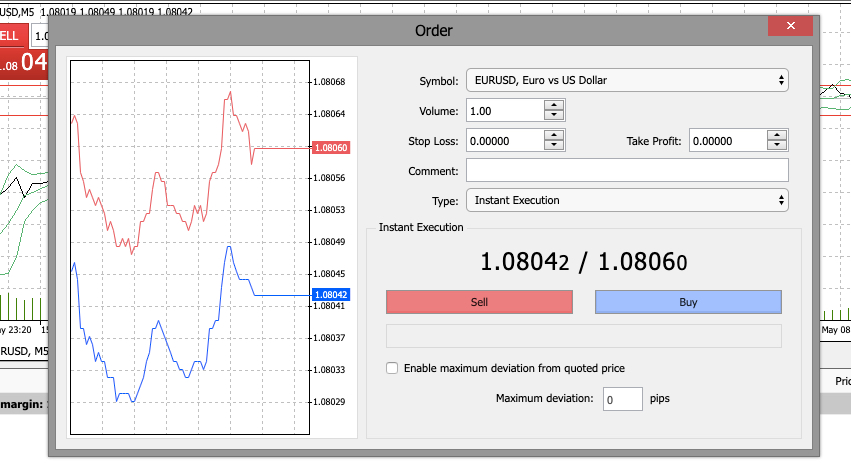 If you don't want to execute an order instantly, you can use pending orders when forex trading with MetaTrader 4:
Buy stop pending order – Useful in a bullish market where you want to take a position after a price point is reached, signalling a potential breakout.
Sell stop pending order – Useful if you think the price instead could drop and want to specify a price that triggers the order.
Buy limit pending order – Used to capitalise in a bullish environment by taking a position at a lower price that can be hit on a price swing, before it continues on an upward trend.
Sell limit pending order – Used to take advantage of a resistance level before a downward trend.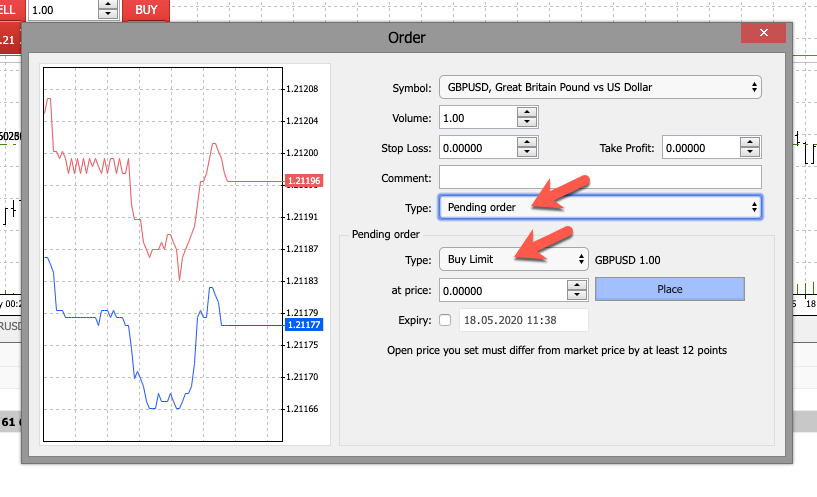 Modifying Trades
To amend a trade, right-click on it and select 'Modify or delete'. You can then tweak the 'Stop Loss' and 'Take Profit' fields. Once you're happy with your changes, click 'Modify' to confirm your changes.
Charts
Charts are available in nine different time frames, ranging from one minute to one month. To change the time frame, simply choose your desired time frame from the central toolbar above your chart.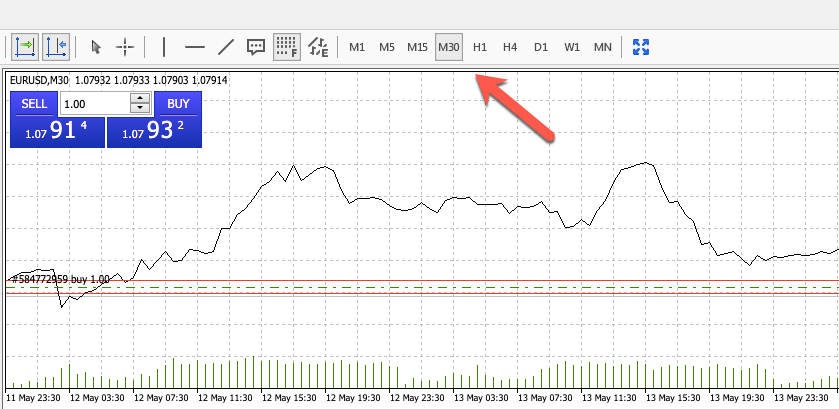 MT4 forex trading charts can be viewed as:
Bar charts
Candlesticks
Line charts
To change the chart type, press 'Charts' from the menu bar and click on the visualisation you'd like. The chart will then automatically update.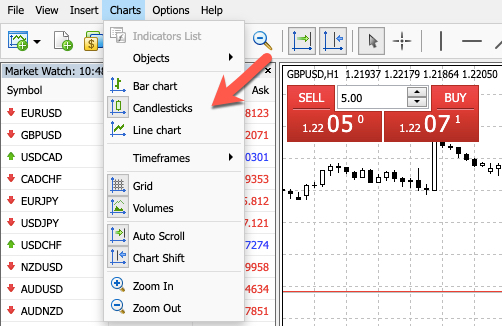 Technical Indicators
The range of indicators and analytical functions are one of the highlights of forex trading with MetaTrader 4. There are 30 built-in technical indicators, including moving averages, Bollinger Bands and momentum indicators.
To use an indicator when forex trading with MetaTrader 4, select 'Insert' in the top left of the platform. Then click 'Indicators' and navigate to the one you'd like to use.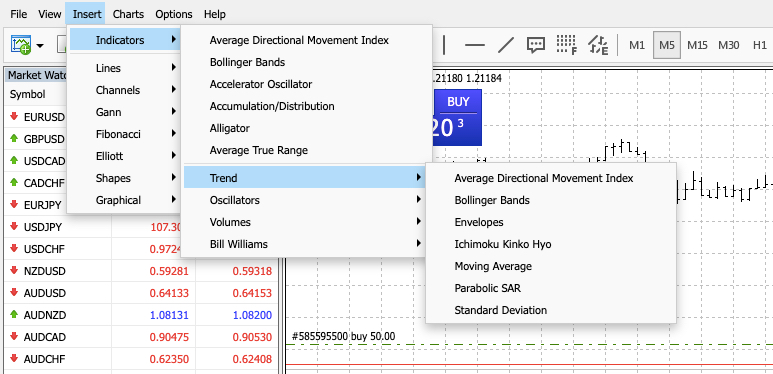 A window will then appear where you can choose your parameters. Once you're happy, select 'OK' and it will be applied to your chart.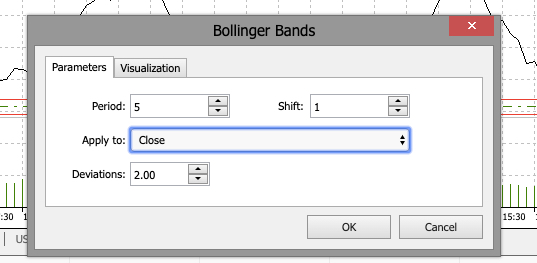 On top of the built-in technical indicators, thousands of custom indicators can be obtained from the Market and CodeBase. Both can be selected from the top menu bar in the MetaTrader 4 FX platform.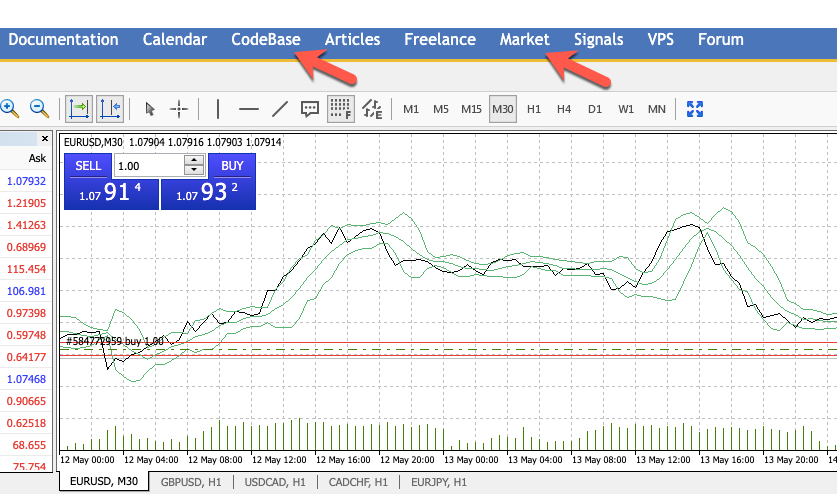 Divergence
Trading forex with oscillator divergence signals on MT4/MT5 is popular. The objective of divergence is to highlight an imbalance between the price and oscillator, believing the imbalance will cause a change in price.
Select 'MACD' (Moving Average Convergence/Divergence) from the available indicators to add to your MT4 chart.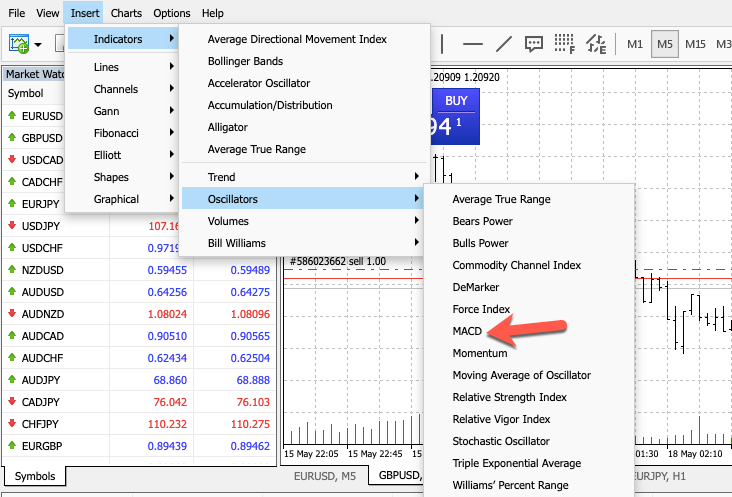 The 'Trading forex with divergence on MT4/MT5' by Jim Brown PDF free download is a useful guide.
The Crosshair
The crosshair is a great way to speed up your technical analysis when forex trading with MetaTrader 4. Simply select the crosshair logo from the central MT4 bar. You can then navigate the cursor across a chart candlestick, for example, to flag a certain price. The crosshair can also be used to measure time, bar and pip distances, which can influence stop loss and take profit levels.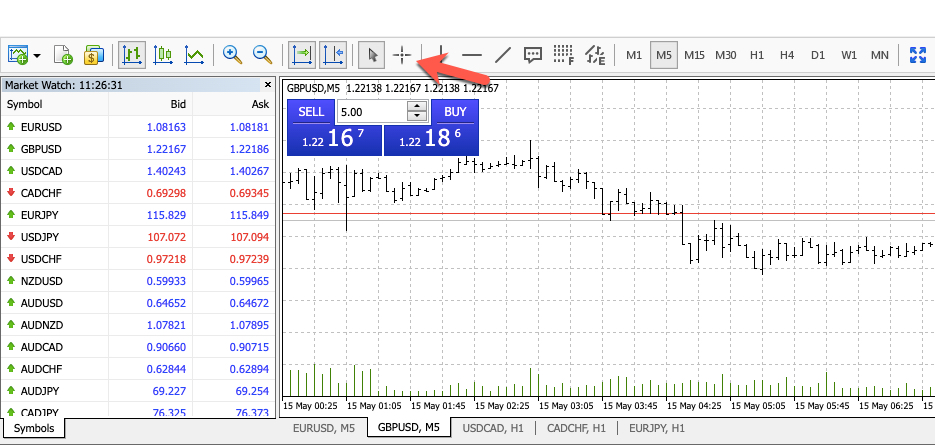 Trendlines
As the name suggests, trendlines help to identify price trends and plan trades. To add a trendline, select 'Insert', 'Lines' and then 'Trendline'. Now select the bar or candle where you'd like to start the trendline. To edit a trendline, simply click on the line in your chart.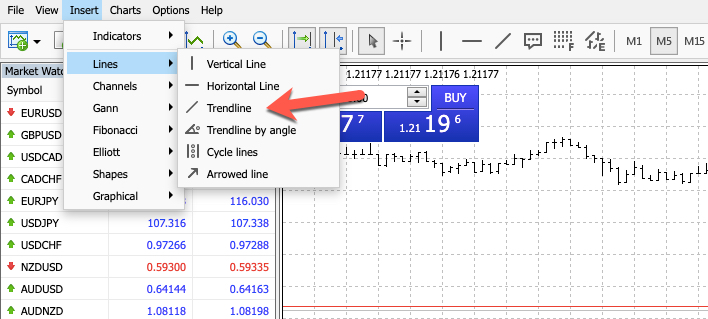 MetaTrader Market
The Market is a one-stop-shop for all your forex trading needs. You can find technical indicators, expert advisors and custom add-ons to personalise the software. In fact, if you have the hours, the MetaTrader Market boasts the largest library of trading applications in the world, including over 1,700 robots and over 1,200 technical indicators.
The MetaTrader Market is built into the platform. So, you can buy any of the robots and indicators and run them without having to exit the system.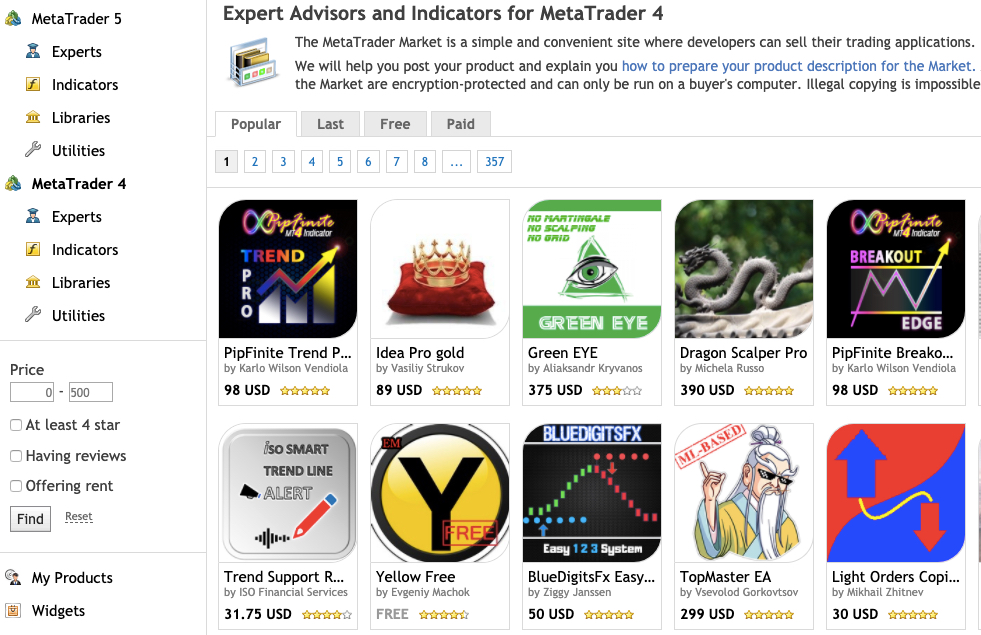 Alerts & News
MetaTrader 4 is home to financial news and alerts that can help plan forex strategies. Alerts can be set up to notify you about current price information and market conditions. The economic calendar, available from the top menu, also keeps you abreast of the latest global news events.


For a full review of MT4, see here.
Copy Trading
For beginners, in particular, copy trading on MetaTrader 4 allows you to replicate the forex trades of other investors. It can also prove useful for those with limited time to trade.
To start copy trading, click on 'Signals' in the top menu bar. You can then choose a provider, select a signal and MetaTrader 4 will copy the selected provider's trades.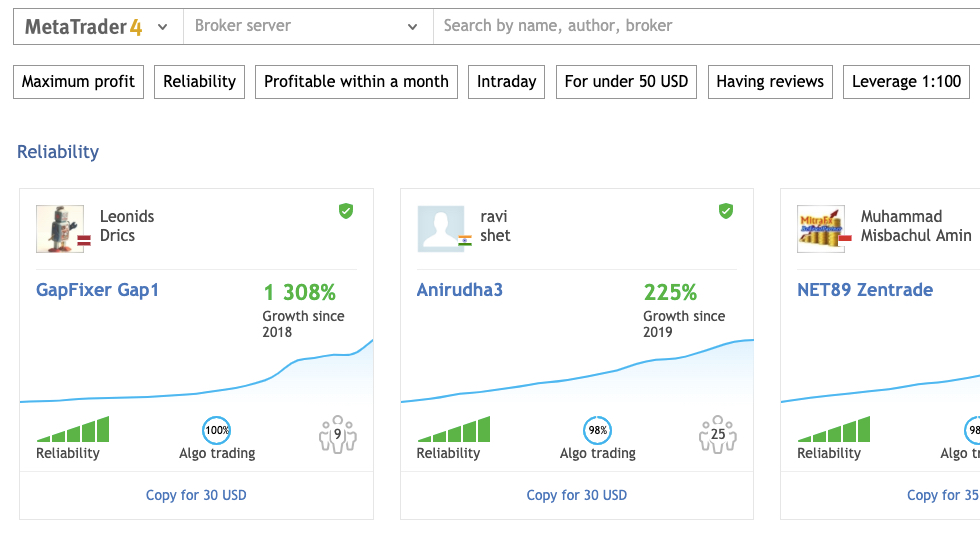 There are thousands of signals available, varying in cost, profitability, risk and strategies. Forex copy trading with MT4 is available on both live and demo accounts. Experienced traders can also create their own signals and sell them to other traders.
Automated Forex Trading With MetaTrader 4
Forex trading with MetaTrader 4 is available through robots. Also known as expert advisors (EAs), these trade manager algorithms can perform market analysis and execute trades, following specific criteria. This means effective forex strategies can be put on autopilot.
The MT4 platform offers a full suite of automated trading tools. Users can build, test and optimise bots. You also have the option of buying and selling bots in the MetaTrader Market.
Education
Forex trading with MetaTrader 4 takes practice. However, the abundance of online learning resources can also help. For beginners, there are free tutorial videos that will run through chart set-ups and order execution.
For experienced traders, there is an excellent online MT4 community, who regularly share tips and tricks for getting the most out of the system. Detailed 'how to trade forex with MT4' PDFs can also explain how to build strategies using trading robots.
Perhaps the best forex learning tool though is the MetaTrader 4 demo account. The demo account is an accurate simulator of how the MT4 platform operates in real-time market conditions. Using practice money, you can test potential strategies. Simply select 'demo' when you sign-up for an account.
Final Word
The MetaTrader 4 platform is an excellent place to learn how to trade forex. It caters to all experience levels, offers ample indicators and analysis tools, plus automated trading and a mobile app. And with the host of online learning resources available, you're always just a few clicks away from trading support.
FAQ
How do I start trading forex with MetaTrader 4?
To start forex trading with MetaTrader 4, you'll need to open a live or demo account with an online forex broker that supports the MT4 platform You'll then need to download the MT4 platform from your broker or the MetaTrader website. Alternatively, you can launch the MT4 platform in your web browser.
How do I trade forex with MetaTrader 4?
To trade forex with MT4 you need to use technical and fundamental analysis to make a prediction on which direction price is going. You'll need to pick a currency pair and have a strategy. For guidance on strategies, see here.
How do I link to forex on MT4?
To link your forex account to MetaTrader 4, simply download the platform or open up the WebTerminal. Then enter your login credentials from your broker and select the provider from the server box.
How do I withdraw money from forex trading on MT4?
To withdraw funds from MetaTrader 4, select 'My accounts' and then 'Withdraw'. You can then choose a payment method. Any charges will be visible from the withdrawal area.
How long does it take to withdraw money from my forex MT4 account?
Withdrawal times depend on the payment method chosen. E-wallets can take less than a day while bank transfers can take several days. Most brokers will detail payment times before you confirm a withdrawal.