Automated Forex Trading
Automated forex trading is a hands-off approach to investing which makes use of advanced software and tools. A computer program essentially analyses price patterns, decides whether to buy or sell, and executes forex trades on the investor's behalf. Human intervention is then about choosing and tweaking trading algorithms based on performance.
Importantly, the liquid and high-speed world of forex auto trade copiers is steadily making manual trading obsolete. In fact, institutional FX traders have been using automated trading robots for many years. The technology is now available to retail traders through bots for computers, plus iOS, Android, Windows, and other operating systems.
This tutorial explains how automated forex trading works and lists the best bots and supporting brokers in 2023.
The Best Brokers For Automated Forex Trading
#1 - Forex.com
Forex.com boasts a global reputation with multiple awards and 20+ years experience. Regulated in the US, EU, UK and Canada they provide a huge range of markets, not just forex, and offer competitive fees on a cutting-edge platform. The brand also provides a suite of additional tools, from performance analytics and SMART Signals to advanced charts and strategy builders.
"Forex.com is an excellent broker for forex traders with over 80 currency pairs, tight spreads, low commissions and powerful platforms. The brand is also heavily regulated while its parent company is listed on the NASDAQ, giving it a high trust score."

- DayTrading Review Team
Instruments: Forex, Spot Metals
Regulator: NFA, CFTC
Platforms: MT4, MT5, TradingView, eSignal, AutoChartist, TradingCentral
Min. Deposit: $100
Min. Trade: 0.01 Lots
Leverage: 1:50
Pros
Top-rated forex and CFD broker
Respected and trusted broker overseen by tier-one regulators including the US SEC
Low minimum deposit of $100
Cons
Investment offering varies between countries
No copy trading platform
$15 monthly inactivity fee
#2 - NinjaTrader
NinjaTrader is a US-headquartered and regulated brokerage that specializes in futures trading. There are three pricing plans to suit different needs and budgets, as well as ultra-low margins on popular contracts. The brand's award-winning charting software and trading platform also offers a high-degree of customization and superb technical analysis features.
"We recommend NinjaTrader for high-volume futures traders looking for low fees and premium analysis tools."

- DayTrading Review Team
Instruments: Forex, Stocks, Options, Commodities, Futures, Crypto
Regulator: NFA, CFTC
Platforms: eSignal
Min. Deposit: $50
Min. Trade: 0.01 Lots
Leverage: 1:50
Pros
Thousands of add-ons and applications from developers in 150+ countries
Free platform access and trade simulation capabilities
Low fees with $50 day trading margins & commissions from $.09 per micro contract
Cons
Non forex and futures trading requires signing up with partner brokers
Withdrawal fee on some funding methods
Premium platform tools come with an extra charge
#3 - eToro USA
eToro is a social investing platform that offers stocks, ETFs, options, and crypto. The broker is well-known for its user-friendly community-centred platform and competitive fees. With FINRA and SIPC oversight and millions of users across the world, this brand is highly respected. eToro securities trading is offered by eToro USA Securities, Inc.
"eToro is a top pick for users looking for social investing and copy trading. With a low deposit, zero commissions and an intuitive platform, the broker will meet the needs of newer traders."

- DayTrading Review Team
Instruments: Stocks, Options, ETFs, Crypto
Regulator: SEC, FINRA
Platforms: Own
Min. Deposit: $10
Min. Trade: $10
Pros
eToro USA Securities is a trustworthy, SEC-regulated broker that is a member of FINRA and SIPC
A free demo account means new users and prospective traders can try the broker risk-free
The $10 minimum deposit and straightforward account opening process means beginners can get started quickly
Cons
No MetaTrader 4 platform integration
Narrower range of instruments than some competitors
#4 - OANDA US
OANDA is a popular brand offering exceptional execution, low deposit requirements and advanced charting and trading platform features. The top-rated brand has over 25 years of experience and is regulated by trusted agencies, including the NFA/CFTC. Around the clock support is available, alongside flexible contract sizes and automated trade executions.
"OANDA is a top-rate broker for US traders seeking a user-friendly platform with premium market research and a straightforward joining process. OANDA is a particularly good pick if you want a heavily regulated broker with a secure trading environment."

- DayTrading Review Team
Instruments: Forex, Crypto
Regulator: NFA, CFTC
Platforms: MT4, TradingView, AutoChartist
Min. Deposit: $0
Min. Trade: 0.01 Lots
Leverage: 1:50
Pros
API facilitates access to 25 years of historical data and rates from 200+ currencies
Low minimum deposit for beginners
US clients accepted
Cons
Customer support not available on the weekend
#5 - Kwakol Markets
Kwakol Markets is a Nigerian headquartered broker with strong regulatory oversight in Australia and Canada. A great selection of asset classes are available, including synthetic products that simulate realistic market activity. Clients can trade on the MT4, MT5 and cTrader platforms, as well as a copy trading solution whereby a fee is only paid on profitable trades.
"Kwakol Markets is a good option for newer traders with a dedicated learning academy, copy trading and a choice of reliable platforms. New clients can also sign up and start trading in four straightforward steps."

- DayTrading Review Team
Instruments: CFDs, Forex, Stocks, Indices, Commodities, Crypto
Regulator: ASIC, FINTRAC
Platforms: MT4, MT5, AutoChartist
Min. Deposit: $1
Min. Trade: 0.01 Lots
Leverage: 1:1000
Pros
2FA login security
MetaTrader 4 and MetaTrader 5 integration
High leverage up to 1:500
Cons
High deposits for premium features
The only base currency is USD
Regional restrictions in certain countries
Automated Forex Trading Explained
The top autopilot forex trading systems scan the markets to identify price patterns and execute trades. Software follows a set of rules and criteria, programmed by the developer and/or tailored by the individual forex trader.
Let's say an investor knows how to code and create an automated forex trading robot. This means they could instruct it to short the EUR, for example, if the European Central Bank (ECB) eases its monetary policy. The investor can dictate the lot size, plus the profit to accumulate before closing the position.
Trading platforms like MetaQuotes' MT4 and MT5, plus TradeStation, all support with the build of automated forex trading systems, including with Expert Advisors (EAs) that follow a set of rules rooted in technical analysis. MT5's programming language is MQL5 while EasyLanguage is TradeStation's simple coding language that is particularly popular with beginners. Python and R are also suitable for programming automated forex trading systems.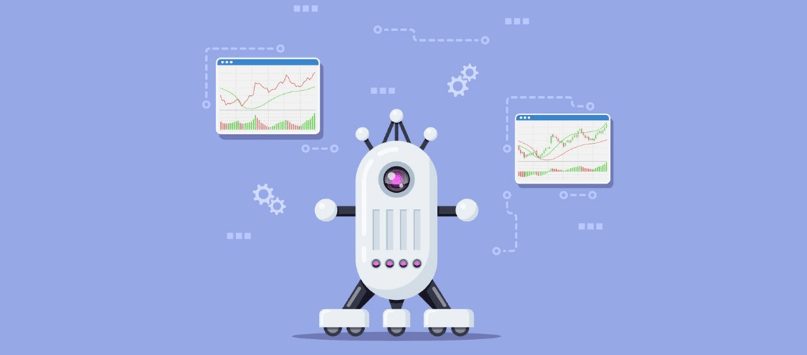 Types of Forex Trading Automation
You can separate forex trading systems into two groups:
Fully automated trading systems derive their signals and execute positions (openings and exits). You may also hear them referred to as 'forex auto trading robots'. They allow human intervention through settings concerning lot size, take profits, stop losses, and various other risk-management parameters.
Partial systems include forex signal providers. They follow a set of criteria and useful information based on technical analysis to make trade suggestions. However, the investor will have to manually execute positions.
Popular Services
Copy Trading
One of the best forms of forex automation is through copy trading. This is a time-saving and beginner-friendly way to speculate on currencies while learning from the pros. All you need to do is find an experienced investor and copy their positions.
On most platforms, after you select an investor, you simply set the system to 'follow' or 'copy, and your account automatically mirrors the positions of the master trader.
The best-known and most popular forex copy trading platforms include:
The auto robot solutions listed above offer a wide range of automation-related features. MT4 and MT5, for example, provide everything from social trading with large community support to free and fully automated forex trading software downloads. eToro, on the other hand, does not feature bots, but it has a solid copy and social trading framework.
Forex Signals
The top brokers offer forex trading signals on iOS, APK and desktop devices. Some offer this service for free, while others charge a subscription. Brokerages may have teams of experts churning out signals while other rely solely on automated analysis.
The human factor is an important component of a quality signal service. Humans will mix various economic indicators with fundamental and technical triggers.
Robots
Bots generate and react to signals automatically. They essentially act on market data without human intervention. Thus, they completely remove the emotion-based element of forex investing.
The profitability of forex trading robots, however, varies. Traders will have to supervise and tweak code as robots are not infallible. Even the most lucrative programs need attention now and then.
MT4 & MT5
MetaTrader 4 (MT4) and MetaTrader 5 (MT5) were created by MetaQuotes and offer some of the most popular automated forex trading solutions called Expert Advisors (EAs).
Expert Advisors represent the gold standard in automated forex trading. People code these programs in a C++ like language. EAs automatically monitor forex markets and identify trading opportunities based on parameters set by the user.
Benefits include:
EAs can save time
EAs help remove emotions from the trading equation
You can find reviews and educational resources on Reddit and YouTube
MT4 allows the importation and installation of third-party EAs so you do not have to code your own
Users can back-test EAs before letting them handle real money. Note, back-testing does not account for slippage
Of course, there are also some drawbacks:
Unless you rent a VPS, an EA will only work when your computer is running
Some Expert Advisors are not "experts". They are simplistic bits of code developed my amateur traders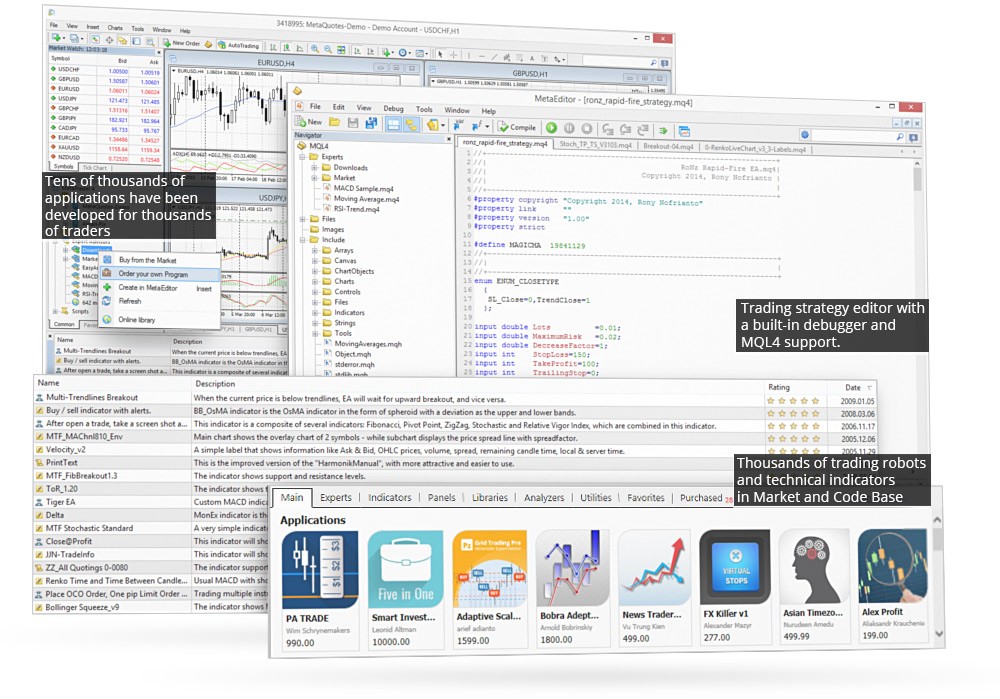 Other Popular Solutions
Lion Forex Auto Trading Gold – known for profitability and its fully automated trading capability. It integrates best with MetaTrader 4
Galileo Forex Automated Trading – functions on MT4 and MT5. It uses advanced algorithms to make FX investment decisions
Kairos Automated Trading Platform – the South African-based solution can be integrated into several alert platforms to execute on their data
Free Automated Forex Trading Software
People are usually right to distrust free, too-good-to-be-true deals. With automated currency exchange trading systems, the situation is a tad more nuanced, however.
Scammers will sometimes offer you software for free, then require you to sign up with a certain broker. This way, they can pick up the commission resulting from your registration. Such scams are relatively easy to spot. If the returns sound too good to be true, they probably will be.
Of course, there are no guarantees that expensive solutions will outperform free auto trading packages. However, paid-for solutions tend to yield better results. The most important thing is to look at user reviews and ratings before paying for anything. The best brokers and marketplaces provide details on historical profit and loss, risk metrics and information on the strategies used.
Getting Started
Automated forex trading systems are available all over the world, from Australia and Singapore to India, Canada and South Africa. Beginners should start by testing with small amounts or by using a paper trading account.
Most forex brokers and companies that support this type of investing allow back-testing on demo accounts. This is the process of running your best automated forex trading strategy with past price data to assess its ability to turn a theoretical profit. Such systems are available on demo accounts, so the trader does not have to risk real money to start with.
And whilst it hopefully goes without saying, the key starting point for forex investors should be to automate the manual strategies that are already successful.
Note, you do not have to be a scripting language expert to use software. The MQL community supports virtual marketplaces, where you can discuss, order, and buy ready-made or customized automated trading programs.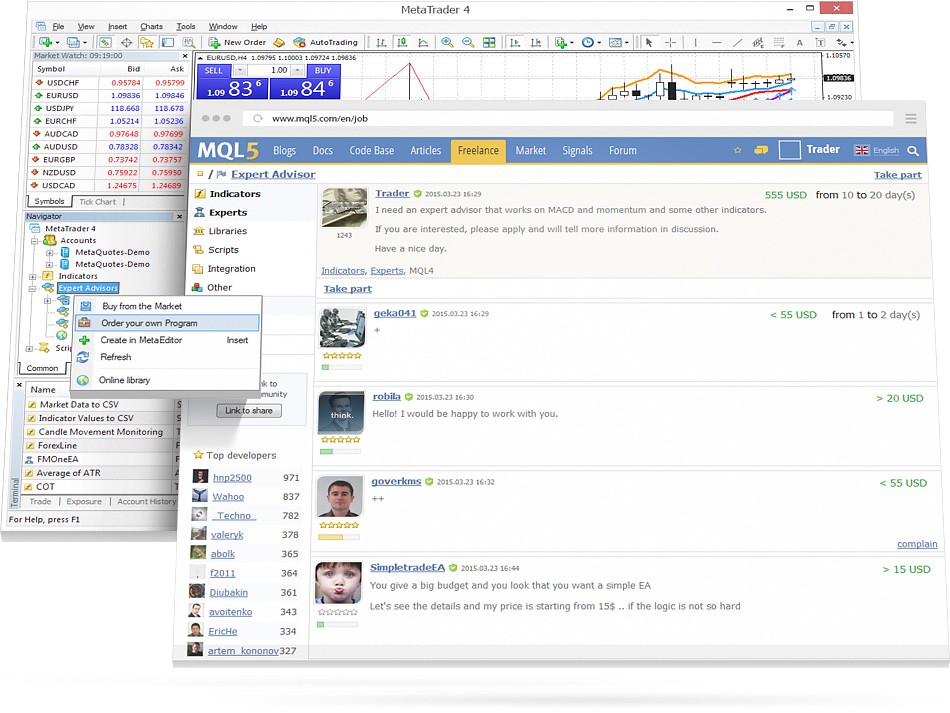 Final Word on Automated Forex Trading
There are many bots, signals and technology solutions when it comes to automated forex trading. For beginner investors we recommend reading software reviews online and back-testing strategies on free demo accounts. Alternatively, see our list of the best brokers for automated forex trading to get started today.
FAQs
Is Automated Forex Trading Profitable?
How much money you make will ultimately depend on your skill and knowledge as an investor. Institutions can generate serious returns because they employ the best analysts, gather many years of data, and have access to market-leading technology. Fortunately, retail forex traders can build their own robots, download free solutions, or buy programs online at the MetaTrader Marketplace, for example.
What Is The Best Automated Forex Trading Software?
The best automated forex trading software will depend on whether you want a fully automated solution or a partial service that simply provides alerts and signals. Importantly, the better the inputs into an algorithm, the better the results tend to be. The MetaTrader Marketplace is a good place to find the top forex auto trading programs.
Does TradingView Support Automated Trading Forex?
No – TradingView does not currently support automated forex trading. Instead, you may want to use desktop and mobile friendly platforms like MetaTrader 4 and MetaTrader 5.
Can A Forex Robot Make Money?
Using an automated forex robot without proper back-testing and research is risky. Robots cannot guarantee easy or fast money. Fortunately, the top brokers and platforms publish information on previous profit and loss to help traders find the best solutions.
How Does Automated Forex Trading Work?
Some brokers offer forex trading solutions that allow retail investors to automate manual strategies. Traders can code their own algorithms using beginner-friendly scripting languages alongside tutorials and guides available online. See our article above for the main advantages of automated forex trading.