Forex Demo Accounts
A forex demo account is the safest way to learn forex trading. The best demo accounts will offer an app, as well as an online account. They will also match the live platform and offer full functionality to ensure the experience is comparable. Read on to find the best demo account for you.
The leading forex brokers all offer a demo account, we highlight the Top 3 below – but you can expand the list to compare even more. Demo account should always be an accurate reflection of the live account. Click 'review' for more details on each broker.
What Are Forex Demo Accounts?
Forex demo accounts are mainly an open, free login for a specific aForex trading platform or broker.
These accounts act as a practical and convenient way for a new member to practice in a safe environment. Sometimes, platforms will offer a form of tutorial alongside their demo account, while others will offer a sign in where the user can then create and experiment with trading at their leisure.
There are several different versions of demo account available on the market, which we'll look at in detail further down in this guide.
Other than the functionality and tools included in demo accounts, these specific offerings from companies provide a viable and effective way for beginners to learn how to trade without the risk of losing their own money or the money of others.
For traders starting out, demo accounts can be an incredibly valuable resource, even once they've decided which platform they'd like to use in the long-term.
Demo Accounts vs Real Money Accounts
What's the difference between a demo account and a real money account? Well the obvious difference is your money being on the line!
With demo or virtual accounts, the trading balance is a fictional balance. Winning or losing trades will impact the balance, but no 'real' money is at stake. If you blow your balance, you can contact the support team and ask for it to be reset.
A real money account requires you to deposit money – and the risks you take with it are real. Especially where leverage or margin is used.
In theory, this should be the one and only difference with Demo and Real accounts. In practise, that single change impacts almost every decision.
The psychological differences between trading with real money, and trading a virtual balance are huge. Pressing 'buy' on a trade is much harder when real money is at stake, and snatching at profits is more likely.
Competitions and contests are one way that can help bridge the psychological gap – the tension of trying to win a competition is similar to risking real money – but still not quite the same. So there is no actual answer to resolving this difference – it is just a case of making sure you are aware of it.
A god broker should ensure every other element of a demo account is exactly the same as a genuine account.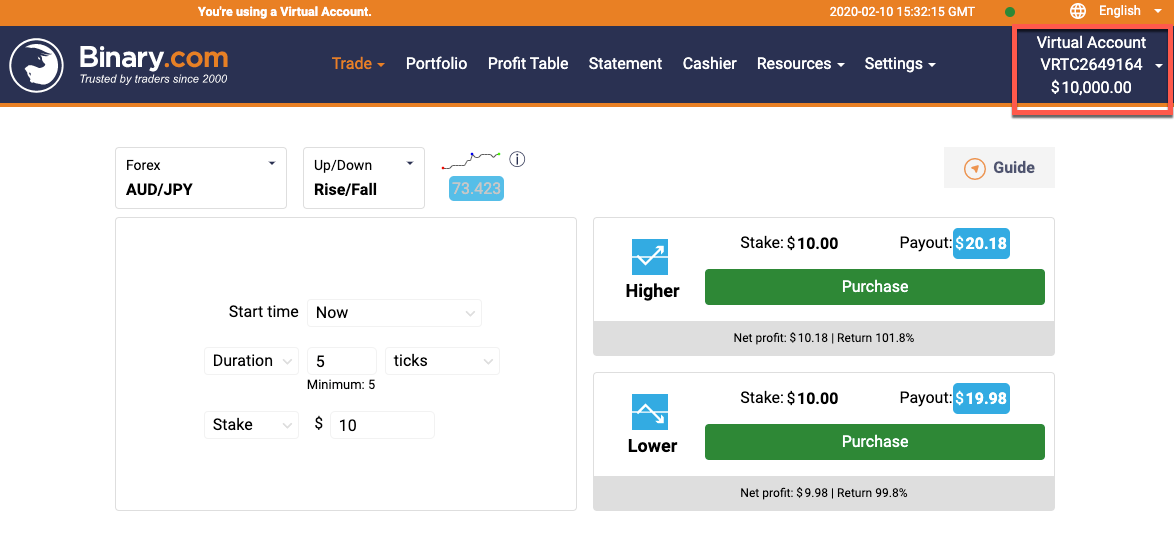 How To Compare Demo Accounts
If you're ready to start looking into the demo accounts that might be available, step one is doing your research.
There are several different types of account available from some of the best online Forex traders, but it's all about finding what works best for you.
Certain brands may have restrictions in terms of usage for their demo accounts, including time limits, virtual cash limits and more. Carefully reading what your chosen platforms offer is an excellent place to start.
Here are a few of the types of demo accounts you may come across to get you started:
No Time Limit / Unlimited Accounts
As one of the most common demo accounts you'll come across, many but not all good Forex trading platforms will offer an unlimited demo account to try out.
This means once you log in to your demo account – which, in most cases, will be a different access point to the standard trading platform – you're free to test out your trading as little and as much as you want. There is no expiration.
Unlimited accounts aren't just ideal for beginners – they're perfect for testing out new techniques, back testing, and brushing up on your trading in the long-term too.
No Registration Accounts
No registration demo accounts are accounts you can access without any need to sign up with the platform.
This means no marketing emails, no personal details provided and no communications. For those that want a brief glimpse at what a trading platform can offer, a no registration account is an excellent option.
However, accounts with no registration will be lost the second you leave the page, meaning you can't come back to continue your existing trades or continue testing a specific practice or idea.
Free Accounts
In most cases, demo accounts are free-of-charge. You'll rarely come across a platform that's asking you to pay or put money into what is essentially a testing stage.
No trading costs should apply to those using demo accounts, because none of the money being used is real.
This means you can access demo accounts for multiple different trading platforms at no cost, allowing you to thoroughly and adequately decide which platform is the best for you based on first-hand research.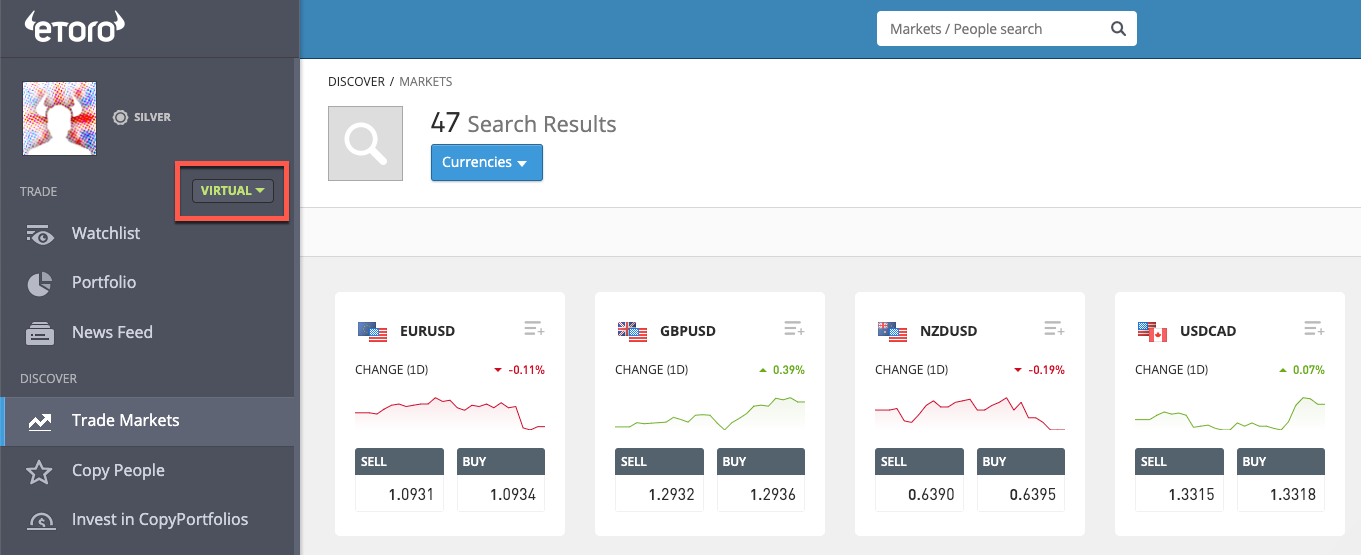 Demo Account Platforms
When it comes to accessing the demo accounts you like the look of the most, the next step is looking at what is compatible with your current setup. There are multiple different options available out there for demo account platforms – which you pick is up to you:
MT4
Also known as MetaTrader 4, this popular platform is a commonly used option for trading and analytics. While a newer version is available, MT4 continues to be favourite for many traders. This is thanks to its robust design and familiar controls, making it a top pick for many long-time traders. MT4 is used for Windows OS.
MT5
MetaTrader 5 is the newer version of this Windows OS platform, offering a multi-functional platform that has a host of new features not included in MT4. For new traders, starting off on this platform provides you with the most up-to-date option on the market from this popular developer.
Mac
MetaTrader is exclusively a Window OS platform, though some individuals do find workarounds to use this popular software within the Mac OS.
For the majority of traders, however, the use of specifically brand-designed platforms is the solution, with many companies offering their own proprietary Mac OS software alongside Windows and Linux options.
cTrader
A UK-designed platform by Spotware that supports trading and charting, cTrader is a pared-back platform option that looks slick and is incredibly user-friendly. For new traders that want something simple and easy, cTrader is an excellent platform of choice.
Mobile App
Alongside desktop applications, there has been a steep increase in the number of traders using their mobiles for Forex trading on-the-go. This could be through entirely mobile systems or integrated apps for existing trading platforms. We go into further detail about mobile applications for Forex trading below.
Demo Account Contests & Competitions
One of the most valuable additions that many traders enjoy from specific Forex trading platforms is contests and competitions.
While these are commonplace on real money trading platforms, they are also increasingly common for use with demo accounts.
This brings an extra touch of reality to virtual trading, helping to bridge that gap between testing out trading and doing it for real. It's well-worth investigation demo accounts that offer addition interaction like this, as it provides a good impression of how actual money trading would look to those who aren't quite there yet.
Typical contests and competitions for demo accounts may include weekly, monthly, and even daily rushes to achieve specific numbers and beat your fellow demo-users. In many cases, these wins can result in real cash prizes – providing the rush of trading without the risk of using your own money.
This makes contests an excellent middle ground between using your own wallet and simply practising for nothing in a demo setting.
Demo Account Apps
The evolution of mobile technology has meant great things for Forex traders. Not only can you now trade from anywhere, but all the information is available at your fingertips with just a tap and a swipe.
The best Forex apps are available for iPhone and Android, as well as Blackberry. There's plenty of choices out there, especially when it comes to apps that are companions to a more extensive desktop platform.
Where Can I Download Apps?
Downloading apps for Forex trading can be as easy as visiting the iOS App Store or the Google Play Store and finding an app that sounds interesting to you.
Equally, you can search directly for specific apps if they are something you've already tested out on desktop, or you can even go straight to a particular broker's website and download your mobile app from them immediately.
As with any mobile applications, it's straightforward to install your favourite trading platform onto your phone – and then you can use it from anywhere.
What You Should Know As A Beginner
As a complete beginner to the world of Forex trading, what should you know? The most important thing to understand before you begin trading with real money is what exactly you want out of a platform.
Would you like incredible functionality, or would you prefer as many types of analysis as possible? Do you want something you can access from mobile, or is desktop preferable? Do you use Windows OS or Mac?
Finding the best platform for you means doing your research, understanding what you need and working towards it.
The joy of demo accounts is the fact that they are entirely free.
For those entirely new for Forex trading, they provide a great space to learn, grow and develop away from costly mistakes and expensive accidents. Feel free to create as many demo accounts as you want to find the best fit for you – it's not often you'll fall in love with the first thing you try, so don't be afraid to get out there and give it all a go.
Once you've shopped around a bit, you'll be in a far better place to find something that works for you.
Comparing Accounts
When you start researching demo accounts, knowing what's important to you is the best place to start.
Comparison factors can enable you to find platforms that work for you, as opposed to ones that are just 'the best' in general. Factors to consider should include what kind of thing you'd like to trade, as some Forex brokers have a wider variety of options than others.
You should also consider whether the platform has all the features you want. While some systems are feature-rich with countless add-ons and widgets, some are far more simplistic for a more streamlined experience.
Know what's important to you can allow you to compare accounts based on your wants – instead of just going for the best-reviewed platform out there right now.
Trader Location
There might be some changes in availability based on your location as a trader. Most brokers will offer the demo account to the same regions where they offer the real account. So if a brand accepts traders from Australia, you should be able to open a demo account in Australia too.
It is not always this simple however. While regions such as South Africa and Asia (India, Singapore, Philippines etc) will find things straightforward, regulation can impact things elsewhere. So traders in the US, Canada and the EU, may find that regulators impact what brokers can offer. Certain options may not be available.
But in very general terms, if you can open a real money account, you should be able to open a demo account first.
Finding The Best Account For You
Once you've got a strong concept of what you're looking for, it's time to hunt down that elusive perfect platform.
Demo accounts can come in handy here, allowing you to narrow down which platform is best for you. Once you've found a platform that looks to be perfect, don't leap straight into trading. Instead, fully utilise their demo account to ensure you're adequately familiar with all this particular platform entails.
With more knowledge and experience behind you, you can't go wrong.
If you're testing the water of Forex trading for the first time, demo accounts can be your best friend. Used the right way, they can even be profitable for new traders – both in terms of contests and in terms of the knowledge gained through additional learning time and risk-free interaction. Why not give them a go today?