MetaTrader 4 and 5
MetaTrader is a trading platform that facilitates live access to global trading markets. It is most commonly used for online trading in the forex, futures, and CFD markets. There are currently two versions available, MetaTrader 4 (MT4) and MetaTrader 5 (MT5). This page will review both, including downloads, indicators, expert advisors, and invaluable tricks. We also list the top brokers that support the MetaTrader platform.
Brief History
Since 2002, MetaTrader developers MetaQuotes Software have released a number of versions of the online trading platform. However, it was the release of MetaTrader 4 in 2005 that really lead to a surge in popularity.
In fact, between 2007 and 2010, large numbers of brokers began offering the MT4 platform as an alternative to their own proprietary software. This was a result of unavoidable popularity amongst the trading community and the high numbers of third-party scripts and advisors.
In September 2010 the first account of the seriously enhanced MetaTrader 5 platform went live. By the time 2013 rolled around, the MQL4 programming language was totally revised, finally reaching MQL5.


MetaTrader 4
MetaTrader 4 is the world's most popular electronic trading platform used by forex day traders. The software is licensed to forex brokers, who then provide the software to their clients. The server component is managed by the broker. Whilst the client software is used by those holding trading accounts to view live streaming prices and charts, place orders, and generally manage their accounts.
MetaTrader 4 can be downloaded at no charge directly from the official MetaQuotes website. Alternatively, you can download the trading platform from any number of online brokers. The all-in-one interface caters for both beginners and experienced traders.
Below you will find details of what precisely the MetaTrader 4 system has to offer, including instructions on how to get set up on the platform.
Analytics
As MetaTrader 4 brokers often point out, you get a wide range of analytical functions. Online quotes and interactive charts with nine periods, enable you to pick through quotes and respond to price changes. To make the task easier, you also have 23 analytical objects, plus 30 built-in technical indicators.
On top of that, their free Code Base and Market, details of which are covered below, open the doors to thousands of extra indicators.
MultiTerminal
The MetaTrader 4 MultiTerminal allows you to fund and manage multiple accounts from a single master account. It is particularly straightforward to get to grips with if you already have experience with the MetaTrader 4 Client Terminal.
Simply head over to their website and follow the on-screen instructions for this account manager download.
Trading Signals & Copy Trading
Open a MetaTrader 4 tutorial PDF and you may come across their trade copier services. These allow you to automatically copy deals from other traders.
You simply select your provider, subscribe to a signal and then your terminal will copy the trades. If you're a novice trader and looking to capitalise on the experience of other successful day traders, this is an effective way to go about it.
The Market
Once you have finished your MetaTrader 4 Mac download, you will have access to the built-in market. This is often a great place to find an Expert Advisor or a new technical indicator.
You can buy any of over 1,700 trading robots and 2,100 indicators. On top of that, you can launch any of them without leaving your platform.
Making a purchase is straightforward, transparent and secure. However, you can always contact MetaTrader 4 customer service if you encounter any problems.
Expert Advisors
The MetaTrader 4 Expert Advisor (EA) builder program is a huge selling point of the software offering. Automated trading can be a fantastic way to enhance an effective strategy. The platform gives you the tools to develop, test and optimise algorithmic and high-frequency trading software.
The programming language is known as 'MetaQuotes Language 4' (MQL4). Once you have written your EA, you can attach them to a chart to profile any number of functions. Simply click and drag, or double click the item within the 'navigator' window to add it to your chart.
MetaTrader 4 forex traders, for example, could then utilise their own application in trading. Alternatively, you could post it in the free code library, or sell in the Market.
Alerts & Financial News
Even with a MetaTrader 4 demo account that's unlimited, you get access to a range of financial news and alerts. This could help you to anticipate and capitalise on price movements. Once you have your MetaTrader 4 login details, it's quick and easy to set up email alerts for certain events in the economic calendar.
This service promises current financial notifications and timely notifications. In addition, you have the customisability to streamline access to the data and information relevant to your particular product and market.
How To Use The MetaTrader 4 Platform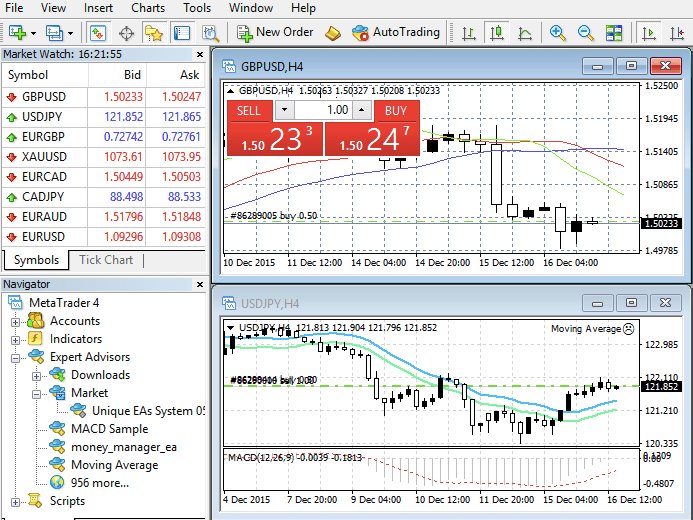 When you have downloaded MetaTrader 4 to trade bitcoin or any other instrument, you will be greeted with the same screen. So, how do you go about using the platform?
Firstly, you will find a long list of buttons at the top of the platform. The buttons M1, M5, M15, M30, H1, H4, D1, W1, and MN are the different chart time frames you can choose between. M is for minute, H for hour, D for day, W for week, and M is short for month.
The magnifying glasses are for zooming in and out of the charts without altering the time frame. If you look to the left of the magnifying glasses, you will see the three charting options. These are Bar Charts, Japanese Candlestick Charts, and Line Charts.
Again on the left, you will find the standard drawing tools. These will include:
Vertical line
Horizontal line
Trendline
Price channel
Fibonacci retracement
Image labels
To customise your trading, right click on the chart window and you will be given a number of options.
You can open a trade position by pointing at 'trading'. Alternatively, select the 'new order' button from the options above the chart. Hit 'One Click Trading' and Buy/Sell buttons will be added to your chart in the top left. You can then automatically open trades at pre-determined sizes.
All of these basic functions can also be carried out in the MetaTrader 4 portable mobile and tablet offerings.
MetaTrader 4 Tips
There are a number of useful tips and tricks on this platform that can save day traders time.
Profiles
You can save chart groups. This allows you to choose how charts and different windows are arranged. Simply select the 'Profiles' icon and select 'Save Profile As'. You can then save any number of profiles.
To choose from one of your profiles, select the 'Profiles' icon and then select from the drop-down list. In addition, you will find a few default profiles are included in the list.
Crosshair Mode
Another useful feature is the crosshair mode. This can be used for identifying specific time and price values, for example, when searching for a recent high or low.
To access this feature, click the middle mouse button. You will then be able to move the crosshair over any price bar, or any part of a price bar. The respective time and price values will then be easily identifiable.
You can also access crosshair mode by selecting the 'Crosshair' icon in the toolbar.
Trendlines
As MetaTrader 4 guides will highlight, trendiness drawn on charts allow you to identify areas of support and resistance. To draw one quickly, click and drag to define the trendline, then release the mouse button. If you want to change the trendline, double-click and then do the following:
Select and drag either end to rotate.
To move your trendline to an alternative price level, select and draw the centre body of the trendline.
Hold 'Ctrl' and select the trendline to draw a parallel trendline.
If you want to adjust the colour, style or change other specifications, simply right click to open the 'Trendline Properties' box.
You can delete the trendline by right-clicking and then hitting 'delete'.
MetaTrader 4 Benefits
It doesn't take long after you have finished your online MetaTrader 4 download to see why the platform is so popular. It offers:
Ease of use – The simple and user-friendly design allows for traders of all experience levels to pick it up swiftly.
Tools – Customisable charting tools are integrated and you are given direct access to export historical data. In addition, you benefit from a real-time price feed, plus extensive third-party add-ons.
Speed – As MetaTrader 4 reviews often highlight, the platform is light. This ensures it doesn't overload systems in place, enabling fast executions. This is particularly important in highly volatile markets.
Expert Advisors – Mechanical traders will appreciate MetaTrader 4 expert advisors make for straightforward plugins.
Accessibility – You can trade any number of instruments, including cryptocurrency, such as ethereum and other altcoins. Not to mention you can trade on popular stock indices, the Dow Jones, for example.
Flexibility – You have access to three execution modes, two market orders, four pending orders, plus two stop orders and a trailing stop.
Compatibility – Steps have been taken to ensure compatibility amongst numerous operating systems. So, you can download MetaTrader 4 for Linux, iOS, plus Windows 7, 8, 9, 10.
Mobile apps – For those who like to trade on the move, there are MetaTrader 4 Android and iOS applications available at respective app stores. In addition, MT4 now works for Windows phones. The mobile platform allows for a smooth transition from the desktop version. You can access charts, use technical analysis tools, plus place and manage trades. MT4 Android and Apple tutorials can be found online.
MetaTrader 5
The MetaTrader 5 download is the latest version of the trading platform available. It is a multi-asset platform offering a number of trading tools and services. So, you can trade the traditional forex, futures, stocks, and CFDs. There are also capabilities for trading cryptocurrencies and binary options. The key features of the platform have been explained below.
Fundamental Analysis
Once you have your MetaTrader 5 online login details, you can start exploring their fundamental analysis tools. These include access to financial news and an economic calendar. Both can be used to predict future price shifts in instruments on the MT5 platform.
On top of that, you will have access to a number of economic indicators and breaking news reports from international news outlets.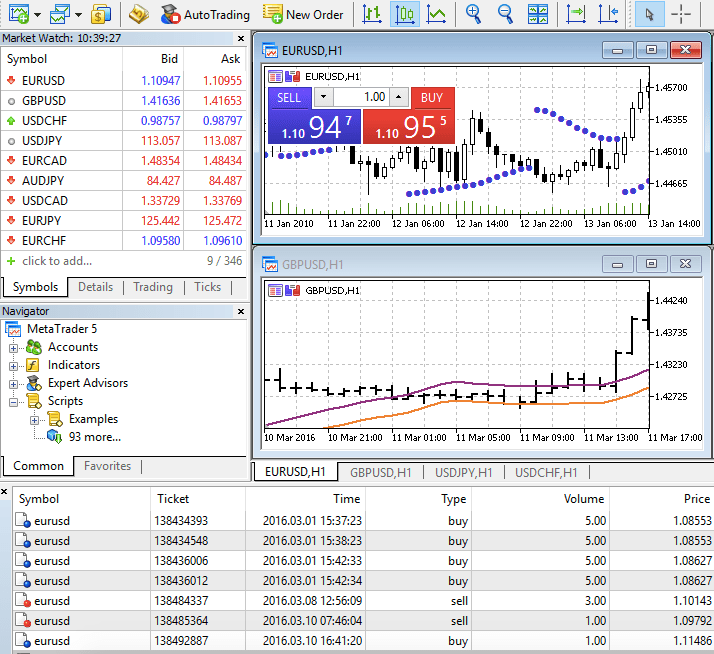 Compatibility
Those concerned about compatibility will be pleasantly surprised. You can now get MetaTrader 5 on Linux, Windows 7 (32 bit and 64 bit), as well as for Macs. Most MetaTrader 5 brokers will provide direct download links. However, if not, head over to the official website and you will find guidance on how to go about installing the software. As with the old version, MetaTrader 5 comes with zero costs.
In fact, all you need is an internet connection and you can use the MetaTrader 5 Web Platform. You can analyse quotes, execute trades, and access previous trade history.
In addition to flexibility, security is a high priority. All transmitted information is encrypted, and the web platform supports additional protection via the use of two-factor authentication.
MetaTrader 5 Mobile Trading
You can download MetaTrader 5 for iPhone, iPad, and Android devices. The mobile application can be used to compliment your desktop-based platform or to directly trade from. You can do all of the following:
Send pending orders
Set protective and trailing Stop Losses
Take Profit levels
In addition, MetaTrader 5 mobile applications also allow for One-Click Trading. This enables you to send trade orders directly from a price chart, or from the Market Depth window. On top of that, with the assistance of 30 built-in indicators and 24 analytical objects, you can conduct an in-depth technical analysis of forex.
See MetaTrader 5 forums and user guide PDFs for further instructions on getting the most out of your MT5 mobile app.
Algorithmic Trading
MetaTrader 5 expert advisors enable automated trading using robots. These sophisticated algorithms will analyse the market and execute trades when pre-determined criteria have been met. This feature uses MQL5 to develop, debug, test, and optimise trading bots. You can also find MetaTrader 5 expert advisor tutorials in the form of training videos from numerous brokers.
New day traders can use the MQL5 Wizard to get set up with automated trading. This assistant can help build a straightforward robot. While experienced traders can use MQL5 IDE to utilise additional capabilities, such as:
C++ like MQL5 programming language (note – all trading applications for MetaTrader 5 are written in MQL5)
MetaEditor
Strategy tester complete with real tick support
Language Reference which details all language constructions
As with the MT4 platform, you can purchase indicators from the Market. Alternatively, head to Code Base where there are free downloads. You can also find MT5 tutorial PDFs online to help you get set up.
Trading Strategy Tester
A useful component highlighted in MetaTrader 5 reviews is the built-in Strategy Tester included in MQL5 IDE. It works by running the strategy against historical price data, automatically executing trades in line with its algorithm. Because this can highlight potential flaws in a strategy before you use it in your live account, it could save you significant capital.
In fact, the MetaTrader 5 Strategy Tester uses several techniques to find the ideal speed/quality ratio. Often, the most effective results are found the using the 'Every tick based on real ticks' mode. This uses real ticks from exchanges and liquidity provers. Whilst the 'Open prices only' mode offers just a quick, approximate estimation.
You can view the live data feed results on a chart. At the end, a testing report is then generated. This allows for the straightforward identification of potential flaws.
A useful tip is to download a free MetaTrader 5 demo version of a potential robot before you purchase it from the Market. This could save you from making an unwise investment.
Optimisation
An important element of the Strategy Tester is the optimisation capabilities. This can test an algorithm with a number of parameters while choosing optimal values. However, optimising sophisticated robots can become a very time-consuming process. So, use generic algorithms to shorten the process.
You can then view your optimisation results in 2D and 3D modes. On top of the built-in features, there also exist custom visualisation modes too.
Additional Features
Overall, the MetaTrader 5 offering is comprehensive. You can view up to 100 charts, with 21 time-frames, ranging from 1-minute to 1-month. Also, you get 80 MetaTrader 5 indicators, including:
Volume indicators
Volatility indicators
Pivot points indicators
Time zones indicators
Buy/sell signal indicators
Android custom indicators
In addition, there is the option to purchase more, from services such as Code Base.
You also get an advanced Market Depth function with MetaTrader 5, which has a tick chart, plus Times & Sales information. Market scanners too are available, meaning you can swiftly identify potential opportunities.
You can have a separate accounting of orders and trades, plus the support of all types of trading orders and execution modes.
The two accounting modes are as follows:
Netting – Adopted on exchange markets
Hedging – Used forex trading
If you want to test the platform, you can use an online MetaTrader 5 demo account with ease. These practice simulator accounts allow you to test different financial markets and get familiar with the trading platform. A number of different brokers offer this service or you can always head over to the official website.
However, you must remember to consider trading fees when you upgrade to a live account as a profit factor. Also, some brokers may require a minimum deposit as well as having different rules around leverage and margin levels.
Customer Support
If your MetaTrader software has stopped working, getting support is relatively straightforward. As a result of it being such a popular platform, most brokers will offer technical assistance, via live chat and telephone.
They should be able to assist you with language programming and offer remedies for when the platform is not responding or updating. Customer service should also be able to help you check your desktop meets technical requirements.
You can also turn to active trading communities for support. Due to global popularity, you will find plenty of experienced users voice opinions on indicators that are best, shortcut keys, default templates, backtesting tutorials, and more. Simply head to online blogs and forums. Alternatively, you can find manuals in the form of books and ebooks.
So, if for any reason your platform is not working, support is just a few clicks away.
MetaTrader 4 vs MetaTrader 5
If it is a question of MetaTrader 4 or 5, then there isn't too much to separate them. Although MT5 is marketed as far more advanced, in reality, you just benefit from more charting systems and in-depth analytical tools.
A few points to consider though are as follows:
MetaTrader 4 is more readily available amongst brokers.
MetaTrader 5 is considered less user-friendly.
You get an extra order execution type and two more pending order types with the MetaTrader 5 version.
Roll-over and hedging are possible with MetaTrader 4 and unavailable with MetaTrader 5.
MetaTrader 4 uses MQL4 programming language, while MetaTrader 5 uses MQL5.
Overall, the MT4 system is more than adequate for the majority of day traders. However, if advanced charting and analytical tools are important to you, then you may want to update to MetaTrader 5. But note the old MT4 version remains the most popular, demonstrating many have not felt the need to swap.
Verdict
On top of straightforward installation, MetaTrader systems offer a number of trading tools and features that other platforms lack. Setting up trade orders is hassle-free, while Candlestick, Heiken Ashi, and Renko charts are easy to configure and customise. In addition, expert advisors and automated services via scripts are simple to utilise.
Finally, the industry standard MetaTrader 4 trading platform should be able to serve traders of all experience levels. However, for those set on complex, advanced strategies, the MetaTrader 5 platform may be the route to go down.