Alternatives To MetaTrader
MetaTrader 4 (MT4) and MetaTrader 5 (MT5) are the most popular retail trading platforms. But what are the top apps and trading platforms like MetaTrader? In this guide, we review some of the best alternatives to MetaTrader 4 and MetaTrader 5, comparing everything from indicators and historical data to EA builders and backtesting capabilities. We also consider broker availability and app compatibility, plus demo account downloads.
In our list of the best alternatives to MetaTrader in 2023, three platforms come out on top:
cTrader – A user-friendly forex and CFD trading platform with automated trading via cBots.
TradingView – A beginner-friendly platform and app with advanced charts and an active social investing community.
ThinkTrader – A recently upgraded and intuitive trading terminal with 125+ indicators and 50+ drawing tools.
Alternatives To MetaTrader Comparison Table

| Features/Functionality | MT4 | MT5 | cTrader | TradingView | ThinkTrader |
| --- | --- | --- | --- | --- | --- |
| Order Types | 4 | 6 | 12 | 3 | 6 |
| Technical Indicators | 30 | 38 | 70 | 100+ | 125+ |
| Chart Types | 3 | 3 | 8 | 12 | 20 |
| Timeframes | 9 | 21 | 54 | Custom | 12 |
| Automated Trading | Y | Y | Y | N | Y |
| Copy Trading | Y | Y | Y | N | Y |
| Economic Calendar | N | Y | Y | Y | Y |
| Mobile Compatible | Y | Y | Y | Y | Y |
| Web Terminal | Y | Y | Y | Y | Y |
| Desktop Download | Y | Y | Y | Y | Y |
| Demo Account | Y | Y | Y | Y | Y |
Though MT4 and MT5 have their advantages, there are several excellent alternatives to MetaTrader. Below we compare platforms and apps similar to MetaTrader, highlighting the key differences and benefits, from the range of charts and indicators to live signals, demo account options, plus free downloads and PC compatibility.
cTrader
Established in 2011 by Spotware Systems, cTrader is an intuitive forex and CFD trading terminal. The software has proven itself as one of the most robust alternatives to MetaTrader and is offered by several leading brokerage firms, including Pepperstone and IC Markets.
cTrader provides multi-asset trading capabilities to a growing brokers list, with direct server access to the interbank market and an easy-to-use interface.
Market Access
cTrader and MetaTrader are multi-asset platforms that provide access to forex, commodities, indices, and cryptocurrencies, among others. However, there is a key difference in that neither cTrader nor MetaTrader 4 offers stocks. Only MetaTrader 5 offers trading on shares.
Order Types/Modes
MetaTrader 4 offers several order types: trailing stop, two stop orders (take profit, stop loss), three order execution modes (instant, request, market), and four pending order types (buy stop, sell stop, buy limit, sell limit).
In contrast, cTrader offers a broader range of order types and modes, including stop orders (advanced take profit and advanced stop loss), market orders, limit orders, stop-limit orders, market range, market order on open, good till the day, one cancels the other, and trailing stop. This makes cTrader one of the best alternatives to MetaTrader 4 and 5.
Technical Indicators & Drawing Tools
cTrader also has the edge when it comes to technical indicators and drawing tools, offering 70 built-in indicators vs the 30 offered by MT4 and 38 by MT5.
MetaTrader does, however, offer more custom drawing tools, with 2,000+ free indicators and 500+ paid indicators with various profitability metrics and risk levels. This is significantly more than the 100+ custom indicators created in cTrader Automate or available to download from the cTrader Store.
Charts & Timeframes
cTrader offers eight chart types including bar, candlestick, range, dots, Renko, and Heikin Ashi. In contrast, there are just three on MT4 (bar chart, candlestick chart and line chart) and three on MT5 (broken line, sequence of bars and Japanese candlesticks).
cTrader is also better when it comes to timeframes offering 54 vs the 9 available with MT4 and 21 offered as standard with MT5. This helps make it one of the best alternatives to MetaTrader for high-volume day traders.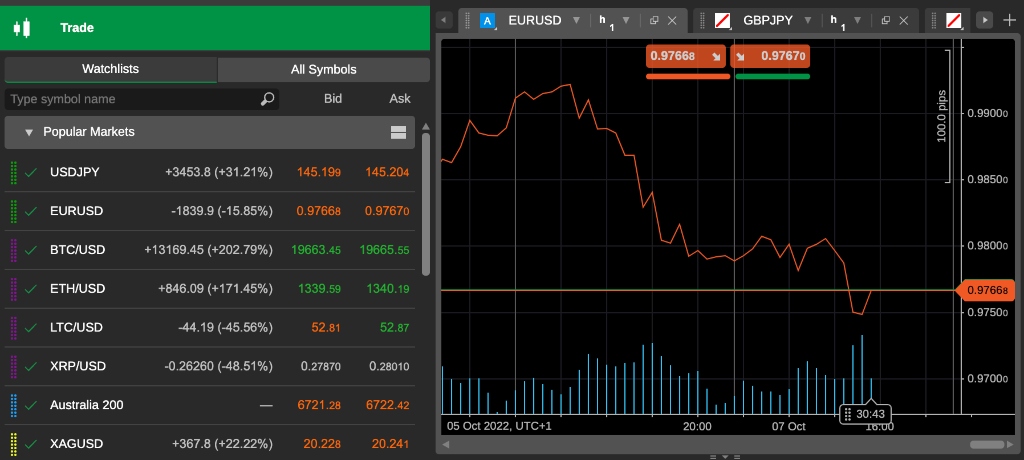 Automated Trading & Copy Trading
cTrader tops MetaTrader 4 and MetaTrader 5 due to the usability of its programming language and more sophisticated automated features.
Despite this, MetaTrader is more established when it comes to automated trading. Robots, also known as Expert Advisors (EAs), analyse FX price quotes, for example, and take positions based on pre-determined inputs and trading criteria.
cTrader Automate is the platform's algorithmic trading solution. Traders can build robots and customize indicators such as the Hull Moving Average or Harmonic Pattern indicator. The modern "plug and play" function is also advanced and trumps MetaTrader, enabling users to load a trading robot or custom indicator and start trading immediately with no need to go through a tedious installation procedure.
Note, Backtesting is a feature offered by both cTrader and MetaTrader, enabling users to test strategies using historical data.
Copy trading is also a prominent feature of both platforms. Live signals in MetaTrader 4 enable you to copy the deals performed by other traders. Similarly, cTrader users can become Strategy Providers and share their signals for followers to copy for a commission. Alternatively, investors can pay for, and replicate the positions of experienced traders.
Additional Tools
Of the two MetaQuotes platforms, only MT5 has a built-in economic calendar, with cTrader also hosting this feature.
The cTrader platform also allows users to customize watch lists, request email and SMS notifications, and permits access to cloud-hosted favorite lists and workspaces, while the MT4 platform does not.
Access to useful market insights and additional trading tools has helped make cTrader one of our top alternatives to MetaTrader.
Usability
The cTrader platform feels the most modern. The terminal boasts an intuitive design vs the more cluttered and outdated MetaTrader profiles. Beginners may also feel more confident with the cTrader interface thanks to its focus on slick navigation. This does come at a price, however, with user reviews indicating slower server response times and execution speeds.
Demo Account
Both cTrader and MetaTrader offer demo account downloads. Users can trade risk-free with access to all the features and functionality of live profiles.
Paper trading profiles can be opened via the MetaTrader or cTrader websites without a brokerage account. Alternatively, traders can apply for a demo account through a supporting broker.
Device Compatibility
When we compare cTrader vs MetaTrader, the platforms offer similar device compatibility. Both MetaTrader 4 and 5 offer full functionality through iOS, Huawei and Android-compatible mobile apps. The MT4 and MT5 trading platforms can also be downloaded to desktop devices (Windows, Mac OS and Linux), or they can be used via the web trader terminal on all major web browsers.
This is the same for cTrader users, though there is no Huawei-compatible portable app.
Overall, cTrader is one of the best alternatives to the MetaTrader franchise for experienced traders.
TradingView
TradingView is another one of the best alternatives to MetaTrader.
TradingView is an established charting platform and social network. Established in 2011, it is now used by 30+ million investors and traders globally, with 8 million custom scripts and ideas shared by users. In October 2021, the company was valued at $3 billion. It is also ranked an impressive 4.9/5 in the finance app category.
Let's see how TradingView stacks up to MetaTrader below.
Market Access
As TradingView and MetaTrader 5 are multi-asset platforms, you should find it easy to find an asset of choice on both terminals, though as outlined above, MT4 does not offer stock trading. TradingView offers global stock trading on UK, EU, and US stock exchanges.
A notable advantage of MetaTrader vs TradingView is that it permits direct access to the market. TradingView users may face delays in price quotes for some markets, so real-time information may need to be purchased separately or accessed via a third-party API plugin or broker tool.
Order Types/Modes
Order types are limited in TradingView with just three offered; stop loss, trailing stop, and market order. MetaTrader, on the other hand, provides several options including four pending orders, three order execution modes, two stop orders and a trailing stop.
Technical Indicators & Drawing Tools
TradingView comes out on top when we compare technical indicators, offering more than 100 built-in indicators, plus access to 100,000+ community-developed tools.
In contrast, MT4 only offers 30 built-in technical indicators, though thousands of additional chart indicators can be downloaded from MetaTrader's Code Base and Market.
Charts & Timeframes
TradingView offers an impressive selection of charting tools. There are 12 different charts available vs just three on MT4 and MT5. This is one of the reasons TradingView is one of our top alternatives to MetaTrader.
It should be noted, however, that the number of charts that can be opened in a tab on TradingView depends on the package. The free, basic plan only allows one chart per tab. MT4, however, allows 99 charts to be opened simultaneously.
TradingView paid plan customers can access fully customizable timeframes from 1 minute to 12 months. MT4 offers 9 timeframes and MT5 provides 21 timeframes as standard.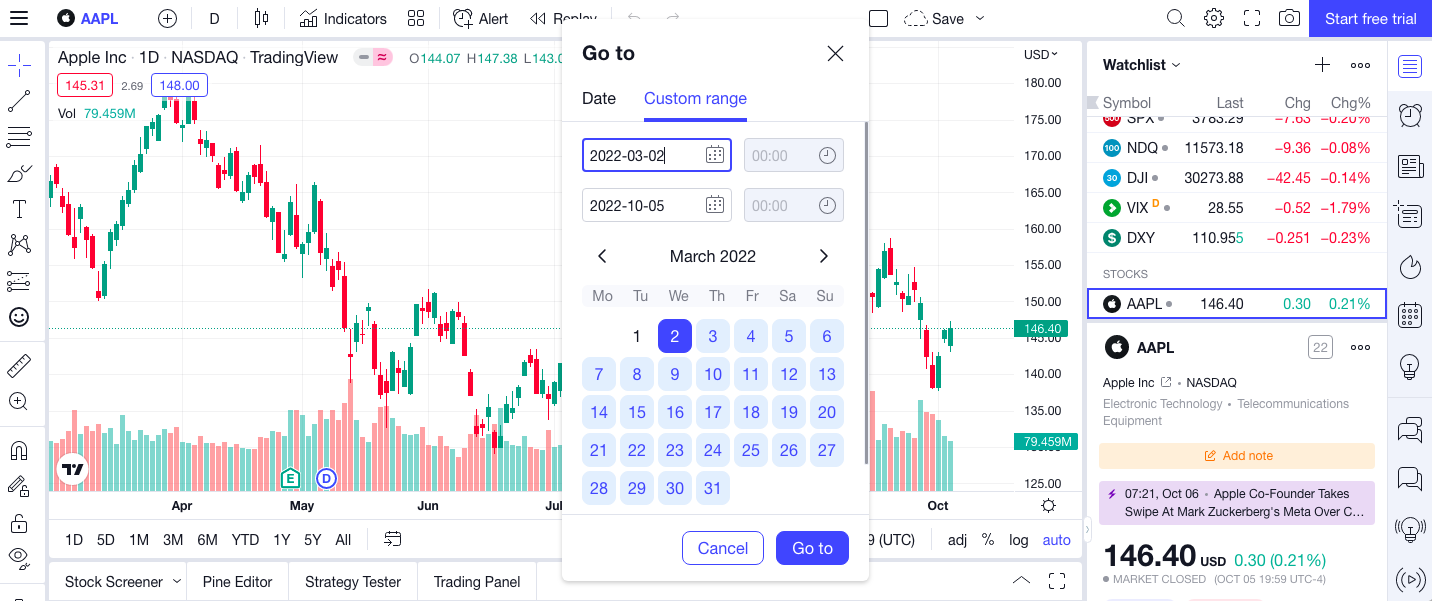 Automated Trading & Copy Trading
TradingView does fall short when it comes to copy trading. MT4 and MT5 are renowned for their Expert Advisors (EAs) and associated strategy builders. But with TradingView, you cannot directly copy or export the trades of other users.
In addition, automated trading on TradingView is not possible. Strategy backtesting is an option, but third-party software may need to be linked to create bots and execute trades.
Additional Tools
Within the TradingView interface, investors gain access to live market news and an in-built economic calendar listing major financial events and data releases. In contrast, MT4 does not offer an economic calendar, though users of MT5 can access a free calendar.
One of the biggest advantages that TradingView has over MT4 is its active trading community. The platform is essentially a social media profile for investors. Experienced traders post guided tutorials or demonstrate how they conducted research or analyzed charts, for example. This is a particularly useful feature for beginner traders and makes TradingView one of our highest rated alternatives to MetaTrader.
Usability
Our alternatives to MetaTrader review found that TradingView is easy to operate and navigate, particularly for novices. The built-in tutorials are ideal for quick self-help such as how to setup or reset a position, how to deposit or withdraw from a real account or how to retrieve and read live market data.
In contrast, the old-school design from MetaTrader is a little clunky, though long-term fans may be familiar with the look and feel.
Demo Account
MetaTrader and TradingView provide unlimited paper trading profiles. Trade risk-free with access to all the features and functionality of real-money accounts.
For users new to TradingView, the demo account is a great place to start. And importantly, most brokers that offer TradingView provide a free demo account.
Note, the top brokers offer contact details to help with joining the demo trading environment. Customer service representatives should also be able to provide details of the license held, leverage opportunities, and whether zero VPNs are allowed.
Device Compatibility
Our alternatives to MetaTrader 4 and 5 review found the same device compatibility across each platform. Both brands offer a desktop download, web terminal accessibility and mobile apps, with no cost to download or create a new profile.
Additionally, each platform offer synced layouts and settings meaning you can easily switch between home screens, regardless of device.
Overall, TradingView is one of the best alternatives to MetaTrader for beginners through to expert traders.
ThinkTrader
ThinkTrader is a powerful platform developed by leading CFD and forex broker, ThinkMarkets.
Created in 2017 as Trade Interceptor, the trading terminal has gone through a serious upgrade in 2022, including re-branding and technical developments. The interface has been redesigned and built with the modern investor in mind, providing advanced trading tools and unique functionalities. This has helped make it one of the best alternatives to MetaTrader.
Market Access
The ThinkTrader platform supports trading across six asset classes including CFDs, forex, indices, cryptocurrencies and commodities. Similar to MetaTrader 4, however, stocks cannot be traded.
Order Types/Modes
There are 6 pending order types available from ThinkTrader vs the 4 provided by MT4 and six by MT5. The platform also allows partial order filling, which MetaTrader 4 does not.
Technical Indicators & Drawing Tools
ThinkTrader has the lead when we compare technical indicators. It offers 125+ built-in analysis tools vs the 30 on MT4 and 38 on MT5. However, MetaTrader does offer more custom drawing tools, with 2,000+ free indicators and 500+ paid indicators vs the 50+ drawing tools available in the ThinkTrader terminal.
Charts & Timeframes
Alternatives to MetaTrader, such as ThinkTrader, typically come out on top when it comes to chart types. MetaTrader 4 and 5 are both limited to three basic charting layouts on PC and mobile. However, you can find an impressive 20 chart types when you login to the ThinkTrader platform.
This is a similar story when it comes to timeframes, with 12 integrated into the ThinkTrader platform vs 9 on MetaTrader 4 and 21 on MetaTrader 5.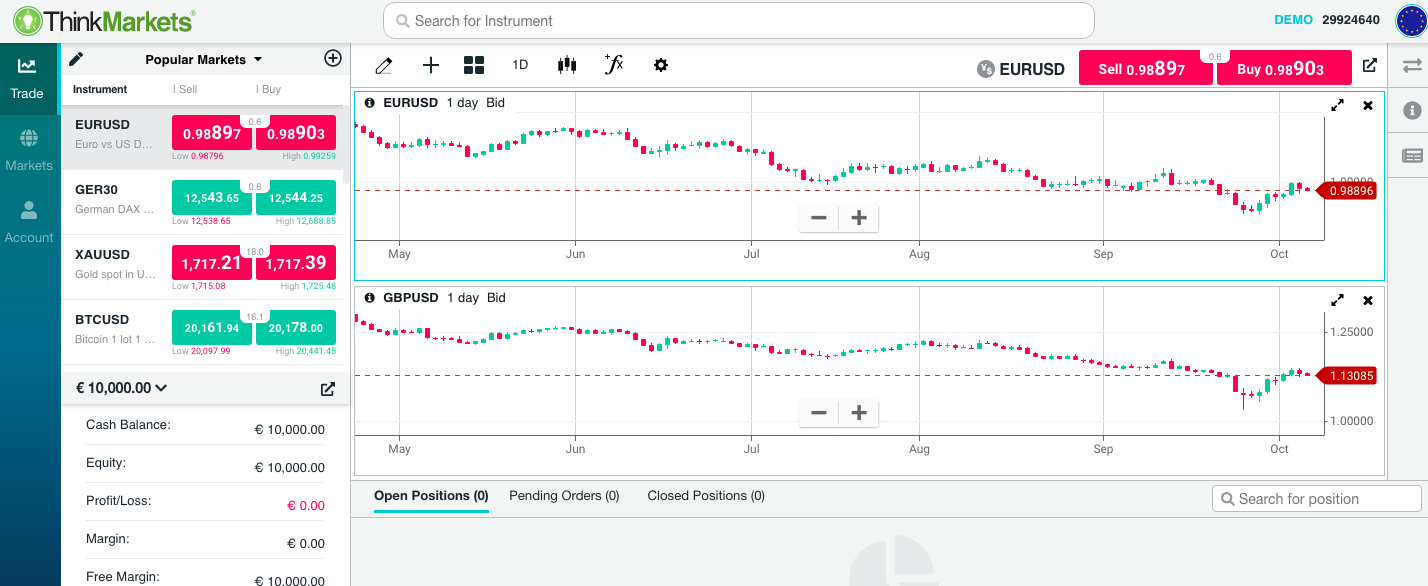 Automated Trading & Copy Trading
Both platforms offer copy trading and auto-investing functionalities. Social trading is integrated via ZuluTrade on ThinkMarkets' proprietary terminal.
However, traders looking for automated services will likely opt for the MetaTrader platforms, which remain the most versatile choice due to their infrastructure and access to over 20,000 expert advisors (EAs).
Additional Tools
The ThinkTrader terminal provides users with an integrated economic calendar and real-time news updates, listing major financial events and data releases. MT4 does not offer an economic calendar, however, MT5 does.
ThinkTrader is also one of our top alternatives to MetaTrader due to its integration with the TrendRisk Scanner. This solution scans the financial markets with risk management best practices in mind to offer real-time trading opportunities. This is a particularly useful tool for beginners.
Usability
The ThinkTrader platform is easy to use, with continuous improvements enhancing the analytics and features on offer. When using the platform, our experts were particularly pleased with the simple and clean design. This makes it easy to navigate between assets, drawing tools and orders. MetaTrader is more outdated, though both offer an adequate degree of customization.
On the downside, because the ThinkTrader platform is a bespoke terminal, users must open an account with ThinkMarkets. This limits the accessibility of the platform vs MetaTrader which is integrated by 1000+ global brokers.
Demo Account
Both MetaTrader and ThinkTrader's features can be used in a simulated market environment via a demo profile. This is a great way to learn new strategies and practice trading risk-free. Up to $100,000 in virtual funding is available with no time limit.
Device Compatibility
As with the majority of alternatives to MetaTrader 4 and 5, ThinkTrader offers similar device compatibility. The platform can be downloaded to Macbooks and Windows machines and is available as an iOS and Android mobile app. The brand also introduced a web solution in June 2022.
It is worth noting that ThinkTrader customers can not use the platform on Linux or Huawei devices.
Overall, ThinkTrader is one of the best alternatives to MetaTrader for beginner traders.
Brokers With The Best In-House Platforms
Alongside the best third-party platforms, several brokers have developed user-friendly and powerful, proprietary platforms.
The brokers with the best in-house trading platforms offer an intuitive charting package, a range of instant and pending orders, plus bespoke tools and add-ons, such as copy trading services, risk management features, market scanners, and more.
The brokers with the top-rated proprietary terminals that rival MetaTrader include:
Desktop platform from OANDA
Thinkorswim from TD Ameritrade
Next Generation from CMC Markets
Web platform/mobile app from eToro
ThinkTrader from ThinkMarkets (details above)
What Is MetaTrader?
Developed by MetaQuotes Software Corp, MetaTrader is a popular software brand that provides trading platforms to retail investors. Its terminals essentially provide the gateway between traders and the financial markets, facilitating technical and fundamental analysis, plus order execution.
The company's most popular solutions are MetaTrader 4 and MetaTrader 5. Both platforms are feature rich with advanced tools, analysis and charting functions. The terminals also use the MetaQuotes Language, a built-in script for programming automated trading strategies.
Today, the award-winning online trading platforms are considered the terminals of choice for many retail investors. As a result, MT4 and MT5 are available at a long list of popular brokers, including AvaTrade, Admiral Markets and FxPro.
Below we provide an introduction to and break down the key features and functionality of MT4 and MT5.
MetaTrader 4
MetaTrader 4 is one of the world's most popular retail trading platforms, suitable for both novice and experienced traders. The platform was developed by MetaQuotes in 2002, though the 2005 version was the first fully stable release which gained significant traction.
It is estimated that more than 1000 brokers offer the MT4 platform with millions of registered traders using the platform each day via the desktop download, webtrader, plus the iOS and Android mobile apps.
Though it is most commonly associated with forex trading, MT4 can be used to trade several other markets including commodities and indices via CFDs.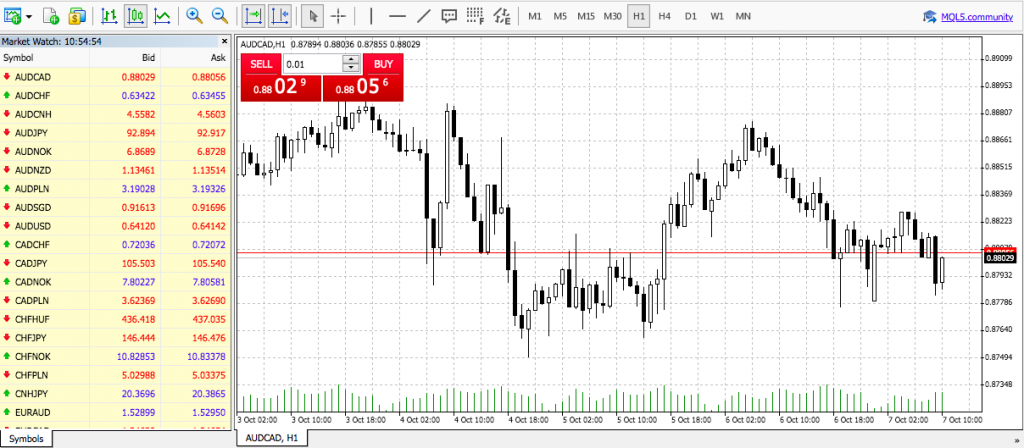 MetaTrader 5
Following the success of MT4, MetaQuotes introduced a more advanced, multi-asset platform in 2010 – MetaTrader 5.
MT5 facilitates trading on more instruments, from forex, stocks, and indices to commodities and cryptocurrency. The platform also offers advanced trading functions encompassing comprehensive price analysis, algorithmic trading bots and copy trading signals.
MT5 is ultimately quicker and more efficient than MT4, suiting experienced traders. And in June 2021, the number of companies using MetaTrader 5 exceeded the number of brokers offering MetaTrader 4.