Quotex Review 2023


Written By
Jemma Grist
Jemma is a freelance writer and editor, focussed on retail trading and investing. Jemma brings a unique perspective to the forex, stock, and cryptocurrency markets and works across several investment websites as a researcher and broker analyst.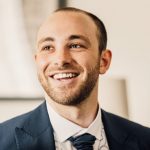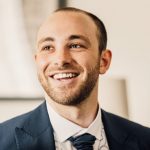 Edited By
James Barra
James is an investment writer with a background in financial services. He has worked as a management consultant, where he delivered large-scale operational transformational programmes at some of Europe's biggest banks. James authors, edits and fact-checks content for a series of investing websites.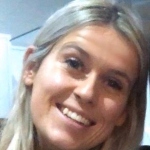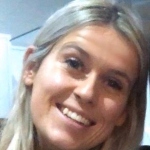 Fact Checked By
Rebecca Holden
Rebecca is a freelance investment writer and broker analyst. She has evaluated dozens of brokers and trading platforms. Rebecca formerly worked in e-commerce where she helped grow the online presence of some of the UK's largest brands.


United States not accepted.
See the Top 3 Alternatives in your location.
---
Quotex is best for making short-term bets on popular markets. The payouts up to 98% are above average and the platform is easy to use. That said, the lack of regulatory oversight, education and weak support are drawbacks.
- Jemma Grist, Reviewer
Quotex is a binary options broker founded in 2019 and based offshore in St. Vincent and Grenadines. Over 400 digital options are available covering currencies, commodities, stocks and crypto. Binary contracts span 5 seconds to 4 hours with high payouts of 95%+ depending on market conditions.
$10
Web Platform, Mobile App
Digital Options on Stocks, Indices, Forex, Commodities, Cryptos
30% Deposit Bonus
USD, EUR, GBP, INR, JPY, MYR, IDR, RUB, BRL, NGN, THB, VND, UAH
Credit Card, Bitcoin Payments, Wire Transfer, Debit Card, Visa
and
4 more
Binary Options Trading
Quotex offers ultra-short-term binaries on hundreds of assets with up/down contracts that expire between 5 seconds and 4 hours. The broker provides an intuitive web platform, with multiple charting styles, dozens of indicators and daily trading signals.
Forex Trading
You can trade binaries on 20+ currency pairs including majors, minors and exotics. This is a smaller range of forex assets than leading competitors but payouts are decent, climbing to over 80% on the EUR/USD.
Stock Trading
Quotex offers a modest selection of OTC shares, including big names like Facebook, Microsoft and Pfizer. However you can only take positions on US shares. You can also speculate on 10+ major indices, including the Dow Jones and the FTSE.
Crypto Trading
Quotex offers binary options trading on a handful of cryptos. While the range of digital currencies is narrow, there are leading tokens, including Bitcoin, Litecoin and Ethereum. Payouts on cryptocurrencies are also above average.
✓ Pros
Quotex is excellent for short-term binary trading with turbo contracts from 5 seconds
Account funding is straightforward thanks to the wide range of payment methods and zero fees
The platform delivers a superb user experience with a strong charting package
The $10 starting deposit and $1 minimum stake make Quotex.io great for beginners
Daily signals are useful for finding opportunities
✗ Cons
Quotex is unregulated, which means traders receive limited safeguards
Despite advertised payouts of up to 98%, testing shows average payouts trail best-in-class broker Pocket Option
There is no copy trading, which could support new traders looking to learn from experienced investors
Customer support was weak during testing with no live chat and slow response times
Quotex trails industry leaders when it comes to education and market research
In this exhaustive Quotex review, I test, compare and rate the binary options broker in every important category.
Regulation & Trust
1.8 / 5
Quotex is a legitimate broker, but it gets a low trust score for several reasons:
Looking at the positives, Quotex.io has a good reputation. It also provides reassuring safety measures. SSL encryption is in place to protect user data. To log into the platform, you also have to provide a password and enter a pin code sent to your email, ensuring a secure trading environment.
Comparison of regulations at similar brokers 2023

| | Quotex | World Forex | Pocket Option |
| --- | --- | --- | --- |
| Regulators | None | SVGFSA | IFMRRC |
Accounts & Banking
4 / 5
Live Account
Quotex keeps things straightforward with one live account. The hassle-free registration also makes for a smooth sign-up – the fact you can sign up with a Google account means I was trading in minutes.
The $10 minimum deposit is low, making the broker accessible to new traders. The range of account currencies, including USD, EUR and GBP also cater to global investors.
On the downside, the lack of account options is a drawback. Quotex trails our best binary broker for 2023 – IQ Cent, which offers four account tiers with higher payouts in return for larger deposits.
Deposits & Withdrawals
Funding a Quotex account is convenient. You have the option of bank cards (Visa and Mastercard), cryptocurrencies, internet banking, or e-wallets.
One notable benefit is that Quotex does not charge fees for deposits or withdrawals, something that is frustrating at other brokers. GC Option for example, charges up to 4.5% for bank card withdrawals.
Whilst withdrawals can take up to 3 days, Quotex endeavours to process requests on the same day.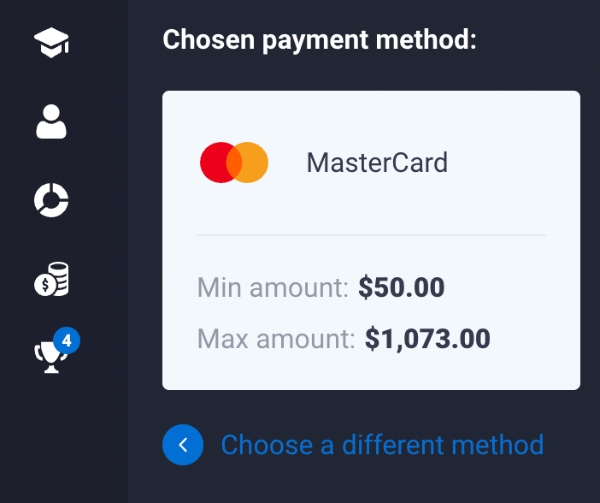 Deposit Bonus
When I opened a Quotex account, a 30% welcome bonus was available on deposits of $100+.
Other promotions are also available from time to time, which you can view in the 'Market' section of the platform.

However, whilst these deals may seem appealing, there are often withdrawal terms or trading requirements that can catch traders out.
For example, after investigating the terms of the 30% deposit bonus, you need to trade 100x the value of the bonus before you can withdraw funds. So if you deposit $200 and receive a $60 bonus, you will need to trade $6000 (100 x $60) before making a withdrawal.
Demo Account
Quotex offers a free demo account. Paper trading mode is an excellent way to learn how digital options work, whilst also exploring the platform.
My only minor complaint is that the $10,000 virtual bankroll is lower than alternatives. Runner up in our 2023 awards – Pocket Option, offers $50,000, providing more leeway to get familiar with tools before investing real money.
Looking at the positives, the demo registration incredibly easy. Simply select 'open demo account' on the broker's homepage. This will take you straight through to the demo platform.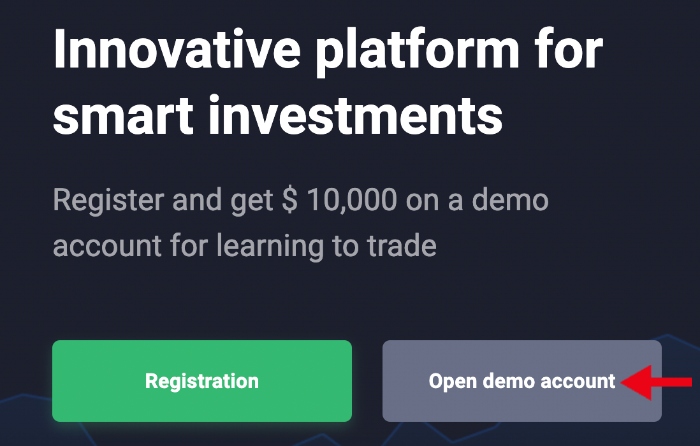 Assets & Markets
3.5 / 5
Quotex is my top pick when it comes to market access. There are over 400 assets spanning five asset classes: forex, stocks, indices, commodities and crypto.
As you can see below, Quotex outguns competitors with an impressive 4x more products than rival IQ Cent.
Comparison of binaries at similar brokers 2023

| | Quotex | Pocket Option | IQ Cent |
| --- | --- | --- | --- |
| Number of Binaries | 400+ | 130+ | 100+ |
You can speculate on leading US stocks including Microsoft and Pfizer, 20+ currency pairs including the EUR/USD and USD/JPY, and 10+ indices such as the S&P 500 and FTSE 100.
There are also opportunities on precious metals like gold and silver, energies such as oil, plus a handful of leading cryptocurrencies including Bitcoin and Ethereum.
My only complaint is the light selection of digital currencies. With just 4 cryptos, I don't recommend Quotex if you want to speculate on emerging tokens.
Payouts
Quotex.io advertises returns up to 98%. This means a winning trade with a $1000 bet would see you take home $980 in profit, while a losing trade would see your account debited with the $1000 stake.
Importantly, the size of payouts varies depending on the asset and market conditions. Volatile assets such as cryptocurrencies, for example, have lower payouts.
To establish whether Quotex offers high payouts, I recorded the returns on popular assets and compared them with other binary brokers. As you can see below, Quotex offers competitive returns, but lower than alternatives in some markets, notably currencies and indices.
Comparison of payouts at similar brokers 2023

| | Quotex | Pocket Option | IQ Cent |
| --- | --- | --- | --- |
| EUR/USD | 83% | 92% | 95% |
| USD/JPY | 80% | 82% | 95% |
| Nasdaq | 25% | 45% | 60% |
| Gold | 89% | 80% | 95% |
| Oil | 89% | 80% | 95% |
Fees & Costs
4.5 / 5
I have given Quotex a high cost rating of 4.5 out of 5 because there are no trading or non-trading fees. You will not pay deposit or withdrawal fees, inactivity penalties, or costs such as spreads or commissions when placing trades.
Like most binary options brokers, Quotex primarily generates revenue through its clients' losing trades.
This straightforward pricing model, combined with the low minimum trade of $1, allows me to conclude that Quotex is a low-cost binary options broker.
Platforms & Tools
3.3 / 5
Quotex Platform
The Quotex.io platform is cleanly designed and comes packed with interactive charts, user tutorials, account analytics, and plenty more. It offers all the essentials for beginners seeking a straightforward solution to trade binaries on.
On the downside, it doesn't offer the advanced features favored by experienced traders. World Forex does better here, offering the powerful MetaTrader 4.
Design & Usability
The interface is clean and easy to navigate and the functions don't feel crowded as they can within some platforms. All account functions are accessible from the side menu, including the in-built support, which you can hide and expand.
My main criticism is the lack of customization. You can only have one chart open at a time and it's frustrating that all windows within the interface are fixed, so you can't move or resize them. This makes switching between assets fiddly when you're placing multiple short-term trades in different markets.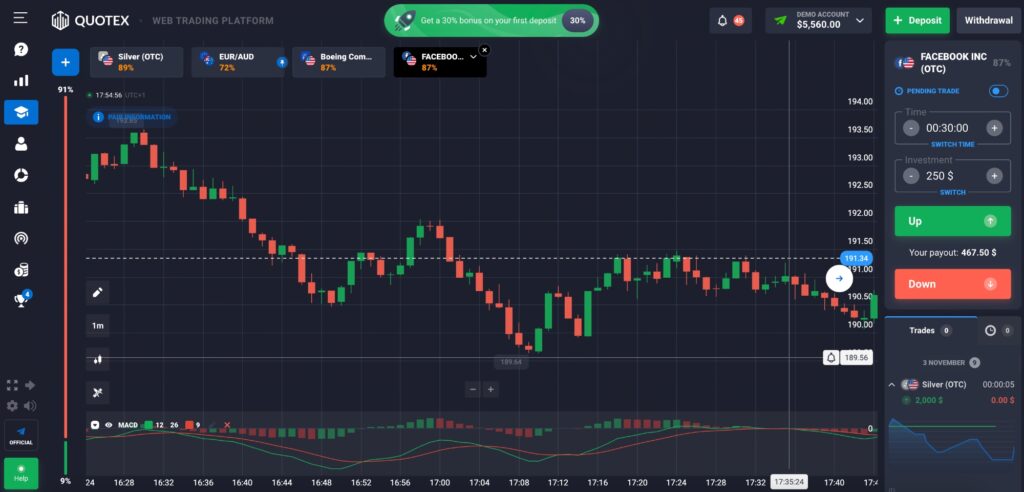 Tip: You can keep the dashboard clean by hiding the indicator menu panel without losing the data on the chart.
Charting Tools
Quotex delivers a charting package geared towards beginner and intermediate traders. There are 4 chart types including bars and candles, plus 14 timeframes ranging from 5 seconds to 1 day (suitable for short-term trading).
There are also 29 indicators, including the RSI and Stochastic Oscillator. This is comparable to Pocket Option with 31, but falls short of the sophisticated indicators available if you opt for a third-party solution. As you can see below, TradingView offers over 100, better serving advanced traders.
Comparison of trading platforms 2023

| | Quotex | MT4 | MT5 | cTrader | TradingView |
| --- | --- | --- | --- | --- | --- |
| Technical Indicators | 29 | 30 | 38 | 70 | 100+ |
| Timeframes | 14 | 9 | 21 | 54 | Custom |
| Chart Types | 4 | 3 | 3 | 8 | 12 |
Additional Features
While the platform doesn't offer lots in terms of extra features, there are a few tools that enhance the user experience:
Account Analytics: You can see the number of trades, number of profitable trades, net turnover, minimum stake per trade, maximum stake per trade, and other useful metrics.
Leaderboard: The platform displays a leaderboard with the top 20 earners for that day. It's interesting to see how many trades the best-performing users are making and how much profit they are generating.
Tournaments: These contests offer a competitive environment where you can test your skills against other traders. When I used Quotex, the entry fee typically ranged from $0 to $10 and prize pools between $600 and $5000.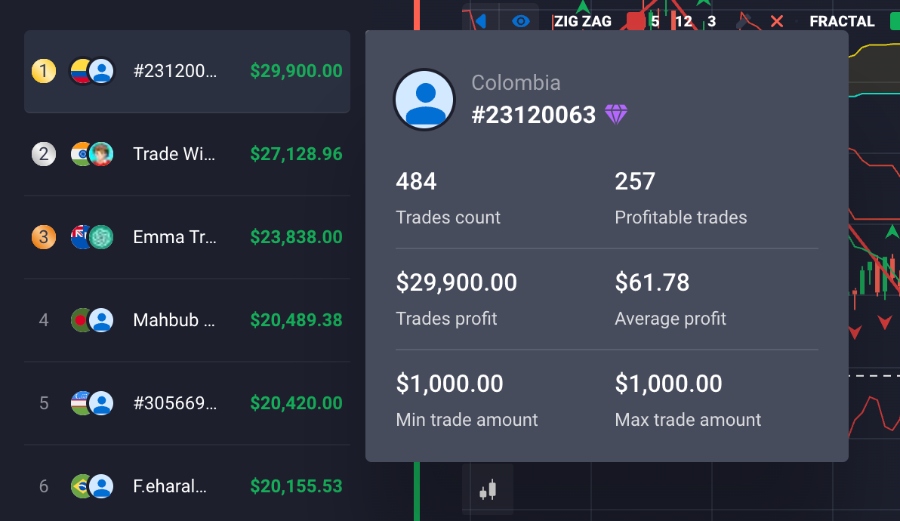 How To Place A Trade
Quotex competes with the best in the industry by providing a platform that facilitates trading in four simple steps:
Choose an asset: Each instrument displays a percentage return on investment if you win the trade, up to 98%.
Select an expiration time: Expiries between 5 seconds and 4 hours are available and can be fine-tuned to the second.
Input the investment amount: Decide how much capital you want to put behind your position.
Click 'Up' or 'Down': Depending on which direction you believe the asset price will move by the expiry.

Mobile App
The broker offers a mobile app iteration of their platform, which is available to download from Google Play and the Apple App Store.
The key things to look for when moving between desktop and mobile are whether all the tools and functions are still available. Thankfully, they are on the Quotex app. The full range of binaries is provided and you can manage your account, including making deposits and withdrawals.
The app has also been well-optimized for mobiles, delivering an intuitive user experience. The flexible design with light and dark modes is a nice touch as well.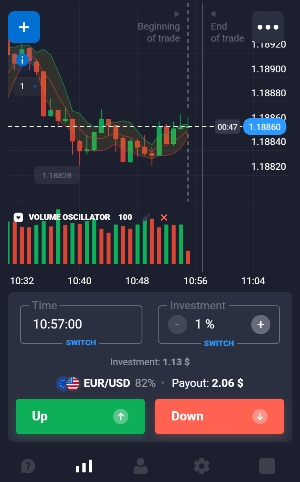 Research
1.8 / 5
The lack of market research tools is disappointing as analyst insights and market commentary can help you make informed trading decisions. Deriv scores better here, with a weekly market report released every Monday.
On a more positive note, the daily trading signals are useful. These are essentially analyst recommendations on assets with potential opportunities, providing suggestions on whether to go high or low and the trade duration.
Signals are good if you want a more hands-off approach to trading, though these is no guarantee your trade will finish 'in the money'.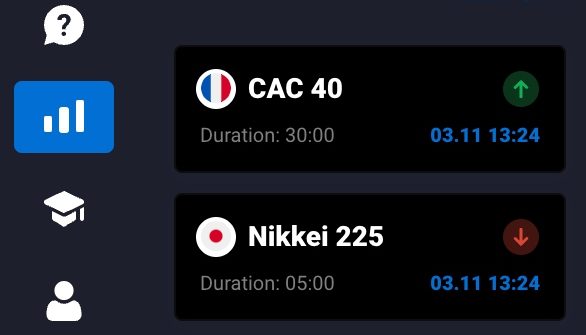 Tip: You need to act fast if you want to take advantage of trading signals. You have on average 10 minutes before quotes change, causing unexpected impacts on trading results.
Education
1.8 / 5
I have marked Quotex down for its educational resources. There is the Quotex Blog which covers the basics like opening an account, making deposits and downloading the app, but its information on strategies and indicators is too high-level to be of significant value.
This shortcoming is especially evident when you compare Quotex to CloseOption, which offers a Knowledge Base that is home to a diverse selection of education in a variety of formats, including platform tutorials and strategy guides.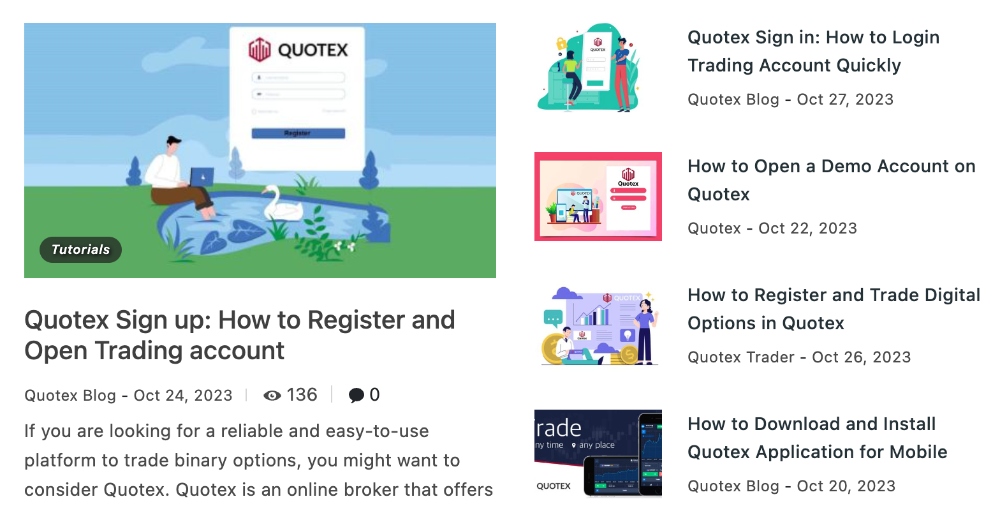 Customer Support
1 / 5
The customer support at Quotex doesn't compete with the best in the industry. The main frustration is that there is no live chat support – only an in-platform contact form (essentially an email service) and an FAQ section.
Nonetheless, I tried the contact form on multiple occasions to determine the speed and quality of responses. The good news is that I got a reply relatively quickly (between 20 minutes and 40 minutes on average). The bad news is that the responses were quite generic and not very helpful.
In comparison, Videforex offers 24/7 video chat support, providing much better support for active traders.
Should You Trade With Quotex?
Quotex maintains its position as a compelling choice for short-term binary options trading, scoring at least 4/5 in half of our core categories.
The web platform delivers a terrific user experience for beginners – it's easy to learn and you can place trades in 4 straightforward steps.
It also competes with the best brokers thanks to its $10 minimum deposit and $1 minimum stake, offering an attractive entry point for budget traders.
FAQ
Is Quotex Legit Or A Scam?
Quotex is a legitimate broker. That said, its weak regulatory credentials lower its trust score.
Is Quotex Regulated?
No, Quotex.io is not regulated.
Is Quotex A Good Or Bad Binary Options Broker?
Quotex continues to hold its status as one of the best binary options brokers. The trading platform is among the easiest to use, while the range of markets is best in class.
Is Quotex Good For Day Trading?
Quotex is good for day trading digital options. It offers some of the shortest contract timeframes, ranging from 5 seconds to 4 hours. The platform is also stable and responsive, meaning you can quickly place intraday trades.
Does Quotex Offer Low Fees?
Quotex is a low-cost broker. There are no deposit fees, no withdrawal fees, no inactivity penalties and zero spreads or commissions.
How Do I Withdraw From My Quotex Account?
You can request a withdrawal in the client area. The minimum withdrawal is $10 or $50 for Bitcoin.
Accepted Countries
Quotex accepts traders from Australia, Thailand, South Africa, Singapore, India, Norway, Denmark, United Arab Emirates, Saudi Arabia, Kuwait, Luxembourg, Qatar and most other countries.
Traders can not use Quotex from United States, Canada, Hong Kong, Russian Federation, United Kingdom, Germany, France, Portugal, Spain, Italy, Cyprus, Sweden.
Payment Methods
Quotex Details
Minimum Trade
$1
Regulated By
None
Islamic Account

No

Mobile Apps
Android
Margin Trading

No

Volatility Index

No

Spot Trading

No

Perpetual Swaps

No

ELWs

No

REITs

No

AI / Machine Learning

No

Robo Advisor

No

P2P Trading

No

Negative Balance Protection

No

VPS Hosting

No

Tournaments

Yes

Demo Competitions

No

Managed Accounts

No

Market Maker

No

Auto Trading

No

Social Trading

No

Trade Signals
Daily Trading Signals
Inactivity Fee
$0
Guaranteed Stop Loss

No

Stock Exchanges

Australian Securities Exchange
Borsa Italiana
CAC 40 Index France
DAX GER 40 Index
Dow Jones
Euronext
FTSE UK Index
Hang Seng
Hong Kong Stock Exchange
IBEX 35
Japan Exchange Group
Nasdaq
S&P 500

Commodities
Forex Trading Details
| | |
| --- | --- |
| GBPUSD Spread | N/A |
| EURUSD Spread | N/A |
| EURGBP Spread | N/A |
| Assets | 20+ |
Cryptocurrency Trading Details
| | |
| --- | --- |
| Crypto Spread | N/A |
| Crypto Lending | No |
| Crypto Staking | No |
| Crypto Mining | No |
| Crypto Auto Market Maker | No |
| Crypto Coins | |
Binary Options Trading Details
| | |
| --- | --- |
| Payout Percent | 98% |
| Expiry Times | 5 seconds – 4 hours |
| Ladder Options | No |
| Boundary Options | No |
Top 3 Alternatives to Quotex
Compare Quotex with the top 3 similar brokers that accept traders from your location.
World Forex – World Forex is an offshore broker registered in St Vincent and the Grenadines, offering commission-free trading with a $1 minimum deposit and 1:1000 leverage. Digital contracts are also available, offering beginners a straightforward way to speculate on popular financial markets.
Go to World Forex
Pocket Option – Founded in 2017, Pocket Option is a binary options broker offering up/down contracts on forex, stocks and cryptocurrencies. With over 100,000 active users and a global reach, the brand has proven popular with budding traders. Pocket Option also supports dozens of payment methods and has a low minimum trade of just $1.
Go to Pocket Option
Videforex – Videforex offers access to stock, index, crypto, forex and commodities markets via binary options and CFDs. The proprietary platform, mobile app and integrated copy trading are user-friendly and will suit new and casual traders, and the market analysis tools and trading contests provide good ways to improve your trading skills.
Go to Videforex
Quotex Comparison Table
Compare Quotex With Similar Brokers
Quotex
World Forex
Pocket Option
Videforex
Rating
4.4
4
4.2
3.6
Markets
Digital Options on Stocks, Indices, Forex, Commodities, Cryptos
Forex, CFD Stocks, Metals, Energies, Cryptos, Digital Contracts
Binary Options, Currencies, Commodities, Stocks, Indices
Binary Options, CFDs, Forex, Indices, Commodities, Crypto
Demo Account
Yes
Yes
Yes
Yes
Minimum Deposit
$10
$1
$50
$250
Minimum Trade
$1
0.01 Lots
$1
$0.01
Regulators
None
SVGFSA
IFMRRC
–
Bonus
30% Deposit Bonus
100% Deposit Bonus
50% Deposit Bonus
20% to 200% Deposit Bonus
Education
No
No
No
No
Platforms
Web Platform, Mobile App
MT4, MT5
MT5
TradingView
Leverage
–
1:1000
–
1:500
Payment Methods
9
10
23
8
Visit
–
Visit
Visit
Visit
Review
–
World Forex
Review
Pocket Option
Review
Videforex
Review
Compare Trading Instruments
Compare the markets and instruments offered by Quotex and its competitors. Please note, some markets may only be available via CFDs or other derivatives.
Compare Quotex Trading Instruments

| | Quotex | World Forex | Pocket Option | Videforex |
| --- | --- | --- | --- | --- |
| Binary Options | Yes | Yes | Yes | Yes |
| Expiry Times | 5 seconds – 4 hours | 1 minute – 7 days | 5 seconds – 4 hours | 5 seconds – 1 month |
| Ladder Options | No | No | No | No |
| Boundary Options | No | No | No | No |
| CFD | No | Yes | No | Yes |
| Forex | Yes | Yes | Yes | Yes |
| Stocks | Yes | Yes | Yes | Yes |
| Commodities | Yes | Yes | Yes | Yes |
| Oil | Yes | Yes | Yes | Yes |
| Gold | Yes | Yes | Yes | Yes |
| Copper | No | No | No | Yes |
| Silver | Yes | Yes | Yes | No |
| Corn | No | No | No | No |
| Crypto | Yes | Yes | Yes | Yes |
| Futures | No | No | No | Yes |
| Options | No | No | No | No |
| ETFs | No | No | No | No |
| Bonds | No | No | No | No |
| Warrants | No | No | No | No |
| Spreadbetting | No | No | No | No |
| Volatility Index | No | No | No | No |
Quotex vs Other Brokers
Compare Quotex with any other broker by selecting the other broker below.
The most popular Quotex comparisons:
Customer Reviews
4.3 / 5
This average customer rating is based on 6 Quotex customer reviews submitted by our visitors.
If you have traded with Quotex we would really like to know about your experience - please submit your own review. Thank you.
Visit
Quotex is a binary options broker founded in 2019 and based offshore in St. Vincent and Grenadines. Over 400 digital options are available covering currencies, commodities, stocks and crypto. Binary contracts span 5 seconds to 4 hours with high payouts of 95%+ depending on market conditions.
Article Sources
The writing and editorial team at DayTrading.com use credible sources to support their work. These include government agencies, white papers, research institutes, and engagement with industry professionals. Content is written free from bias and is fact-checked where appropriate. Learn more about why you can trust DayTrading.com