Brokerage Accounts
A brokerage account may be a sensible choice for anyone looking to invest in stocks for a long-term goal, but what exactly is it and how does it compare to other types of investment accounts? In this article, we'll cover the key definitions and list some examples of the best online brokerage accounts in the UK, US, Europe and beyond.
Brokerage Accounts
OANDA offers 70 forex pairs with two competitive pricing models and a substantial welcome deposit bonus

OANDA Corporation is regulated by the CFTC/NFA. OANDA is a member Firm of the NFA (Member ID: 0325821). CFDs are not available to residents in the United States.

Forex.com boast a global reputation. Regulated in the UK, EU, US and Canada they offer a huge range of markets, not just forex, and offer tight spreads on a cutting edge platform.

NinjaTrader offer investors futures and forex trading. Use auto-trade algorithmic strategies and configure your own platform while trading with the lowest costs.
You may already be familiar with the top names, including Fidelity, Vanguard and Charles Schwab; but we also look closely at the best options for non-US residents. We also detail how to open a brokerage account for both beginners and professional investors and answer some key questions.
What Is A Brokerage Account?
A brokerage account allows you to invest in securities such as stocks, mutual funds, bonds, ETFs (exchange-traded funds) or index funds such as S&P 500. Brokerage accounts can have joint or individual ownership and can be self-served (by the individual) or managed (by an investment expert or robo-advisor).
If you compare a brokerage account vs a bank account, both allow you to transfer money in and out. However, the main attraction of a brokerage account is that it typically allows you to buy and sell within the stock market.
Brokerage accounts are also usually taxable since the investment income you collect is subject to capital gains tax. This differs from retirement accounts, which will be explained in more depth later on.

Brokerage accounts are usually accessible to anyone, with most available to open with no initial deposit and no account opening fees. To set up a brokerage account, you need to complete an application with a licensed brokerage firm that will provide professional support and act as an intermediary.
There are different types of companies to choose from, appealing to a range of requirements and budgets. It's also possible to set up an international brokerage account, though the latter may require a more rigorous application process.
It is highly recommended that you carry out a thorough comparison of a few options to find out which type of account is best for you. We've covered reviews of our top 5 brokerage accounts below, along with a step-by-step guide on how to set up your own.
Brokerage Account Vs Individual Retirement Account (IRA)
One of the main differences between a brokerage account and a retirement account is the different tax rules and withdrawal restrictions. Since retirement accounts are specifically designed for the purpose of saving, they may have stricter rules on how and when a withdrawal can be made, or how much you can contribute each year.
Retirement accounts also have tax benefits, unlike brokerage accounts which are usually taxed as capital gains. Specifically, IRA contributions are tax-deductible in the year they are made, meaning your investments can grow without needing to worry about annual capital gains or dividend taxes. Note though, that withdrawals from IRAs are taxable.
Brokerage Account Vs Individual Savings Account (ISA)
An ISA is a standard savings account that offers tax-free interest payments. Traditional ISAs differ from brokerage accounts because you cannot invest in securities; they are simply for savings. You can, however, set up a stocks and shares ISA, which does allow you to put all or some of your money into a range of investments.
There are also other restrictions with ISAs, for example, you can only have one 'active' account per year and you cannot open multiple ISAs. There are also limits to how much money you can deposit into an ISA per tax year. In the UK, for example, the maximum allowance was £20,000 in the 2019/20 tax year.
Brokerage Account Vs Cash Management Account
Cash management accounts (CMA) are offered by non-bank financial service providers like Robinhood or Wealthfront, and allow you to park and spend your money, much like a bank account.
They help customers to save their uninvested money and therefore typically complement an investment account. As such, a CMA is a brokerage account in which purchases can be made with a debit card. CMAs can also earn interest from the CMA provider.
If you're deciding between a brokerage account or a cash management account, the best place to start is to consider your financial goals and how much risk you're willing to take. Interest rates in a CMA may not earn you as much as an investment account, but your savings will not be at risk from stock market performance.
Pros Of Brokerage Accounts
There are a number of pros and cons to consider before starting a new brokerage account. Compared to other types of investment or savings accounts, traditional brokerage accounts are generally less restrictive. This is down to a few factors:
You can trade with margin (borrowed money), though this comes with risks
There is no limit to the number of brokerage accounts that you can open
More investment vehicles can be accessed compared to IRAs i.e. options
There's usually no account opening fees (though there are transfer fees)
You don't need to worry about a deposit limit in your account per year
You usually don't have to pay an initial deposit to open an account
You can withdraw funds at any time
Cons Of Brokerage Accounts
The biggest downside of a traditional brokerage account is that there are no tax advantages. All investment earnings are taxed as capital gains and dividends, which apply when you sell investments at a profit.
You will need to check the capital gains taxable amounts and tax reporting rules with your jurisdiction. For example, in the USA, the IRS (Internal Revenue Service) considers two types of capital gains: long-term and short-term.
Long-term capital gains are profits held for over a year and are taxed at rates of 0%, 15% or 20% depending on your taxable income. Short-term capital gains are profits held for a year or less and are taxed as ordinary income.
In the UK, the HMRC (Her Majesty's Revenue & Customs), sets capital gains tax at 20% on profits above £12,300 (2020/2021 tax year), though this falls to 10% if you are below the basic-rate income tax band. You can use an online tax calculator and profit estimator for guidance.
Another key downside of a brokerage account is the risk of investing in the stock market. Earnings from your account will depend on stock market performance and there is no guarantee that your investments will always generate good average returns.
There's always the risk that you will lose some, or even all, of your cash. It's worth finding out if your brokerage firm can provide protection if your account falls into negative balance.
Brokerage Account Reviews
To help you decide on the right option for you, we've provided our top list of the 5 best brokerage account reviews and offers from from 2022. Once you've carried out a thorough comparison of deals, you'll be able to easily narrow down the options to your top 3 brokerage accounts, before settling on your winner.
TD Ameritrade
Considered one of the best brokerage accounts for beginners, TD Ameritrade is an excellent choice if you're looking for a solid number of trading tools and educational content.
Acquired by Charles Schwab in 2019, TD Ameritrade offers $0 commission rates on stock and ETF trades, with options costing $0.65 per contract and a $6.95 flat fee for penny stocks.
You can also get access to top platforms at TD Ameritrade, including thinkorswim via desktop, web and mobile. Whilst the broker offers a range of investment services, the main drawback is the lack of international trading (only US and Canada-listed securities are available).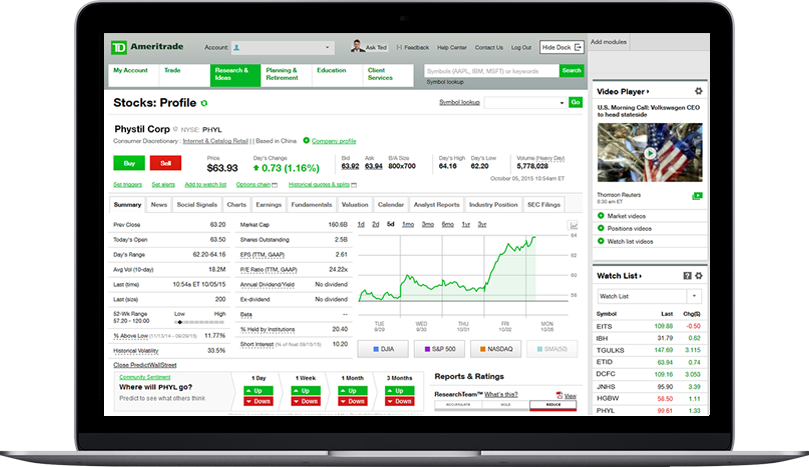 Interactive Brokers
Geared towards more advanced traders, Interactive Brokers offers a vast range of tradable securities across US and international markets. As such, this brokerage account is an excellent choice for non-US residents.
The broker also offers low or no commissions on stocks and ETFs, plus low rates on their pricing tiers. For example, traders who invest up to 300,000 shares per month will pay $0.0035 per share, whilst those who trade over 100 million shares per month will pay as low as $0.0005 per share in their brokerage account.
Investors also enjoy powerful trading platforms and extensive research content. The main limitations include inactivity fees and an account charge of $10 if your balance drops below $100,000.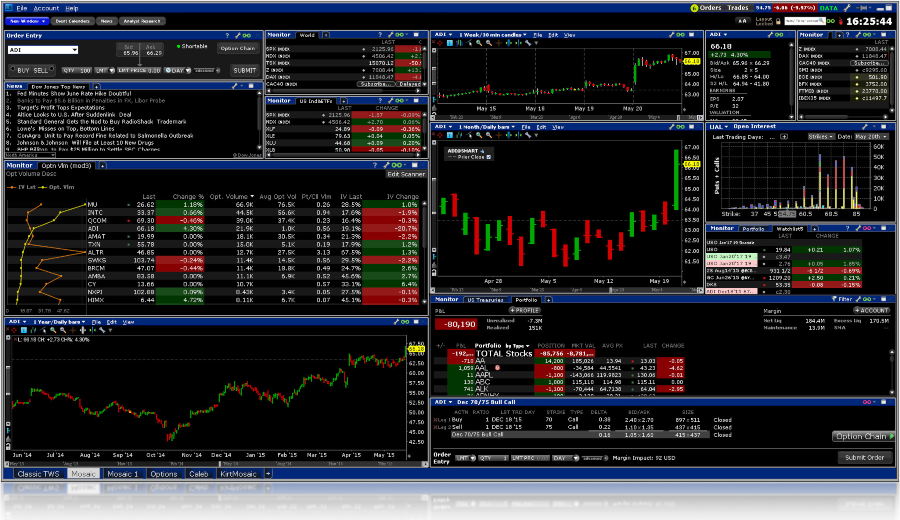 E*TRADE
An E*TRADE brokerage account offers some of the lowest overall fees on trades, no minimum deposit, powerful platforms and an excellent investment offering.
The broker's platform is powered by Chart IQ, which offers advanced charting tools, technical analysis and the integrated Trading Central platform. You can also access a range of research tools, daily insights, market commentary and Bloomberg TV.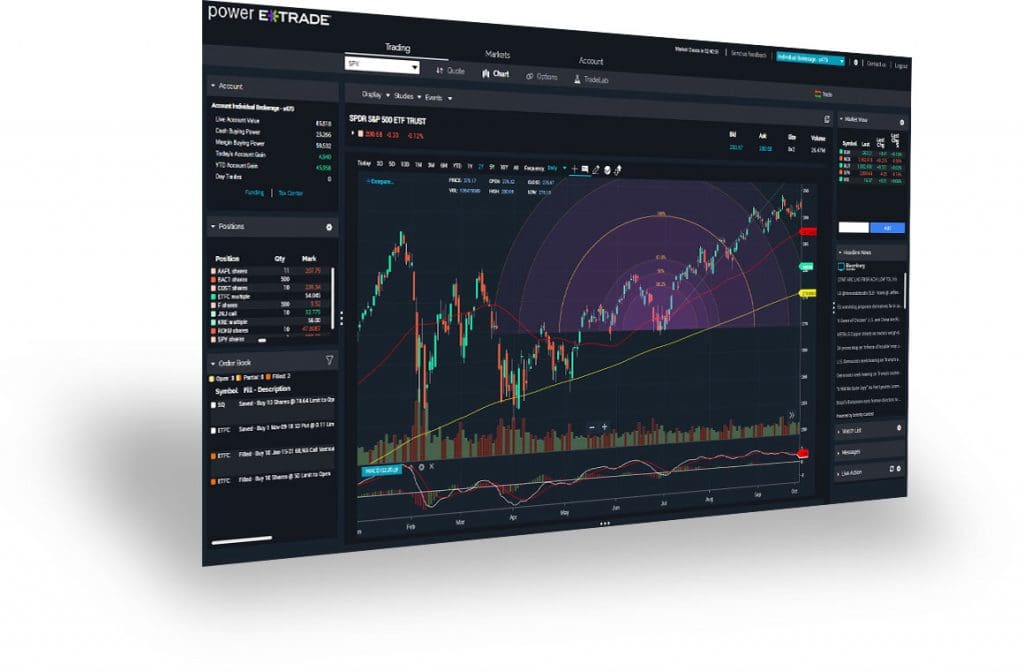 Compared to TD Ameritrade, an E*TRADE brokerage account falls down in our review in terms of beginner learning content. It would also be nice to see more depth of research analysis and perhaps some video content.
TradeStation
Ideal for active traders, TradeStation offers high-quality trading platforms, commission-free trades and a wide range of tradable securities, including cryptocurrencies.
Depending on the type of account you choose, you'll either need a $0 or $2,000 minimum balance, though the latter gets full access to the suite of tools and free trades within the TradeStation 10 platform.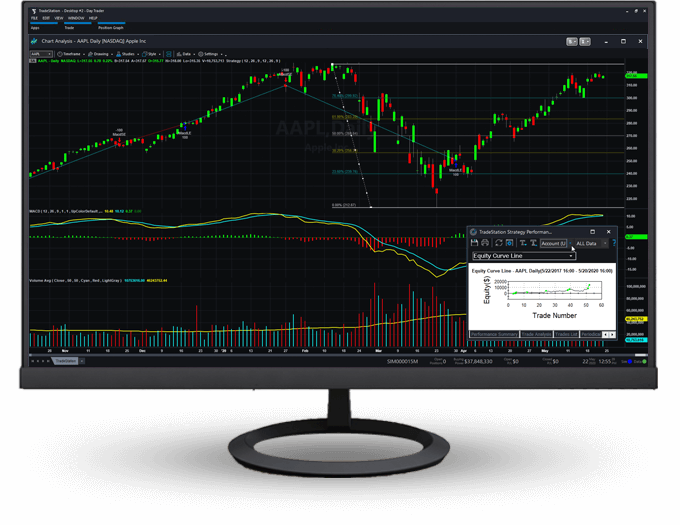 The range of educational tools available is comprehensive and users also get access to an excellent trading community. TradeStation also offers some promotions to new investors, including cash credit up to $5,000 with a qualifying deposit.
Robinhood
Due to its ease of use and $0 fees on stocks and ETF trades, a Robinhood brokerage account is also ideal for beginners. Note, however, that Robinhood only supports penny stocks listed on NASDAQ or NYSE (and not OTC stocks).
The range of platforms and tools is also not competitive when compared to TD Ameritrade, TradeStation or ETrade, for example. Nonetheless, Robinhood's mobile app is fast and easy to navigate.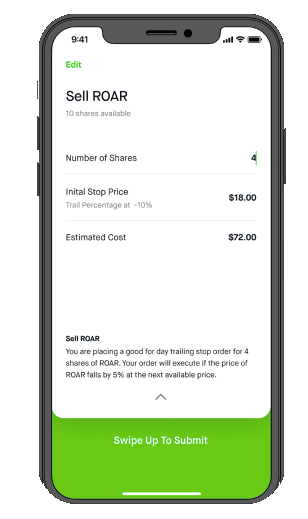 Robinhood also offers a cash management service, which includes a debit card. This allows you to earn interest on your uninvested cash in your brokerage account. Note, though, that the annual yields in the cash management account vs. the average high-yield savings account are 0.30% and 0.50%, respectively.
How To Open A Brokerage Account
Now that you're more familiar with the key features of a brokerage account and some top names in the market, take a look at the steps below on how to open an account. Choosing a new brokerage is unlikely to be a quick process, so avoid rushing into your decision.
Consider Your Requirements
Your first step should involve determining what your investment goals are. If you're looking to park your savings until retirement, then an IRA or Roth account might be best for you.
If you want to invest for a future goal with the support of a financial advisor, and if you don't mind being taxed on your earnings, then a traditional taxable brokerage account is your best option.
A traditional brokerage account will come in two forms: a cash or margin account. Margin accounts allow you to borrow money to buy stocks, with stocks in your portfolio used as collateral. In addition to interest on that borrowed money, you need to be aware of the risks involved, as well as applicable margin rates.
Compare Fees & Features
Most brokerages today offer commission-free trading on stocks, ETFs and other securities. Some may also offer sign-up discounts, referral bonus deals or promotions for transferring your funds from another broker.
Nonetheless, it's essential that you fully understand the broker's pricing model and fees before committing. This is especially true if you plan on trading anything except stocks, or if you're a non-US resident signing up to a US brokerage.
Don't forget to also consider other factors, including trading platforms, access to research and the range of securities available.
Choose A Brokerage
You should weigh up the pros and cons of each option in as much detail as possible. You can start with our guide above and check out some of our top firms, including TD Ameritrade and Robinhood, which are excellent choices for beginners.

Experienced traders looking to open an advanced or professional brokerage account may want to consider other options, such as TradeStation or Interactive Brokers. You could also try some other names not mentioned above, including Vanguard, Questrade, eToro, Trading 212, Webull or Fidelity.
Complete Application
Applying for a new brokerage account is typically quick and straight-forward. You may need to provide some KYC identification documents, including your driver's license or bank statement. Some brokers may also need to do a hard pull of your credit report in order to complete the application process.
If you're signing up from outside the US or if you're requesting a margin account, there may be additional forms. Note that there may be a minimum age limit for individual account holders and rules on adding a beneficiary or joint account holder.
It's also worth checking out terms and conditions for account termination, as some companies may charge a penalty fee for closing a brokerage account under certain conditions.
Fund Account
There are usually several ways you can transfer funds into your brokerage account, including bank wire, electronic funds transfer or stock certificates. The quickest method is wire transfer, often clearing in a matter of minutes.
Before funding, take note of any minimum deposit amounts or balance requirements set by your broker. Taxable accounts may vary in this respect, depending on whether you opt for a standard cash or a margin account.
Start Investing
Now that you've set up and funded your account, you're free to start investing in the stock market and other assets. Before you do this, though, it's important to first invest your time into researching the stock market and how to create a diverse portfolio.
As mentioned earlier, your portfolio's performance will depend on that of the stock market and as such, there are inherent risks to consider. You can always use an online investment growth calculator to estimate your expected rate of return.
Final Word On Brokerage Accounts
In this article, we've broken down the key types of brokerage accounts, from traditional to retirement options. If you're thinking of investing your money for a rainy day, there are several pros and cons that will affect your decision. Whilst brokerage accounts can offer attractive benefits, taxes levied on your profits are not one of them.
Nonetheless, if you're ready to chase profits in the stock market, there are a number of excellent brokerage companies that can provide top-class platforms, low fees and a wide selection of educational resources for beginners.
FAQ
What Is A Brokerage Account?
A traditional brokerage account allows you to invest in stocks and other tradable securities. These accounts are taxable, as your earnings are classed as capital gains. This type of account differs from a retirement account which is specifically designed for the purpose of retirement savings and offers tax-deductible benefits.
Can I Have 3 Brokerage Accounts? 
Yes, you can open 1, 2 or even 3 brokerage accounts if you wish, though this is not advised for beginners. Some traders opt for multiple accounts across several brokerage firms, depending on the different features, assets or pricing on offer. Note that multiple accounts can increase the risk of identity theft and you may get hacked more easily as a result.
What Is The Best Brokerage Account For Beginners? 
In the US, some of the best brokerage accounts for beginners include TD Ameritrade and Robinhood. In the UK, many beginners prefer to trade with Fidelity or Trading 212 due to the wide variety of educational resources on offer.
What Is The Best Zero Commission Brokerage Account In The US?
Today, most brokerage firms offer $0 trades plus a range of top-quality tools, platforms and education. For example, TD Ameritrade is a top all-rounder for all experience levels, whilst Interactive Brokers offers excellent professional tools and learning content.
What Is The Best Brokerage Account For Non-US Citizens? 
Due to its vast range of international assets and tradable securities on offer, Interactive Brokers sits high in the 2022 rankings for the best brokerage account for non-US investors. The broker offers services to clients in Australia, India, Singapore, Portugal, Germany, the UK, Malaysia, Switzerland, Japan, Philippines, South Africa, UAE and many more.
Further Reading