BlockFi Review 2023


Available in United States
BlockFi is a crypto investing and saving platform with additional features including cashback credit cards, ultra-high net worth advisors and crypto lending.
$0
Own
Crypto
-
Wire Transfer, Bitcoin Payments, ACH Transfer, Visa, Ethereum Payments
Crypto Trading
BlockFi supports trading, investing and borrowing of a range of major crypto tokens, including stablecoins.
We strongly advise against making any deposits. Instead, we recommend that you look at the following services that are similar to BlockFi.
BlockFi Alternatives
Nexo – Nexo is a crypto platform with a range of blockchain-based solutions, including trading, lending, borrowing, and payment cards.
Bitfinex – Bitfinex is among the best crypto exchanges for experienced investors with a free mobile trading application and low fees.
Bybit – Bybit is an established crypto exchange aimed at active online traders. Clients can speculate on leading tokens like Bitcoin, access crypto staking and loans, or trade NFTs using the firm's digital marketplace.
Or one of our top rated crypto brokers:
Best crypto Brokers
About BlockFi
BlockFi is a crypto finance platform that is available to investors and traders across the world, including those from the US and the UK. The exchange allows users to earn interest on digital currency savings, trade a variety of cryptos and stablecoins and apply for cryptocurrency loans. This 2023 BlockFi review will look in more detail at the services offered by the broker, withdrawal and trading fees, security, tokens and more.
BlockFi Headlines
BlockFi was established in 2017 by founder Zac Prince (who is the company's current CEO) and co-founder Flori Marquez (whose current post is SVP of operations). Yuri Mushkin serves as the Chief Risk Officer.
With its HQ (and origin) being in Jersey City, New Jersey, BlockFi demonstrates a strong US focus with its operations. Indeed, most US states allow the broker's services, from Hawaii to New York. However, it is also true that its services are offered worldwide, from Mexico to the United Kingdom, from Quebec in Canada down to New Zealand, with only a few exceptions. Towards the end of 2020, it was announced that BlockFi would be expanding into Europe.
BlockFi has over $10bn in assets and more than 450,000 retail clients (New York Times), making it a sizeable player in the crypto finance industry, albeit one upon which regulators are cracking down on. The broker's professional website and the smart logo are both reflective of the firm's status in the crypto sphere.
Although deposits into a BlockFi account are not protected by the FDIC or SIPC, the Gemini Trust Company acts as custodian for crypto holdings and they are regulated by the New York Department of Financial Services.
BlockFi has an institutional client base that utilises its lending services, as well as retail clients who are drawn in by the relatively high interest rates for the Interest Account and cashback, which can be earned through the Rewards Credit Card.
Funding Background
In March 2021, an anonymous group claimed that the broker was facing potential insolvency issues due to its exposure to Grayscale Investment's GBTC. However, in the same month, BlockFi raised $350 million in Series D funding led by various investors, which gave the company a valuation of $3 billion, so there does not appear to be a whole lot of evidence for this.
In the summer, there was talk of Series E funding, which would raise $500 million and value the company at nearly $5 billion. Successful fundraising like this has meant that the firm could expand. There are also rumours of a BlockFi initial public offering (IPO).
Trading Platform
BlockFi uses an intuitive trading platform with a range of features that allow for a more seamless experience. It can be accessed through the broker's website or mobile app on an iOS or Android device. The face of the website is designed for a simple experience, with no need to analyse overly complex charts.
BlockFi clients have access to recurring purchases through the platform, allowing them to spread risk over a longer timeframe and take a more hands-off approach than investing one lump sum in a particular token. This could be part of a trader's dollar-cost averaging strategy, where a trader will make regular purchases at set intervals regardless of the current market price of the asset.
With BlockFi Prime, institutional investors also have tools like a trading user interface (UI) at their disposal to assist in speculating upon digital assets. Flexible APIs also means retail and institutional investors can incorporate the broker's trading features into their own systems and software.
Assets
BlockFi is a large player in the cryptocurrency trading and finance market, supporting both cryptocurrencies and stablecoins. Cryptos offered by the broker include Bitcoin (BTC), Ethereum (ETH), Uniswap (UNI), Litecoin (LTC), Chainlink (LINK) and Basic Attention Token (BAT). Stablecoins include Tether (USDT), Dai (DAI) and Pax Gold (PAXG). Traders can also use some other supported coins for the broker's passive interest accounts, such as USDC, GUSD, PAX and BUSD.
Note that some big cryptos such as Cardano (ADA), Dogecoin (DOGE), Ripple (XRP) and Solana (SOL), as well as smaller ones like Monero (XMR), Zcash (ZEC) and Mint Club (MINT), are not available to trade on BlockFi.
Spreads & Commission
BlockFi does not charge its users any transaction fees, commissions or gas fees, which makes trading crypto much cheaper, especially for frequent, short term strategies. Additionally, clients can expect capital held in the broker's interest accounts to steadily increase in value. This is a competitive pricing structure compared to many alternatives and can be partly traced back to the business model of the broker, which draws in most of its revenue from crypto lending.
Despite the lack of commissions, there are spreads to take into account when considering trading with BlockFi. These are floating and will change with market conditions.
Leverage
Traders can apply for a loan and leverage their crypto, so they can then invest these borrowed funds and increase potential returns (and losses) on a trade. On BlockFi, up to 50% of the value of your crypto can be borrowed, with funds being lent in USD, GUSD or USDC. Remember, you will need to pay interest and, with the volatility of crypto portfolios, this can be a risky strategy.
Mobile Apps
BlockFi has a mobile app available on both iOS and Android (APK) devices, meaning you can invest and trade on the go. It is fairly simple to use and has a clear interface so do not be put off if you have limited experience with crypto. The mobile application supports the management of the full range of account types offered by the web-based platform. Moreover, clients can carry out mobile transactions, access market notifications and carry out crypto trades.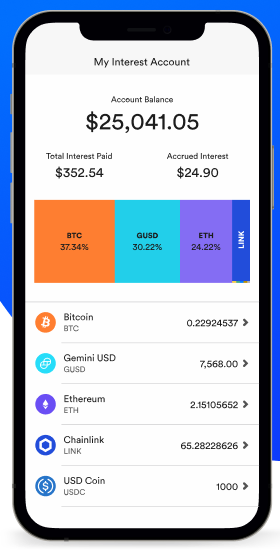 Payment Methods
Deposits
There is no minimum deposit required to earn interest in a BlockFi Interest Account (BIA). Processing times are 1-3 business days for wire transfers and 2-3 business days for USD ACH transfers, though accounts are credited instantly.
BlockFi does not charge fees for a wire transfer deposit, though some banks may charge third-party fees for this service. Users will need their unique 8 digit pin to wire funds to their account.
Coinbase customers will be pleased to know that Bitcoin can be transferred directly from Coinbase to BlockFi, though there is a fee. For those with GBP that they want to deposit, it may be easier to covert this to BTC first on a platform like Coinbase and then transfer the crypto. Some users have reported issues with attempting to use GBP to fund their accounts.
Withdrawals
BlockFi makes funds available for users to withdraw for free at any time and customers receive one free crypto withdrawal (e.g Bitcoin) and one free stablecoin withdrawal per month. Further withdrawals are subject to a fee (for stablecoins, this is $10). Gemini does impose a minimum withdrawal minimum on BlockFi withdrawals of 0.003 BTC and 0.056 ETH.
Customers must take into account the security hold times and the 17:00 EST cut-off time for a withdrawal. Generally speaking, it takes 2-3 business days for ACH transfers and, for those who want to quicken the BlockFi withdrawal process, it generally takes 1 business day for wire withdrawals.
BlockFi may put a hold on funds for up to 60 days if suspicious behaviour like removing entire balances via bank transfer is detected. In this case, attempted withdrawals will be shown as pending.
Deals & Promotions
BlockFi has run many different types of promotions through the years, including a joining deposit bonus, a sign up bonus and a BTC price prediction competition with a $250 bonus in BTC and an extra $10 promo if you then open and fund an account. Reddit also hosts discussion threads on many BlockFi promotions. In November 2020, the broker even held a t-shirt promotion via Twitter.
Regulation & Licensing
As a US-based company, BlockFi is regulated by US law, which cannot be said for all crypto platforms. Having said that, the Interest Account is not subject to FDIC, SIPC or other similar protections, which means there is no regulatory insurance in place to guarantee that depositors would get their money back if the money was lost by the firm for whatever reason.
Gemini Trust Company acts as custodian for BlockFi's user funds (which means the firm does not hold private keys directly). Gemini is a company regulated by the New York Department of Financial Services.
Regulatory Pressure
Five US states, including Kentucky, have recently increased regulatory pressure on BlockFi, so keep an eye out for any further developments and the potential impacts they may have on BlockFi's ability to offer its services in certain areas.
The crypto industry is coming under more pressure generally from US federal regulators, such as the US Securities and Exchange Commission (SEC), but this crackdown is also global. Binance, for example, has recently been regulated further and had to restrict its offerings in Malaysia, while Qatar has cracked down on digital currencies. The UK's FCA also warned in 2021 about the risks of cryptocurrencies.
FTX, Coinbase and other crypto companies have joined BlockFi in voicing their opinions on regulation, with many companies wanting more regulatory clarity.
Additional Features
Blog
The BlockFi blog contains the latest news and developments from the platform, including interest rate changes (important to ensure your engagement with the platform is still profitable) and the broker's commercial partnerships. The blog also includes other general crypto topics, such as 'Litecoin – A Year Without Mining?'.
The blog is updated regularly, so keep an eye out for new stories coming in on the BlockFi website.
YouTube Channel
Another way to gain further insight into the world of crypto and digital assets markets is through the company's YouTube channel, which has 5.92k subscribers.
The channel has hosted live discussions on topics such as 'How Digital Asset Markets Are Evolving In Europe' and the security of the platform hosted by the CEO, Zac Prince. These live videos regularly feature guests like entrepreneur Kevin Rose and many BlockFi clips follow a useful Q&A style format.
Tax Center
In August 2021, BlockFi announced a partnership with TaxBit, which will provide the firm's customers with a range of tax and reporting tools. Forms like Form 1099-B are provided once the BlockFi Tax Center has tracked transaction information. The Tax Center is only available to US clients, so it is not a service that UK or international customers can benefit from.
Users can also import their transactions on BlockFi to Koinly, who can prepare an appropriate tax report, though the broker's Tax Center should make this less necessary.
Accounts
Before choosing which account or service you want to spend your time on (i.e trading, interest etc. or a combination), you will first need to complete the steps below to open an account.
Click the 'Get Started' button in the top right of the BlockFi website.
Enter your personal details, including your name, address, email and password.
Verify your email address by clicking on the link sent to your inbox.
Confirm your identity for KYC by taking photographs (you can switch to a mobile device for this by scanning a QR code given by BlockFi) of your ID (there are several different options of which ID you can choose).
Customers will also need to show their face to the camera on their device so the firm can confirm it is you.
BlockFi will then review your profile and notify you upon completion, usually within 1-2 business days.
Once complete, you will be able to login to the broker's portal using your email address and password.
Now let's discuss the different accounts and services offered by BlockFi.
BlockFi Interest Account (BIA)
This is BlockFi's signature offering. It is essentially a non-traditional and perhaps riskier savings account than a traditional bank account. Depositors can earn up to 8.25% APY (this has previously been up to 8.6%, which got the attention of many users on Reddit), with interest being paid monthly in crypto (e.g Bitcoin) or a stablecoin. With interest rates of around 8% for stablecoins, this is a huge advantage over traditional bank savings accounts.
Interest rates do vary, so keep an eye out for updates, though the top interest rate is usually in the region of 7.5-8.5% APY. Having said that, in October 2020, BlockFi announced rates of 9.3% APY for USDT and has previously had limited time offers of 10% APY. PAXG was also at a high rate in November 2020, moving from 4% to 5% APY.
The actual interest rate on BlockFi will depend on the particular crypto or stablecoin you have deposited, working in tiers whereby the interest varies according to how much you invest. For example, for the first 0.10 BTC you deposit (Tier 1) in the Interest Account, you earn 4.5% APY but then only 1% APY on additional deposits between 0.10 and 0.35 BTC (Tier 2). Tier 1 interest for GUSD will give 9% APY on BlockFi from November 2021, as stablecoin rates are increasing. These rates are quite competitive, though rates from some providers like Crypto.com, Celsius and Nexo are often higher.
You could also use your crypto in staking or yield farming to earn a profit through a decentralised platform, for example on the Ethereum network. The disadvantage of staking, unlike investing in a savings account like this one, is that there may be little customer support.
There are no minimum balance requirements with the BlockFi Interest Account and customers will be pleased to know that the interest compounds.
BlockFi Trading Account
BlockFi's trading account is a more recent service offered by the company. This allows crypto traders to buy and sell crypto assets, although the products available on the platform are notably more limited than a crypto exchange such as Coinbase or Binance. Trades are executed immediately and there are zero transactions fees.
BlockFi's trading system works as an automated market maker, so the broker fills in the other side of your order, purchasing assets from you or selling them to you.
BlockFi Loan
This service is key to the broker's revenue stream and ability to provide competitive interest rates. The BlockFi Loan service is a form of crypto lending that allows clients to borrow digital currencies at interest rates from 4.5% APR. All loans require crypto collateral and there is a minimum limit of $10,000. Up to 50% of the value of your crypto can be borrowed. BlockFi Loan is not available in certain countries, including the UK.
BlockFi Rewards Visa Signature Credit Card
Separate from its trading and interest accounts, BlockFi allows customers to earn 3.5% cashback (in the first three months, then a reduced rate of 1.5%) in Bitcoin for purchases made through its Visa Signature Credit Card. No debit card is offered. This gives clients the opportunity to earn more crypto through everyday life, on top of investing and trading.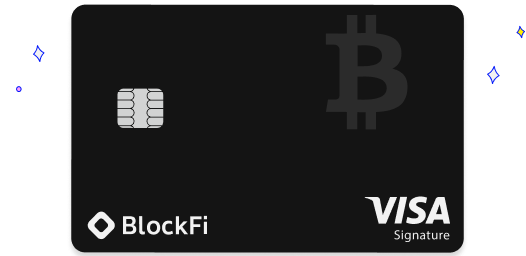 The BlockFi Visa Credit Card is only available to US residents in qualified states. However, this service is now fully available, there is no longer a waitlist. Some customers have claimed that linking purchases made through BlockFi Rewards to other platforms and software, such as YNAB, can be difficult.
Institutional Services
BlockFi Global Digital Markets is a borrowing service targeted at institutional investors to enable them to implement various market strategies, such as shorting.
BlockFi Prime gives institutional investors the opportunity to trade and borrow digital assets, whilst offering a 24/7 global OTC desk to manage trade requests (also available to ultra-high net worth individuals).
Such clients can also invest in BlockFi Trusts, which provide exposure to the assets within the trust without having to actually own and store the asset. This gives efficiency and cost-effectiveness benefits. BlockFi has also seen opportunity in corporate treasury solutions.
Benefits
Intuitive platform perfect for users with limited crypto experience
Zero transaction and commission fees for trading crypto and stablecoins
Earn passive income through competitive interest rates by keeping crypto in BlockFi's Interest Account
Drawbacks
Crypto interest means value is subject to market volatility
Some interest rates are not very competitive
Trading Hours
Crypto trading is 24/7, 365, so there are no limits to your trading times with BlockFi.
Customer Support
BlockFi offers a range of different avenues for support:
Phone Number – Dial 646-779-9688 (Monday-Friday from 09:30 to 17:00 ET) to speak to a BlockFi Client Service Representative (there are no 800 or 1800 numbers)
Email – Email addresses are available for information on becoming a private client (privateclientinfo@blockfi.com), institutional sales (institutions@blockfi.com)
BotFi – This is BlockFi's AI-powered smart assistant to help automatically respond to client queries (a client service specialist will personally review the enquiry if BotFi is unable to find a solution)
Social Media – The broker has a presence on Facebook, Twitter (if you have questions about the platform, you can tweet @BlockFiSupport), Instagram, LinkedIn, YouTube and Telegram
BlockFi Help Center – Users can find a large collection of FAQs, split into various topics (e.g BlockFi Interest Account, BlockFi Trading etc.)
BlockFi Resource Centre – This has a collection of answers to 'How To' questions, such as 'How does a Bitcoin loan work?' and 'How to whitelist crypto wallet addresses?'
In addition to the New Jersey HQ, there is a branch of BlockFi Inc. registered at 150 Broadway, New York. Note that if BlockFi sends you an email, their domain may include Zendesk (though not always).
Customers may also benefit from external discussions, news and information regarding BlockFi, on other websites. Useful discussions cover topics like faults where the mobile app is not loading, Google authenticator or working, it keeps logging users out, a '403 forbidden' message comes up or how to delete your account.
For BlockFi reliability issues and problems, users can check SaaSHub to see whether there is a widespread outage if you think the platform is 'down', for example, because the platform is saying you are currently offline.
Safety & Security
BlockFi is a reputable platform, in the US, UK and other countries, and has implemented various safety measures to protect customers' data and funds. The broker allows customers to initiate two-factor authentication (2FA) on their accounts, which is a simple but effective way to reduce the risk of being hacked and is something we would strongly recommend.
Google Authenticator is one of the supported 2FA methods. Setting this up requires the Google Authenticator app and you must scan a QR code or manually input the authenticator token code to login. 2FA can be reset if the code is lost, though this requires additional ID verification. Yubikey is also supported.
The BlockFi platform may also require users to verify their identity if they wish to make certain changes to their account details, making it more difficult for hackers to tamper with accounts. Allowlisting is a system whereby BlockFi customers can only withdraw funds to known withdrawal addresses. This is a security measure adopted by many financial institutions and makes it much more difficult for funds to be moved into an unknown account.
In May 2020, BlockFi suffered a hack, although they did confirm that no funds had been exposed. In May 2021, the broker also hit the headlines for mistakenly paying an inflated quantity of Bitcoin for a promotional offer, with claims suggesting some users had received anywhere from 8 to 700 BTC.
BlockFi Verdict
BlockFi offers high rates on their Interest Accounts, which provide an opportunity for crypto investors and traders to earn passive income. Customers can also enjoy the broker's simple website and app layout, which make it easier for novice traders to buy and sell crypto and stablecoins. The range of additional features, from cashback credit cards and institutional services to tax calculator tools and regular promotions put BlockFi in a good position. It is also good to see a more secure backing of regulatory protocols and authorities with this broker, a rarity in the DeFi world.
FAQs
Is BlockFi Safe?
Although BlockFi is legit and regulated under US law, deposits in its Interest Account are not protected by insurance schemes. However, the broker is a well-known brand though in the crypto finance industry, which is often a good sign.
Is BlockFi DeFi?
Yes, BlockFi is a brokerage that works within the decentralised finance world, comprising cryptocurrencies and blockchain-based solutions. While the broker itself is not a decentralised exchange, it does exist within and interact with the DeFi world.
Is BlockFi Available To Customers In The UK?
Yes, customers from London and throughout the UK can sign up for a BlockFi account, deposit funds and invest. However, some services like the credit card or loan account are unavailable.
How Long Does It Take To Withdraw Funds From BlockFi?
Generally, it takes one business day for wire transfer withdrawals on BlockFi and 2-3 business days for ACH transfers.
Is There A Minimum Deposit For BlockFi's Interest Account?
No. BlockFi does not have a minimum deposit into the Interest Account, nor is there a maximum.
Accepted Countries
BlockFi accepts traders from Australia, Thailand, Canada, United States, United Kingdom, South Africa, Singapore, Hong Kong, India, France, Germany, Norway, Sweden, Italy, Denmark, United Arab Emirates, Saudi Arabia, Kuwait, Luxembourg, Qatar and most other countries.
Payment Methods
BlockFi Details
| | |
| --- | --- |
| Minimum Trade | $0 |
| Regulated By | SEC |
| Islamic Account | No |
| Mobile Apps | iOS & Android |
| Margin Trading | No |
| Volatility Index | No |
| Spot Trading | No |
| Perpetual Swaps | No |
| ELWs | No |
| REITs | No |
| AI / Machine Learning | No |
| Robo Advisor | No |
| P2P Trading | No |
| Negative Balance Protection | No |
| VPS Hosting | No |
| Tournaments | No |
| Demo Competitions | No |
| Managed Accounts | No |
| Market Maker | No |
| Social Trading | No |
| Guaranteed Stop Loss | No |
Cryptocurrency Trading Details
Crypto Spread
Variable
Crypto Lending

Yes

Crypto Staking

Yes

Crypto Mining

No

Crypto Auto Market Maker

Yes

Crypto Coins

BAT
BTC
BUSD
DAI
ETH
GUSD
LINK
LTC
PAX
PAXG
UNI
USDC
USDT
Top 3 Alternatives to BlockFi
Compare BlockFi with the top 3 similar brokers that accept traders from your location.
IG Group – IG is an award-winning broker that has an excellent reputation globally. The brand-US offers spread betting, CFD and forex trading across a comprehensive suite of markets. IG is also multi-regulated, provides a great trading app and has 50 years experience.
Go to IG Group
Interactive Brokers – Interactive Brokers is a leading global brokerage that provides access to a comprehensive offering of stocks as well as forex, futures, metals, bonds and cryptos. The firm has over 40 years experience in the online trading industry and is heavily regulated by SEC, FCA, IIROC, and SFC. Day traders can use the proprietary Trader Workstation and can access powerful tools and data feeds as well as comprehensive educational resources.
Go to Interactive Brokers
Forex.com – Forex.com boasts a global reputation with multiple awards and 20+ years experience. Regulated in the US, EU, UK and Canada they provide a huge range of day trading markets, not just forex, and offer competitive fees on a cutting-edge platform. The brand also provides a suite of additional tools, from performance analytics and SMART Signals to advanced charts and strategy builders.
Go to Forex.com
BlockFi Comparison Table
Compare BlockFi With Similar Brokers
BlockFi
IG Group
Interactive Brokers
Forex.com
Rating
0.5
4.4
4.3
4.5
Markets
Crypto
CFDs, Forex, Stocks, Indices, Commodities, ETFs, Futures, Options, Crypto, Spread Betting
Forex, Stocks, Commodities, Crypto
Forex, Spot Metals
Demo Account
Yes
Yes
Yes
Yes
Minimum Deposit
$0
$0
$0
$100
Minimum Trade
$0
0.01 Lots
$100
0.01 Lots
Regulators
SEC
FCA, ASIC, NFA, CFTC, DFSA, BaFin, MAS, FSCA
SEC, FCA, IIROC, SFC
NFA, CFTC
Bonus
–
–
–
Active Trader Program With A 15% Reduction In Costs
Education
No
Yes
No
Yes
Platforms
Own
MT4, AutoChartist, TradingCentral
AlgoTrader, OmniTrader, eSignal, TradingCentral
MT4, MT5, TradingView, eSignal, AutoChartist, TradingCentral
Leverage
–
1:30 (Retail), 1:250 (Pro)
1:50
1:50
Payment Methods
5
6
11
8
Visit
Visit
Visit
Visit
Visit
Review
–
IG Group
Review
Interactive Brokers
Review
Forex.com
Review
Compare Trading Instruments
Compare the markets and instruments offered by BlockFi and its competitors. Please note, some markets may only be available via CFDs or other derivatives.
Compare BlockFi Trading Instruments

| | BlockFi | IG Group | Interactive Brokers | Forex.com |
| --- | --- | --- | --- | --- |
| CFD | No | Yes | Yes | No |
| Forex | No | Yes | Yes | Yes |
| Stocks | No | Yes | Yes | Yes |
| Commodities | No | Yes | Yes | Yes |
| Oil | No | Yes | No | Yes |
| Gold | No | Yes | Yes | Yes |
| Copper | No | Yes | No | No |
| Silver | No | Yes | No | Yes |
| Corn | No | No | No | No |
| Crypto | Yes | Yes | Yes | No |
| Futures | No | Yes | Yes | No |
| Options | No | Yes | Yes | Yes |
| ETFs | No | Yes | No | No |
| Bonds | No | Yes | Yes | No |
| Warrants | No | Yes | Yes | No |
| Spreadbetting | No | Yes | No | No |
| Volatility Index | No | Yes | No | No |
BlockFi vs Other Brokers
Compare BlockFi with any other broker by selecting the other broker below.
Customer Reviews
There are no customer reviews of BlockFi yet, will you be the first to help fellow traders decide if they should trade with BlockFi or not?
Visit
BlockFi is a crypto investing and saving platform with additional features including cashback credit cards, ultra-high net worth advisors and crypto lending.