LocalCryptos Review 2022


Traders in United States welcome
LocalCryptos is a P2P crypto exchange with five major tokens, an intuitive online marketplace and a range of safety features.
Risk Warning – Your capital is at risk
LocalCryptos is an online P2P marketplace that allows customers to trade Bitcoin, Ethereum and other major crypto coins directly with each other. Originally launching in 2017, LocalCryptos has built a strong community with a high trading volume. This review will delve into the platform's features, supported coins, pricing structure, payment methods and more.
What Is LocalCryptos
LocalCryptos is a peer-to-peer (P2P) cryptocurrency exchange. P2P exchanges work differently from centralised exchanges, where buyers and sellers are matched automatically. With P2P exchanges, you select which seller you want to buy from at a price that works for both of you.


The P2P exchange was launched in 2017 by founder and CEO, Michael Foster, under the name LocalEthereum. Initially, it was the go-to place for P2P Ethereum trading until November 2019 when it rebranded to LocalCryptos and expanded its cryptocurrency offering. The company is operated by the holding company, LocalEthereum Pty Limited, based in Richmond, Australia.
Where Can You Use LocalCryptos
LocalCryptos is available in more than 130 countries worldwide. Popular countries include the United Kingdom (UK), the United States (US), Colombia, Kenya, Peru, Panama, Mexico, New Zealand (NZ), Pakistan, Venezuela, Chile, Bolivia, Canada, India and Ecuador.
P2P Trading Offering
Since they launched with only Ethereum, LocalCryptos has expanded its P2P offering, now including:
While LocalCryptos still lack some popular coins like Tether (USDT), this is a good range compared to some competitors. The exchange tends to have votes on which cryptocurrencies should be added to the platform next.
P2P trading through the exchange is anonymous. Users do not need to submit ID or complete know-your-customer (KYC) verification before they are allowed to start trading. Most of the popular centralised exchanges like Kraken and BitMex require users to share multiple forms of ID and proof of address before they can trade.
Fees
Trading Fees
LocalCryptos use a "taker and maker" fee structure. Essentially, the maker is the person posting an advertisement or trade and the taker is the person responding to it. The maker is charged a 0.25% fee for each completed trade, while the taker is charged 0.75%.
0.75% is relatively high compared to standard taker fees. However, 0.25%  is in line with the P2P platform average.
In Ethereum trades, the buyer will always receive slightly less than the amount they were indicated, due to the gas fee to pay miners.
If your trade gets cancelled, you may still notice that your balance is down as escrow fees still need to be paid.
Withdrawal Fees
LocalCryptos do not charge any fees to withdraw funds from your wallet. However, you will be required to pay a network fee, which is paid directly to miners of the respective blockchain to process your transaction.
There are no deposit fees and no minimum deposit either. Users only deposit funds during a trade with other users.
Payment Methods
With LocalCryptos, there are over 40 ways to pay, including PayPal, credit card and TransferWise. Below are some of the popular domestic methods:
Cash In Person (Post Office, Bank etc.)
Cash Deposit (ATMs)
Some of the more popular international methods are:
There are many other international and domestic payment methods available with LocalCryptos, a full list can be found on the broker's website.
Having so many methods available makes it easy for new customers to get started, giving the exchange an advantage over some of its competition.
LocalCryptos Wallet
LocalCryptos' web wallet is non-custodial, which means that the private key (and all the cryptocurrency that is stored in it) is controlled entirely by you. The exchange cannot see your private key and has no control over the funds.
When you have signed up and logged in with your login details, head to the LocalCryptos wallet tab. Here you will find five wallets, one for each crypto (BTC, ETH, LTC, DASH, BCH). Make sure you do not deposit a coin into the wrong wallet as it will be lost forever due to crypto transaction irreversibility.
With the exchange's wallet, you can easily send funds to any other wallet. For example, you could send tokens from one of your wallets on the exchange to your MetaMask wallet.
LocalCryptos Academy
LocalCryptos has an educational page on its website that is designed to teach you all you need to know about trading through the platform. There is information on terminology (like ledger or escrow), wallets, what peer-to-peer trading is and much more. The page even has information on how to spot and avoid scams, which is very helpful in the P2P world.
Safety
The P2P exchange has included several safety features to ensure trading with the platform is as secure as possible:
Escrow: LocalCryptos uses a secure escrow smart contract system. When you initiate a trade, the crypto tokens are held on the escrow service until the payment has been made. Once this happens, the coins are released to the buyer.
End-To-End Encryption: The exchange ensures messages between buyers and sellers are encrypted. This means that only you and the person you are trading with can read the messages.
Reputation System: Each trader on LocalCryptos has a unique reputation rank/score. This indicates to other users how trustworthy they are. Public history records are also shown, allowing you to make informed decisions about who you trade with.
Support & Dispute Resolution: The P2P exchange has a support team on hand ready to solve any disputes or conflicts. If you raise an issue, the exchange will read your messages with the party in question and help to mediate the conflict and arrive at a solution that suits both parties.
Two-factor authentication: When you log in, you are required to confirm the request through email confirmation. This makes it considerably more difficult for unwanted people to get into your account.
Competitors
The exchange has several competitors, both P2P and otherwise, like Paxful, LocalCoinSwap and LocalBitcoins. The range of tokens available with LocalCryptos is more than LocalBitcoins, similar to Paxful but less than LocalCoinSwap. However, fees are lower with this exchange (maker fees are 1% on LocalBitcoins and LocalCoinSwap). LocalCryptos also have a more comprehensive range of payment methods that can be used.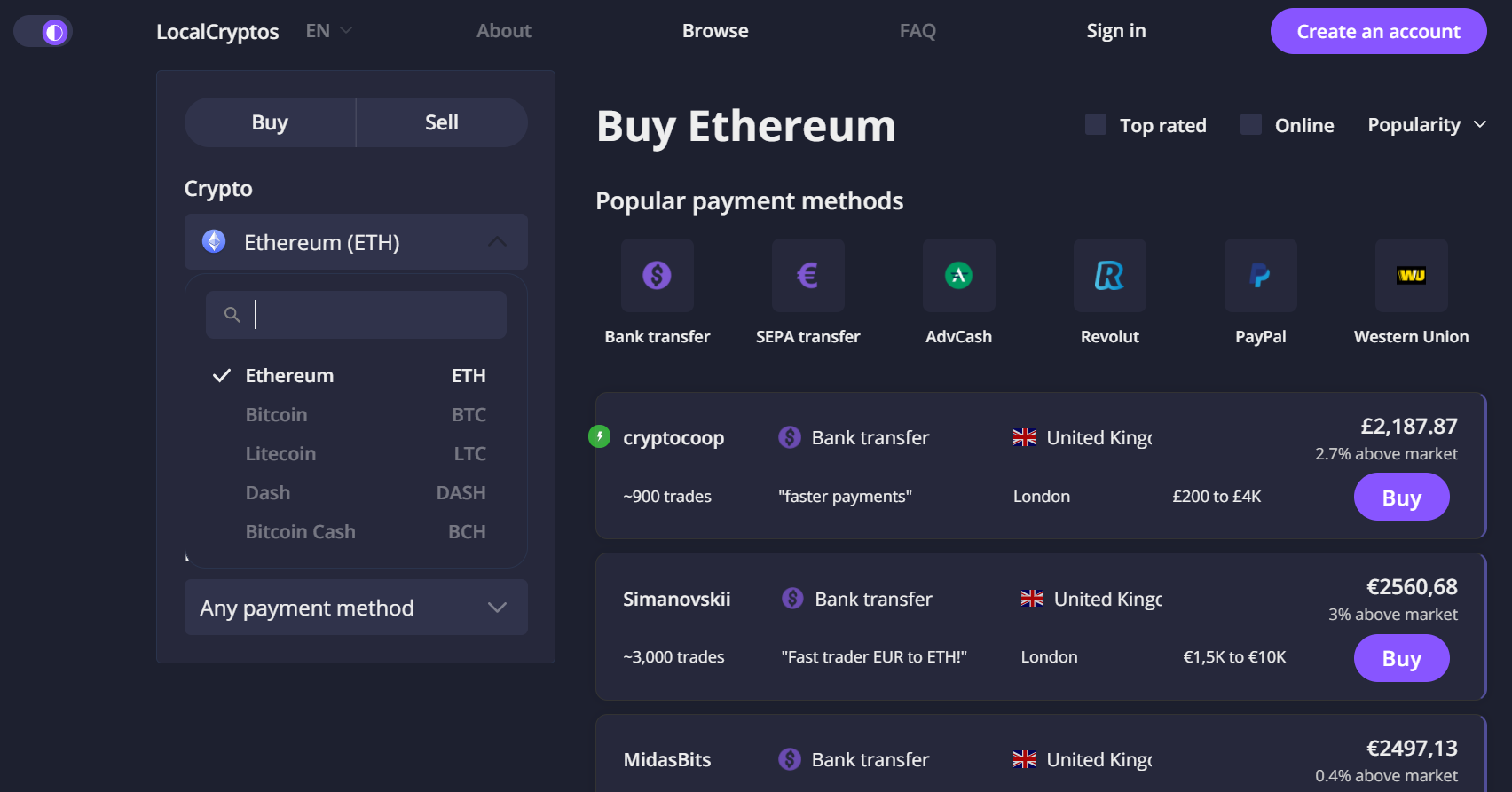 Pros
Non-custodial
Low maker fees
Secure escrow service
Over 40 payment methods
Fiat-to-crypto trades are possible
Cons
No mobile app
Moderate taker fees
Only five cryptocurrencies
Customer Support
LocalCryptos have a dedicated support page designed to help you resolve any issues. Fill out the form with your email and problem and the exchange will aim to respond to you within 24 hours.
Some issues are unresolvable. For example, there is no way to recover your password if you forgot it. This is because of the way its client-side encryption works, so make sure you keep your password safe.
The exchange can be contacted through:
Online contact form
Email: contact@localcryptos.com
Community channels on Twitter & Telegram.
How To Start Trading With LocalCryptos
If you want to start trading, follow this simple and easy guide:
Create a LocalCryptos account and provide a username, email and password. No ID or KYC verification is required.
Search for buyers and sellers that meet your criteria. Check the histories of various users until you find one that you feel comfortable with and is offering a trade that suits you.
Open a trade with that user. Choose the amount you want to buy or sell and lock in a price.
Complete the trade using the secure escrow service. Once payment has been received, the coins will be released to the buyer.
LocalCryptos Verdict
LocalCryptos is a P2P crypto trading exchange. The platform is built around safety and security for its customers with many protective features in place to protect them. With five cryptocurrencies available, a huge range of payment methods and low fees, LocalCryptos is a competitive exchange. If you want to trade freely, directly and anonymously, follow our guide and get started today.
FAQs
Is LocalCryptos Safe?
The exchange has many reviews backing up its security and customer service, as well as a range of safety features. However, P2P trading can be risky and some other participants may not play fair.
Is LocalCryptos Legit?
Yes, LocalCryptos is legit. The exchange has many positive reviews on Trustpilot and Bitcointalk.
Does LocalCryptos Provide A Public API?
No, LocalCryptos do not currently provide a public API. It is unknown whether they will in the future.
Does LocalCryptos Offer A Mobile App?
LocalCryptos can currently only be used on a web browser through the website's in-built exchange. This means that Apple (iOS) and Android (APK) mobile devices do not have a dedicated app.
Can I Trade With LocalCryptos In The UK?
Yes, you can trade with the exchange in the UK. The exchange is available in over 130 countries worldwide.
Accepted Countries
LocalCryptos accepts traders from Australia, Thailand, Canada, United States, United Kingdom, South Africa, Singapore, Hong Kong, India, France, Germany, Norway, Sweden, Italy, Denmark, United Arab Emirates, Saudi Arabia, Kuwait, Luxembourg, Qatar and most other countries.
Compare LocalCryptos
Compare LocalCryptos with similar brokers that accept traders from your location. Among available brokers these are the most similar to LocalCryptos:
LocalCryptos Comparison Table
Compare LocalCryptos With Similar Brokers
LocalCryptos
Nexo
Paxful
Kraken
Coinmama
Rating
–
–
–
–
–
Markets
Crypto
Crypto
Crypto
Crypto
Crypto
Demo Account
No
Yes
No
Yes
No
Minimum Deposit
$1
$10
From 0.005 BTC
$10
$30
Minimum Trade
$1
$30
10 USD
Varies upon the crypto traded
$30 to buy, $100 to sell
Regulators
–
ASIC, FCEN
–
FCA, FinCEN, FINTRAC, AUSTRAC, FSA
FinCEN, FINTRAC
Bonus
–
Loyalty scheme with various bonuses, plus referral program
–
Lower fees when trading volume exceeds $50,000 in 30 days
–
Education
–
No
No
Yes
No
Platforms
–
–
–
–
–
Leverage
–
–
–
–
–
Payment Methods
11
3
12
7
7
Detailed Comparison
–
LocalCryptos vs Nexo
LocalCryptos vs Paxful
LocalCryptos vs Kraken
LocalCryptos vs Coinmama
Visit
Review
LocalCryptos
Review
Nexo
Review
Paxful
Review
Kraken
Review
Coinmama
Review
Compare Trading Instruments
Compare LocalCryptos Trading Instruments

| | LocalCryptos | Nexo | Paxful | Kraken | Coinmama |
| --- | --- | --- | --- | --- | --- |
| CFD | No | No | No | No | No |
| Forex | No | No | No | No | No |
| Stocks | No | No | No | No | No |
| Commodities | – | – | – | – | No |
| Oil | No | No | No | No | No |
| Gold | No | No | No | No | No |
| Copper | No | No | No | No | No |
| Silver | No | No | No | No | No |
| Corn | No | No | No | No | No |
| Crypto | Yes | Yes | Yes | Yes | Yes |
| Futures | No | No | No | Yes | No |
| Options | No | No | No | No | No |
| ETFs | No | No | No | No | No |
| Bonds | – | No | No | No | No |
| Warrants | – | No | No | No | No |
| Spreadbetting | No | No | No | No | No |
| Volatility Index | No | No | No | No | No |
LocalCryptos vs Other Brokers
Compare LocalCryptos with any other broker by selecting the other broker below.
LocalCryptos vs
LocalCryptos is a P2P crypto exchange with five major tokens, an intuitive online marketplace and a range of safety features.